For the eleventh consecutive year the satellite industry will be converging on New York City for the SATCON exhibition and conference November 14 and 15 at the Jacob Javits Convention Center.
SATCON has expanded its audience each year since its inception in 2002 and is considered a "must attend" industry showcase, conference and networking event. This year SATCON combined with Content & Communications World (CCW) will again feature a world-class program with over 150 speakers, 50 sessions (22 of which are satellite focused) and over 250 exhibitors displaying the latest satellite, communications and content delivery technologies. Over 5,500 people are expected to attend both events again this year.
The SATCON conference program will cover the most important topics related to satellite-enabled communications used by government and military, broadcast, media and entertainment, telecommunications, mobile satellite and enterprise firms. The 2012 SATCON conference program was created with input from thought leaders at DISA, the DoD, Office of the Secretary of Defense, USSTRATCOM/J6, US Army, US Air Force, ABC, CBS, CNN, Fox, NBC, ARTEL, Hughes, Inmarsat, Intelsat, SES, Euroconsult, the Hosted Payload Alliance (HPA), the MSUA, the SIA, SSPI, the WTA, Global VSAT Forum and others.
Expert speakers, including a balanced mix of end-users and satellite industry executives, will provide SATCON attendees with strategies for utilizing satellite, fiber, broadband, wireless and hybrid network technologies in their organization's communications infrastructure.
New + Notable Events @ SATCON
According to
SATCON
Event Director,
David Reynolds
, some of the many notable features of this year's SATCON event include:
Lt. Gen.
Ellen M. Pawlikowski
, Commander,
Space and Missile Systems Center, Air Force Space Command, Los Angeles Air Force Base
, will be giving the opening military keynote address, which is open to all attendees. She is responsible for more than 5,000 employees nationwide and an annual budget of $10 billion. As the
Air Force Program Executive Officer for Space
, General
Pawlikowski
manages the research, design, development, acquisition, and sustainment of satellites and the associated command and control systems. Her extensive portfolio includes military satellite communication, missile warning, navigation and timing, space-based weather, space launch and test ranges, certification for launch, space superiority, responsive space and other emerging evolutionary space programs.
For the second year, the
Hosted Payload Alliance
, HPA, will host its annual business meeting during SATCON, immediately following the Hosted Payload Alliance panel session. The meeting will continue the discussion of issues affecting hosted payloads. Benefits to be explored will include lower costs, shorter development cycle times, the opportunity to share orbital slot locations, and the ability to disaggregate assets for more resilient space architecture.
In the addition to the end of day receptions on the show floor, SATCON will feature a new networking opportunity for the Vision Awards presentation and reception.
Also new this year will be daily booth tours organized with technology themes and stops at key exhibitor booths. Separate booth tours will be provided for government and military attendees and for broadcast, media and entertainment executives.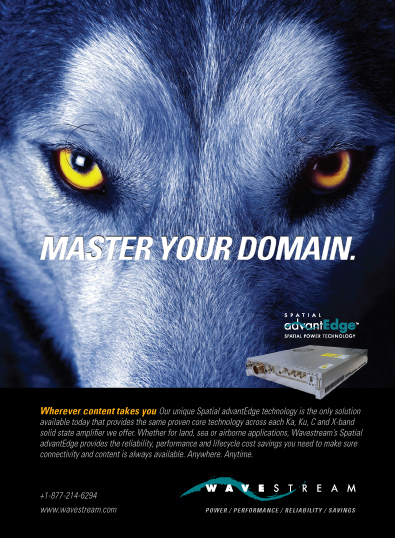 During the evening of the day before SATCON, attendees can network at the
SSPI Future Leaders
dinner. Since 2006, this annual event, site of the Promise and Mentor Awards, has honored men and women under 35 with the talent and motivation to advance into leadership positions in the satellite industry, as well as one executive recognized for mentorship of the next generation. Separate registration is required to attend the booth tours, the Vision Awards reception, the HPA meeting and the SSPI Promise and Mentor Awards dinner.
Top Speakers and Conference Sessions
"We have some really great panel sessions this year that will provide attendees with valuable insights on next generation satellites and services, government and military market challenges, opportunities for government and commercial partnerships, international markets, satellite broadcasting, mobile satellite communications and the commercial sector" said Reynolds.
Expert speakers, including a balanced mix of end-users and satellite industry executives, will provide SATCON attendees with strategies for managing their communications infrastructure including video, data, voice and Internet using satellite, fiber, mobile and wireless technologies.
The 2012 SATCON topics include:
– SATCON MILITARY KEYNOTE: Lieutenant General Ellen M. Pawlikowski
– SATCON MILITARY: Building an Enterprise Architecture
– SATCON MILITARY: Satellite Strategy and Procurement in a Changing Geo-Political Environment
– SATCON MILITARY: A New Political and Economic Environment for Hosted Payloads?
– SATCON MILITARY: COMSATCOM Information Assurance/Cyber Protection
– SATCON MILITARY: Meeting the Need for Comms-on-the-Move in an Era of Budget Constraints
– SATCON MILITARY: Where does Ka-band fit into the MILSATCOM future?
– SATCON GOVERNMENT: Why Satellite? Meeting the Communication Needs of State & Municipal Agencies
– SATCON GOVERNMENT: Disaster Response: The Role of Satellite Communications
– SATCON MEDIA:
Combating Satellite Interference—Latest & Greatest
– SATCON MEDIA: It's LIVE LIVE LIVE!
– SATCON MEDIA: The role of Satellite Communications in a Multi-Screen World
– SATCON MEDIA IP in the Sky—Media Service for the Next Generation
– SATCON INDUSTRY: Fundamentals of Satellite Communications, Part 1 and Part 2
– SATCON INDUSTRY: Emerging Markets: Can Satellites Bridge the Digital Divide?
– SATCON INDUSTRY: Satellite Broadband: The Moment of Truth
– SATCON INDUSTRY: Optimizing Satellite Mobility Solutions in New Frequency Bands
– SATCON INDUSTRY: How Are Next-Gen Satellites Meeting Customer Needs?
"You can really cover a lot of ground in just two days at SATCON, in terms of meeting many of the most influential people in the satellite industry in an intimate business environment. Nowadays it is important for attendees to be as productive as possible whenever they travel, and we want to help attendees maximize their time spent at SATCON. New York City is premier destination, which helps us to attract a great quality audience. We are the only show that provides free conference passes to end-users and greatly reduced conference passes to industry and vendors for as little as $175 (early bird pricing) for a full conference pass. We want to serve the industry by making attendance more affordable for our attendees. This is the best way for us to help industry-leading exhibitors, industry partners, speakers and end-users gather at the event and discuss business expansion in the most important global markets for satellite-enabled communications." Reynolds said.
The Basics
Attendee registration at SATCON is online at
www.satconexpo.com
. SatMagazine readers, apply for your
complimentary pass using VIP Code CCG33
.
You may also contact the organizers of SATCON at
info@jdevents.com
with any questions.

About the author
David Reynolds is the Event Director, SATCON. He joined JD Events in 2007 and has spent 16 years in the trade show and conference industry as a sales and show management executive working for large and small show organizers. He was previously a Group Vice President at Comtek International, an international trade show organizer, managing shows ranging from broadcasting to consumer electronics.