---

---
Thales Alenia Space Built SES-17 + SYRACUSE 4A Satellites Successfully Launched By Arianespace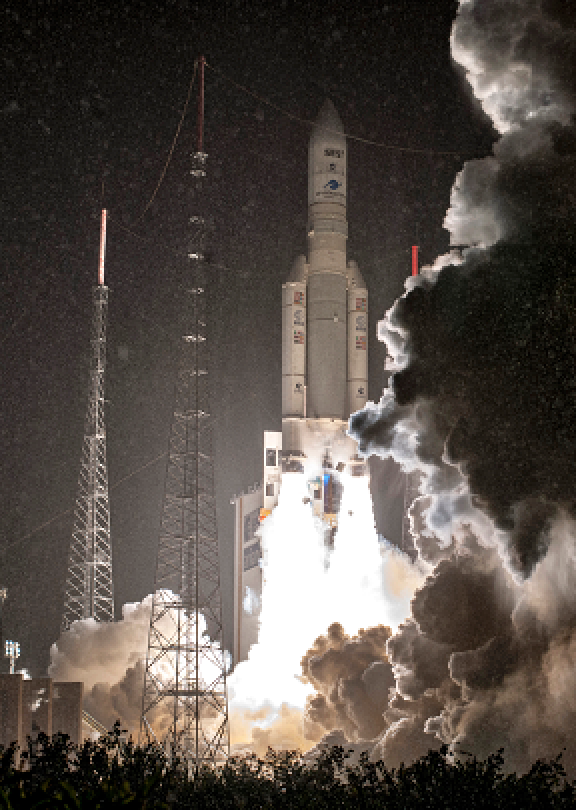 The Arianespace VA255 launch from Europe's Spaceport
in Kourou, French Guiana. Photo is courtesy of Arianespace
On Sunday, October 24, at 02:10 UTC, Ariane 5 lifted off from the Guiana Space Center (CSG) and successfully orbited two satellites built by Thales Alenia Space, those being SES-17, a telecommunications satellite operated by SES, and SYRACUSE 4A, a telecommunications satellite developed for the French Ministry of the Armed Forces.
With this 111th mission, Ariane 5 broke the record for the cumulative net mass ever delivered to Geostationary Transfer Orbit (GTO) by a single launcher. With a total performance of 11.2 metric tons, the mass of the Ariane 5's payloads reached 10,264 kg at separation (6,411 kg for SES-17 and 3,853 kg for SYRACUSE 4A). For this mission, Ariane 5 also reached a height of 56.4 meters, thanks to a 1.5 meter extension placed under the long fairing.
This launch sent two satellites into orbit:
SES-17
This High Throughput telecommunication satellite (HTS) provides excellent coverage over the Americas, the Caribbean and the Atlantic Ocean and has been designed to transform the aviation connectivity landscape, address data demands across maritime, government and enterprise segments, as well as to accelerate digital inclusion initiatives. It features almost 200 spot beams, the power of which can be dynamically adjusted in step with customers' changing requirements. It is also the first SES satellite to have a totally digital payload, powered by an advanced digital transparent processor (DTP), enabling far greater flexibility and efficiency than previously available. The satellite will form a multi-orbit network adaptable to varying bandwidth and latency requirements, operating with SES's next generation non-geosynchronous satellite system, O3b mPOWER.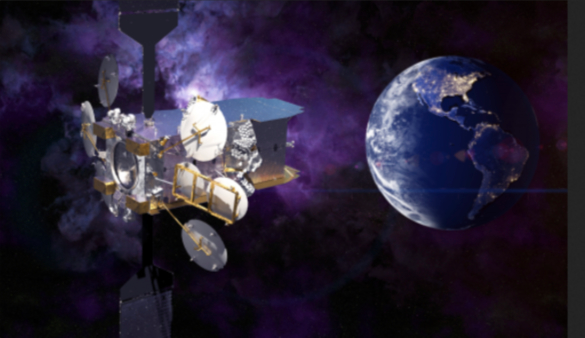 Artistic rendition of SES-17 on-orbit,
courtesy of SES.
The Thales Alenia Space's 5th generation Digital Transparent Processor (DTP) embarked on SES-17 allows for easy frequency conversions as well as unlimited gateway switching and traffic routing. Combined to flexible amplifiers, it will meet customer's changing requirements and real time traffic demands.
SYRACUSE 4A
This military communications satellite, commissioned by the Armament General Directorate DGA, will allow to connect the armed forces together when deployed. At sea, in the air or on the ground, militaries need secured and powerful communication means in order to be able to exchange information with the command center. Thanks to its state-of-the-art equipment (anti-jamming antenna and digital transparent processor on board), SYRACUSE 4A will guarantee a high resistance to extreme jamming methods. At the service of France's sovereignty, the satellite will also support NATO and European-led operations.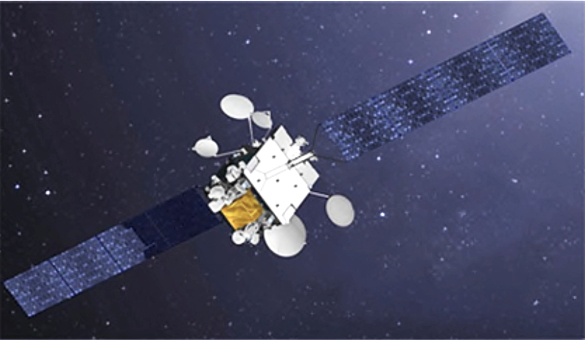 The SYRACUSE 4A satellite, image courtesy of Arianespace
Developed under the leadership of the DGA in close coordination with the national center for space studies (CNES), the Space Command of the French Air and Space Force and the other armed forces, SYRACUSE 4A was built by Thales Alenia Space. In the upcoming years, two other military telecommunications satellites will join it in order to create a constellation that will serve the needs of the Armed forces in an ever-growing digitalization of the battlefield. SYRACUSE 4A will connect most naval vessels, moving armored vehicles or aircraft: in particular Griffon armored vehicles, upcoming Suffren attack submarines or the tanker Phoenix.
SES-17 and SYRACUSE 4A will be the 164th and 165th Thales Alenia Space satellites to be launched by Arianespace.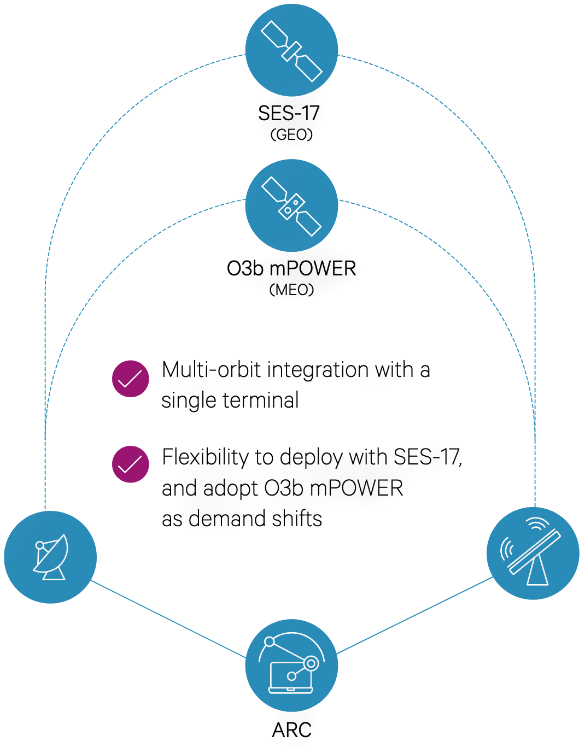 SES's Multi-Orbit Network igraphic, courtesy of the company.
"With this new success for Ariane 5, which comes a week after its previous launch, Arianespace is delighted to serve the interests of two loyal customers, the operator SES and the French Ministry of the Armed Forces", said Stéphane Israël, Chief Executive Officer of Arianespace. "VA255, by putting two highly innovative satellites manufactured by Thales Alenia Space into orbit, demonstrates once again the competitiveness and reliability of our launch solutions serving the ambitions of our private and institutional clients. Dedicated to connectivity and security, these satellites are at the core of our mission: Space for a better life on Earth. The next challenge for Ariane 5 will be the launch of NASA's space telescope, James Webb, in partnership with the European Space Agency. Mission to Success."
"With all the European industrial partners of the Ariane 5 program, we are proud to have set a new world record for performance to geostationary transfer orbit, serving two major and long-standing Arianespace customers. We continue to improve the European heavy launcher, and there are now six Ariane 5 launches left before it definitely enters the legend as the most reliable launcher in the world, much to the benefit of Ariane 6 that will take over flight duties in 2022. ArianeGroup is determined to innovate more and more to provide Europe with an ever more reliable access to Space," said André-Hubert Roussel, CEO of ArianeGroup.
ArianeGroup is the prime contractor in charge of the development and production of the Ariane 5 and Ariane 6 launchers. It leads an industrial network comprising more than 600 companies, including 350 small and medium-size enterprises (SME). ArianeGroup oversees the entire Ariane 5 industrial supply chain, from design studies and upgrades to production and mission-specific data and software. The supply chain encompasses equipment and structures, manufacture of the propulsion systems, stage integration, then integration of the launcher in French Guiana. ArianeGroup delivers a flight-ready vehicle on the launch pad to its subsidiary Arianespace, which operates the flight starting with liftoff on behalf of its customers.
---
DEV Systemtechnik Intros Their New Distributing Matrix System
DEV Systemtechnik has developed a new distributing matrix system leveraging the field of proven technology and HMI from the firm's successful Archimedes Matrix system. The new matrix system — sigma — offers state of the art technology and features to support customers' needs for higher density, flexibility, and simplicity with an optimized cost / performance ratio.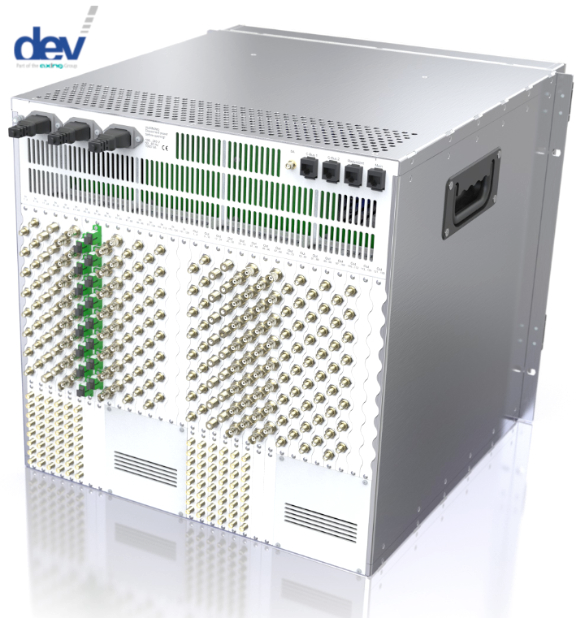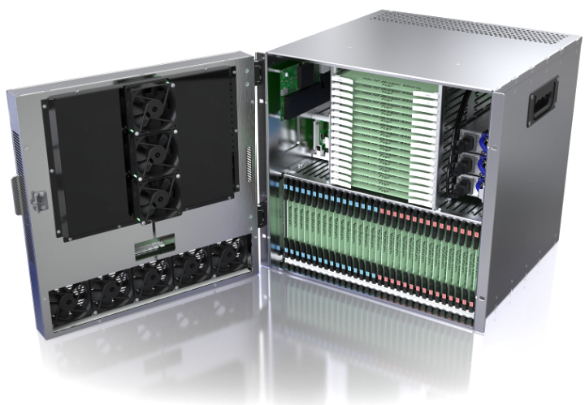 sigma allows satellite network operators and broadcaster to select any input and output configuration with a granularity of 8 physical ports with as many as 128 inputs and 128 outputs. Ports are selectable with 75 Ohms or 50 Ohms with F or SMA
connectors. In addition, sigma also supports direct optical input ports. With up to three hot swapable power supplies, the system can support fail proof redundant LNB powering on all 128 input channels.
All I/Os and the whole switching fabric are designed to support extended L-Band Signaling from 850 MHz to 2450 Mhz. All active modules can be swapped on the fly from the front which drastically simplifies maintenance and upgrades in the field.
Upgrades beyond 128 ports are also supported and kept as simple as possible: as a world's first, sigma supports embedded, clustering features. As a result, customers
do not need external splitter arrays when expanding the network with additional sigma systems beyond 128 ports achieving reduced cost for external hardware, less rack space and shorter installation time.
DEV Systemtechnik is a member of the AXING Group, develops and manufactures a wide range of products and systems for optical and electrical transmission of radio frequency (RF) and broadband signals via coaxial cable or fiber. For more than 25 years DEV has designed, engineered, and manufactured RF transmission equipment for satellite, broadcast, and cable applications. DEV systems are deployed in the signal chain of major satellite networks and Earth stations worldwide.
---
The University Of Melbourne Is Incorporating DcubeD Actuators For Their Upcoming Smallsat Mission
The University of Melbourne built Australian SpIRIT astronomy smallsat team has selected DcubeD actuators for this upcoming mission The actuators will trigger the deployment of the radiator for the SpIRIT mission that is set to launch in 2022.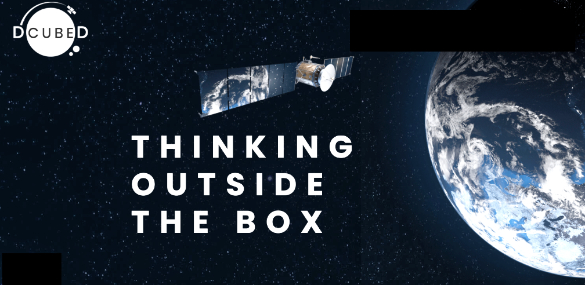 For the deployment of the Australian-made satellite's large radiator, the SpIRIT (Space Industry – Responsive – Intelligent – Thermal Nanosatellite) team has selected DcubeD (Deployables Cubed GmbH), a New Space smallsat mechanisms company specializing in nano-sized actuators as well as deployables for smallsats. The deployment of the mission- critical radiator will be ensured using DcubeD's nano pin puller, nD3PP, triggering the deployment of the radiator once in space.
The SpIRIT mission is an innovative smallsat consisting of an Australian- designed and made spacecraft platform and a main payload for gamma and x-ray remote sensing, provided by Italian project partners. This will be accompanied by three technologies to be space qualified: TheMIS (Thermal Management Integrated System), Mercury (adaptive autonomous low-latency communications module) and an Australian developed high efficiency electronic propulsion system.

It is crucial that the TheMIS technology provides the required operating temperature of the main payload role, for which a large heat rejection radiator surface is required. A deployable radiator, such as the one SpIRIT uses, can greatly enhance the thermal performance by increasing the available radiative surface area whilst cooperating with the volumetric constraints of smallsats. DcubeD's release actuators will secure the successful deployment of radiator panels and so support the spacecraft thermal control.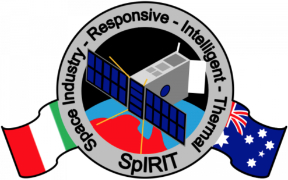 "SpIRIT is a truly exciting mission. SpIRIT will make a valuable contribution to the primary HERMES constellation as it hunts for newly born black holes and other electromagnetic counterparts of gravitational wave events, putting a nanosatellite constellation at the forefront of science," said Dr. Thomas Sinn, CEO of DcubeD. "Being selected as a supplier for the release actuators of the deployable radiator for this exciting mission fills me and the whole DcubeD team with pride."
"Our SpIRIT mission aims to advance the capabilities of small spacecraft by providing the opportunity to demonstrate new technologies in orbit," said Mr. Simon Barraclough, Technical Director for the SpIRIT mission. "A key technology is the payload thermal control system being developed by the University of Melbourne. The DcubeD device is an important enabler in the safe and dependable release of deployable thermal radiator. We have been very pleased with the product and service provided by DcubeD and look forward to its successful operation in orbit."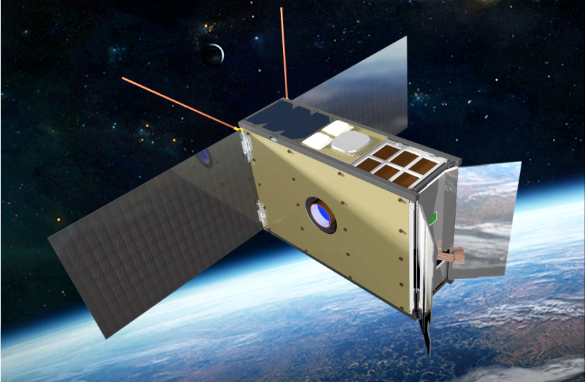 Artistic rendition of the SpIRIT smallsat on-orbit.
The Melbourne Space Laboratory (MSL) in the School of Physics at the University of Melbourne is focused on developing innovative miniaturized payloads and technological solutions for smallsats to enable scientific investigations, commercial opportunities and defense applications traditionally restricted to substantially larger and more expensive satellites. Founded in 2019, it has already established itself as one of the points of excellence for smallsat R&D in Australia, as demonstrated by the award to lead the Space Industry – Responsive – Intelligent – Thermal (SpIRIT) nanosatellite, the first space mission selected for flight by the Australian Space Agency (International Space Investment – Expand Capability scheme). The laboratory is contributing to the growth of the Australian space sector and includes academics with international leadership in space science and engineering, as well as engineers with extensive international experience in aerospace companies.
DcubeD (Deployables Cubed GmbH), located in Germering, Germany, develops actuators and deployable structures tailored for smallsats and the commercial space industry. DcubeD will help with their release actuators (pin puller and release nut) and deployables their release actuators (pin puller and release nut) and de (100W Solar Array, Space Selfie Stick, Deployable Boom)
---
An H2A Launch Vehicle Pushes Another GPS Satellite To Orbit For Japan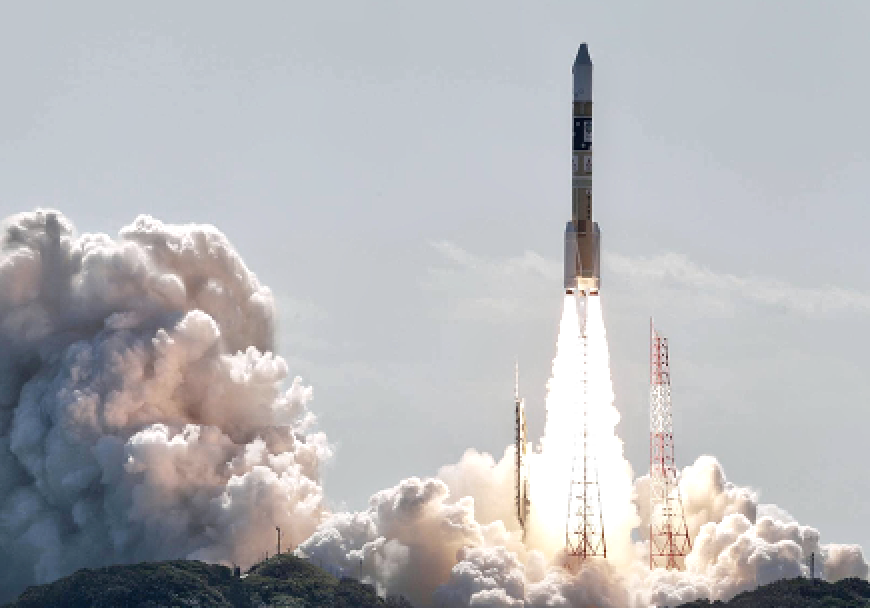 On Tuesday, October 26, 2021, Japan successfully launched their QZS-1R satellite, from the Tanegashima Space Center in Kagoshima Prefecture. This is a replacement for the nation's aging Michibiki No. 1 satellite.
Manufactured by Mitsubishi Heavy Industries Ltd., the Michibiki No. 1 satellite was launched in 2010 and has now reached the end of its operational life. Three, previously launched, Michibiki satellites will 'work' with the new unit, which will also complement the existing U.S. GPS satellite network.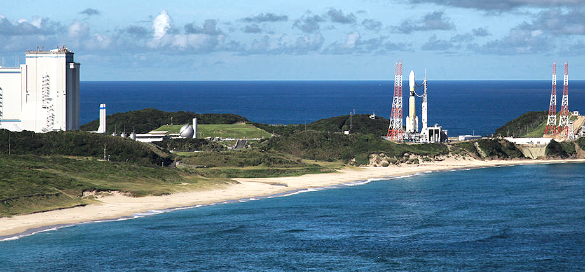 Photo of the Tanegashima Space Center in Japan.
An H-2A rocket carrying the satellite lifted off at 11:19 a.m. and weighed approximately 230 tons at liftoff. The rocket itself is 53 meters long. This was the 38th consecutive time Japan has successfully launched an H-2A rocket. Japanese GPS satellites on-orbit will be raised to seven in number during fiscal 2023 by the government to strengthen the nation's GPS system with even more precise services.
Approximately 30 minutes post-launch, the satellite reached its designated orbital slot. Monday, October 25, had been the originally planned launch date but had to be postponed as the weather was too poor for liftoff.
---
First Free Flying Commercial Space Station — Starlab — To Be Developed By Nanoracks, Voyager Space + Lockheed Martin Nanoracks, in collaboration with Voyager Space and Lockheed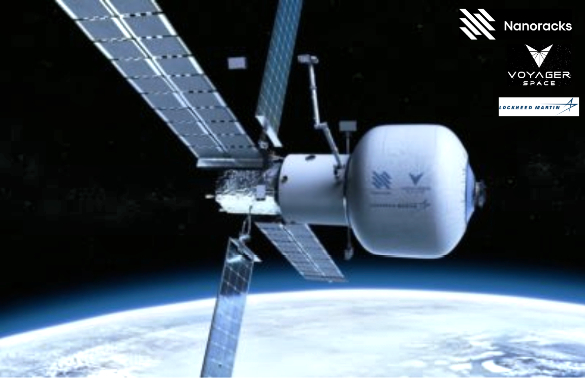 Martin [NYSE: LMT], has formed a team to develop the first-ever, free flying, commercial space station.
The space station, known as Starlab, will be a continuously crewed commercial platform, dedicated to conducting critical research, fostering industrial activity as well as ensuring continued U.S. presence and leadership in LEO. Starlab is expected to achieve initial operational capability by 2027.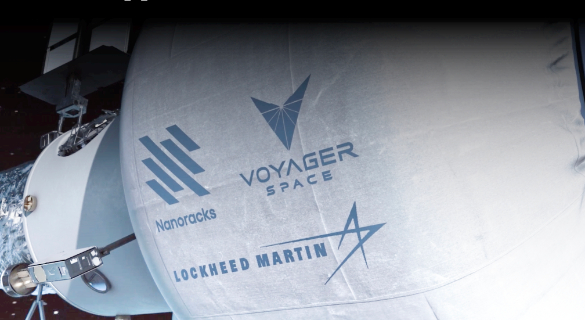 To meet U.S. government, international space agency and commercial needs in space, these industry leaders will develop Starlab specifically to enable the growing space economy and meet customer demand for space services, such as materials research, plant growth and astronaut activity. Together, these companies bring experience in commercial space use, engineering design and performance, technology innovation, and investment strategy.
NASA recently announced the Commercial Low-Earth Orbit (LEO) Destination (CLD) project to support the development of private space stations. CLD will stimulate a multifaceted LEO economy and provide science and crew capabilities in LEO before the International Space Station (ISS) retires.
Nanoracks will prime the Starlab development effort, leveraging more than a decade of experience as a pathfinder of, and global leader in, commercial ISS utilization. Voyager Space, the majority shareholder in Nanoracks, will lead strategy and capital investment. Lockheed Martin, a leader in developing and operating complex spacecraft, will serve as the manufacturer and technical integrator.
The basic elements of the Starlab space station include a large, inflatable habitat, designed and built by Lockheed Martin, a metallic docking node, a power and propulsion element, a large robotic arm for servicing cargo and payloads, and a state-of-the-art laboratory system to host a comprehensive research, science, and manufacturing capability. Starlab will be able to continuously host up to four astronauts for conducting critical science and research.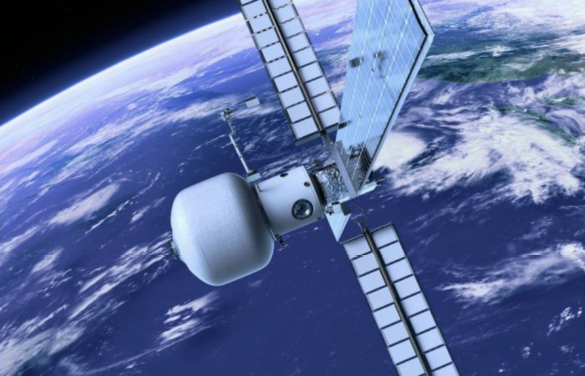 Nanoracks' Starlab business model is designed to enable science, research, and manufacturing for global customers, and bring added value to long-duration sovereign astronaut missions. Starlab will also serve tourism and other commercial and business activities.
"Since the beginning, Nanoracks has sought to own and operate a private space station to fully unlock market demand," said Jeffrey Manber, CEO and Co-Founder of Nanoracks. "Our team has spent the last decade learning the business of space stations, understanding customer needs, charting market growth, and self-investing in private hardware on the ISS like the Bishop Airlock. Nanoracks and our team are excited to work with NASA and our friends across the world as we move forward with Starlab."
"We're excited to be part of such an innovative and capable team—one that allows each company to leverage their core strengths," said Lisa Callahan, vice president and general manager, Commercial Civil Space at Lockheed Martin. "Lockheed Martin's extensive experience in building complex spacecraft and systems, coupled with Nanoracks' commercial business innovation and Voyager's financial expertise allows our team to create a customer-focused space station that will fuel our future vision. We have invested significantly in habitat technology which enables us to propose a cost-effective, mission-driven spacecraft design for Starlab."
"Voyager Space is highly confident in the Starlab business model and its ability to be commercially sustainable and well capitalized," said Dylan Taylor, Voyager Space Chairman and CEO. "Voyager Space sees numerous synergies leveraging the capabilities across our organization's operating businesses, as well as within the Lockheed Martin ecosystem. We see this partnership as just the beginning of our work together."
---
The Orbex Environmentally Friendly Prime Rocket To Be Launched From Scotland
The carbon footprint of launching the new Orbex Prime space rocket will be up to 96 percent lower than comparable space launch programs, a new scientific study has revealed.
Prime is poised to become one of the most environmentally friendly, orbital launch vehicles ever built, benefiting from the use of renewable, ultra-lowcarbon biofuel. It is also designed to be reusable and will not leave any debris on Earth, in the Earth´s oceans or in the Earth's atmosphere.
Orbex is also committing to offsetting all emissions from the rocket and its launch operations, ensuring every launch is carbon neutral. Orbex plans to launch Prime from Space Hub Sutherland in the North of Scotland.
The new study by the University of Exeter calculated that a single Orbex Prime launch would produce up to 86 percent less emissions than a similar-sized vertical launch vehicle powered by fossil fuels. This gulf in emissions is primarily due to the similar-sized vehicle emitting high levels of black carbon, the particulate matter formed by the incomplete combustion of fuels containing carbon – and a major contributor to climate change when emitted from rocket engines into the stratosphere.
The study also compared the carbon footprint of launching Prime with that of a rocket that is horizontally launched from a carrier aircraft. In this comparison, the direct launch emissions required by Prime was as much as 96 percent lower than the horizontally launched vehicle.
According to the study by the University of Exeter, a single launch of the Orbex Prime rocket would result in total emissions of 13.8 tons of CO2e.
This includes the direct emissions from the launch, the indirect emissions created from the production of the propellant fuels required (biopropane and liquid oxygen), and the radiative forcing (RF) effects of non-CO2 emissions at high altitude. This carbon footprint is comparable to the average emissions created by one single person in the UK each year.
Orbital space launches using fossil fuels create enormous amounts of black carbon in the upper atmosphere. Annually the amount created by around 120 space launches is equivalent to the black carbon emissions from the entire global aviation industry. Orbex´s solution almost entirely eliminates black carbon emissions.
A key factor in the environmental credentials of Prime is its innovative choice of fuel. The BioLPG used by Orbex for Prime is sourced from Calor, the UK's leading BioLPG supplier, that produces the propane as a by-product from the waste and residual material from renewable diesel production. As a result, the Greenhouse Gas (GHG) factor for BioLPG is 90 per cent lower than a fossil-based fuel such as RP-1, the highly-refined form of kerosene typically used as rocket fuel.
"Orbex will be the first commercial orbital space launch company to use a renewable, carbon-friendly fuel," said Chris Larmour, CEO of Orbex. "We believe it is time to move away from the use of heavily polluting fossil fuels now that more efficient, sustainable alternatives are readily available, and we hope to see much tighter regulations coming into force."
---
Spire Global's Quiet Supersonic Flight Community Testing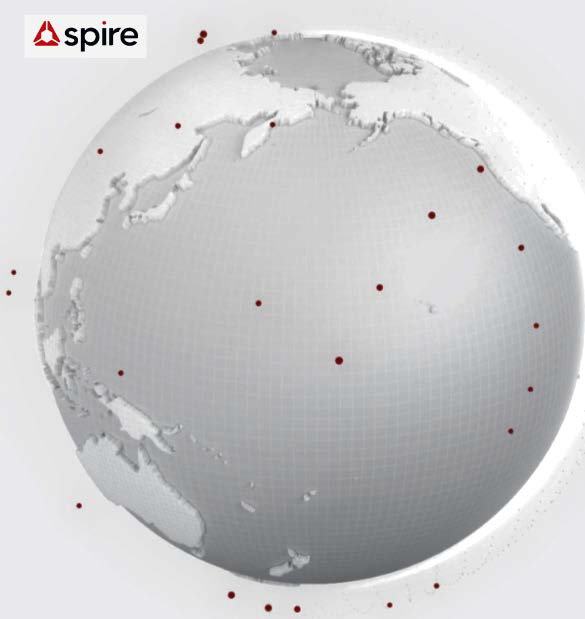 Spire Global, Inc. has been included as a subcontractor in an award contract between Harris Miller Miller & Hanson Inc. (HMMH) and the NASA. The award supports a national campaign of community overflight tests using NASA's X-59 Quiet SuperSonic Technology
research aircraft.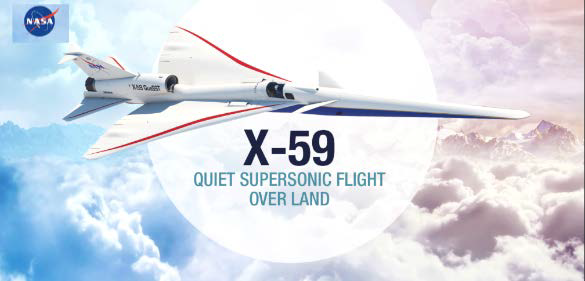 With a maximum potential value of approximately $29 million and an eight-year period of performance, the award is a cost-plus-fixed-fee, indefinite-delivery/indefinite-quantity contract. The scope of work focuses on supporting NASA in phases two and three of its Low-Boom Flight Demonstration mission. Phase two will include the preparation and planning for phase three where NASA will fly the X-59 aircraft over communities and ask residents to share their response to the sound the aircraft generates during supersonic flight.
Spire will support HMMH and NASA by quantifying a number of variables that impact noise exposure, which will impact residents' responses to the X-59 Quiet SuperSonic Technology research aircraft's sonic boom.
---
GMV Wins Contract For State-of- the-art Space Debris Software For German Space Agency
Following a European open call for tenders, the technology multinational GMV, European industrial provider in Space Situational Awareness (SSA) and Space Surveillance and Tracking (SST), has been awarded a new contract by the German Space Agency at DLR for developing progressive and advanced SST data processing algorithms for the German Space Situational Awareness Centre (GSSAC), located in Uedem, Germany.
To foster the development of an SST capability in Europe, the EU established in 2014 (through decision No. 541/2014/EU of the European Parliament and of the Council of April 16, 2014) a Framework for Space Surveillance and Tracking Support.
The aim of this Support Framework is to develop an independent SSA/ SST capability in Europe by EU SST. Since then, the incipient national SST capabilities in the countries within the EU SST consortium (Germany, France, UK, Italy, and Spain since 2016, as well as Poland, Romania and Portugal since 2019; the UK left the consortium in 2021 post-Brexit) have been federated in a coordinated manner: EU SatCen acts as front desk for the SST services provided by the EU SST consortium.
This new project is part of the data processing activities within EU SST under the German Space Agency's responsibility. Its main objective is to develop, validate and integrate advanced orbit propagation, orbit determination, and data correlation algorithms aimed at achieving an overall improved catalog build-up and maintenance capability, based RF Design on GMV's experience and capabilities in the field. This cataloging capability is one of the main responsibilities of DLR as part of the German contribution to the EU SST system.
Both German and Spanish branches of GMV will be involved in the activity, working with teams located in Munich, Darmstadt, and Madrid. GMV leads EU SST contracts in 5 countries (Spain, France, Germany, Poland, and Romania) and has additional capabilities and contracts in the UK and Portugal in the SST domain. All in all, more than 70 GMV engineers work at GMV on SSA/SST activities, making it the largest SSA/SST industry and team in Europe.
---