Can happy days now start happening?
Steve Collar, SES's CEO and traditionally not one to be downbeat, nevertheless delivered a rock-solid set of the company's Q3 numbers on November 3rd and firmly outlined success after success on almost all of the firm's recent challenges.
---


Artistic rendition of the SES-17 satellite on-orbit, courtesy of SES and Thales Alenia Space
---
The only negative was that the launch dates for its important O3b mPOWER fleet have slipped a little.


Steve Collar
SES said that for the year to September 30th, its overall revenues grew 6.1 percent (y-o-y) to €1.4 billion and a net profit for the 9 months to €277 million (up 23.2 percent y-o-y). SES guidance for its 12-months, full-year trading revenues are now in the region of €1,750m to €1,810m and €1,030 to 1,070 million in Adjusted EBITDA and, therefore, beating the consensus.
Moreover, SES management reaffirmed the double-digit revenue growth in SES Networks for its full year 2023, whereas consensus is in mid-to-high single digit. SES argued that technological limitations on its current O3B system has the company turning customers away, due to a lack of capacity over certain regions. The new mPOWER fleet will help to solve that thorny issue.
Sami Kassab, satellite analyst at investment bank Exane/BNPP, said in an "Outperform" flash note to clients that the mPOWER (and SES-17) backlog has continued to grow over the last three months from $930 million in June to $955 million now (and probably closer to $965 million when accounting for SES-17's backlog consumption in the quarter).
Collar stated that SES was "fully on track to deliver on our 2022 outlook, to capture significant value from US C-band, and to position SES for profitable long-term growth through the deployment of our state-of-the-art multi-orbit assets and architecture."
He said that SES was about two months ahead of its planning for C-band and therefore able to complete the installation of C-band equipment and filters for its North American clients. Also helping in the overall C-band financial picture was extra clearing of capacity for U.S. cellular operator Verizon, which should generate around $155 million in Q4 (and an extra $15 million due in Q1/2023). Another help to that revenue picture is the current strength of the U.S. dollar against the euro. Without that strength, revenues could have been some 2% lower.
Collar added, "Our Networks business is up 2.7 percent year-on-year primarily driven by ongoing success in Cruise and Aviation. SES-17 is now contributing to growth across the Americas with 13 new deals signed in 8 different geographies, while Thales InFlyt Experience continues to transition aircraft successfully. In Government, we have
completed the acquisition of [the former Leonardo DRS, a major satcoms supplier to the US government] DRS GES more quickly than expected and integration with our existing US Government business is well underway. The combined SES Government Solutions business now boasts scale and an expanded value proposition to our government end- users just as we launch significant new assets in SES-17 and O3b mPOWER."
The purchase of DRS GES was enjoying an "incredible execution," having wrapped (in July) in just a couple of months when compared to the 4 to 6 months initially expected. SES said it expected the acquisition of GES, which the company acquired this year from Italian defence group, Leonardo, for $450 million, to contribute $85-90 million to the firm's government solutions business between August 1st and the end of December.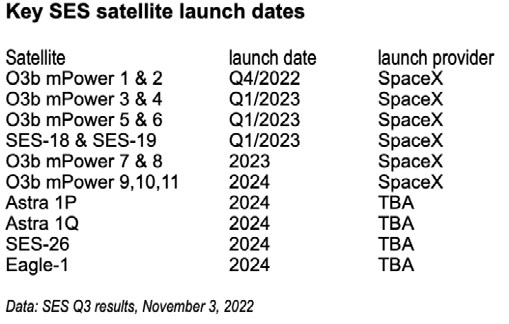 He added that the first pair of the new batch of O3b/mPOWER satellites will launch on December 15th, with two additional launches during Q1 next year (second pair in January of 2023 and the third pair in February of 2023) and speedily coming into service thereafter ("in service Q3/2023" for the initial 6 craft).
Collar stressed that there were no new issues coming from Boeing on the manufacture of the remaining mPOWER fleet. Journalists were due to see the first pair of satellites on November 10 at Boeing's El Segundo, California, facility. Nevertheless, this represents a slippage in O3b/mPOWER overall service commencement from an anticipated April of 2023 to July of that same year, and perhaps later.
However, there was considerable good news on C-band over the U.S. and the compensation from the FCC in terms of its 'incentive payments' to SES.
"With the successful launches of our first three C-Band satellites, the second phase of clearing is de-risked and therefore we have clear line of sight to $3 billion in accelerated clearing payments due at the end of 2023," Collar stated.
As at September 30, 2022, SES delivered around 8,000 total TV channels to 366 million TV homes around the world, including approximately 3,100 High Definition TV (HDTV) channels, with 73 percent of the total TV channels broadcast in MPEG-4 with an additional 6% broadcast in HEVC (High Efficiency Video Coding).
The position with SES's Video DBS/DTH business remained one of managed decline. The lost business within the past year from Nordic Entertainment and Dish in the U.S. was washing through. However, the actual Video division decline, Collar said, was nearer "-3% overall." For this current year Collar spoke about Video suffering a "mid-single digit decline" and that he was aiming to "flatten the curve" of revenue decline in SES Video. Collar did confirm that more than €230 million of renewals and new business had been signed during the year to date.
Contract backlog as at September 30, 2022, was €5.1 billion (€6.4 billion gross backlog including backlog with contractual break clauses), including DRS GES contract backlog of €0.1 billion (€0.8 billion gross backlog).
There was no discussion permitted on the operator's 2023 planning, other than comments on C-band ("2nd C-band payment, $3 billion pre-tax of 18-19%"), linked to the key December 5, 2023, clearing milestone. SES states that the $3 billion will be used for a mix between a return to shareholders, helping create a strong balance sheet, and any disciplined value-accretive investment. More detail on its thinking will emerge with the company's February Q4 results.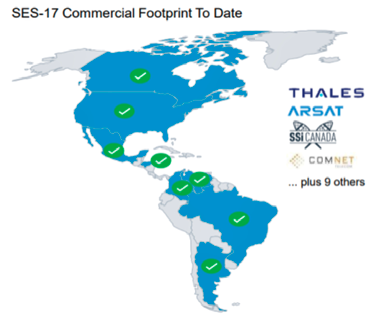 Shareholders will certainly hope to see a continued uplift to its dividend payments (currently 60c/share) and, perhaps, a glimpse of what might happen to SES vs Intelsat: The 50/50 problem will not go away — yet...
SES is mounting an aggressive appeal on its claim that the FCC's C-band incentive payments should be split 50/50 between Intelsat and SES. Lawyers for SES submitted their bundle of documents to the Appeal Court on October 28 and following up on their formal appeal lodged on October 14 with the US District Court for the Eastern District of Virginia.
In its 'statement of issues', the SES team will argue that Intelsat's bankruptcy court "erred in holding that the plain language of the [SES and Intelsat] Consortium Agreement – [which] mandated a 50/50 split of the [FCC's incentive payments] unambiguously excluded billions of dollars in incentive payments that the FCC awarded based on Intelsat's joint work with SES."
SES further argues that Intelsat's bankruptcy court "erred in adopting wholesale Intelsat's one-sided presentation of extrinsic evidence, thereby ignoring material and substantial evidence supporting SES."
The document also states that the bankruptcy court "erred in holding that SES's claim of unjust enrichment was foreclosed by a contract that the court had previously determined to be inapplicable."
SES legal team adds that Intelsat's bankruptcy court: "erred in holding that SES did not establish a claim for unjust enrichment based on Intelsat's deceitful, calculated conduct."
The lawyers then list 93 specific items that it seeks to be re-examined in the form of depositions, documents, testimony, opinions, findings of fact, transcripts and other relevant documents.
Intelsat 'Inside Trading' allegations resurface
On September 28th, a California judge cleared Intelsat's pre-bankruptcy major shareholders of a Class Action insider trading allegations. Judge Jeffrey White, from the U.S. District Court for the Northern District of California, left a potential sting in the tail of his ruling.
The judge said that, while his decision was that the Class Action failed to describe the level of intention needed for an inside trading claim, the would-be Action's plaintiffs may re-plead their claims and allegations. The court noted, among other elements, that the confidential witnesses did not point to any communications between CEO Steve Spengler and the Board on November 5, 2019. The court concluded that plaintiffs failed to sufficiently allege that the defendants possessed material non-public information and that they acted with scienter (that is intent or knowledge of wrong-doing).
The Class Action started in late 2019 with allegations over violations of the Federal securities laws. The lawsuit alleged that the named defendants violated the Exchange Act by selling Intelsat shares while they were in possession of material non-public information, including that Intelsat SA had met with the FCC on November 5, 2019, to discuss the private sale of certain frequencies controlled by Intelsat SA for future "5G" use (the "C-Band").
The named defendants in the action include investors in Intelsat BC Partners and Silverlake Group LLC, with Dave McGlade, Intelsat's chairman at the time, and others, including senior partners in BC and assorted subsidiary investment entities.
It was alleged that on November 18, 2019, after the FCC announced that it would publicly auction the C-Band frequencies that Intelsat SA 9 and SES had been wanting to sell privately, Intelsat SA's share price crashed 40 percent to close at $8.03 per share which ultimately led to Intelsat's Chapter 11 bankruptcy.
The Action was brought by lead plaintiff Walleye Opportunities Master Fund. They must decide now whether to re-start their action. The lead plaintiff had bought shares in Intelsat on each day from November 5, 2019, to November 18, 2019.
Walleye, on behalf of the Class Action participants, have asked the Court for extra time in order to decide whether to "re-plead" their submissions. The Plaintiffs requested an extension of time to file a second amended complaint, which the Court granted. The amended pleading was due by November 28, 2022.
BC Partners in 2018 held 41.1 percent of Intelsat's shares (56 million) and had two directors on Intelsat's board. Silver Lake owned 9.8 million. Dave McGlade held 4.5 million shares.
The plaintiffs alleged that, immediately after the November 5th meeting, McGlade, BC Partners, and Silver Lake sold $246 million in stock (some 14 percent of Intelsat's stock) through a private block sale conducted by Morgan Stanley.
Judge White ruled that the lead plaintiff can amend its action and, if that is decided then, there will be a case management conference on January 6th of next year and that the parties must pre-file a statement by December 30th of this year.


Chris Forrester
Author Chris Forrester is a well-known broadcasting journalist, industry consultant and Senior Columnist for SatNews Publishers. He reports on all aspects of broadcasting with special emphasis on content, the business of television and emerging applications. He founded Rapid TV News and has edited Interspace and its successor Inside Satellite TV since 1996. He also files for Advanced-Television.com.
---