Gilat Satellite Networks
Gilat Satellite Networks is committed to the ongoing development of cutting-edge technologies and products that improve the quality of lives by enabling broadband communication that reaches all parts of the world, on land in the air and at sea.
2019 was a remarkable year for Gilat with significant achievements, which are a testament to Gilat's recognized leadership and innovation. Four of these achievements are discussed below. First, the landmark achievement of becoming a prominent player in the ground segment for Non-Geo Stationary Orbit (NGSO) Satellites. This achievement was marked in November this year, with SES selecting Gilat's ground segment for its next-generation platform, O3b mPower Medium Earth Orbit (MEO) constellation.
In the Inflight Connectivity (IFC) market segment, Gilat has increased its presence with the selection by a Tier-1 Business Aviation service provider for a full aero terminal, thus expanding Gilat's aero offering from Commercial Aviation into the Business Aviation market segment. This win also broadens Gilat's portfolio to include a tail-mount antenna (TMA) for business jets, in addition to Gilat's leading airborne modem. In the Mobile market segment, Gilat's cellular backhaul solution was recognized this year by the industry analyst NSR, as the world leader in shipments of cellular backhaul over satellite, with 35 percent market share in modem shipments. During 2019, Gilat continued to expand its presence worldwide with additional tier-1 Mobile Network Operators (MNOs).
And finally, in the Broadband market segment, Gilat has reached an important milestone in Australia with NBN Co launching the largest operational satellite network installed in Australia. Gilat's comprehensive ground equipment and network management system are the infrastructure for this vast network now installed and operational throughout Australia, meeting NBN's stringent requirements for uninterrupted communication.
Non-GEO Satellite Orbit (NGSO) Landmark Achievement
In 2019, the market for Non-GEO Satellite Orbits (NGSO) has seen a significant move forward as the list of NGSO constellations grew, and new large players such as SpaceX and Amazon have entered the market and are influencing the market dynamics.
In the fourth quarter of this year, Gilat marked an outstanding achievement reaching a major landmark in fulfillment of its strategy to be a significant player in the Non-Geostationary Orbit (NGSO) Satellites. Gilat's multi-orbit GEO/NGSO platform was selected by SES for its revolutionary mPOWER Medium Earth Orbit (MEO) constellation. Gilat was selected for its technological innovation and proven track record worldwide. The innovative ground network design significantly reduces cost per bit, provides best-in-class spectral efficiency, and demonstrates a step function in modem performance, all vital for revolutionary multi-terabit high-performance constellations such as mPOWER.
In addition, a series of successful tests were conducted throughout the year over Telesat's Phase 1 Low Earth Orbit (LEO) Satellite. A first-ever live in-flight demonstration for broadband connectivity over LEO was the result of Gilat's cooperation with Global Eagle at the end of 2018. Then in early 2019, Gilat further demonstrated exceptional mobility connectivity, this time with a tier-1 maritime service provider. This was an industry-first milestone for maritime applications requiring exceptionally low latency and high bit-rate. And, most recently another remarkable industry milestone was recorded of the fastest ever modem speeds of 1.2 Gbps total throughput using Gilat's modem over Telesat's Phase 1 LEO Satellite.
Gilat is heavily engaged in this upcoming market, and is positioned as a major player for the ground segment requiring higher performance, better efficiency and reduced cost per bit.
Inflight Connectivity (IFC) Entry to Business Aviation
In the Inflight Connectivity (IFC) market segment, several milestones were noted, marking Gilat's global IFC leadership. Gilat has increased its presence from Commercial Aviation to Business Aviation with the selection of a Tier-1 Business Aviation service provider. The Business Aviation segment requires premium service and therefore calls for a high-end robust solution that must be based on innovative technology. Gilat is therefore, particularly proud to have met the customer's demanding high performance and reliability requirements. This win not only adds to Gilat a new IFC market segment but also strengthens Gilat's IFC portfolio with an additional 12" tail mount antenna (TMA) in addition to its industry-proven Taurus aero modem.
______________________________________
Looking into 2020, Gilat will continue
to focus on the market segments
of IFC, CBH, and Broadband, bringing
to market technical innovations to best
address its extensive customer base worldwide.
Also, Gilat aero modem, Taurus, has been selected by Honeywell for its Jetwave Satellite Communication Solution. The integration of Gilat's aero-modem will enable Honeywell to offer its JetWave solution within territories as well as to roam in-and-out of territories where Gilat's ground network is deployed. The Honeywell-Gilat solution is to be deployed first in China over Gilat's already deployed HTS Ka network for both domestic and cross border flights, and then expected to expand to additional regions around the globe.
On another front, a significant industry trend to offer free WI-FI for airline passengers has been declared by several US airlines and, as such is a tailwind in Gilat's business. This is due to a significant expected usage increase and particularly a usage shift to a mix of business and leisure travelers. Free WIFI is likely to enhance the usage of higher bandwidth applications such as streaming and social media.
To support this trend of an increase in the IFC bandwidth, additional equipment is required to provide the required satellite resource utilization. Gilat is well-positioned for this opportunity, with its field-proven, high-performance solution that easily meets the demand for hundreds of concurrent passengers, providing hundreds of Mbps. with an excellent user experience.
Gilat's Taurus aero modem is being used by Gogo for Commercial Aviation for some time, providing an excellent user experience and is more than capable of delivering the required additional free WI-FI service. Gilat's solution is installed in a large number of airlines, including Aero Mexico, Air Canada and Delta Air Lines delivering Gogo's 2Ku service, which is installed to date on more than 1,300 aircraft.
Cellular Backhaul (CBH) Market Leader
In the Mobile market segment, Gilat's cellular backhaul (CBH) solution was recognized by the industry analyst NSR as the world leader in shipments of cellular backhaul over satellite, achieving a 35 percent market share in modem shipments. In the fast-spreading 4G/LTE networks, Gilat has over 80 percent of satellite-based cellular backhaul installations worldwide.
Gilat supplies its renowned backhaul solution globally to Tier-1 Mobile Network Operators (MNOs), so these large mobile carriers can extend their network coverage to remote locations, as well as to islands, highways, and tourist attractions to support their subscribers who require high-quality broadband connectivity wherever they go. Gilat offers the backhaul network and VSATs as well as full turnkey solutions providing managed services in numerous deployments such as in the Americas and Asia.
In 2019 Gilat expanded its installed base with Tier-1 logos such as NTT DOCOMO in Japan and TIM in Brazil. These success stories add on to continuously expanding coverage of existing customers that include among others: Sprint and T-Mobile in North America, EE in the UK, Telstra and Optus in Australia, SoftBank, and KDDI in Japan and Globe in the Philippines.
In addition, Gilat is leveraging its 4G superiority to becoming a significant player in 5G. The required high speeds, low latency, and flexible network architecture are addressed by Gilat with its proven technology and roadmap. Speeds over 1Gbps. will be provided based on innovative wideband technology, and the integration of the ground segment into the 5G eco-system will utilize SDN/NFV, Cloud, Edge Computing and Network Slicing.
Gilat is a SaT5G Project member and as such is involved in bringing satcom into 5G and has participated in several tests with industry partners. This year Gilat also participated in the first-ever successful test that was conducted, demonstrating 5G connectivity over Telesat's Phase 1 LEO Satellite powered by Gilat's modem. The successful test was done at the 5G Innovation Centre at the University of Surrey in the UK and was conducted by a tier-1 European operator, demonstrating 5G backhauling with Gilat's modem.
Broadband Launch of Massive Network in Australia
Gilat has reached an important milestone in Australia with NBN Co. this October, with the launch of NBN's business satellite services meeting the connectivity demands for businesses and government customers throughout regional and rural Australia. Gilat's comprehensive ground equipment and network management system are the infrastructure for the largest operational satellite network installed in Australia to meet NBN's stringent requirements for uninterrupted communication throughout Australia.
The commercial launch of this flagship project initiates the commencement of Gilat's managed services to NBN. During the launch event, NBN's CEO, Stephen Rue said: "We're redoubling our commitment to regional Australia with a focused Business Unit responsible for engaging with regional customers and meeting their needs."
The successful launch, coupled with the declared focus on regional and rural areas of Australia, demonstrates a growing commitment for satellite communication based on Gilat's multi-service platform for cellular backhaul, mobility services and enterprise offerings.
Bottom line
The win with SES positions Gilat at the forefront of ground networks for NGSO constellations and puts Gilat in an excellent position to win additional opportunities in the vast market that NGSO creates, and further than that, Gilat's product roadmap will serve not only NGSO but also the new generation of GEO HTS and VHTS satellites.
With the growing importance of mobility applications and the emergence of NGSO constellations, Electronically Steered Array (ESA) antennas are another key focus area for Gilat and will indeed carry into 2020. Major progress is being made on Gilat's joint development with Airbus of an ESA antenna for in-flight connectivity, as part of the European Commission's Horizon 2020 program. This Ka-band ESA terminal is based on Gilat's chipset for its Phased Array Antenna (PAA).
Gilat is investing in ESA antennas for the aero market to address the expected efficiency challenges of the upcoming market transformations. The characteristics of ESA antennas such as flat panel, instantaneous bandwidth, beam agility, multi-beam connectivity, scalability/modularity, and longevity — are imperative for unlocking new business opportunities and for maximizing performance of satellite networks.
Looking into 2020, Gilat will continue to focus on the market segments of IFC, CBH, and Broadband, bringing to market technical innovations to best address its extensive customer base worldwide, as it continues to materialize the vision of broadband connectivity for all, anywhere, anytime.
www.gilat.com

Doreet Oren (doreeto@gilat.com) is Director of Product Marketing & Corporate Communications for Gilat Satellite Networks. Doreet Oren has been in this role since 2012 and has been responsible for defining product positioning, messaging, go-to-market strategies, market research, and analyst relations.
Oren has more than 20 years of industry experience, and has held management positions in R&D, product management and product marketing, for international high-tech companies. In this capacity she contributed to next generation product definition and was responsible for delivering the company's vision to the media and analyst community. Oren has published thought leadership articles in renowned international journals, and has spoken at numerous industry conferences worldwide. Oren received a BSc in Computer Science from George Washington University.
---
Intuitive Machines
Intuitive Machines is disrupting the aerospace standard, accepting the best minds and putting aside the pieces that drive the cost of spaceflight sky high.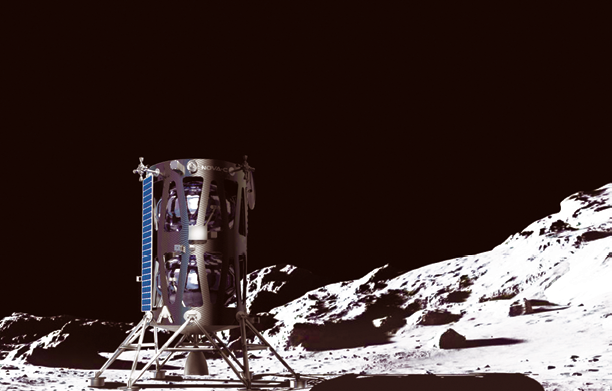 Nova-C lander on the Moon. Image is courtesy of
Intelligent Machines.
In 2013, Steve Altemus, left his post at NASA's Johnson Space Center and started Intuitive Machines with Dr. Kam Ghaffarian, chairman, and Dr. Tim Crain, Vice President of Research and Development.
Six years later, the aerospace company has more than 100 employees seizing the opportunity to become the first commercial company to land on the lunar surface.
"It's a very powerful statement for the United States to show the rest of the world the depth of our technology and innovation," said Altemus. "In the United States, a small business can fly to the moon, that's incredible. It shows how innovative the American people are and I'm proud to be a part of that small business."
On May 31, 2019, NASA awarded Intuitive Machines the first mission task order under the space agency's Commercial Lunar Payload Services (CLPS) program.
Under the CLPS contract, NASA tasked Intuitive Machines to develop, launch and land its lunar lander, Nova-C, on the lunar surface with a payload of NASA-provided instruments that will conduct science investigations and demonstrate advanced technologies on the lunar surface.
___________________________________
Nova-C draws on the heritage
and lessons learned from NASA's
Project M lunar lander and
Project Morpheus experience.
Nova-C weighs 3,300 pounds and stands roughly 10 feet tall. It will carry up to 220 pounds of payloads to the moon's surface.
"Intuitive Machines has had a lot more visibility over the past two years," said Altemus. "We started building Nova-C last summer with funding from a private investor and more than $77 million from NASA's fixed-rate CLPS contract with an additional incentive of $2,500,000. People were surprised there were three sub $100 million mission bids. The verdict is out whether that holds but we're confident that we are right, and we'll stay in this cost range. We are not looking to raise prices; we are looking to fly reliably for less than $100 million per mission."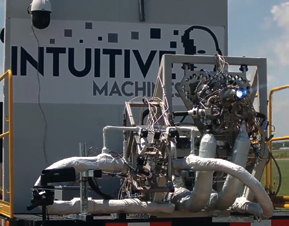 The lander's main engine. Image is courtesy
of the company.
The first Nova-C mission includes five NASA instruments, including a navigation doppler lidar for range measurements during decent, stereo cameras, a navigation demo payload, sensors to conduct radio wave observations and a retroreflector.
Aside from NASA instruments, Nova-C will also carry commercial and academic payloads including a camera from Altemus' alma mater, Embry-Riddle Aeronautical University.
Prior to landing on the lunar surface, the camera will detach from Nova-C so that it can capture the landing for further examination. Right now, about 121 pounds of the lander's 220-pound payload is filled for the first mission.
"We have a sliding scare of price per each kilogram that partners want to fly to the moon," said Altemus. "The base cost is $1 million per kilogram but if a payload requires power or things like special integration measures like a quiet vehicles while taking samples, we have an algorithm that changes the price."
Nova-C draws on the heritage and lessons learned from NASA's Project M lunar lander and Project Morpheus experience. Project M and its terrestrial counterpart, Project Morpheus, were designed, developed and tested by NASA Johnson Space center to demonstrate new technologies for planetary landing including autonomous hazard avoidance, precision landing and high performance cryogenic liquid oxygen (LOX) and liquid methane (LCH4) integrated propulsion.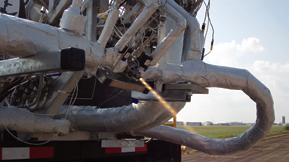 A test firing of the main lander engine. Image is courtesy
of Intuitive Machines.
"We aren't afraid to take a risk," said Altemus. "We've been pushing the development and acceptance of space cryogenic LOX. For us to take that on and say we'll do that is because we have confidence to do that. We are confident, we bid it and convinced NASA we have a handle on the risks."
In October, Intuitive Machines officially selected SpaceX to launch Nova-C to the Moon in 2021 on a Falcon 9 rocket.
"Intuitive Machines is thrilled to sign with SpaceX to take Nova-C on its first mission to the moon," said Altemus. "SpaceX's ability to make low-cost quality lunar transport is paramount to completing NASA's CLPS contract and Intuitive Machines becoming the first commercial company to land on the Moon."
The decision came after the company reviewed proposals from multiple launch providers and ultimately selected SpaceX for its proven record of reliability and outstanding value.
SpaceX will provide Nova-C cryogenic propellant loading through a fluid connector into the rocket's payload fairing until the
final minutes before liftoff.
The last-minute propellant loading will allow Nova-C's LOX and LCH4 to remain between minus 250 degrees Fahrenheit and minus 300 degrees Fahrenheit.
Intuitive Machines' Vice President of Aerospace Systems, Trent Martin, said SpaceX's ability to top-off LOX and LCH4 very late was a key reason the company went with SpaceX. "That allows us to top off and keep it full up until launch, which was our biggest concern when it came to cryogenic storage. Once we're in space, it is easier to store, and our mission duration is relatively short. So, we can do that with nominal effectors for storing cryogens in space."
Once launched from Launch Complex 39A at NASA's Kennedy Space Center in Florida, Intuitive Machines anticipates Nova-C will make a soft landing on the lunar surface in about six days. The lander is designed to operate on the lunar surface for around 13 days during one lunar day.
"The lander dies on the surface after the first lunar day, which is 13.5 days," said Altemus. "It goes into a frozen mode; we have not added tech to wake it up on the next lunar day."
Moving forward, Intuitive Machines is looking toward building upon its scalable propulsion system and to continue building engines for Boeing's Human Lander System (HLS) Technology Development Initiative.
Boeing selected Intuitive Machines to build, test and deliver prototype main stage and reaction control (RCS) engines for their HLS NextSTEP-2 BAA Appendix E – Architecture Studies and Technology Prototypes contract that support's NASA's goal of returning humans to the lunar surface in 2024.
"The relationship between Intuitive Machines and Boeing combines two stellar companies with ambition to fulfill NASA's goal of returning humans to the Moon in 2024," said Martin.
The Appendix E technology prototyping effort will work to mature this technology and enable HLS elements to use a common system across the architecture to meet the preliminary goals for all elements and reduce development and operation costs by using a single propellant combination for space flight.
www.intuitivemachines.com
Steve Altemus is a Founder and President and CEO of Intuitive Machines.
---
Marlink
At Marlink, a significant amount of innovation, time and funding goes into the development of services and solutions that allow our customer to operate more efficiently and with less environmental impact.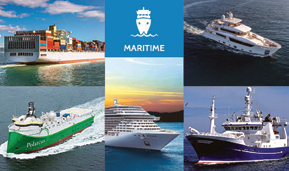 This growing wave of digitalization is happening across all maritime verticals, from cruise and fishing, to shipping, offshore and superyachts, and throughout 2019 our digital enablement strategy has supported diverse customers and vessels to leverage the power of connectivity and data sharing.
Marlink's satellite network, which currently comprises 21 satellites and 50 beams, provides global coverage with high resilience and redundancy as the foundation for maritime digitalization, but demand has continued to grow throughout 2019 for solutions in a wider network and technology context. To meet the market needs, we continue to build out our network and introduce new capabilities that make going digital becomes easier and more secure.
Combating the Cyber-Threat
Optimal access to connectivity and high network quality are increasingly fundamental expectations for crews and customers. However, as more data is used on board, the risk of cyber attacks grows. Considering the risk factors, maritime networks must be comprehensively protected against the ever-present threat of malware and more targeted attacks. Marlink has been tackling the issue head-on with ongoing enhancements to our fully-integrated ship- and shore-based Cyber Guard portfolio of cyber security solutions in 2019.
Combining state-of-the-art tools and processes in its role of securing maritime IT networks, Cyber Guard operates based on the 'Protect, Detect and Resolve' principle, covering all aspects from data encryption, threat detection and incident investigation through to secure remote access and remediation.
___________________________________
Marlink continues on
the company's mission to
deliver the innovation needed
for Maritime customers to
save money and operate responsibly.
At our Nor-Shipping stand in June of 2019, we launched a new module within the Cyber Guard portfolio; 'IT Breach Policy' monitoring. Straightforward and effective, the monitoring identifies abnormal and/or suspicious network and internet usage which doesn't conform to a client's IT policy, and will automatically issue an alert.
Issues found can then be resolved with the integrated tools provided in the Cyber Guard portfolio. Cyber Guard services recognize more than 50 distinct threat categories, from intrusion attempts and confirmed intrusions to social engineering
2019 saw its use increasing by early adopters in readiness for the IMO's mandate to include cyber risks within every vessel's International Safety Management (ISM) Code by January 1, 2021.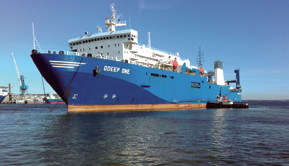 Marlink's multi-band connectivity will help OFW
ships provides seamless crew connectivity, including
enabling the crew to use their own devices onboard.
Marlink's introduction of 'IT Breach Policy' monitoring was just one direct consequence throughout the year of enhancements to the Cyber Guard portfolio which were brought about thanks to detailed customer feedback. Enlisting the invaluable collaborative input of more than 4,000 crew from 200 tankers, container vessels and bulkers has enabled us to take new risk scenarios and use cases on board as a systemic method of advancing Cyber Guard's sophistication and reinforcing
its performance.
Digitalization and Compliance
Another Marlink milestone in 2019 was the launch in June of our ITLink portfolio: an exhaustive suite of IT solutions enabling fleet owners and operators to fully manage their fleet-wide IT environment on a 24/7 basis, with complete transparency, by standardizing, simplifying and automating their IT operations. The benefits include time and money saved by automating time-consuming and complex tasks including managing, administering and updating onboard IT networks and applications. ITLink also facilitates strict compliance — a must in the light of multiplying regulations including the IMO's aforementioned 2021 cyber security ruling and TSMA version 3, which promotes best practice management and self-assessment for tanker operators.
Available as a standalone portfolio, or integrated within Marlink's global multi-band Sealink network and XChange communications management system, ITLink operates on a scalable, flexible, three-tier 'Design, Deliver and Manage' basis, ensuring that clients' specific needs are securely addressed and fully supported. Marlink IT management services are used on more than thousands of vessels already, with several major fleet installations in 2019.
IT in Action
Danish shipping company J. Lauritzen selected Marlink to deploy fully integrated and managed IT services with ITLink including the KeepUp@Sea platform on all Lauritzen Kosan managed gas carriers.
The solution enables automation of software and security updates, network and PC health monitoring and remote access for fast issue resolution. Lauritzen Kosan's fleet is tasked with the secure and dependable ocean transportation of liquefied petrochemical gases. The ITLink managed services optimizes vessel IT infrastructure and processes, enabling a reduction in operational and support needs while simultaneously improving the stability of onboard networks.
Marlink is also providing a similar solution to Höegh Autoliners' 38 strong car and truck carrier fleet. Marlink will provide managed services designed to ensure the resilience and compliance of the vessel IT networks on Höegh vessels. Onboard implementation of the service started in September, after hardware delivery and shore tests have been completed.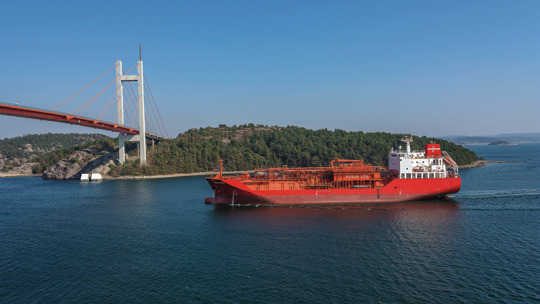 A Stella Kosan LPG Tanker.
Through standardization, automation and remote network management, KeepUp@Sea will enable Höegh to keep its IT systems always available, updated and secured, and to achieve material cost savings in operations. Over-the-air (OTA) applications and file distribution will limit the risk of human error, and dramatically reduce the resources and time required for updating software and anti-virus manually.
By replacing the outdated process of using physical media to upgrade onboard networks, Marlink is also assisting Höegh Autoliners to improve IT compliance, ensuring readiness for new regulations and guidelines, including the IMO 2021 Cyber Security section. Marlink's ITLink solutions portfolio is also future-proofed to accommodate fleet expansion and processes of controlled change.
OT Joins IoT
At the end of 2019, the company introduced a new pillar in our digital enablement strategy. Joining Smart Connectivity, Cyber Guard and IT Link, BridgeLink is a technology agnostic solutions portfolio designed to interconnect on board Operational Technology (OT) within a standardized data structure. It addresses compatibility and interfacing challenges by providing an open, technology agnostic platform for unifying on board equipment and sensors with network infrastructure and satellite IP connectivity, so that data from any system can be accessed in a single interface at sea or ashore for visualization and analysis in a secure matter.
By harmonizing data from OT such as radar, automation, power and propulsion systems, BridgeLink supports our customers by enabling the development of scalable remote ship management and smart maintenance systems, which can improve vessel efficiency using secure data collection for specialized analysis and applications. And while reducing operational costs, BridgeLink can also help ship owners and operators to reduce their environmental impact — that is certainly a win-win situation for everyone.
We also added even more value to our already industry leading Inmarsat Fleet Xpress offering during 2019, including a new customer portal providing detailed service information on board and ashore, such as what part of the Global Xpress network — Ka- or L-band — a vessel is currently using. The information ensures that customers can adapt their usage patterns should they need to continue operations on the lower bandwidth l-band channel.
The portal joins a wealth of value adds for Marlink Fleet Xpress users, such as access to our extensive portfolio of business critical solutions designed to enable customers to fully leverage the power of the connectivity they have on board.
Green Innovation
Sustainability and green initiatives continued to be in focus throughout 2019 and of course, will be for decades to come.
With developments such as ITLink and BridgeLink, we are enabling our customers to operate more efficiently. Every drop of fuel a ship doesn't use saves money, but it also contributes to saving the planet.
While our customers reduce their environmental footprint, through i.e., remote monitoring and diagnostics, and smart maintenance, Green issues are reflected across Marlink's own innovations. For instance, ship owners can send less engineers and support functions to ships because our resilient global network and unique IT solutions help us to deliver high service availability in the first place. Should something go wrong, many issues can be resolved over the air.
As 2020 approaches, Marlink continues on the company's mission to deliver the innovation needed for Maritime customers to save money and operate responsibly. In turn we are lucky enough to work with customers innovating in their own market, such as Ocean Fresh Water, who this autumn contracted us to deliver broadband for a unique marine bottling plant, designed to turn seawater into drinking water.
From specialist ships like this, to offshore, merchant and fishing vessels, as well as luxury yachts, 2019 has been a fantastic year for Marlink and the customers that depend on us for global communication and connectivity.
With the SATCOM industry always moving forward, Marlink is positive that we'll have just as many new developments to discuss this time next year, as well.
marlink.com/
---
Mynaric
This year saw the starting pistol fired on a new epoch in telecommunications.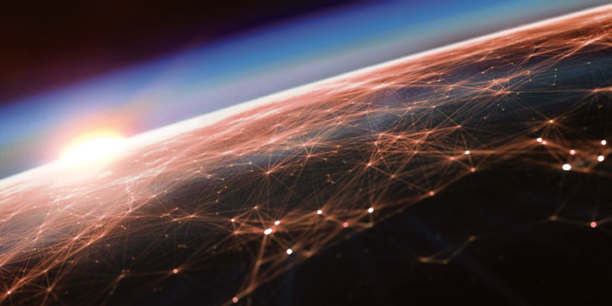 The first bold steps were taken to move high-speed, ubiquitous connectivity from the ground to the upper atmosphere and beyond into space. No longer would the world only be connected to high-speed internet through physically cabled fiber-optics dug deep into the ground or stretched hundreds of miles across ocean beds.
While there have been previous efforts to establish high-speed connectivity via multiple satellites before — indeed, those old enough will recall the (eventually doomed) efforts of Teledesic and Globalstar to establish commercial broadband constellations in the 1990s – a new, highly commercialized market, driven by the private sector, is fueling a renaissance in space as the solution to all of our ever-growing connectivity needs.
The companies operating in this market — largely in the hands of private individuals and management teams who are keen to exploit the private sector's desire to profit from the incredible returns being promised and led by first movers such as OneWeb and SpaceX — are already in the throes of actively building this new generation of global communication constellations. Constellations that, for once, genuinely promise to transform the nature of connectivity for the 'always-on', data hungry 21st century.
____________________________
Laser-powered networks
in the air and in space promise
to include rural and remote
regions as well as developing
countries and LDCs.
What's changed? Well, everything and nothing. The concept and physics behind constellations remain as they were in the 1990s: inter-connect satellites in LEO to ensure global availability of connectivity regardless of where one is: in the middle of the ocean, in the underserved Mid-West of the United States, or plonk in the middle of the Atacama desert.
What has changed, however, are the technologies and the economics. Satellites are now built to specifications that were unthinkable just 20 years ago and launched on rockets whose fairings and boosters can be recovered and reused. The effect on cost has been considerable.
Twinned with the drive and vision of the high-profile individuals who are pushing these efforts – the Musks, Bezoses, Bransons of the world — the effect is dramatic. Here is a market looking to Ford for its inspiration — not Fabergé: serial production precipitating reduced cost not individual, one-off projects that come in at huge prices.
In the last six months, the first batches of satellites that will form the cornerstones of these various new constellations have been launched. As 2020 progresses, so will the launch manifests and the number of satellites in LEO will grow and constellations will start to live up to their name with hundreds of constituent parts.
What differentiates many of these new constellations from earlier incarnations (and the one existing, completed constellation — Iridium's Certus broadband constellation employing 66 linked satellites in LEO) is the choice of technology that will provide backbone connectivity.
All of the following companies have launched — or will shortly launch — the first satellites of their constellations: Laser Light Communications, Cloud Constellation, LeoSat, SpaceX, Telesat, Analytical Space.
All of them share not just a strategy to provide connectivity from LEO (with one — Laser Light — opting for MEO) but also a commitment to employing free space optical communication — laser communication.
Laser Communication: A Natural Advantage
And the reasons for this? The inherent physical benefits of laser communication over the established means of communication from the air and space — RF. The benefits are numerous.
An RF beam — and RF beams are how satellites currently communicate with ground stations —– spread out like a fan from their origins, whereas lasers maintain their narrow shape over vast distances. This makes them nearly-impossible to tap, jam or spoof.
As data security for institutions operating in highly data sensitive arenas, such as finance and government, moves rapidly up the agenda, so does the need for a unhackable internet. With quantum computers worryingly close to rendering existing means of internet security redundant, an even more urgent need for an alternative to RF exists.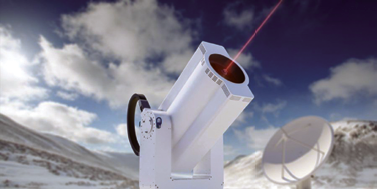 Space ground station for lasercomms. Image is courtesy of Mynaric.
Another key benefit over RF is the increased bandwidth available. The current record data transfer achieved by millimeter wave technology, that is the current state of the art radio technology, is 40 Gbps. Compare that with the current record for laser communication — a mere 13,160 Gbps — and you start to understand that future-proofing and technological advantage of these constellations is really only achievable with lasers.
The companies building constellations are doing so as they are identifying a core need from telecommunication providers who themselves are seeing two very distinct strands of connectivity developing. These are surveillance applications, such as Earth Observation (EO), and communication applications such as high-speed broadband.
Delivered through laser communication, unhackable security and ultra-high-speed data rates translate into not only an unsurpassable technological advantage, but also a highly lucrative financial model allowing constellation builders to maximize returns on their outlay and future-proof their aerospace networks. All of this while delivering high-speed internet to people hitherto unconnected and establishing and developing new markets for IoT, 5G and the like.
As the well-respected Professor of Information Systems at California State University, Larry Press, stated, "In addition to mitigating the digital divide by serving rural areas and small organizations, Musk and his competitors at OneWeb, Telesat, Amazon, and LeoSat hope to service high-end, high-margin customers like enterprises, governments and maritime, airline and mobile phone companies. ISLLs (Inter-Satellite Laser Links) are necessary for serving those lucrative high-end markets."
Laser Communication: Timed to Perfection
Laser communication is currently going through a key stage in its commercial development and roll-out. This relatively new market is hitting an inflection point as technology validation moves into product validation. Companies that have identified the market for laser communication in aerospace networks, such as Mynaric, have spent years harnessing laser communication into prototypes that have been successfully tested and validated to demonstrate the efficacy of the technology.
With the technology proven, products are now being introduced which the aerospace networks industry is beginning to launch on Phase 1 demonstrations to assess and qualify prior to full roll-out as constellations are built out.
However, with companies such as SpaceX, Amazon and OneWeb talking about hundreds — even thousands — of satellites, each of which could require up to five laser terminals, where does the laser communication terminal supplier industry stand on the cusp of these launches and roll-outs.
The few companies producing laser communication terminals, historically, sit in one of two camps: companies with high levels of technical maturity and heritage but focused on one-off, highly expensive items for government and research purposes or companies with a greater commercial focus but lacking the technical background.
Mynaric has taken a very disruptive approach — a unique approach — to this particular issue. Grounded in years of laser communication research and heritage from its founders' time at the German Aerospace Center (DLR) it has coupled this knowledge with a long and deep held conviction that a new aerospace connectivity market will emerge based on new connectivity constellations based in LEO.
Now, as these new constellations begin to launch and take shape, Mynaric finds itself ahead of the competitive curve and into serial manufacture of a full product portfolio of laser communication terminals just as the companies building constellations need to assess available products' suitability for backbone connectivity.
A Successful Mix of Synergies
In an article for the International Telecommunications Union earlier this year, the Chief Strategy Officer for LeoSat — Diederik Kelder — stated "more data [has been] created in the past two years than in the entire history of the human race. Communications networks are already carrying more than 1 Zeta Byte of traffic globally, and this is forecast to grow exponentially."
Read alongside figures recently released by the ITU reporting that 4 percent of the Earth's population still remain unconnected from the internet, it is clear to see the desperate need for greater connectivity.
Laser-powered networks in the air and in space promise to include rural and remote regions as well as developing countries and LDCs. Plus, this digital revolution will potentially tap trillions of USD of economic development as internet-based services and products are adopted.
The true commercial benefits of this approach of providing connectivity from LEO and the stratosphere match the humanitarian benefits: it is quite simply cheaper to connect a larger area from the sky or space than you could by terrestrial infrastructure.
Both SpaceX and OneWeb have stated that they will be in a position to offer (partial) services from their constellations next year and this will formally usher in the new era of connectivity from LEO.

It is a matter of not only watch this space but watch space — the new epoch in connectivity is now upon us.
mynaric.com
Dr. Carlos Carrizo is the project manager for R&D of new applications of free-space laser technology. He explores new market possibilities for laser satellite communications and solves customer needs by offering customized solutions for lasercoms in space.
---