Thales becomes Iridium's newest Certus aviation service provider
Iridium Communications Inc. (NASDAQ: IRDM) has announced Thales as the newest Iridium Certus aviation service provider.

While already developing the Iridium Certus-based FlytLINK terminal and antenna, Thales will now be able to offer both Iridium Certus terminals and Iridium Certus connectivity services to business jets, commercial aircraft, rotorcraft, general aviation and UAVs.
Iridium Certus is the only L-band broadband platform providing truly global connectivity and upon aviation terminal availability, will provide a state-of-the-art solution for two-way flight deck and business cabin communications.
Iridium Certus will turbocharge the company's existing suite of aircraft safety services, including providing Iridium Future Air Navigation System (FANS) applications such as standard and "enhanced" ADS-C, controller-pilot data link communications and ATS Safety Voice, once certifications are complete.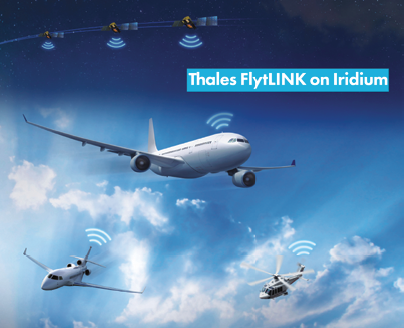 Beyond safety services, Iridium Certus will deliver flight deck and business cabin-friendly internet capabilities such as electronic flight bag services, graphical weather, blackbox streaming, email, credit card processing, VPN access and social media posting and monitoring.
Thales plans to be first to market with an Iridium Certus aviation product and has a unique place in the Iridium Certus partner ecosystem as the only company manufacturing land, maritime and aviation terminals.
This includes a hybrid FlytLINK solution that combines Iridium Certus capabilities with Iridium's traditional narrowband services, including safety services, which will be available with its initial release.
With low latency and superior performance capabilities compared to alternatives, Iridium Certus will be the ideal solution for the Aeronautical Telecommunications Network (ATN) Open Systems Interconnection (OSI) capability deployed in Europe for domestic en-route communications.
Looking ahead, Iridium has also been working closely with major international aviation organizations and ANSPs on the development of the ATN Internet Protocol Suite (IPS), which will offer a more efficient and capable alternative to existing options for aircraft transitioning from Oceanic to Domestic satellite communications.
Michael Hooper, Director and GM of aviation, Iridium, said that The Iridium Certus platform will provide the only solutions that meet the coverage, cost and capability requirements for this new generation of aircraft communications.
www.iridium.com/services/iridium-certus
www.thalesgroup.com
---
Hughes JUPITER™ System to drive satellite broadband services throughout Algeria
Hughes Network Systems, LLC (HUGHES) has announced that Algérie Telecom Satellite (ATS) has selected the Hughes JUPITER™ System to enable satellite broadband service to home users and small-to-medium enterprise (SME) customers.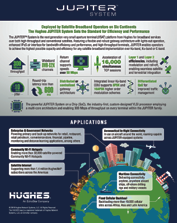 The mission of ATS is to develop and promote satellite telecommunications throughout Algeria, the tenth largest country in the world and the largest in Africa. ATS will launch satellite Internet service employing the market-leading JUPITER System, including a hub and thousands of user terminals.
The JUPITER System is the nexgen, Very Small Aperture Terminal (VSAT) platform from Hughes for broadband services over both high-throughput and conventional satellites.
Employing the DVB-S2X standard for highly efficient use of satellite bandwidth, the JUPITER System powers services on more than 40 satellites around the world, and is the foundation for HughesNet®, the flagship satellite Internet service from Hughes, with more than 1.4 million subscribers in the Americas.
The JUPITER System supports applications such as community WiFi hotspots, cellular backhaul, and in-flight connectivity services, in addition to broadband Internet access.
Yassine Sellahi, CEO, ATS, said that to connect people throughout Algeria with satellite broadband service, the company required a satellite platform that can deliver high performance and efficiency, with the correct economics. The Hughes JUPITER System was selected for these reasons as well as for its scalability as ATS looks to grow the company's satellite Internet business and extend connectivity everywhere.
Ramesh Ramaswamy, SVP and GM, International Division, Hughes, added that the company's global strategy is to help connect the unconnected by delivering service directly where the firm operates the business and to work with selected partners, such as ATS, in places where we do not. Hughes appreciates the opportunity to help ATS launch service throughout Algeria and to bring the benefits of high speed Internet access to the many that are unserved or underserved by terrestrial providers.
www.hughes.com
www.ats.dz
---
Gilat awarded an LTE satellite backhaul project by NTT DOCOMO
Gilat Satellite Networks Ltd. (NASDAQ, TASE: GILT) has disclosed that NTT DOCOMO, Inc. awarded the company a project for LTE satellite backhaul to expand their LTE footprint.

Gilat, in partnership with SKY Perfect JSAT (JSAT), will provide NTT DOCOMO a solution for rural coverage extension, while ensuring secure and robust coverage even in the most challenging weather conditions.
NTT DOCOMO is engaged in a project to extend LTE service to islands and other hard to reach regions to provide a superior user experience to their customer base throughout Japan.
Gilat's satellite backhaul operated by JSAT's powerful JCSAT-4B satellite will enable this DOCOMO service in selected areas of Japan.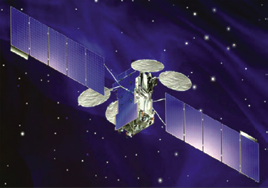 Artistic rendition of the JCSAT-4B satellite, courtesy of
SKY Perfect JSAT.
In support of Japan's highly demanding cellular market, NTT DOCOMO is leading in development of 5G networks, leveraging network function virtualization (NFV) and other technologies, actively pursuing the next generation cellular networks.
Gilat, as an active member in the SaT5G standard organization, looks forward to providing satellite backhaul to support NTT DOCOMO's 5G leadership.
Takumi Togi, Senior Manager of Radio Access Network Engineering Department of NTT DOCOMO, said the company sees great value in satellite backhauling to extend its leading broad fiber network to islands, destinations, and areas where terrestrial coverage is not available. The firm is pleased to be partnering with Gilat, the recognized satellite backhauling leader in Japan as well as worldwide, for materializing the NTT DOCOMO cellular network vision.
Abhay Kumar, Regional VP, Asia-Pacific, Japan and North America, for Gilat, added that Gilat is honored to have the opportunity to gain NTT DOCOMO's trust and further strengthen the close partnership with JSAT to enable NTT DOCOMO to provide 4G coverage extension to rural areas. NTT DOCOMO selected Gilat after careful evaluation and further to Gilat's proven track record in Japan and worldwide, thus further solidifying Gilat's LTE backhauling leadership and demonstrating the company's technological superiority.
www.gilat.com
www.nttdocomo.co.jp
www.jsat.net
---
Capella Space partners with SpaceNet to develop geospatial AI apps
Capella Space is partnering with SpaceNet®, a nonprofit organization dedicated to accelerating open source, artificial intelligence (AI) applied research for geospatial applications.
Capella joins the collaborative SpaceNet partnership alongside In-Q-Tel's (IQT) CosmiQ Works, Maxar Technologies, Intel AI and Amazon Web Services (AWS).
Capella's addition to the partnership presents an exciting opportunity to expand SpaceNet's existing geospatial open source research to a new data type, Synthetic Aperture Radar (SAR). Opening access to this data will help broaden the use of high-quality SAR in a variety of geospatial analytic applications.
There is tremendous potential in applying machine learning to SAR data for a range of applications, from natural disaster response to monitoring global supply chain activity, but the industry still faces significant barriers to adoption.
Developers and data scientists lack open data and software tools. Capella seeks to help overcome these obstacles through its partnership with SpaceNet and the development of a new SAR user community.
The Capella User Community will broaden the adoption of high-resolution SAR data to solve a range of global issues. Data scientists and software engineers will have access to free and open Capella data along with tools and techniques to work more easily with SAR data.
Andrew Ulmer, VP of Business Development at Capella Space, said that, traditionally, this type of high-resolution SAR data has only been used by governments for defense applications and has not been easy to access. By opening access to this type of data and lowering barriers to adoption, the company aims to foster broad and rapid advances in commerce, conservation and well-being across many industries. Capella Space encourages industry leaders, academics and NGOs to experiment with the data, as it's collective imagination that will unlock the most value and transform how all live.
The company invites academics, non-government organizations (NGOs), governments, and companies to join Capella's User Community at capellaspace.com/community.
spacenet.ai
---
Partnership developed between Hyperion Technologies and ITCA to launch 75 student smallsats
On September 4, 2019, the Indian Technology Congress Association (ITCA) and Hyperion Technologies signed a Memorandum of Understanding (MoU) to work together on an Indian student satellite program.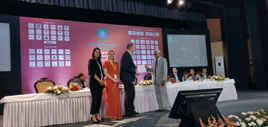 ITCA's national initiative is backed by India's vision for the year 2022, when the country completes 75 years of Independence.
The resulting "Engineer Your Satellite" Program (EYS) is designed to build and launch 75 student satellites, integrating global best practices with frugal innovations, with the goal of achieving safe, reliable, and cost-effective access to and from LEO.
Thanks to the partnership between ITCA and Hyperion, students will gain better access to technical enhancements to develop a small satellite network constellation. In addition, they will receive expert support, mentoring and consultancy from the two parties.
The collaboration will extend into the design and development of collaborative research projects related to the space industry, as well as into the organisation of relevant international events, workshops and competitions.
The signing ceremony occurred on September 4, 2019, at the Indian Technology Congress in Bangalore, India, in the presence of Ms. Akanksha Sharma, Senior Policy Officer at the Consulate General of the Kingdom of The Netherlands Bengaluru, and Mrs. Pramitha Ramaprakash, Chief Technology, ITCA.
Mr. Shanmugam, Chief Policy, ITCA, said the organization is happy to welcome Hyperion Technologies as a strategic partner and stakeholder. Their high performance ADCS solution is the perfect complement to the Engineer Your Satellite program and their expertise and knowledge in designing products primarily for small spacecraft aligns perfectly with the ITCA mission. Hyperion's digital social workplace innovation fills the organization's small satellite ecosystem need for solutions that make students more productive.
Bert Monna, CEO of Hyperion Technologies, added that the company is honored to be part of this ambitious program in the light of India's Independence anniversary. Working with India's high-tech universities will bring the company forward to test new technologies and to be on the cutting-edge.
hyperiontechnologies.nl
itca.org.in
---
SES engaged in ARC development with Kythera Space Solutions
SES has announced Adaptive Resource Control (ARC), a dynamic software solution under development in partnership with Kythera Space Solutions.
This system will further enhance the market-leading flexibility and efficiency of O3b mPOWER, SES's next-generation MEO communications system.
ARC will enable the dynamic control and optimization of power, throughput, beams and frequency allocation across the entire O3b mPOWER system's space and ground assets, resulting in the efficient delivery of low-latency, satellite-based data services with a superior end-user experience.
ARC will deliver unprecedented levels of automation and adaptability for telco, government, and communications-on-the-move customers, enabling predictable, reliable services delivered over O3b mPOWER.
ARC uses standards-based application programming interfaces (APIs) for easy integration into SES's service orchestration solution based on Open Network Automation Platform (ONAP).
ARC and ONAP work together as a unified service delivery and optimization solution, with ARC managing the physical network resources allocated to services orchestrated end-to-end by ONAP.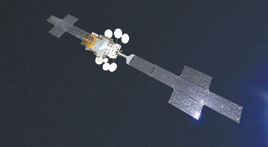 Artistic rendition of the SES-17 satellite.
SES's high-throughput low-latency O3b mPOWER communications system, scheduled to launch in 2021, will leverage seven next-generation MEO satellites, each capable of generating thousands of electronically-steered beams that can be dynamically adjusted to suit customer demand and geographic position.
O3b mPOWER also will include a variety of intelligent, application-specific Customer Edge Terminals integrated with SES's terrestrial network.
SES will leverage ARC to efficiently synchronize, optimize and automate the use of these space and ground assets — seamlessly integrating satellite with terrestrial networks.
As the newest technology partner in the O3b mPOWER ecosystem, Kythera, a leading provider of dynamic management systems for next generation satellite payloads and networks, is working with SES to develop ARC as an entirely new paradigm for communications services delivered via high-throughput satellites.
ARC's ability to capture and use real-time data from Customer Edge Terminals means that end-user requirements can be instantly aligned with space- and ground-based network resources. Together with O3b mPOWER's dynamic network and user terminals, it will further boost the next-generation system's flexibility and network efficiency when it launches in 2021.
SES's current O3b constellation has been operational since 2013 and is delivering fiber-equivalent connectivity services to customers operating in nearly 50 countries today. The O3b system is the only technically-, operationally- and commercially-proven non-geostationary system for delivering low-latency data communications today.
In addition to O3b mPOWER, SES also will implement ARC on its SES-17 high-throughput satellite. The geostationary satellite, which will be launched in 2021, is dedicated to providing services for the aeronautical, maritime and fixed and mobile broadband markets across the Americas with its 200 spot beams.
Dr. Jeffrey Freedman, CEO of Kythera, said next-generation satellites, such as SES's O3b mPOWER and SES-17, have sophisticated on-board processors that offer tremendous new value in the form of flexible service and superior performance. The solution the company is working on with SES is about unlocking that value.
Stewart Sanders, SES's EVP of Technology and O3b mPOWER Program Manager added that for satellites to play a key role in the cloud-scale connectivity ecosystem, the firm's satellite networks must offer maximum agility and adaptability to real-time changes. This is the heart of the SES network modernization strategy and the reason why the firm is co-developing and implementing ARC.
www.ses.com
www.kythsoft.com
---
SEAKR selects Northrop Grumman for satellites
SEAKR® Engineering, Inc. (SEAKR) has been selected by Northrop Grumman to provide an advanced space signal processor on two new GEOStar satellites that are scheduled to launch in 2022.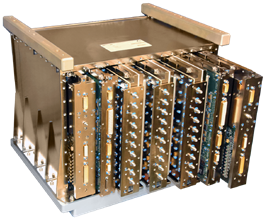 SEAKR's Wolverine advanced space signal processor.
Photo is courtesy of the company.
This is SEAKR's second major customer using the Wolverine processor, a new RF reconfigurable processor which can flexibly process 10 GHz of bandwidth for a variety of applications.
SEAKR's RF processor leverages four generations of architectural capability supporting the full spectrum of payload processing performance requirements, with a high level of on-orbit reconfigurable processing capability.
Pulling from its established heritage capabilities, strength in RF communications, along with the continuous product and architectural advancement, SEAKR continues to define leading edge, state-of-practice processing systems in partnership with Government, Civil and Commercial entities.


Artistic rendition of a Northrop Grumman GEOstar
satellite. Image is courtesy of the company.
SEAKR's previous study and prototype advancements have successfully contributed to the company's customer's ability to solve complex challenges imperative in advancing capability to meet today's most daunting mission objectives.
Key technologies being deployed and leveraged include: Analog to Digital Converter (ADC) and Digital to Analog Converter (DAC) Technologies, FPGA-based Processing Technologies, and ASIC-Based Processing Technologies.
www.seakr.com
www.northropgrumman.com
---
SES Selects SpaceX for O3b mPOWER launch and extends the global reach of Microsoft's ExpressRoute
SES has selected SpaceX as a launch partner to deliver its nexgen MEO satellite constellation into space on board Falcon 9 rockets from Cape Canaveral.
Artistic rendition of the SES O3b constellation.
The two companies have disrupted the industry in the past when SES became the first to launch a commercial GEO satellite with SpaceX, and later as the first ever payload on a SpaceX reusable rocket. Their next launch, in 2021, will be another one for the records as the revolutionary terabit-scale capabilities of SES's O3b mPOWER communications system disrupt the industry again.
The global O3b mPOWER system comprises an initial constellation of seven high-throughput, low-latency MEO satellites, each capable of generating thousands of electronically-steered beams that can be dynamically adjusted to serve customers in various markets including telecom and cloud, communications-on-the-move and government.
O3b mPOWER will also include a variety of intelligent, application-specific Customer Edge Terminals integrated with SES's terrestrial network and dynamically optimized using the recently announced Adaptive Resource Control (ARC) software system, further boosting O3b mPOWER's market-leading flexibility.
The O3b mPOWER system leverages the proven concept of the current O3b MEO constellation and its success delivering fiber-equivalent connectivity services to customers operating in nearly 50 countries today. The O3b system is the only technically-, operationally- and commercially-proven non-geostationary system for delivering low-latency data communications today.
Steve Collar, CEO of SES, said momentum in the O3b mPOWER ecosystem is accelerating quickly as the company continues to build the correct partnerships to bring this massively innovative communications system to market. Working with SpaceX as the launch provider is fitting because, during the last seven years, the companies have already jointly made multiple revolutionary industry advancements that make access to space innovation more cost-efficient and unlock new opportunities in critical markets. SES is delighted to have SpaceX as partners for this historic O3b mPOWER launch, and together, high-performance connectivity will be extended to all who have limited access to it today.
Gwynne Shotwell, President and CEO at SpaceX, added that the company is pleased that SES has once again selected Falcon 9 to launch their powerful, groundbreaking communications system. SES has been an important partner for SpaceX — fully supporting the SpaceX efforts to make rocket reusability a reality. The company is proud to play a part in SES bringing revolutionary connectivity solutions to the market.
Additionally, SES will provide dedicated, private network connectivity from any vessel, airplane, enterprise, energy or government site in the world to Microsoft Azure via the firm's multi-orbit satellite systems.

As a partner of Azure ExpressRoute, SES will provide global reach and fibre-like high-performance to Azure customers via its complete portfolio of GEO satellites, MEO O3b constellation, global gateway network, and core terrestrial network infrastructure around the world.
SES will offer Azure customers opportunities to leverage its satellite-enabled managed services to connect locations and sites in rural, remote and underserved locations, as well as vessels and airplanes out at sea and in the skies that previously did not have access to cloud services.
In addition to its global fleet of more than 50 GEO satellites, SES also delivers managed data services over its proven O3b MEO satellite system, the only successful non-geostationary orbit (NGSO) broadband constellation. SES's 20 O3b satellites comprise the only operational system today that can deliver fiber-equivalent, MEF-certified data connectivity services, and certified cloud connectivity services.
The systems' intelligent GEO and MEO-orbit resilience that facilitate edge compute capabilities are key enablers in the seamless integration of high-performance satellite connectivity into Microsoft's and their customers' sites.
In addition, Azure customers also will be able to tap into SES's O3b mPOWER. Launching in 2021, O3b mPOWER will deliver ten
times the throughput of the existing O3b constellation with unprecedented flexibility and dynamic control to help drive global cloud adoption everywhere.
SES also has an expanded collaboration with Microsoft to benefit from Azure's extensive cloud and AI capabilities to deliver one of the first broadcast-grade cloud services for media delivery. This builds on the broader strategic work between SES and Microsoft, as well as their shared common vision to reach everyone with intelligent cloud, media and network solutions.
www.ses.com
www.spacex.com
azure.microsoft.com
---
Spectacular image and video of Earth managed by Raspberry PI camera aboard SSTL's DoT-1 satellite
Surrey Satellite Technology Ltd. (SSTL) has released an image and video of the Earth captured from LEO by a commercial grade Raspberry Pi camera and computer on board a Demonstration of Technology satellite called DoT-1 that was launched to orbit via a Soyuz rocket in July of 2019.


Image of the Mediterranean acquired
by Raspberry Pi camera on board
SSTL's DoT-1 satellite on August 19,
2019. Image is courtesy of SSTL.
The image is of the Mediterranean Sea, targeted over the islands of Corsica and Sardinia, and is believed to be the first acquired in LEO by a commercial, off-the-shelf, Raspberry Pi camera. Coincidentally, the image is remarkably similar in location to SSTL's first image from space, acquired by the UoSAT-1 satellite in 1981.
The video (available at youtu.be/SzmKks0nqTU captures an area of Europe that includes the coasts of France, Belgium, The Netherlands and Germany with Denmark visible to the right and the UK obscured by heavy cloud cover to the left.
While the primary objective of the 17.5 kg., self-funded, DoT-1 satellite is to demonstrate SSTL's new Core Data Handling System (Core-DHS) — accommodation was made available for some additional experimental payloads including the Raspberry Pi camera experiment, which was designed and implemented in conjunction with the Surrey Space Centre.
After image capture using the camera, the data was stored on the Raspberry Pi computer and then downlinked to SSTL's ground station in Guildford via the Core-DHS. The new Core-DHS is designed to provide the same level of functionality as SSTL's heritage equivalent avionics stack, but with a significantly reduced mass and volume, and it consolidates the S-Band Transmitter and Receiver, Global Positioning System, Attitude & Orbit Control System, Interface Module and Bridge and On Board Computer into one module.
In designing the new Core-DHS, emphasis was placed on ensuring the module is fast to manufacture, test and integrate and, through the architecture and choice of devices, there is also a reduction in power consumption versus the individual equivalent units.
The use of the Core-DHS throughout SSTL's platform range will ensure continuity in software architecture and operations and it is intended that this key building block will be supporting missions beyond LEO orbit and into GEO and Lunar orbits.
The DoT-1 satellite is an SSTL-Micro platform and is also flying further experimental payloads as part of SSTL's ongoing R&D program.
Further details of these experiments will be released in due course.
Sarah Parker, Managing Director of SSTL said the company is delighted with the success of the new, Core-DHS-based avionics which will give the firm's customers the benefits of SSTL's heritage avionics stack, but in a lower form factor to deliver improved power consumption and lower launch costs.
www.sstl.co.uk/
---