Global consumption of bandwidth-intensive services is accelerating, driving the requirement for higher throughput and data bandwidth. As low-frequency bands, such as Ka-band are pushed to the limit in terms of bandwidth availability, the satellite communications industry sees higher-frequency Q- and V-bands as a new opportunity.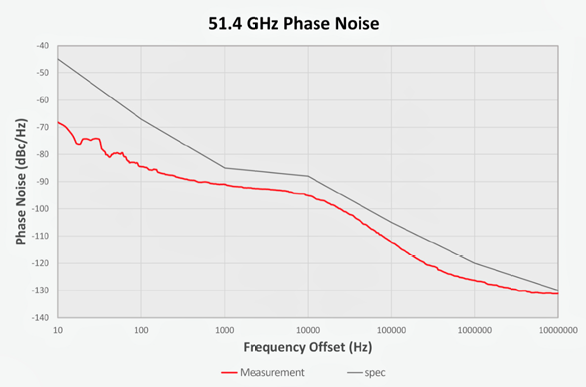 Figure 1. Output phase noise, where the measured values remain below the standard spec line over the entire offset frequency range.
Ranging from 37.5-42.5 GHz for the Q-band downlink, and 47.2-52.4 GHz for the V-band uplink, within the Extremely High Frequency (EHF) area of the radio spectrum, the Q/V-band enables satellite operators to provide additional bandwidth to end users for data service delivery. In today's data-centric world, Q/V-band converters are becoming critically important and essential equipment for satellite operators looking to enable the delivery of ultra-fast broadband speeds.
Primary Applications For Q/V-Band
Satellite operators are using the Q/V-band links for two key applications: Very High Throughput Satellites (VHTS) and cellular broadband networks. VHTS systems are generally used for Direct-To-Home (DTH) internet access. Under this scenario, feeder uplink and downlink communication is done in Q/V-bands, making the Ka- band exclusively available for end users. The aim is to increase the user bandwidth up to an order of magnitude.
An excellent example of this application is Eutelsat, one of the world's leading satellite operators with a powerful fleet of satellites serving users across Europe, Africa, Asia and the Americas. Eutelsat will now be using the Q/V-band links to offer ultra-high data throughput via the company's KONNECT satellite for European coverage.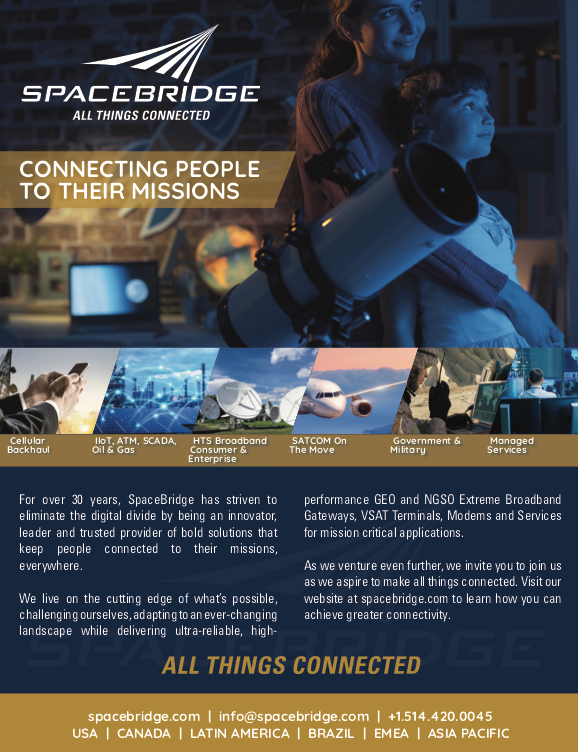 In addition to the first lighthouse projects of satellite broadband coverage under implementation in North America and Europe, the Q/V-band is being heavily discussed for space based broadband cellular applications. Using the Q/V-band for backhauling, operators can simplify the delivery of broadband connectivity to rural and remote areas across the world. Q/V-band systems are being used to help distribute services over cellular networks, even in areas that don't have a glass fiber internet backbone.
The Commercial Advantage of Q/V-Band
Today's operators need to be able to provide easy, affordable and fast internet delivery. They are also under pressure to increase the amount of bandwidth available to consumers for data-intensive applications.
As the Q- and V-bands operate at substantially higher frequencies than other satellite spectra, such as the Ka-band, these frequency bands are a key enabler for higher bandwidths, and the corresponding frequency converters are a prerequisite for generating those signals.
On the commercial side, the gained bandwidth potential far outpaces the infrastructure investment cost, which enables service providers to offer data rates at a substantially lower cost per sellable Gbps compared with existing in-orbit assets.
Key Performance Requirements
There are several must-have capabilities in a Q/V-band converter. First, the converter should provide coverage of the full bandwidth range for satcom VHTS systems. This can be achieved by using a converter with a multichannel architecture, typically 3 to 4 L- or S-band input channels to make use of the full 47.2 – 50.2 GHz and 50.4 -52.4 GHz V-band uplink spectrum.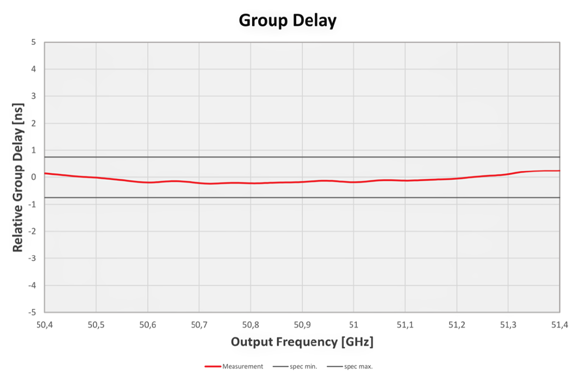 Figure 2: Relative group delay, with the measured values remaining below the standard spec lines over 1 GHz of output bandwidth (max. spec: 1.5 ns peak-to-peak/500 MHz).
Selecting a Q/V-band converter with excellent RF-performance is critical, as the conversion directly impacts the quality of the transmitted signal. The detailed requirements are generally determined by the system link budget, however based on its experience and heritage WORK Microwave has defined industry-leading RF parameters with the standard Q/V-band product portfolio.
Other important parameters include phase noise, group delay and amplitude ripple (frequency response). The typical performances against the maximum specification are shown in Figure 1 (phase noise), Figure 2 (group delay) and Figure 3 (amplitude ripple).
On top of providing state-of-the-art RF performance, WORK Microwave's Q/V- band architecture is very flexible and can be easily adapted to the customer needs. Individual frequency or conversion gain configurations as well as options like digital reference PLL or adjustable linear gain slope equalizer are available and can help further improve the overall system performance.
Leading The Business
By being selected for the EUTELSAT KONNECT VHTS project, WORK Microwave confirms the firm's position as a worldwide leading provider of Q- and V-band converters.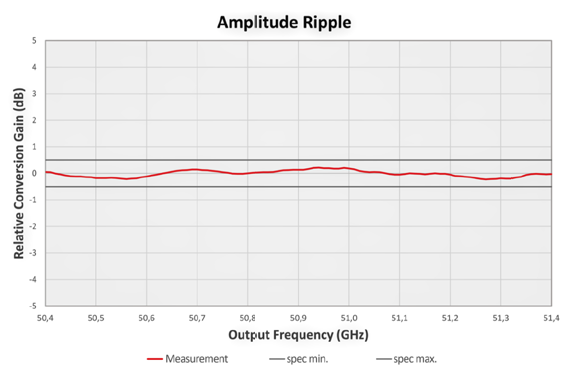 Figure 3: Amplitude ripple, where the measured values remain below the standard spec lines over 1 GHz of output bandwidth (max. spec: 1.0 dB peak-to-peak/500 MHz).
All relevant systems presently under implementation are making use of the company's products. WORK Microwave has continuously invested into technology development, and — even more importantly — the sophisticated production and test capabilities and experience required to produce these very high frequency devices at a reliable and reproducible scale.
Conclusion
Demand for data-hungry services is skyrocketing, and operators are tapping into the Q- and V-bands in order to improve throughput and transmit higher bandwidth frequencies. Deploying Q/V-band technology that offers high performance, works flawlessly, and is technically mature, with advanced features such as exceptional phase noise, gain flatness, and group delay, is vital to delivering high-quality satcom services at a significantly lower cost per bit.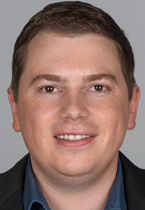 As a leading European manufacturer of advanced satellite communications equipment, WORK Microwave was the first to bring the Q/V-band converters to the commercial market. Our Q/V-band converters offer full range of bandwidth and are being built according to standardized production processes, ensuring that operators can take advantage of the tremendous opportunities enabled by the Q- and V-bands for next-gen broadband and broadcast service delivery.
Author Matthias Stangl is the Director of RF Products at WORK Microwave
---
WORK Microwave's AT-61 Satellite Modulator + RSCC-T 1:1 Redundancy Switch
Deployed By A Leading APAC Broadcaster
A leading APAC broadcast satellite owner and operator has deployed a comprehensive digital SATCOM offering from WORK Microwave comprising approximately 200, DVB-S2X modulators and redundancy switch units. The operator is using WORK Microwave's AT-61 satellite modulators and RSCC-T 1:1 redundancy switches to distribute satellite TV services with high signal quality and unparalleled reliability for its customers.
---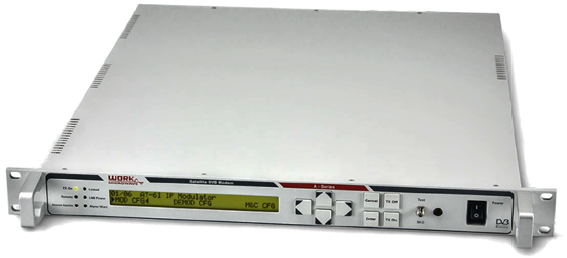 Based on a flexible software platform, WORK Microwave's AT-61 modulator allows direct real-time monitoring and can quickly be adapted to any changing requirements.

WORK Microwave's RSCC-T switch provides 1:1 redundancy for the IP modulator, ensuring that video distribution operations go on uninterrupted.
---
The key objective of the project was to future-proof the operator's infrastructure. The operator needed a flexible, reliable solution for its IP-based distribution network. WORK Microwave's AT-61 satellite modulator now enables the customer to adapt to the industry transformations that are happening and provide streaming services with the utmost reliability and quality. In the future, the operator has the ability to offer IPTV and IP data services, as the AT-61 modulator supports these features.
The AT-61 satellite modulator is based on a powerful architecture that supports the DVB-S2X standard, providing the APAC operator with a future-proof solution with lifetime support. Through an all-IP structure, the platform supports both native network operation as well as data streaming over IP, offering higher modulation schemes up to 256APSK, a finer granularity of ModCods, and advanced filtering. Based on a flexible software platform, the AT-61 modulator allows direct real-time monitoring and can quickly be adapted to any changing requirements.
WORK Microwave's RSCC-T switch provides 1:1 redundancy for the IP modulator, ensuring that the operator's video distribution operations go on uninterrupted.
"We're excited to support one of the world's leading satellite operators and a longtime customer of ours with the renewal of its broadcast modulator fleet," said Joerg Rockstroh, director, business development and digital products at WORK Microwave. "With our AT-61 modulators, the operator can continue its legacy of providing premium modulators, the operator video satellite services."
---