Airbus Defence and Space has mapped out its new organization and has also introduced AuroraGlobal, the 'network of networks.'
The company now encompasses the former Astrium Services, which will now be known as Airbus Defence and Space. The same team and global network of suppliers and partners remains in place to deliver satellite solutions to service providers and end-users on land, at sea and in the air.
As one of the three Divisions of the Airbus Group, Airbus Defence and Space is Europe's Number 1 defence and space company and is the world's second largest space company as well as one of the top 10 defence companies globally with revenues of around 14 billion euros per year. The new Division began operating as of January 1, 2014.
The Lay Of The Land
The Chief Executive Officer of Airbus Defence and Space is Bernhard Gerwert.

Airbus Defence and Space is composed of four business lines: Military Aircraft; Space Systems; Communication, Intelligence & Security (CIS); and Electronics. The company brings together a wide portfolio of services to continue meeting the complex needs of its customers around the globe, all the while contributing to Europe's defence and security, and as a technology force in securing Europe's sovereign and independent access to space.

Space Systems, headed by François Auque, covers the full range of civil and defence space systems: Satellite system solutions for telecommunications, Earth Observation (EO), navigation and science include spacecraft, as well as ground segments and payloads. As the European prime contractor for launchers, orbital systems and space exploration, the firm's key systems include Ariane launchers, the French deterrent force and European space cargo vehicle, the ATV.

Communication, Intelligence & Security (CIS), headed by Evert Dudok, is the new 'one-stop-shop' for satellite and terrestrial communication, intelligence and security services and solutions and is where the former Astrium Services organization and portfolio resides. The customer base encompasses both the government sector—notably defense and security forces—and commercial sector that includes transportation (maritime, airport, metro), energy (oil, gas and electricity), mining and agriculture. Key services and solutions include: Military and commercial satellite communication services, professional mobile radio communication, emergency response centers (such as 9-1-1/112), border surveillance systems, command & control (C4I) systems, cyber security solutions and services and observation satellite based geo-information services.

Electronics, headed by Thomas Müller, provides high-performance equipment for system integrators serving Airbus Defence and Space within the Airbus Group, as well as external customers worldwide. Products are mainly for civil, defense and security markets covering ground, maritime, airborne and space applications. Key products include radars and IFF systems, electronic warfare devices, avionics, space platform electronics, space payload electronics as well as optronic sensors.

Military Aircraft, headed by Domingo Ureña-Raso, designs, develops, delivers and supports military aircraft and is the leading fixed-wing military aircraft center in Europe and one of the market leaders for combat, transport and tanker aircraft world-wide. Key products include the Eurofighter, A400M, A330 MRTT and C295/CN235 as well as the development of unmanned aerial systems. Airbus Defence and Space's reorganization means that the SATCOM business line will leverage technologies developed within other departments and units. Further to that, the financial strength of the company will be providing ship owners with the security to select a long term SATCOM partner within the volatile shipping business. This is important for predictability and clients will benefit from future proof solutions, such as the new AuroraGlobal concept.
The Network Of Networks
Airbus Defence and Space CIS has introduced a whole new concept for its approach to the land, maritime and aeronautical SATCOMs markets. Dubbed AuroraGlobal, it is a 'network of networks'—a global multi-band portfolio of high throughput SATCOMs services for government, maritime and enterprise customers.
This is the first portfolio of satellite services to combine all networks across all market segments, from state to private, government and commercial. AuroraGlobal features services and bandwidth capacity that are provided on military and commercial satellites to service provider partners and end-customers, including the forthcoming High Throughput Satellites (HTS)—Inmarsat Global Xpress and Intelsat's Epic NG.
The AuroraGlobal portfolio is technology agnostic, with services being offered on Ku-, Ka-, L-band and, for defence and government customers, X-band, through the Skynet satellite constellation. A key driver of the new network is that Airbus Defence and Space can provide customers with throughput comparable to nexgen HTS services—today.
AuroraGlobal works with all established electronics and on existing and forthcoming antennas from all manufacturers. This means that users can experience increased throughput without the need to change out their antennas.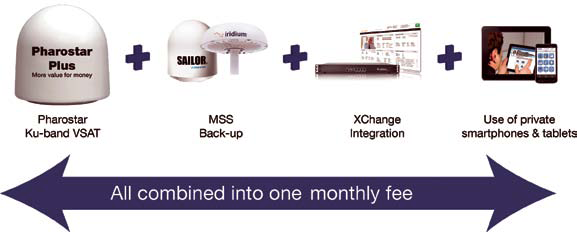 As part of AuroraGlobal, Airbus Defence and Space has significantly revamped its maritime SATCOMs services offering. Now known as AuroraMaritime, this network of networks will host existing maritime services while offering significantly more value and flexibility with more throughput, higher data allowances as key benefits.
The headline here is that AuroraGlobal features Ku-band services with throughput comparable to forthcoming nexgen services, available now—using existing antennas. Shipowners will obtain comparable speeds to HTS services immediately, and they can later decide if they wish to make the move to Global Xpress or EpicNG, an easy conversion under AuroraMaritime.
New VSAT services have been introduced as part of AuroraMaritime; Pharostar Plus and WaveCall Plus (offered to end-customers via Airbus' direct-to-market provider, Marlink) are based on Ku-band VSAT today, with possible transition to Ku- and Ka- based HTS satellites in the future. The services offer double the value for money. Featured is high speed broadband with increased data allowances or throughput speed to meet the growing demand for IP applications and Internet connectivity on all types and sizes of vessels. For instance, if a shipping company already has a 10GB monthly data allowance, this could double to 20GB (if they move to this package). Or, if a shipping company has an agreed 128kbps bandwidth, it could double to 256kbps under the new 'Plus' services.
The idea is to enable higher data allowances or higher speed throughput to meet the growing requirements on ships for use of IP applications or improving crew and passenger communications without incurring the need for extra investment. AuroraMaritime also places users in a strong position to select nexgen services.
Changing from Ku- to Ka- is straightforward, giving service providers much more flexibility in the services they offer shipowners. It's possible to change over to Global Xpress without changing on board antennas. If the vessel is already using specific antennas from Cobham SATCOM or Intellian, it's a simple case of installing a field upgrade kit, which is much more cost effective and less time consuming than an entirely new antenna installation. For those customers wishing to move to the EpicNG platform, this can be done without even touching the on board antenna.
With the speeds possible on Ku-band under AuroraMaritime already pushing an HTS like experience, many shipowners will be happy to adopt today's VSAT services, especially as L-band back-up systems are standard as part of the offering. Airbus Defence and Space has the most complete Ku-band coverage; however, it is vital to ensure that vessel owners are confident in their ability to communicate anywhere at anytime. Including L-band back up as standard is a logical step in that direction.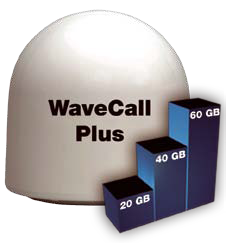 Importantly, Airbus Defence and Space takes the on the risk of the L-band service costs, as vessels on AuroraMaritime will not pay per MB if they switch to L-band, as those services are included in the fixed monthly fee.
AuroraMaritime also gives access to XChange v3, the latest evolution of Airbus Defence and Space's communications management platform, which is set to further improve the flow of operational data between ship and shore through sophisticated voice and connectivity service management. As an all-in-one solution to manage communications services in an easy and intuitive way, XChange offers more control with less operational overhead, while on board administrative tasks can also be out-sourced to onshore offices. XChange v3 is fully integrated with the VSAT services, with improved features including an ability to flexibly prioritize traffic, in order to give corporate traffic priority over crew traffic, thereby securing delivery of critical data.
XChange has full VSAT and MSS compatibility and works seamlessly with the largest range of VSAT terminals—shipping companies can use the antenna system available on board and can simply integrate XChange as the optimal network management device. As a single, powerful device that offers complete connectivity control, regardless of a vessel's existing network configuration, it enables easy, reliable access to the preferred SATCOMs connection. Configuration of XChange v3 only takes a few minutes to enable access to the innovative new features.
Voice functionality has also been significantly enhanced on XChange v3, with the choice of VSAT voice and up to three MSS optimized voice connections. Available lines are automatically selected for more convenience and it equally improves network access for end-users. Crew members benefit from a single account with an automatically remembered login for data and telephone services on their individual devices. All data and voice costs can be charged to each crew member's account.
Maritime service providers and end-users stand to benefit as Airbus Defence and Space introduces its own nexgen network. AuroraGlobal increases bandwidth or data allowance for operational and crew requirements on existing technology, with the added flexibility to change services easily in the future. Low capital outlay through the use of existing antennas and full coverage on the latest satellites with integrated back-up to ensure communication and connectivity is always available.
AuroraMaritime and its associated services are a complete platform today and are ready for shipowners who, later, might wish to make the move to HTS services.

About the author
Tore Morten Olsen possesses 20 years of experience in the satellite communications sector working for Telenor, Marlink, Astrium Services (now Airbus Defence and Space). He started in 1994 as a technical product manager and moved into the commercial field and was responsible for the government market sector in 1997.
In 1999, Tore moved to Slovakia to lead the international satellite communications activities of Telenor and he returned to Norway to take responsibility of Telenor Satellite Networks AS in 2004. He has held several senior positions within the company, to include CEO Telenor Slovakia spot.s.r.o, Chairman of the Board of Directors in several other Telenor Satellite Network Companies, Country Manager for Telenor in Slovakia, CEO of Telenor Satellite Networks.
Following the establishment of Vizada, Tore took responsible of the Maritime VSAT and Mobile Satellite Services retail activities at the company, operating under the Marlink brand. He is now head of Maritime activities at Airbus Defence and Space, with responsibility for the in-direct service provider channel and direct-to-customer channel (Marlink).