RRsat
by David Rivel, Founder and CEO
2011 was the year of expansion for RRsat Global Communications Network Ltd., extending its global, end-to-end, content management and distribution services to more than 630 channels from within the television and radio broadcasting industries. These channels cover more than 150 countries and include data services to government and the military.
Through its RRsat Global Network, which is composed of satellite and terrestrial fiber optic capacity and the Internet, RRsat provides high-quality and flexible global distribution services 24/7, reaching multiplatform operators, Internet TV and direct-to-home (DTH) viewers worldwide. More than 130 television and radio channels now use RRsat's advanced production and playout centers. Based on statistics from the World Teleport Association, RRsat is in the top 4 percent of the world's teleports by size of facility, and in the top 1 percent of the fastest growing teleports by revenue.
In June 2011, RRsat moved its headquarters to the Airport City Business Park and completed a process of rebranding, emphasizing the Company's professionalism and commitment to quality of service to its customers. In September, RRsat inaugurated the Emek HaEla Teleport, after completing a major investment in infrastructure in this facility that was purchased in 2008 from Bezeq, the Israel Telecommunications Corporation. Today, it is one of Israel's premier telecommunications facilities, compromising more than 80 satellite dishes that range in size from 2.4 to 32m in diameter, with uplink and downlink facilities from 108 degrees East to 37.5 degrees West, with extensive fiber interconnectivity to the rest of the globe. In addition, the Emek HaEla site houses RRsat's newly-built advanced Network Operations Center connecting, managing and providing customer services for the entire RRsat Global Network and RRsat's sophisticated booking center booking tens of thousands of hours of occasional use services yearly, mainly for sports, news and events. In addition, RRsat maintains over 10 transportable satellite news gathering services (SNG) units and a fleet of flyaways.

RRsat has grown its distribution services across continents. As representative of the increasing growth of our American office and the Hawley Teleport in Pennsylvania, we expanded the number of platforms to four on the Galaxy 19 (G-19) satellite, primarily for the distribution of religious and ethnic radio and television content to North America. We also launched FIGHT NOW! TV, a 24 hour HD combat sports channel aired on Galaxy 23, joining other channels on the RRsat platform. Increased contracts were also won in data services, particularly for the government and the military.
In Asia, RRsat's platform on Measat 3a was fully booked, requiring the launch of an additional platform — the two RRsat platforms are comprised almost entirely of HD/3D channels. Similarly, RRsat has launched new platforms over Europe and Latin America on Hispasat 1E, expanding the very wide range of MCPC platforms offered by RRsat over Europe and putting a new emphasis on the LATAM market.
2011 was also a year of technology for RRsat. The Company increased investment in its Playout Center services and further integrated its advanced Media Asset Management (MAM) system and monitoring platforms to ensure smooth workflows and reliable performance. RRsat's playout services include archiving, audio and video editing, re-encoding, dubbing, subtitle insertion, opt out/DPI, time shifting, standard conversion (PAL/NTSC, 1080i 50/1080i 60), aspect ratio conversion, HD<>SD up/down/cross conversion, graphic overlay, automated QC, high resolution graphic creation and insertion, Dolby Digital 5.1 and Dolby E surround sound as well as offering automated playout according to playlists supplied by customers.
RRsat has increased the breadth of its backup and disaster recovery services. We announced an agreement with Spacecom, the operator of the AMOS satellite fleet, wherein RRsat will act as Spacecom's remote and mirror Earth station for telemetry monitoring, tracking, and commanding (TT&C) and In-Orbit Testing (IOT) operations for Spacecom's AMOS-5 satellite to be launched in late 2011. The Earth station will also act as a disaster recovery (DR) site for the operations and RRsat is providing indoor space, hosting all relevant ground control equipment and operation positions.

We look forward to 2012, a year in which we expect to further expand the platforms available to our customers across the world, making inroads into Africa where we will be providing platforms on Eutelsat and AMOS satellites, to continue to increase the backup and disaster recovery services to the playout, distribution and satellite operator sides of the industry, and to continue to provide all our customers with reliable, robust solutions and high level customer service.
* * * * * * * * *
Sencore

by Thomas Stingley, Executive Vice President, Sales and Marketing

By any measure, 2011 was a busy and exciting year for Sencore. We continued to build on our legacy as a leading developer and provider of high-value, high-reliability professional digital video broadcast equipment and services.
The satellite industry is marked by constant change, with more operations recognizing the cost and bandwidth savings that come by deploying H.264 as a compression standard. Content distributors face many challenges, including competitive pressure to add more channels, an increased need for HD content delivery, and high operating costs for satellite links. Most in the industry recognize that DVB-S2 satellite modulation offers a powerful means of addressing these challenges and delivering dramatic reductions in operational expenses as well as significant bandwidth savings. These industry dynamics have informed and driven Sencore's accomplishments this year, most notably in the areas of DVB-2 satellite modulation and research.
As satellite operators continue to leverage DVB-2, H.264, and IP-based distribution methods to expand services, improve the customer experience, and reduce operating costs, Sencore has responded through ongoing product innovation. The TXS 3453, our real-time any-to-any transport stream transcoder, delivers multiple channels of best-in-class, high-performance, and reliable transcoding and transrating in a high-density 1RU chassis. Also new to our product lineup is the SMD 989 DVB-S2 satellite modulator, an advanced and highly cost-effective device supporting multistream DVB-S2 modulation for video and audio broadcast delivery via satellite. In addition, we offered expansions to our flagship modular receiver decoder (MRD) line supporting digital turn-around applications worldwide, as well as our VideoBRIDGE product line, including the 10GbE network monitoring system. We continued to push the technology envelope at IBC 2011 with exciting new entries supporting H.264/4:2:2/10-bit (High 4:2:2 Profile), cloud VOD services, OTT, and adaptive streaming.

Sencore partnered with a leading U.S.-based content provider to perform a series of tests using our next-generation MRD3187B receiver decoder and SMD 989 modulator. Designed to demonstrate the feasibility of 8PSK and 16APSK modulation in real-world use cases, these experiments showed that moving to a higher-order modulation scheme can improve operational efficiency by more than 150 percent over comparable DVB-S systems. The findings were presented in detail at IBC2011 by our V.P. of product management, Jeff Briden, confirm that deploying such a system is an excellent investment for cable and satellite operations from an operational and economic point of view.
In another key partnership, we worked with PBS this year to create the Transport Data Injector (TDI) 3000 — a customized solution for inserting emergency message data to support PBS's participation in the Warning, Alert, and Response Network (WARN) Act in the United States. Deployed at each master control and each remote transmitter for most PBS stations, the TDI 3000 plays a "groomer" role by receiving messages via satellite feed from PBS and then injecting them safely into the local broadcast stream within five minutes of their arrival and without affecting broadcast service. It is a great honor to play such a key role in delivering this vital service as part of the U.S. emergency alert system.
Moving into 2012, Sencore remains focused on expanding its global market presence, particularly across Latin America and Europe. We have forged many new international distribution partnerships to reach new and emerging broadcast, cable, and satellite markets as well as developing partnerships with smaller manufacturers to provide large broadcast and cable operations with greater interoperability and support. With the establishment of new value-added channel partners serving BENELUX, DACH, the U.K., Brazil, Argentina, Russia, and many other regions, Sencore is well-positioned to support our international customers in converting from analog to digital video distribution technology, adopting HD offerings, and building out new systems in emerging markets. Sencore's value-added ProCare customer support is well known in the industry and we will continue to build the program through extended warranties, training, and on-site services.

As multichannel video service providers continue to expand and refine their service offerings and implement IP-based distribution, they are building out 10GbE core networks and leveraging IP delivery techniques. They're looking to increase flexibility and prepare for new services such as multi-screen streaming and time-shifting capabilities, as well as interactive services for the support and monetization of hyper-targeted advertising models. Sencore will continue to focus on our core competencies of HD video delivery and high-quality signal transmission. Into 2012, we will continue to provide cost-effective, reliable technology that supports delivery of a consistent, high-quality viewer experience.
* * * * * * * * *
SES
by Scott Sprague, Senior Vice President of Global Sales, SES
SES continues to pass historic milestones in 2011, setting records along the way. The largest, most powerful SES satellite ever built is set to liftoff from the Baikonur Cosmodrome in Kazakhstan late this month (December, 2011). Once in orbit, SES-4 will be the 50th spacecraft to join the expanding global SES fleet. The constellation has been growing at a record pace, with 13 advanced satellites headed for space over a two-and-a-half-year span that began this past summer.
Seven more satellites are set to follow SES-4 into space as part of the lofty launch initiative aimed at meeting the increasing demand for content and connectivity around the world. Some of the biggest hunger pains for capacity are being felt across the emerging markets. SES-4 will expand our ability to enable everything from cellular backhaul, broadband, government and maritime services to HDTV and DTH across the Americas, Europe, Africa and the Middle East. Upcoming launches will deliver new and replacement capacity where it's needed most, including the Asia-Pacific and Latin American regions and fast-growing markets like India, Pakistan and Brazil.
With two more satellites set for launch next year and five more through early 2014, SES is well positioned to fuel much of the transformation of the emerging world.
SES also made it official in 2011... we became one global provider with one global fleet committed to being one with our customers in every region on Earth. Every SES satellite is designed, built and launched with the needs of our customers in mind, from concept to liftoff. The strengths of the newly consolidated SES include an enhanced level of streamlined decision making and simplified operations.
We're leveraging our global mindshare and knowledge base to better serve our customers in established and emerging markets. Our unprecedented expertise in DTH and video distribution is being tapped in developing markets across Latin America, Africa, the Middle East and beyond. Our achievements in HD delivery and 3D development pushed the industry ahead this year and continue to lead the way into a bright future.
We're racing by major milestones on a monthly basis. SES now delivers 6,000 TV and radio channels around the world. We operate the leading HD platform with 1,100 HD channels. SES reaches more than 245 million cable, DTH and IPTV homes globally. We are the world's undisputed leading DTH satellite operator, carrying 43 DTH platforms over a growing fleet of 50 satellites this month.
Our most important accomplishments this year, and our single most important objective every year, is our customers' global success. Our investment strategy is all about putting capacity where it can enable growth, through the delivery of services and solutions that drive connectivity, subscribers and overall economies. In North America and Europe, for example, some of the world's top media and entertainment companies are relying on SES to reach into new markets and expand their businesses. In the landlocked regions of Africa and Asia, we're extending the capabilities of mobile data and broadband. These life-changing technologies are opening the door to education, jobs and economic development in many unconnected and underserved communities and countries.
SES is invested in our customers' success through our unprecedented launch initiative, global customer support programs, and strategic alliances with some of the world's leading innovators. Last month, we increased our investment in O3b Networks, allowing the first-of-its-kind Ka-band satellite operator to boost its Medium Earth Orbit fleet from eight to 12 satellites. The additional four spacecraft will enable O3b to nearly double its capacity over emerging markets.
O3b and SES share a primary mission to meet the growing demand for connectivity around the world. Our fleets will play a complementary role around the world as we close the bandwidth gap in remote and rural markets.SES is also playing an integral role in the proliferation of HDTV services in the Middle East, through our joint venture called YahLive with the Abu Dhabi-based satellite operator YahSat. YahLive is committed to bringing HD programming to millions of households across the Gulf and MENA regions on the YahSat 1A satellite.

2011 certainly emphasized the growing relevancy and importance of satellite in both established and emerging markets. SES satellites and people will be counted on increasingly in the years to come as the need and demand for television content and broadband connections reach new heights in every corner of the world.
* * * * * * * * *
Satellite Interference Reduction Group (sIRG)

by Martin Coleman, Executive Director and Director, Colem
This year has been extremely eventful, both for the Satellite Interference Reduction Group (sIRG) and for the broader fight against satellite interference. It was at the start of 2011 when I became the Chairman of the former SUIRG. My first task was to change the image of the group, I dropped the "U", which stood for "users", as they are really covered by the Radio Frequency Interference – End Users Initiative (RFI-EUI). I also changed the logo and set about designing a new website. To me, it was important to establish a fresh face for sIRG and to demonstrate that we are not simply carrying on where we left off — we are driving the organization forward and it's about getting results, which is something the new sIRG has achieved during this year.
One of the reasons for this success is the proactive nature of our activities this year. I feel very strongly that we need to be getting the organization "out there," seeing people and making ourselves heard. The industry won't simply come to us to solve interference problems.We need to go to them and make sure they understand why it is important and what can be done to mitigate interference. To this end, we have spent the year globe trotting, but with a purpose. Satellite interference is a global problem, and we have been to conferences across the world spreading the word about satellite interference and the initiatives already in place to reduce the problem, through panel sessions, interference conferences, and through meeting people and talking (something for which I am well-renowned, for all those who know me).
We have been extremely well received on the whole. Satellite interference is a problem which effects the entire industry, and most people are, therefore, keen to help us to reduce that problem. At IBC we saw the fruits of our labour, with some key developments. The first was an announcement from Eutelsat that Carrier Identification will be integrated into transmission parameters for all SNG transmissions and new DVB broadcasts, just in time for the London 2012 Olympics. This is a huge breakthrough and takes us a giant leap closer to our goal to have all Olympic transmissions possessing carrier ID.
The other big breakthrough, which also happened at IBC, came following a meeting of six modem manufacturers. The outcome was that all of these companies agreed to work together to start the process to formalize a standard for the insertion of new Carrier ID technology within the DVB specification.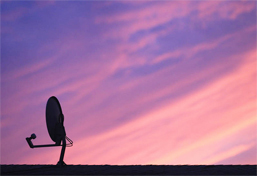 The proposed work item was taken to the DVB Forum by all manufacturers following the meeting and received the important backing of GVF, RFI-EUI, WBU-ISOG and Eutelsat, which enabled the process to begin immediately. The DVB Forum has since accepted the topic of Carrier ID as a work item and that as a first step, the commercial and market requirements will be captured within the Commercial Module and its relevant sub-group, DVB-CM BSS. Once approved by the Commercial Module and Steering Board, such requirements will be passed to the Technical Module of DVB to review the various technical options from which a solution will be defined and selected that best meets the Commercial Requirements.
We hosted our own conference in October. We held the conference in Dorset in the U.K., which was extremely productive. We discussed a number of important next stages for sIRG and for interference. Next year, I will be working to further our collaboration with other interference organizations, such as Global VSAT Forum (GVF), World Broadcasting Union – International Satellite Operators Group (WBU-ISOG) and Radio Frequency Interference – End Users Initiative (RFI-EUI). All groups are keen to ensure close collaboration and thereby reduce the likelihood of the duplication of efforts.
We also need to be pushing on with carrier ID as well as moving towards training and certification, all in parallel with the other organizations, and the initiation of a system of type approvals. We also recognize the need to bring the military segment of our industry on board with these initiatives — that will be a huge focus for sIRG in 2012.
Interference remains a most concerning problem in our industry. Together, with other organizations, 2011 has seen a great deal of progress. We need to sustain this momentum going forward and involve the entire, global satellite industry to be successful.
* * * * * * * * *
SkyWave Mobile Communications

by Dr. Sean Faulkner, Vice President, Sales
2011 has been a revolutionary year for SkyWave. Our biggest accomplishment thus far has been the introduction of IsatData Pro, a new Inmarsat-based machine-to-machine (M2M) service and platform that will enable our customers to offer wireless connectivity that previously was unavailable with any other global satellite services in the market.
As expected, the increased payload capacity offered by IsatData Pro, along with the decreased message delivery time, has opened up a number of new markets for SkyWave and allowed us to offer our services where previously we could not offer a compelling solution. We are seeing a surge of demand for the service in everything from the transportation, maritime and oil and gas, utilities and SCADA sector. The applications are not ones that we have seen before — in fact, the trend is to offer connectivity similar to what end-customers are used to experiencing when they can use cellular-based services.
The transportation sector has been by far the biggest sector to embrace IsatData Pro. While for many companies a cellular-based service is sufficient, for others, having that seamless connectivity when their vehicles move in and out of cellular reach, or avoiding costly and unpredictable roaming charges, means they are using satellite service as a backup. In some parts of the world, it has taken a long time for the sector to embrace this concept because satellite has been viewed as "expensive"; the new price points now offered by M2M services like IsatData Pro suddenly make satellite the logical choice.
SkyWave customers such as Brazil's OnixSat, who primarily offer security-based applications via satellite, are looking to offer services such as the ability to send "free-form" text messaging, logistics forms, telemetry reports, and driver monitoring information regardless of the location of their vehicle.

Building on the concept of being able to send logistics forms while on the road, SkyWave customer Skymira is driving business mobility solutions to the next level. The further proliferation of smartphones, tablets and iPads means that organizations are looking at how they can extend their enterprise IT system to the field workforce. They want field workers to immediately be able to access or input CRM/customer management, inventory, dispatch and work order data. Robert Landsfield, CEO of Skymira, said, "IsatData Pro integrated into our system allows us to provide that extension of the IT enterprise system wherever the field worker may be located."
For customers servicing the oil & gas sector such as M2M Data Corporation, IsatData Pro allows them to offer the ability to send and receive more information, enabling customers to cost effectively get the field data they need for their operations. As an example, when a compressor reports an error code, with IsatData Pro M2M Data Corporation customers can request diagnostic, historical and trending data before sending a technician to the site.
"With IsatData Pro, customers have the ability to have more information on hand as to why the compressor is reporting a specific error code and prepare the technician with the right tools and knowledge to perform a first-time fix" says Donald Wallace, CEO of M2M Data Corporation. "It is not only about increasing customer satisfaction but also reducing employee windshield (driving) time."
Earlier this year, Quake Global announced that their new Q-Pro modem would be available in an IsatData Pro configuration.  The addition of lsatData Pro capability to the Q-Pro will allow Quake Global's customers to send higher volumes of telemetry data, and to send that data from locations that might not be covered by other satellite services. "The large packet sizes offered by IsatData Pro will enable our customers to quickly request and receive location, diagnostic and prognostic information at a very competitive rate," said Ken Connor, V.P. of Sales at Quake Global.

The examples that I have discussed are a few of the channel partners that have embraced IsatData Pro and are going to market with innovative solutions. We have many more that are integrating the service into their offering. Expect to see many more solution announcements in 2012!