SES granted FCC authorization for O3b satellite constellation expansion
SES has been granted, by the U.S. Federal Communications Commission (FCC), authorization to serve the U.S. market using a significantly expanded O3b fleet in the Medium Earth Orbit (MEO).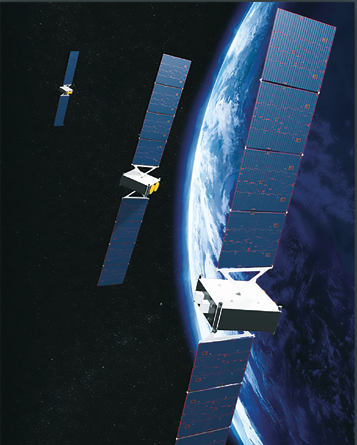 Artistic rendition of SES O3b mPOWER
satellites. Image is courtesy of Boeing.
The FCC grant opens significant additional frequencies to SES for use in its non-geostationary (NGSO) constellation and enables it to deploy O3b mPOWER satellites into inclined and equatorial orbits, delivering full global pole-to-pole coverage.
A total of 26 new O3b satellites are authorized, in addition to the 16 satellites already operational and on orbit.
The grant allows SES to add four satellites to their existing O3b constellation, which are scheduled for launch next year.
SES will triple its next-generation O3b mPOWER fleet by giving U.S. market access for another 22 super-powered satellites, of which seven are currently under construction and scheduled for launch starting in 2021.
The O3b mPOWER constellation will bring massive scale and flexibility to the proven O3b MEO model.
The seven O3b mPOWER MEO satellites that SES has ordered already will have more than 30,000 dynamic, electronically-generated, fully-shapeable and steerable beams that can be shifted and switched in real-time following customers' needs.
Each satellite boasts more than 10 times the capability of the current O3b satellites with unmatched flexibility.
Steve Collar, the President and CEO of SES, said that this important FCC grant provides SES with the means to grow and scale the firm's network, connecting the planet and delivering world class solutions to the company's customers globally.
He added that with the first seven O3b mPOWER satellites, SES will deliver a paradigm shift in performance, bandwidth and service. The FCC grant provides the platform to exponentially scale the network in response to surging demand for global data connectivity. The O3b fleet is the only NGSO system delivering fiber-like broadband services today. O3b mPOWER, when launched, will enable an even wider array of industries and customers to tap into this high-performance connectivity.
www.ses.com
---

---
Search and rescue satellite solution debuts from Thales Alenia Space — Canada and Togo sign on...
Thales Alenia Space is offering what the firm refers to as a breakthrough technology for Search & Rescue satellite solutions — the solution is named MEOLUT NEXT and is to be deployed within the scope of the global COSPAS/SARSAT system.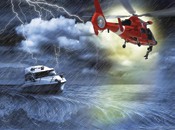 COSPAS/SARSAT is an intergovernmental organization founded by Canada, the United States, Russia and France. In operation since 1985, it provides a free global Search and Rescue service, using the infrastructures from 43 countries worldwide. French space agency CNES is the official French representative for this organization.
Today, some 500,000 ships and 150,000 aircraft are equipped with COSPAS/SARSAT distress beacons, allowing them to use this service. The service has saved more than 37,000 lives since the outset.
The beacon on a plane or ship is triggered, manually or automatically, and transmits a distress signal at a frequency of 406 MHz. This signal is picked up by surveillance satellites, which re-transmit it to a Local User Terminal (LUT).
This terminal processes the signal, calculates the position of the transmitting beacon, and sends this information to the Mission Control Center (MCC). The MCC is in charge of filtering out false alerts, and contacting the most appropriate Rescue Coordination Center (RCC), to save the persons in danger.
Until now, this system has called on secondary payloads on observation satellites in both LEOSAR and GEOSAR satellites, which will be reaching end-of-life towards 2020. Satellites in MEOSAR, with secondary payloads mounted on GPS, Galileo and Glonass positioning system satellites, will then take over this task, improving performance, precision and responsiveness.
Due to the large number of satellites visible to a given beacon (up to 30), the MEOSAR service can indicate the position of an endangered person in less than 10 minutes (versus two hours for the LEO and GEO generations). Furthermore, the position-determination accuracy improves to just 200 meters, versus 5 kilometers previously.
Another major advantage is that moving beacons (typically in aircraft) can be detected, which was not the case previously. MEOSAR services will start operating by the end of 2018 and will be able to detect the locations of aircraft in trouble during their flight.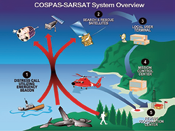 Thales Alenia Space's MEOLUT NEXT solution, with two small antennas located in less than 10 square meters, tracks as many as 30 satellites.
Thales Alenia Space already contributes to the COSPAS/SARSAT system as exclusive supplier of digital signal processors (DSP) on LEO satellites since the 1990s.
Thales Alenia Space now offers a brand-new solution concerning the Local User Terminals (LUT).
These terminals are in charge of processing the signals received from the satellites and calculating the position of the beacon, then sending it to the Mission Control Center.
The principle of Thales Alenia Space's solution is to use two small active antennas, each comprising 64 patches. These antennas are fitted with a high-performance RF (radio frequency) unit, for upstream digitizing of the signal, followed by a highly innovative algorithmic processing method.
Conventional MEOLUT systems, each fitted with six large parabolic antennas in an area about the size of a football field (or pitch…), are capable of tracking signals from six satellites (one per antenna).
Thales Alenia Space's MEOLUT NEXT solution, with its two small antennas located in less than 10 square meters, tracks up to 30 satellites, thereby significantly enhancing the distress beacon detection rate, while also expanding the coverage zone. Furthermore, as there are no mechanical components in these antennas, maintenance costs are the lowest on the market.
Initiated with support from French space agency CNES, this project was first validated from the technical standpoint and now allows Thales Alenia Space to offer a production version.
The MEOLUT NEXT solution from Thales Alenia Space boosts both precision and performance, and is easier to deploy and maintain, meaning that it will undoubtedly improve the COSPAS/SARSAT global system's performance.
A video of the Thales Alenia Space solution is available at https://youtu.be/2dP1maiB1RA.
In a related event, the nation of Togo and Thales Alenia Space announced they have signed a contract for a ground station to be installed in Lomé, Togo, to be used for the search and rescue (SAR) of persons in distress, mainly using the Galileo satellite positioning system.
Based on Thales Alenia Space's MEOLUT Next* (Medium Orbit Local User Terminal), the latest-generation MEOSAR (Medium Orbit Search and Rescue) technology, this system will enable the instantaneous location, with unprecedented accuracy, of a distress call issued by a beacon operating through the COSPAS-SARSAT system.
The fully integrated ground station comprises a compact, high-tech beam-shaping antenna (capable of taking maximum advantage of Galileo's SAR service), a Mission Control Center (MCC) dedicated to managing and distributing alerts, and a Rescue Coordination Center (RCC), which interfaces with systems already in place locally or in neighboring countries (for fire-fighters, armed forces, coast guards, etc.).
The ground station will detect and locate any distress signal triggered by a ship, plane or land vehicle, thereby enhancing the safety of people and goods.
The coverage provided by the beam-shaping antenna will allow Togo to receive distress signals over a radius of more than 3,000 kilometers, which means it will cover the entire Gulf of Guinea and a large part of the African continent.
Mr. Ninsao Gnofam, the Minister of infrastructures and transports for Togo, stated that the Thales Alenia Space's MEOLUT Next station perfectly reflects the Togolese government's aim of guaranteeing maritime safety in the Gulf of Guinea, while also fostering a climate of security that is needed to underpin the economic development of the country and the entire region.
Canada has awarded Thales Canada Phase II of the MEOSAR (Medium Earth Orbit Search and Rescue) Ground Segment contract.
MEOSAR will support Canada's ability to respond quickly and effectively to distress signals from land, air and sea from coast-to-coast-to-coast; enabling Canada to meet its obligations under the International COSPAS-SARSAT Program Agreement.
This contract includes the procurement of two MEOLUTs and maintenance services for five years with options for an additional five years.
Using Thales Alenia Space's powerful and compact MEOLUT Next phased array solution, Canada will benefit from the world's first space borne search and rescue system of this type.
Thales Alenia Space designs, operates and delivers satellite-based systems for governments and institutions, helping them position and connect anyone or anything, everywhere. Since its commissioning in 2016, MEOLUT Next has delivered unrivaled performance, detecting distress signals more than 5,000 km away in distance.
On July 2, 2017, at 6:30 a.m., 70 kilometers off the coast of Sardinia, a 12 meter sailboat with three people aboard triggered their COSPAS/SARSAT beacon when the vessel's rudder broke and the engine failed.
The craft's VHF radio was out of reception range — the sailors quickly realized they were in a critical situation with waves more than four meters high and the wind blowing at 40 knots.
MEOLUT Next was able to receive and process their distress signals in less than five minutes, providing accurate positioning to authorities. An airplane identified the boat less than two hours after the beacon was triggered and a helicopter airlifted the crew to safety, saving all three lives.
COSPAS/SARSAT is an intergovernmental organization founded by Canada, the United States, Russia and France. In operation in 43 countries around the world, this satellite-based search and rescue distress alert detection and information distribution system is best known for detecting and locating emergency beacons activated by aircraft, ships and backcountry hikers in distress. Today, some 500,000 ships and 150,000 aircraft are equipped with COSPAS/SARSAT distress beacons. To date, the COSPAS-SARSAT service has saved more than 37,000 lives.
Philippe Blatt, VP Navigation France at Thales Alenia Space, noted that this solution will meet and exceed Canada's MEOSAR expectations, offering Canada a decisive technology for those decisive moments. MEOLUT Next is the only solution in the world capable of processing second-generation beacons in real-time. The product's operational efficiency was recently recognized by Space & Satellite Professionals International (SSPI) for its humanitarian contributions.
www.thalesgroup.com
---
The integration of satellite and 5G showcased by SaT5G member companies...
VT iDirect, Inc. (iDirect), a company of Vision Technologies Systems, Inc. (VT Systems), has announced that VT iDirect, SES, Broadpeak, i2CAT and the University of Surrey, all members of the SaT5G consortium, have partnered to demonstrate a major milestone in the research, development and validation of key principles for satellite integration with 5G architecture.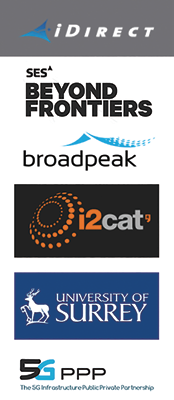 The live, first-of-its-kind test marked a significant step forward in the massive transformation of the global communications industry, which will deliver enhanced security, ubiquitous connectivity and mobility, and expanded broadcast capabilities.
Taking place at the EuCNC2018 conference in Ljubljana, Slovenia, the live test demonstrated the integration of satellite into a third Generation Partnership Project (3GPP) network architecture, comprising a Software-defined Networking (SDN) / Network Functions Virtualization (NFV) / Mobile Edge Computing (MEC)-enabled pre-5G construction testbed, with a geostationary satellite.
It also showcased satellite backhauling features and efficient edge delivery of multimedia content in pre-5G networks, which act as Proof-of-Concepts for integration of those features into a full 5G network.
The SaT5G project is funded by the European Commission and its consortium brings together industry leaders across the ecosystem to promote the cost-effective "plug and play" integration of satellite technology into 5G networks.
The successful demonstration shows the first of the project milestones conceived to reach full seamless integration with 5G over the next few years.
Forming the partnership, VT iDirect provided a pre-5G enabled satellite hub platform and satellite terminal that incorporates SDN, NFV and MEC capabilities, and enables the satellite integration to a 3GPP network architecture.
SES provided end-to-end connectivity between the remote node and the core network via its geostationary ASTRA 2F satellite and its teleport
in Betzdorf.
The University of Surrey provided its 5G Innovation Centre (5GIC) testbed element, located at Surrey in the UK.
Broadpeak supplied an MEC-enabled platform for Content Delivery Network (CDN) caching and Multicast Average Bit Rate (ABR) to optimize Satellite bandwidth usage, in order to demonstrate content delivery to demo attendees, via tablets and smart phones.
The Management and Orchestrator (MANO) system from i2CAT orchestrated the virtualized resources.
Aneesh Dalvi, VP of Strategic Initiatives, VT iDirect, stated that integrating satellite communications into 5G network architectures is critical to enabling telecommunication providers to support rapidly accelerating demand for bandwidth around the world, and for consumer and enterprise applications.
He added that VT iDirect and the firm's SaT5G team members are fundamentally changing how satellite is deployed in order to match 5G infrastructure and validates the tremendous work the VT iDirect team has completed to hit this first, major milestone.
www.idirect.net/
www.ses.com/
broadpeak.tv/
i2cat.net/en
surrey.ac.uk/
5g-ppp.eu/sat5g/
---
Hughes' JUPITER™ selected for satservices by PSN
During CommunicAsia2018, Hughes Network Systems, LLC (Hughes) was selected by PT Pasifik Satelit Nusantara (PSN), the oldest private telecommunication and information service provider in Indonesia, to provide the JUPITER™ System for broadband services over the PSN VI High-Throughput Satellite (HTS).
The comprehensive Hughes solution includes HG240 Gateways, a variety of remote terminals, and a central network management system, enabling PSN to deliver satellite broadband services to consumers and businesses across Indonesia.
The JUPITER System features enhanced networking capabilities and supports speeds up to 300 Mbps to an individual terminal. Powering HughesNet™, with 1.2 million subscribers, the JUPITER System is an ideal solution to support the high-growth potential of the PSN broadband offering. It incorporates a central network management system for efficient bandwidth allocation across multiple beams and operational control of remote terminals.
In 2017, Internet user penetration in Indonesia was only 39.7 percent, leaving approximately six million Indonesia households without internet connectivity.
With its PSN IV and the JUPITER system, PSN will deliver high-speed internet access, including Wi-Fi hotspots, helping bridge the digital divide in Indonesia, reaching unconnected households and businesses throughout the region.
Adi Rahman Adiwoso, CEO at PSN, said the company required a robust and scalable ground architecture to support the volume of users and traffic that the firm expects to serve with PSN V. Thanks to a long-standing relationship with Hughes and the proven capabilities of the JUPITER System, PSN looks forward to serving the growing data needs of customers in all corners
of Indonesia.
www.hughes.com/
psn.co.id/
---
First year successes celebrated by South African firm
Bolstered by the anniversary of their first camera operating in outer space and being selected to develop space hardware for a unique science mission currently orbiting the moon, a South African satellite company is now poised to deliver the highest resolution hyperspectral camera yet to fit into a cubesat.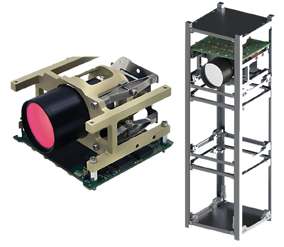 Last week, the Cape Town-based Space Advisory Company (SAC) celebrated the anniversary of the first image captured over Canada by their Gecko Imager from an altitude of 400 km. The Imager is still operating flawlessly from their satellite orbiting Earth. This anniversary follows hot on the heels of supplying a critical digital controller unit for a Dutch astronomy experiment hitching a ride on the Chinese Chang'e-4 satellite that is currently orbiting the far side of the moon.
The Gecko Imager won a prestigious innovation award at the 2017 Da Vinci Top Technology (TT100) Awards, South Africa's foremost technology innovation awards, with SAC being finalists in all of the qualifying categories and also a winner in the management of systems category. In addition, they were ranked in the Top 3 of the prestigious 2018 Innovation League Awards, for medium enterprises within South Africa.
The company's first, in-house, spaceborne hyperspectral imager, initially developed with support from the Aerospace Industry Support Initiative (AISI), had been delivered to SCS-Space by SAC during 2017 for testing and calibration in SCS-Space's recently commissioned facility.
Daniel van Niekerk, COO at Space Advisory Company, said that a final and crucial link in the chain has been added by SCS-Space. This means that essential facilities required during design, development, integration and testing are available within the SCS Aerospace Group. Having the major critical components, supply chain and facilities locally within South Africa, ensures that the company can deliver cutting edge technology, such as the Hyperspectral Chameleon Imager, to the local and international market.
The company also stated that the environmental constraints imposed on the in-house designed systems ensure that they will survive the harsh effects of vacuum, radiation, heat and vibration encountered en-route and in space. With an internal design philosophy focused on modularity, quality, high-performance, volume constrained systems their products are also suitable to opportunities closer to Earth on High Altitude Aerial Platforms such as UAVs/Drones or basically any area where remote observation is required.
Duncan Stanton, CEO of Space Advisory Company (SAC), said that the company's next step is to produce the Chameleon Imager for the standard CubeSat 2U volume, which will realize a ground resolution of 10 meters over a swath of 32 km. wide from a distance of 500 km. This means SAC will fit a camera into a box the size of two hands put together with a weight of 1.35 kg., which can recognize an object as small as a bus from 500 km. away. This camera is configured to store up to 160 GB of data onboard, in the RGB, Multispectral or Hyperspectral format with a multitude of potential applications, such as enabling food security programs through crop monitoring and bio-mass classification, mining and prospecting, fire detection and infrastructure monitoring.
The company is part of the SCS Aerospace Group (SCSAG) of three which consists of Space Advisory Company (SAC) (www.spaceadvisory.com) providing innovative satellite program and systems products, engineering consultancy and training solutions; SCS Space (www.scs-space.com) which provides satellite mission solutions as well as satellite systems; and NewSpace Systems (www.newspacesystems.com) which develops and manufactures high-quality space components and sub-systems.
The group employs some 90 highly trained satellite specialists including electronic, systems, software and mechanical engineers.
www.spaceadvisory.com/
---