The consumer growth for satellite services, such as pay TV and Direct to Home (DTH), has increased the pressure from consumers who demand more and bandwidth improvements in signal modulation—this means new satellites are required to ensure current and future customer satisfaction with SATCOM services.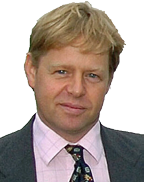 Let's put this exponential rise in services into context… according to Netflix, the company now has 81 million members in more than 190 countries who enjoy more than 125 million hours of TV shows and movies per day, including original series, documentaries and feature films. Members can watch as much as they wish, anytime, anywhere, on nearly any Internet-connected screen. They can play, pause and resume watching, all without commercials or commitments.
There is a growing lack of desire for basic TV packages and millions of consumers are tempted by the offerings from services such as Netflix,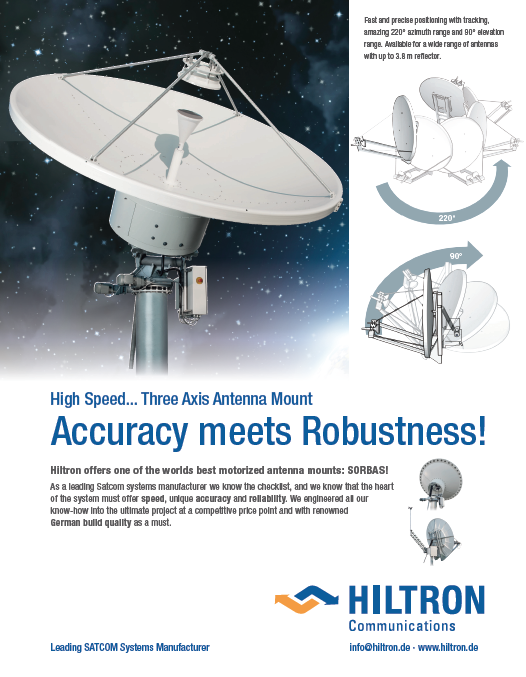 Hulu, Amazon, Crackle and others. These needs will drive the expected, overall global pay TV subscriber base to pass 1.1 billion customers by 2020.
Such a dramatic, ongoing increase in content streaming equates to the fact that bandwidth capacity is being stretched as has never previously been experienced by the industry.
This demand for increased capacity means that teleports and ground stations must invest in ground infrastructure technology to support increased capacity requirements. RF equipment has to operate over higher frequencies, escalating pressure on equipment rack space. Space savings are crucial to successful operations. Infrastructure must also possess the ability to increase capacity when the need arises, as well as to provide improved RF signal quality.
Where do we go from here? At ETL Systems, a global designer and manufacturer of RF distribution equipment for SATCOMs, the company has recognized the pressures faced by teleports that must invest in technology that can deliver seamless transmissions. ETL Systems has, therefore, developed a range of new technologies for satellite RF distribution.
Traditionally, the transmission of RF signals from a remote satellite dish farm to main control rooms and vice versa have been handled by copper coaxial (or coax) cables; however, as teleports increase their operations, this option is no longer suited to satisfy the presented conditions.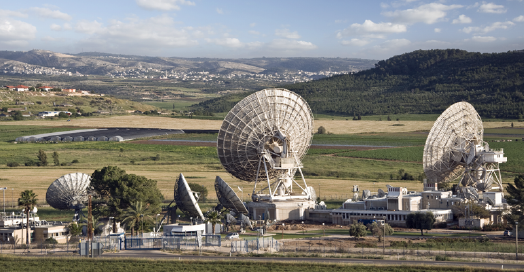 Copper coax cables—which carry electrical signals—have several shortcomings; they are bulky and offer only restricted bandwidth. There's also an increase in loss to the signal quality and that limits the distance within which they can transmit RF signals. Weather conditions also have an impact on signal continuity as coax cable is a highly suitable conductor for lightning. This adds to the risk of signal loss and expensive downtime.
To combat these shortcomings, improvements in satellite downlink designs are being noted. Operators are improving their signal monitoring, redundancy and quality.
To support operators, a range of RF over Fiber products have been developed by ETL Systems—known as StingRay, this technology has made significant strides to meet the ever-growing demand for bandwidth.
The significant growth in teleport size and bandwidth demand makes fiber the perfect alternative to copper as it has a much higher information carrying capacity, with wavelength division multiplexing to place multiple feeds via a single fiber.
StingRay's high performance design offers excellent module to module isolation, making the product ideal for high isolation applications. With StingRay modules, signal quality and RF performance is preserved and that includes high isolation between modules and low IMD3, ensuring maximum efficiency in spectrum usage.
The company's range of matrices provide efficient routing of RF signals from multiple satellite feeds with added resilience and reliability from dual redundant power supplies and hot-swap components for complete 24/7 operation. Matrices are typically used in mission critical applications, such as news and sports, where downlink feeds are regularly switched to deliver live programming to millions of viewers, with routing solutions minimizing the cost of expensive downtime.
The newest addition to the firm's matrix family, the 64 x 64 Hurricane Matrix, is the smallest of its kind on the market and offers built-in LNB powering. The unique design of the L-band Hurricane matrix allows the customer to select individual input modules that exactly match what each teleport satellite feed requires.
Each input port can be tailored with its own modules, allowing the matrix performance to be optimized—the user does not need to compromise the performance of the entire system. ETL's proprietary technology minimizes the power consumption of the matrix, reducing it greatly when compared to traditional matrices.
With the constant changes in the market in mind, all of the company's new products have been designed to be Ka-band ready with an extended L-band operating frequency of 850-2450 MHz and designed in the most compact housing possible.
The 2015 Satellite Industry Association (SIA) State of the Satellite Industry report reveals that the industry's growth has, understandably, continued alongside the increased demand that has arrived with pay TV and DTH. For the 17th year in a row, the global satellite industry posted positive growth, now topping $200 billion in revenue. Ground equipment revenues are up four percent on the previous year.
With the correct infrastructure in place, continued success is all-but-guaranteed for the satellite industry. Although the driving force behind growth remains the huge demand for bandwidth brought about by Pay TV and DTH, with even more data-hungry trends on the horizon, the industry must prepare now to ensure that ground equipment and teleports continue to be at their most effective to deliver the streaming signals to hungry—and demanding—consumers.
etlsystems.com/
---