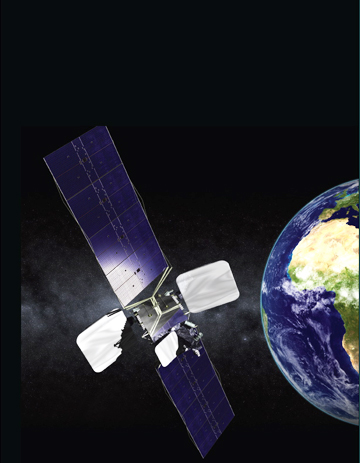 Orbital Sciences is applying its experience in highly reliable and cost-effective systems to meet growing demand for GEO communications satellites with its new mid-size satellite platform, STAR 2.7.
Small satellites in the 2-5kW range provide an important niche solution for military, scientific, imaging and communications applications, and steady technological improvements have made them particularly valuable to customers who need timely and low-cost solutions.
Many GEO applications, however, require higher-powered systems in the 5-7.5kW range. To meet this demand,
Orbital Sciences
, which has a successful track record building, launching and operating small systems, has begun offering a new mid-size platform,
STAR 2.7
, which delivers up to 7.5kW of power while maintaining all the attributes of its established and successful smaller STAR platform predecessors.
In 1997, the company entered the GEO market with its first STAR-based GEO satellite,
IndoStar-1
, which was also the first commercial satellite to incorporate S-band frequencies. Since then, the company has steadily increased STAR's power capabilities to address a growing share of the market. The platform is notable for its modularity and reliability: the STAR platform has achieved a 100 percent success rate over the course of nineteen missions. Ten additional STAR-based satellites are currently on order. Sub-5kW satellites are increasingly capable and the benefits of these systems are clear: in addition to accelerated design and construction, they can help companies spread launch risk by accomplishing a mission with multiple small satellites, which also enables the company to spread capital expenditures over a longer period. Smaller satellites can provide established companies with incremental capacity quickly and affordably, and are also attractive to early-stage companies building their business.
Smaller satellites alone, however, cannot provide a comprehensive solution for the space industry. Orbital's goal in developing STAR 2.7 was to retain the strengths of its small systems while scaling up for more powerful communications applications.
With this scale up, the STAR 2.7 platform is ideally suited for the growing international GEO market. Service providers seeking to cover a large land mass for multiple applications demand a higher number of transponders than a small satellite can provide. Similarly, customers facing challenging applications, such as communications with often-cloudy parts of the world, have a compelling need for higher power signals to prevent service interruptions.
Technical Details
Through its modular design, the STAR platform enables Orbital to integrate new technologies as they are developed while maintaining the satellite's flight-proven systems. As an evolution of STAR 2.4, STAR 2.7 retains the successful components of its smaller counterparts while offering increased power for GEO communications needs.
To accommodate higher-power systems without a significant system redesign, the STAR 2.7 platform scales up the equipment radiator panels, the power electronics and the solar arrays. All other components on the platform are essentially unchanged from the existing STAR 2.4. The mid-size platform also incorporates newer but flight-proven systems such as low-power hydrazine arcjets to improve thrust efficiency compared to previous technologies. Arcjets have many years of flight experience on numerous GEO satellites.
The STAR-2 platform has a dry mass in excess of 1650 kg and can accommodate in excess of 500 kg of instrumentation for GEO applications. Its expanded instrumentation panel provides space for up to 70 conductive transponders, 42 radiative transponders, or a combination of the two. This represents a transponder capacity increase of more than 10 percent over the STAR 2.4 platform. The platform is designed for at least 15 years of service, though longevity can be extended based on mission needs.
New Applications
STAR 2.7 is designed to address the growing international market for mid-size GEO communications satellites. In particular, the direct-broadcast sector, growing in popularity in developing countries, requires high-powered transponders. Small satellites can provide sufficient energy for C-band applications, but popular C-Ku hybrid satellites demand a higher-powered system.
Customer Benefits
Particularly in a tight economy, satellite customers demand value. Speed to launch is a major consideration: by minimizing the interval between design and delivery, service providers can both add capacity and ensure their satellites incorporate the most modern hardware and support systems. The average STAR satellite has a turnaround of less than 24 months, significantly lower than the industry average.
Launch weight is another major factor in determining satellite value. Like its smaller counterparts, the STAR 2.7 platform has the highest mass efficiency in its class, reducing launch costs and providing more flexibility in delivery options.
In addition, Orbital is helping its customers take advantage of hosted payload services, which maximizes value by efficiently employing all the resources a satellite can offer. With the US government turning to commercial space systems for reliable but low-cost services, hosted payload capabilities augment the inherent value the STAR 2.7 platform provides.
With a 7.5kW satellite platform on the market and a medium-lift launch vehicle, Taurus II, currently under development, Orbital is positioned to address the vast majority of the GEO communications sector. Competition in the mid-size market is certainly fiercer than in small space systems, but the arrival of STAR 2.7 should be welcome news for service providers in search of a of a tested and reliable satellite platform.