Beam Communications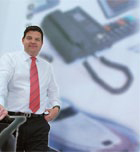 by Michael Capocchi, Managing Director
What successes did Beam Communications enjoy over the past year?
It has been an exciting and challenging year for Beam Communications. With some major investments in research and development we have successfully launched 10 new products during the past year. Sales of the Intelsat products gained momentum through the first half of the year while the new docking units for the Iridium 9575 Extreme handset were released to the market in February 2012. Both sets of products have been well received by the market. The growth in sales revenues this last financial year over the previous year was 29 percent.
The new Intelsat terminals Oceana and Terra are specifically targeting high volume deployments in emerging satellite markets and are designed to support voice, data and tracking communications of the FleetPhone maritime service and the IsatPhone Link land service.
With the release of
Iridium Extreme
, the toughest satellite handset ever made,
Beam Communications
has developed a range of next-generation docks to complement the phone's functionality and features, and enables customers to extend the use of the handset in other environments such as maritime, vehicle, and indoors. Beam was, in fact, the first manufacturer in the world to receive Iridium's official certification of a docking unit for the Iridium Extreme handset.
As a result of the new Oceana terminals and Extreme docking stations, Beam launched two new
anti piracy solutions
for the maritime industry. The piracy solution provides a dedicated system for a safe room or citadel on board a vessel. The system ensures that, in the event of a piracy attack, essential communications on board the vessel can be maintained and used for alerting authorities. The Beam-designed piracy antenna is intended for covert placement, and to be less likely to be spotted and targeted prior to an attack. So far, nearly 500 piracy systems have been installed. Beam also secured a US$5.1M commitment from
Telstra Corporation Limited
to purchase satellite equipment and product bundles mainly featuring the Iridium
9575
'Extreme' handset and a range of docking units over the 12 month period to May 2013.
Another major breakthrough trial and initial order was for the maritime industry in China. Beam deployed 200
Oceana 400
and
Oceana 800
terminals on fishing vessels in China over the Intelsat
FleetPhone Service
. Beam is working closely with a leading satellite communication services provider in China that possesses more than 20 years of experience providing a full range of sea, land and air mobile satellite terminals and technology integration services for Chinese users. After the trial period, the customer expects to commit to a minimum order of 1,000 units for expansion into the broader maritime market in China.
What challenges did Beam Communications need to overcome this past year, and what challenges will the satellite industry—and specifically your market segment—face over the next few months?
The major impact were the changes to Intelsat's pricing plans and, specifically, on the small vessel plans that directly affected the sales of Oceana products. The other impacts were the uncertain economic times globally, particularly in Europe impacted by Greece and Spain and specifically in Maritime. While the U.S. still continues to be performing at sub 2009 level, due to the weakness remaining in the U.S. economy, corporate and government customers have minimized spending. The Iridium handset recall in mid 2012 also had an impact on sales, just as the new products were gaining some momentum, further complications came with the lack of availability of the Extreme handset Iridium attempted to recover its stock levels and has now returned to normal levels.
In the current economic climate, users are more and more focused on value and price. The challenge over the coming months will be the ability to know the market needs and fulfill the user's requirement to deliver value, while being considerate about investment and price to market. Our products, and our team of commercial and technical staff ensure that we are extremely well positioned to capitalize, and meet the opportunities that are arising throughout strategic markets and applications.
What upcoming projects are in the works and what may we expect to see from Beam Communications over the next three to four quarters?
Beam maintains a strong position in the international mobile satellite services market through the new products recently introduced into its portfolio. Additionally, Beam is well positioned to take advantage of new opportunities to support the strategies of the key satellite operators, Iridium and Intelsat.
The satellite industry is converging more toward the consumer mobile industry and Beam is certainly moving into that direction. Data communication is becoming critical for operational, business and social reasons, and connectivity is becoming a primary need—anytime, anywhere. We continue to identify means, so that we can be at the forefront in smartphone access technology applications, and higher speeds in data communication platforms.
The launch of the GSPS Intelsat
IsatPhone Pro
services into Japan will provide strategic opportunities for growth and the impact of Beam's sales into this market is expected to be very strong based on the companies success in Japan with
KDDI
over the last few years.

The company is optimistic that the China trials will be a success and this will then provide a major opportunity to increase sales into this strategic market for both Beam and Intelsat.
Beam is developing the next generation satellite communications today. Some of these new products will be launched to the market in the next year and will enhance the access to satellite communications for everybody to whenever it's needed.
* * * * * * * * *
Boeing Space & Intelligence Systems
by Jim Simpson, Vice President, Business Development
What successes did Boeing enjoy over the past year?
Boeing Space & Intelligence Systems was proud to announce its newest satellite design, the 702SP for "small platform" in March, in conjunction with a four-satellite joint procurement from Asia Broadcast Satellite (ABS) and SatMex. The 702SP is an all-electric satellite that is lighter in weight and compatible for dual-launch with a wider array of launch vehicles, including the SpaceX Falcon 9. With the addition of the 702SP, we expanded our product portfolio to include satellites that operate in the 3 to 18 kilowatt range.
Boeing received orders for a total of seven satellites and has several additional programs under continuing negotiation. In addition to the four ordered by
ABS/SatMex
, the
United States Air Force
ordered two additional
Wideband Global SATCOM
satellites, bringing the total of
WGS
satellites on order to 10 in number.
Societe de Europeenee des Satellites
(
SES
) ordered a Boeing 702HP "high power" satellite, which will be called
SES-9
.
Boeing was also selected by Intelsat to build
IS-29e
. Although this order is a part of the existing four-satellite contract awarded in 2009, this Boeing
702MP
"medium power" will be the first for
Intelsat
's
EpicNG
satellites. Intelsat EpicNG is designed to address wireless and fixed telecommunications, enterprise, mobility, video and government applications that require broadband infrastructure. A complementary high-throughput overlay to the Intelsat fleet, the Intelsat EpicNG platform will use multiple frequency bands, wide beams and spot beams with a high degree of flexibility and connectivity.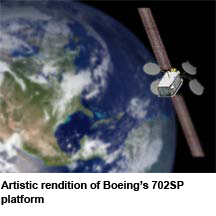 Central to the ability to obtain new business is the need to execute on current programs. Satellite deliveries form the foundation of program execution. In 2012, S&IS delivered four satellites for launch, and is scheduled to support at least two additional launches by year end.
WGS-4
,
Intelsat-22
,
Intelsat-21
, and
GPS IIF-3
were delivered successfully. The first satellite in the series for MEXSAT is planned to launch in December, and that the
X-37B Orbital Test Vehicle
(OTV-1) will be launched for a second mission.
What challenges did Boeing need to overcome this past year, and what challenges will the satellite industry—and specifically your market segment—face over the next few months?
The most compelling challenge Boeing faced, and it's a challenge that is common throughout the satellite manufacturing industry, is to provide satellite systems that meet the mission requirements, yet maintain the flexibility and affordability demanded by today's economic environment.
Boeing captured new commercial business due largely to its ability to provide affordable low-risk, highly capable satellite systems. We did this in several ways, from reducing our indirect cost structure to fostering mutually beneficial arrangements with our suppliers. We provided adequate base to the suppliers to enable them to manage their business performance.
We also invested in our satellite design by moving to a modular design; leaning out our production processes; and designing for and instituting a production line approach. One example is the pulse line we established for the
Global Positioning System
(
GPS
). By adopting lessons learned from the Boeing 737 production line, coupled with our own streamlining, we are able to complete a GPS satellite every four months.
The changes we made to improve our efficiency enabled us to invest in product development. For example, we invested four years in the development of the 702MP satellite, which we introduced in 2009. Learning from that activity, we were able to introduce the 702SP satellite in approximately two years.
These enhancements to the proven Boeing 702 have laid a solid competitive foundation for Boeing, and no other manufacturer has introduced a new variant of its satellite design, much less two, in the span of three years.
What upcoming projects are in the works and what may we expect to see from Boeing over the next three to four quarters?
We plan to win an order for at least one commercial satellite and we will launch at least four satellites in 2013.
We also plan to continue to advance the importance of hosted payloads, both as Boeing and as a member of the
Hosted Payload Alliance
. Boeing has been delivering hosted payloads since 1993, when the first was provided on a
U.S. Navy
UHF Follow-On
satellite.
More recently, Intelsat ordered two hosted payloads in 2009. Operating in UHF, the first payload will be leased from Intelsat by the
Australian Defence Force
for supplementary MILSATCOM services. It was launched in March on the
Intelsat 22
satellite and entered service in May.
A second UHF hosted payload will launch on the
Intelsat 27
satellite in the first quarter of 2013. The hosted payloads approach has been reported by the Australian Defence Force to have saved more than $150 million.
Boeing is working with the Hosted Payload Alliance and the United States Government to further apply the Space Policy, which encourages the use of hosted payloads, by removing impediments to enable wider implementation of these capabilities. Hosted payloads are a demonstrated, affordable alternative to dedicated government satellites that leverage shorter build cycles and shared satellite, launch, and ground infrastructure. Boeing believes hosted payloads will play a vital role in 2013 and beyond.
* * * * * * * * *
Communications & Power Industries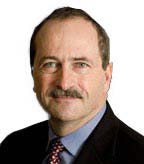 by Andrew Tafler, CPI Vice Present + President, SATCOM Division
What successes did CPI's SATCOM Division enjoy over the past year?
Over the past year the market has remained strong for us, especially in Ka band where CPI continues to lead the way with both tube-based and solid state amplifiers. Our commercial business in North America and around the world remains strong and stable. In the military communications space, although some of the largest programs in the last number of years (e.g. Win-T, GMT) have slowed down or are coming to an end, we still see good business and good future potential with many new smaller, and a few quite large, upcoming programs. The selection of CPI solid state and TWT amplifiers recently by a major U.S. OEM for a very significant, five year, U.S. military program recently is a good example.
An important milestone for us over the past 12 months is our acquisition of
Codan
Satcom and
Locus Microwave
, which has greatly enhanced our solid state product line, and which will contribute greatly to our solid state product development capabilities. Solid state technology is on the verge of making some impressive breakthroughs and with this acquisition CPI will remain at the leading edge of solid state technology used in satellite communications.
On the
traveling wave tube amplifier
(
TWTA
) side, we continued to push the envelope with respect to higher power, wider bandwidth, higher linearity and smaller size and weight in Ka-band, and other frequencies, as well as leading the way in power efficiency in all frequencies and power levels.
What challenges did CPI's SATCOM Division need to overcome this past year, and what challenges will the satellite industry—and specifically your market segment—face over the next few months?
The high-throughput Ka-band satellite systems being established depend on the latest state-of-the-art high power amplifiers for their gateways and cost-effective lower power amplifiers for their consumer terminals, whether it be for commercial locations or a military SOTM application. The success of these satellites is critical to the future of the satellite industry.
Meeting the satellite system providers' requirements for very high power and very high quality gateway HPAs at Ka-band pushed the envelope for what is considered "state-of-the-art" for both amplifier as well as traveling wave tube design and manufacture. I am proud to say that CPI and other manufacturers responded to this challenge successfully, enabling these systems to be established on-time.
With our acquisition of Codan/Locus solid state product lines, CPI will be focused on effectively integrating these products with our existing industry-leading manufacturing, R&D, sales and service infrastructure. This will allow us to offer what has now become the broadest product line of low, medium and high-power amplifiers and BUCs to our extensive satellite communications customer base. We will also be focussed on ensuring that the maritime and off-shore energy customers, a key market for the Codan product line, know that CPI is committed to this market.
What upcoming projects are in the works and what may we expect to see from CPI's SATCOM Division over the next three to four quarters?
CPI continues to invest heavily in new product development for both tube-based and solid state amplifiers. For example, our
SuperLinear
®
amplifiers have proven to be very popular since the introduction of high power rack-mount models a few years ago, and we have been expanding this product line to accommodate outdoor and lower power products for commercial and military applications. Since they are more power-efficient than traditional TWTAs, GaAs and even emerging GaN SSPAs, they can save customers thousands of dollars per year over these other products.
On the solid state side, in addition to the Codan acquisition, we have recently introduced X-and Ku-band GaN solid state amplifiers, as well as Ka-band SSPAs.

We also continue to develop and offer amplifiers for transportable and mobile terminals that are state-of the-art for being small and lightweight, yet offering relatively high RF powers. We also have the broadest range of Ka-band amplifiers using both TWT and solid-state technologies. We continue to add to this range of millimeter-wave amplifiers and are already manufacturing V-band amplifiers that will be used to evaluate possible future communications in the 48 to 51GHz range.
CPI is a complete-solution amplifier supplier, and we intend to always provide a complete line of state-of –the-art amplifiers using all available technologies to meet our customers' needs.
* * * * * * * * *
DeLorme
by Patrick Shay, VIce President + General Manager
As 2012 opened, we were just rolling out our new inReach two-way satellite communication devices.
As the year progressed, inReach has been a tremendous success for our company as it created a new market category that leverages our expertise in SATCOM technologies, mapping and GPS. inReach provides users affordable two-way text messaging and email capabilities, SOS alerting, message delivery confirmation, remote GPS Follow-Me/Find-Me tracking and locating, and worldwide satellite coverage, anywhere on Earth.
For the 90 percent of the Earth not covered by cellular networks, satellites are the only solution. inReach operates over the
Iridium
satellite network, providing truly global two-way satellite communications, high network reliability and low-latency data links of less than 60-second delivery of messages end-to-end, anywhere on Earth, even in areas outside of traditional cellular coverage.
Early in 2012, inReach won the coveted
National Marine Manufacturers Association
(
NMMA
)
Innovation Award for Consumer Electronics
and
Backpacker
magazine
Editors' Choice Award
, after previously capturing the
2011 Popular Science Best of What's New, 2011
Gear of the Year
awards from
Men's Journal
and
National Geographic Adventure
, as well as
2012 CES Innovations
honors. In September, inReach was awarded the Occupational Health & Safety New Product of the Year Award in the Emergency Response category. We were also recently notified that inReach is a finalist for the esteemed
2012 Design Awards METS
(
DAME
), recognized around the world as among the most prestigious design competition for new marine equipment and accessories.
Safety Communications
Over the course of the year, inReach has provided an extra margin of safety for users, augmenting other one-way emergency transmitters, for boaters, pilots, outdoors enthusiasts, workers and anyone whose jobs and other pursuits take them beyond cell phone range. The Iridium two-way data link provides a critical tool for search-and-rescue authorities to determine whether an SOS message is a false alarm, communicate with the sender to understand the nature of the emergency prior to launching a response and reassure the sender that help is on the way.
In May, DeLorme introduced a new version of inReach that can be wirelessly paired with the most popular smartphone and tablet devices. inReach now opens new opportunities to leverage the power of smart mobile devices and the worldwide coverage of the Iridium satellite network for two-way text messaging and emailing in regions that are beyond cellular coverage.
Going Vertical
In the
marine sector
, DeLorme partnered with the
Boat Owners Association of The United States
(
BoatUS
) to offer their members easier access to the two-way communications capabilities of inReach when in need of on-the-water towing assistance from
TowBoatUS
and
Vessel Assist
. Combined, these towing fleets offer boaters the world's largest network of towing ports with over 300 locations and over 600 towing assistance vessels
For the
aviation sector
, DeLorme introduced new, low-cost aviation airtime subscription plans for inReach which provide flight tracking capabilities that give near-real time aircraft position data in as frequent as two-minute intervals for as low as $1 per hour. In August, the flight tracking, which also reports GPS altitude, course, and speed, was successfully tested during the
2012 World Gliding Championships
.
In the
enterprise + GIS sectors
, lone worker and GIS sectors, DeLorme introduced
ArcSync
, a software engine that synchronizes and automates the processes of data collection in the field and bringing that data back to the enterprise database, a highly effective solution for organizations that collect and distribute GIS data to field personnel.
Major upgrades for inReach include improved battery performance and additional map options. The DeLorme
Earthmate
app now enables downloading of seamless topographic maps of the world. Maps can be downloaded and stored for use when traveling all around the world.
Additionally,
XMap 8.0
, the latest edition of DeLorme's GIS software suite, was launched in October. Enterprise workers in industries such as oil and gas, railway transport, and wind energy, in addition to professionals in lumber and forestry, law enforcement and search-and-rescue, can benefit from the functionality of this latest and most enhanced version of the XMap product.
Also, in keeping with our commitment to provide the most accurate and complete, pole-to-pole topographic map database products to professional, enterprise and consumer customers around the world, this year DeLorme also introduced the 2012 editions of the
Digital Atlas of the Earth
(
DAE 2012
) and
World Base Map
. DAE 2012 is the first-ever 1:125,000 scale seamless topographic map with consistent coverage of the world and is fully compatible with all
Esri
platforms and solutions. This complete seamless global data set includes all of the world's countries and all continents, upgraded to include more roads and railroads, rivers and streams, updated elevation data and airport information, as well as the latest country and administrative district boundaries.
International Expansion
Throughout 2012, DeLorme established strategic partnerships with companies and customers around the world. Through a partnership with
Pivotel Satellite
, a mobile telecommunications company, inReach is being sold through a network of more than 200 value-added resellers throughout Australia, New Zealand and Indonesia. DeLorme has also partnered with
Kimberley Group
of Australia to provide inReach devices and the
Explore
service portal directly to consumers whose travels and activities take them to remote locales.
Through DeLorme's first Latin American partnership,
Spacenet Communications Services de Mexico
(
Spacenet Mexico
) has made inReach available to customers throughout Mexico, across all markets, including those in the marine, aviation, enterprise, consumer and government sectors.
inReach is also being offered to customers throughout Central and South America through
Robotec Colombia
, which provides specialized technologies for large enterprise clients across a range of industries including defense and national security, oil, mining and energy, construction, corporate security and transport and logistics. Robotec will deliver inReach to customers throughout Colombia, Peru, Panama, Guatemala and Costa Rica.

In Europe,
Sierra Echo
, a security solutions company, now distributes the inReach communication solution in France, having integrated into the SatView online platform to offer a comprehensive personal safety and geolocation solution to its customers.
Looking Ahead
We will continue the strong momentum with the global distribution of inReach into other parts of the world. With a full range of location-based mapping and communication solutions, our vision is to change how our customers work and stay connected using dependable, affordable two-way satellite services—anywhere on the face of the Earth.