More than ever, companies rely on broadband access, with high quality voice, video and data to successfully operate their businesses. From communications to research; from database management to disaster recovery; two-way, high-speed Internet is an absolute must no matter the location. This is especially true in the emergency medical field where access to communications is crucial as lives are at stake.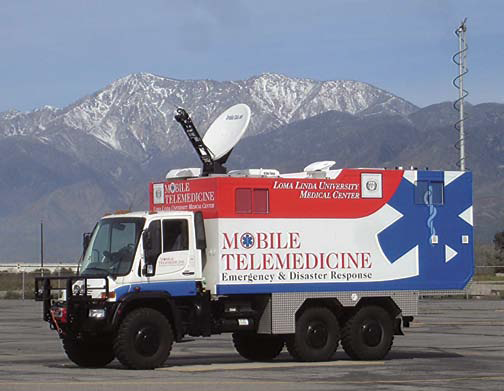 The integration of Satcom technology into vehicles is revolutionizing the way rural communities and individuals living in disaster stricken areas receive healthcare. Often times, people in remote locations aren't willing or financially able to travel the 25+ km from a peri-urban area to a hospital so that they may receive assistance. Telemedicine can alleviate this burden to the patient and ultimately mitigate the overall costs that surround this global problem.
Vehicles equipped with mobile satellite antennas such as C-COM Satellite iNetVu Auto-Deploy VSAT systems along with medical equipment can now provide isolated patients with quality care no matter where they live. iNetVu antennas allow physicians access to broadband Internet, online patient database management, real-time diagnoses and specialist support anytime, anywhere. Online guidance in emergency situations can save lives without the delay of long ambulance rides while a patient deteriorates.
Clinical media contain information in various forms such as text, graphics, medical images, audio and video signals, cannot be sent any way other than by satellite. X-ray images, clinical EEG signals, ultrasonic scan results, and many more can be diagnosed in real-time. Also, data compression for reduced volume of transmitted data, data encryption for the protection of the privacy of patients, and the obtaining of instantaneous frequency data are made possible by mobile communications. If governments, NGO's and medical officials want to improve their knowledge and effectiveness in the industry, telemedicine is the broadest leap into 21st Century Health Care.
MST Specialised Vehicles has jumped in with both feet, improving the lifestyles of rural communities by building mobile servers suited to their needs. Currently operating approximately 20 such vehicles on the road in South Africa with plans to deploy 20 more in South Africa and 20 in Nigeria, these initiatives are clearly having a positive impact on the population.
Let's take a look that the Mobile Maternal Healthcare Clinic which is Africa's first Mobile Maternity Unit equipped with satellite communications, deployed in Nigeria, by Bayelsa Hospital.
Designed, integrated and maintained by MST Specialised Vehicles, Cape Town, South Africa, and this fully operational mobile maternity clinic is equipped with state-of-the-art equipment and consumables with the ability to connect with specialists worldwide no matter the location. What this vehicle does:
• Vital monitoring
• Ultrasound scanning
• HIV testing
• Pregnancy testing
• Immunizations and basic check ups
• Incubation and monitoring of the infant
• Natural birth
Vehicles are fully staffed with professional doctors and volunteers, stocked with high grade medical supplies, in constant communication via satellite, and on the road as often as possible.
Time-Efficient....Cost Effective....Life Saving
In Nigeria, once the full program has been rolled out, the plan is to see over 1,000,000 pregnant peri-urban women per year, and drastically reduce maternity mortality rates.
• The cost of this mobile clinic is estimated at $500,000.
• Monthly maintenance costs are est. $20,000 / month.
• Henceforth, the cost to build, operate & maintain one vehicle for 3 years = est. $1.2 million.
• To purchase and operate 72 vehicles (2 for every state in Nigeria) over 3 years = $86 million.
• To see 1,000,000 women / year (38 / day / mobile clinic), would cost $86 / woman / year.
• Hospitals are always the largest percentabge of health care costs, and with building prices rising, ONE state-of-the-art hospital might
cost $100 million just to build.
Another exciting project headed by MST Specialised Vehicles includes supplying 6 mobile clinics to Nigeria Customs Service as part of their Border Patrol Healthcare Programme. The clinics will provide services to staff and people crossing the borders such as vaccinations, provide optical, dental and other general primary healthcare to staff, and set-up support and maintenance infrastructure in Nigeria.
In the medium term, telemedicine will be a key focus area for MST's mobile clinics that will use the iNetVu 1200's
"It is estimated that approximately 74 percent of maternal deaths could be prevented if all women had access to services which would prevent or treat such complications associated with pregnancy and birth. It is therefore clear that access to, and provision of, emergency obstetric care, family planning services and ante-natal and post-natal care are key determinants of maternal health."—Amnesty International, 2009.
There are many other examples of mobile telemedicine (eHealth) using satellite technology to save lives all over the globe. Mobile Surgical Vehicles in California, Mobile Breast Cancer Screening Clinics in New Zealand, for example, are innovative and advanced creations that are changing the landscape of the patient-doctor environment.
Another pioneering example of telemedicine has been implemented by Saab Grintek, a partner of C-COM Satellite Systems, from South Africa. The company has integrated iNetVu VSAT antennas to help create the Transnet-Phelophepa Healthcare Train.
(http://www.roche.com/responsibility/access_to_healthcare/developing_countries/transnet-phelophepa_healthcare_train.htm)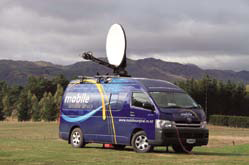 The Train will stop at very remote railway stations to serve under developed communities. The train connects via the satellite platform in the back of vehicle to the Academic Hospital of UCT. Services such as Internet Access, DSTV, Video Transfers, X-Ray scan's and Internet will be send over the Platform.
The Transnet-Phelophepa Health Care Train is a mobile clinic bringing medical care to rural South Africa, where there is just one doctor for every 5,000 patients. Phelophepa has 18 coaches and is equipped to provide general health, dental, eye and psychiatric care, as well as cancer screening tests, diabetes prevention and counselling sessions. It also provides community education on general health issues, such as hygiene and nutrition, as well as an outreach programme visiting local schools and villages to deliver vital health checks, medicines and education.
The train has reached out to over 5.4 million people to date—many people who otherwise would have no access to basic medical services. While satellite connectivity is a small portion of the overall cost of the solution, it's the easiest way to connect doctors and specialists with patients, from any location, at a fraction of the cost.
For further information, please visit the C-COM infosite at http://www.c-comsat.com/

About the author
Drew Klein oversees and assists the sales and marketing departments at C-COM and is responsible for the promotion of the iNetVu mobile antenna. Since graduating from the University of Waterloo, earning his Bachelor of Honors Science in Biology, he has worked as a commodity broker and developed a keen interest for the telecommunications industry in business and sales. Drew promotes and directs global sales via the firm's existing worldwide dealer network and also reaches new resellers who wish to promote C-COM's iNetVu product.