State and local officials from across the Amazon region of Brazil converged on the city of Manaus this fall to commemorate a milestone agreement between O3b Networks and Ozonio aimed at delivering connectivity to the underserved region.
Ozonio
, a Brazilian multimedia communications and Internet services provider, will use
O3b
's abundant and affordable bandwidth to empower companies and communities lagging behind the broadband boom.
"All of the delegates who gathered that special day spoke passionately about how exasperated they were when the remote Amazon region had been left out of Brazil's national broadband plan," recalled
Steve Collar
, CEO of O3b Networks. "It was enormously gratifying to hear them explain how important it is for O3b to enable their communities to participate in the connected world with the rest of Brazil."
O3b is really on to something new and exciting, the Amazon government leaders proclaimed, a sentiment shared across emerging markets around the world.
"We really are providing a solution that no one else can deliver," noted
John Finney
, Chief Commercial Officer for O3b. "It's a unique combination of unmatched bandwidth and cost effectiveness that makes O3b so compelling for so many telcos and network service providers in underserved regions and more than 180 countries."
The largest Ka-band satellite operator in the world, O3b combines the reach of satellite with the speed of fiber at a price capable of making the Internet a truly global experience.
"O3b delivers more bandwidth at lower latencies and costs than ever before," said
Collar
. "That's a powerful formula for telecom service providers determined to quench the growing thirst for broadband in the countries, regions and communities they serve."
More Bandwidth
O3b was developed to deliver high-speed connectivity to the unconnected and underserved markets. Already one-third of O3b's capacity is sold, ahead of the launch of its initial constellation of eight
Medium Earth Orbit
(
MEO
) satellites slated for early 2013.
About 20 percent of the IP Trunking traffic across the Middle East and Africa is delivered today over standard geostationary satellites at prices significantly higher than O3b's new IP Trunking solution. Just launched this month,
O3b Trunk
is a scalable, bundled offering designed to deliver affordable, fiber-like capacity anywhere within 45 degrees of the equator.
"A broad range of service providers can simply select the speed of the connection they want and we provide them with the fully-managed O3b Trunk solution," noted
Finney
. The new O3b Trunk service offers a wide variety of broadband capacity options, from 100Mbps to 1.2Gbps.
"O3b Trunk delivers extraordinary bandwidth flexibility, enabling a broad range of providers to grow their services as market demand expands,"
Finney
said. "Our offering of more bandwidth, lower latency and affordable pricing is eliminating the primary barriers to connectivity and growth in the emerging markets."
"As the pipe is opened up, more bandwidth drives new broadband applications, such as voice, mobile data and fixed line Internet access, that weren't available before,"
Collar
added. "We are set to deliver very large amounts of bandwidth wherever our customers need it, at a cost that makes sense in today's emerging markets," said Collar.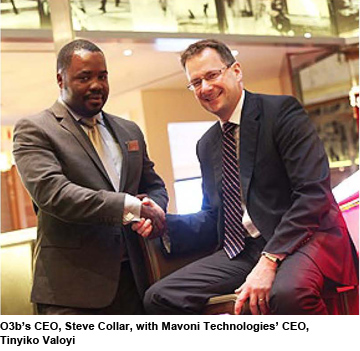 Making The Correct Connections
Netcom Africa
, a leading provider of satellite and wireless broadband, inked a multi-year, multi-million dollar deal with O3b to deliver high-capacity connectivity to ships and oil and gas rigs off the coast of Nigeria.
Despite the availability of fiber networks on Africa's coasts, service providers have struggled to meet many of the connectivity demands across the continent and the unique needs of the oil and gas industry. Inland regions of Africa have been preparing to connect with O3b.
At the time of the O3b–Netcom Africa deal last fall, Netcom Africa's Group EVP and CTO
Yen Choi
said, "O3b's high-capacity, low latency connectivity will allow us to offer a quality of service to our oil and gas customers operating in the Niger Delta region that was never possible before. Offshore workers will be able to talk with friends and family at home with no delay, and large volumes of data will be transferred onshore for analysis quickly and seamlessly."
In South Africa, provider
Mavoni Technologies
is going to deliver highly-anticipated connectivity at fiber-like speeds to the South African provinces of Limpopo, Mpumalanga and the Northern Cape. More than 2,000 rural schools alone will be connected.
"Together with O3b, our mission to help clients turn knowledge and innovation into real value will impact the lives of more than 185,000 students," said
Tinyiko Valoyi
, CEO of Mavoni Technologies, following the agreement with O3b earlier this year.
Ethiopia is full of opportunities, as the country's economy continues to forge ahead, reliant on satellite-based trunking services to drive much of its short-term and long-term growth and advancements.
Etisalat
already serves more than 100 million customers across the Middle East, Africa and Asia and is now in a position to meet long-term capacity demands after inking a deal with O3b to offer regional solutions.
The Middle East is a land of opportunities as diverse as the countries that make up this vast region. "The Middle East represents very strong demand for O3b services and solutions," noted
Finney
.
In Iraq, for example, where one of the biggest challenges is the absence of reliable power, O3b is well positioned to deliver on the high demand for connectivity.
"The power infrastructure across Iraq is extremely poor and unreliable, much like the regional fiber networks that are heavily dependent on the grid,"
Collar
said. "There's a huge need for communications throughout Iraq, and O3b is in a prime position to deliver on that demand over the next decade."
One of the region's largest ISPs,
NEDA
has signed on with O3b to deliver broadband throughout Afghanistan. And Soroof has secured substantial O3b bandwidth to deliver a range of trunking and mobile backhaul services into Saudi Arabia.
Countdown To The O3b Launch
With the introduction of its core IP Trunking product, O3b Trunk complete and the launch of its initial eight-satellite constellation fast approaching, O3b is implementing seven strategic global gateways around the world. The first two teleports are under construction in Greece and Hawaii.
The command and control sites will soon be feeding the high-capacity, IP bandwidth set to eventually play an integral part in transforming the emerging world.
"As we get closer to the launch of O3b there is a real sense of excitement," said
Collar
, referring to a growing customer lineup expected to number in the dozens by liftoff. And the satellite operator's vision of closing the bandwidth gap is on the cusp of reality. "Our ability to enable whole countries, communities and companies to tap into a brighter, connected future is the main reason people work at O3b.
It's the biggest motivation for telecom and service providers that have already staked their claim to O3b capacity, ready to elevate their businesses and their customers in an increasingly connected world."
For more information regarding O3b Networks or O3b Trunk, visit
www.o3bnetworks.com
About the author
Paul Sims is a freelance journalist who covers the satellite and communications industries. He may be reached at
Paul@simscomm.com