Satellite technology is undoubtedly helping to improve lives across Middle East & North Africa (MENA). Thanks to technology such as High Throughput Satellite and a great deal of investment into the region, we are beginning to see otherwise isolated communities benefit from connectivity which can often be life-changing. However, with vast expanses of areas lacking in other infrastructure, challenges still remain if we want to see the entire region connected.
Driving Adoption
Satellite adoption in MENA is being driven by a number of requirements that include:
• Satellite TV
• Internet connectivity
• Cellular backhaul
• Monitoring environmental issues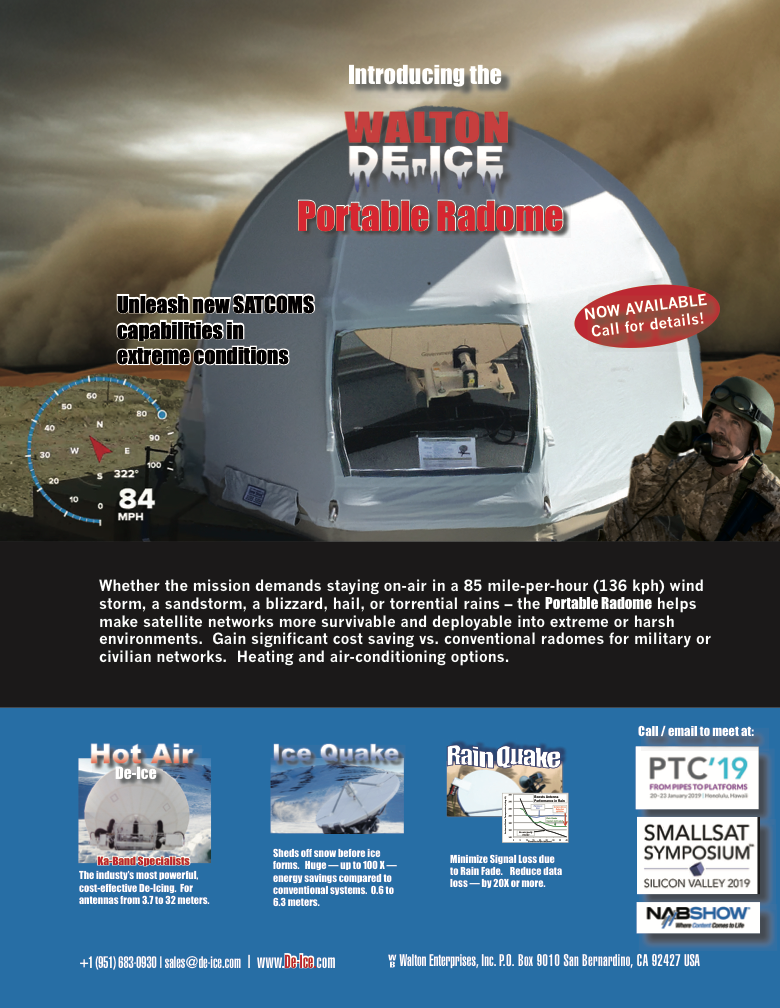 Satellite TV
In many areas of the world, there is talk of cord-cutting, with consumers moving away from satellite TV in favor of Over-The-Top (OTT) services, such as Netflix or Amazon Video. In MENA, however, satellite TV remains the most popular method of consuming content.
According to a report by Eutelsat earlier this year, 94 percent of homes in MENA receive their TV reception via satellite and this trend has been growing steadily over recent years. While there is increased interest in subscription video on demand (SVOD) services, in many parts of the region, they are either not available or consumers don't have the means to sign up for those services.
In some areas there are other factors that affect TV consumption — this is where companies such as Azuri Technologies enter the market, providing solar powered satellite TVs to tens of thousands of households across Africa. The majority of these households would otherwise not have TV at all, so this is a real game-changer for many.
Internet Connectivity
Providing broadband across MENA is a considerable challenge. At the same time, that connectivity provides a vital life line to many rural communities. In those really isolated communities, broadband provision has the potential to drastically improve quality of life, reduce poverty and create job opportunities as well as enabling education.
One of the biggest challenges with broadband in this region is the high cost of access, which is just not feasible for many of the poorer communities. Simultaneously, the landscape and vast areas of rural communities means that building the is often not feasible.
Cellular Backhaul
Mobile connectivity has been another massive challenge in MENA, leaving the region far behind when compared to the rest of the globe. However, that is starting to shift and rapid growth of smartphone adoption in the region has been witnessed. According to Frost & Sullivan, mobile penetration is around 63 percent for MENA, although in the Arab states this remains quite low at only 45 percent. While consumer interest and adoption is increasing, there remain some fundamental challenges when it comes to cost and infrastructure barriers.
Satellite is starting to play a role in enabling that mobile traffic and greatly reduce the infrastructure barriers.
Monitoring Environmental Issues
Another area where satellite can have a massive impact is with the monitoring of environmental issues. The vast expanse of country makes it difficult to track weather patterns, water resources and other similar activities. Satellite is enabling these types of issues to be better tracked and that can lead to the much needed resources being delivered to badly affected areas far more quickly.
Growing Interest in MENA
The increasing appetite for connectivity across the region is bringing interest and innovative ideas to the fore — certainly not surprising is that a number of satellite launches have already occurred and many are also planned for this region in the not-too-distant future.
Ethiopia is the latest to announce plans to launch a national satellite, with the nation's first due to launch this year to track environmental issues, which is currently managed through the use of foreign owned satellites, with those services offered at either now cost at low resolution, or for a fee for high resolution imagery. By launching its own satellite, Ethiopia hopes to carry out this effort far more cost effectively. Over the coming year, massive launches of nanosats across the region are expected, as operators move to cash in on the demand for affordable data services. This includes a planned 200 smallsats by the close of 2020 from Australian company, Sky and Space Global (SAS). These smallsats will be key in bringing a new level of connectivity across the region, especially for those as yet unconnected or poorly connected rural areas.
Key Considerations
While satellite will be extremely crucial over the coming year for MENA, there remain some important considerations. One key factor are weather extremes. As the need for improved communications in the region increases, satellite will become more and more important. The increased use of HTS, in particular with Ka-band transmission, requires that certain technical issues be considered.
One key issue is potentially adverse — rapidly changing weather conditions. The rain fade effect on Ka-band can render a satellite link useless, so the requirement for backup gateways or Earth stations becomes necessary. Due to the distance between the main and backup sites, implementing RF Over Fiber links to connect the ground based systems is the only viable option. Dense Wavelength Division Multiplexing (DWDM) will be a key enabler of "between gateway" communications; however, this will require fiber to be in place or a specific installation to be built. The latter is not straightforward in remote regions where existing infrastructure is scarce.
MENA is a growing market for the satellite industry. However, while there is a demand for data services at an affordable price, also important is that these services are reliable in keeping the region connected and enabling consumers to tap into a wide array of services that satellite enables.
https://www.etlsystems.com

Andrew's speciality encompasses the sales and marketing of technical communications products, with a focus on developing international brands and sales networks. He joined the ETL team in June of 2005 to support the company's expansion into new global markets and has since seen sales grow around 20 percent per year. Andrew has an MBA from Edinburgh University in Scotland.
---