SatMagazine (SM)
Please tell our readers about your Company's business focus, and history, within the various European market segments.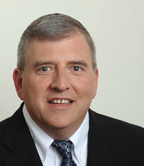 David Leichner
Gilat Satellite Networks Ltd. is a leading provider of products and services for satellite-based broadband communications. Gilat develops and markets a wide range of high-performance satellite ground segment equipment and VSATs, with an increasing focus on the consumer and Ka-band market. In addition, Gilat enables mobile SOTM (Satellite-on-the-Move) solutions providing low-profile antennas, next generation solid-state power amplifiers and modems. Gilat also provides managed network and satellite-based services for rural telephony and Internet access via its subsidiaries in the United States, Peru and Colombia.
With more than 25 years of experience, and over a million products shipped to more than 85 countries, Gilat has provided enterprises, service providers and operators with efficient and reliable satellite-based connectivity solutions, including cellular backhaul, banking, retail, e-government and rural communication networks. Gilat also enables leading defense, public security and news organizations to implement advanced, on-the-move tactical communications on board their land, air and sea fleets using Gilat's high-performance SOTM solutions.
In Europe, Gilat is, to a large extent, focused on the Ka-band market. We work with some of Europe's leading satellite operators and service providers that are working to bring broadband Internet to the consumer. Our integrated defense and homeland security division is also bringing a broad range of solutions to agencies and defense organizations worldwide.
SM
What European SATCOM sectors do you believe offer the most potential for Company growth and why? What new technologies/products will your Company be working on and/or releasing over the next few months that will drive additional business in Europe?
David Leichner
We are closely following and working in the Ka-band Internet broadband field which holds tremendous opportunity as satellite operators generate Ka- capacity to enable broadband Internet for consumers and small offices. Gilat has developed an award-winning home modem for this market and we are working with the SES Broadband service throughout Europe. We also have partnerships with Hispasat and Rostelcom to provide broadband Internet services in Iberia and North Africa as well as in Russia.
Gilat is also targeting the oil & gas sectors. We continue to expand our Wavestream portfolio of Ku-, Ka-, X- and C-band compact, highly efficient, and field-proven Solid State Power Amplifiers (SSPAs) and Block Upconverters (BUCs). These products are integrated into a variety of antenna systems targeting fixed, mobile land and maritime, flyaway and embedded airborne applications. Wavestream products are also focused on areas where we see significant growth in the coming years. Growth opportunities for Ka-band are also becoming more evident in commercial markets, particularly for broadcast and maritime applications. Wavestream products can already be found in VSAT systems used in the cruise ship industry. Also announced is the AeroStream™ family of transceivers to address military and commercial airborne connectivity requirements. We will introduce several new Ka-band products this year suited to military and commercial customers. Our patented Spatial advantEdge™ technology provides the ability to reach higher output powers without complex or costly combining, keeping size, weight and component costs down. It also results in reduced power loads and significantly reduced thermal loads, again minimizing size, weight and energy costs. Going forward, our technology approach provides us with a flexible platform to apply to any device technology.
SM
How is your Company coping with the euro fluctuations?
David Leichner
Gilat's management carefully monitors the Euro fluctuations and the financial turmoil that the continent is currently undergoing. As much of our production is based outside of Europe, we are not suffering much from changes in the rates vis-à-vis the rest of world.
SM
How will the European markets impact global, as well as your Company's business opportunities?
David Leichner
Europe is only one part of our business and our models for moving forward are less dependent upon various fluctuations in Europe. A number of our global contracts do originate on the continent, thus we are conscious of operating within macro-economic constraints or working together with clients in understanding the impact of the Euro's fluctuations and the entire business environment.
SM
What obstacles do you see facing your Company in the European market? How do you plan on overcoming such challenges?
David Leichner
The biggest challenge to the business world in Europe is the current financial turmoil that seems to bring new revelations every week. We are investing in our European sales teams and developing further business opportunities outside of our traditional communication commercial markets.
About the author
Mr. Leichner has more than 20 years of marketing and management experience. He is responsible for corporate marketing and business development at Gilat and its subsidiaries. Prior to joining Gilat, Mr. Leichner served as the V.P. of Sales and Business Development at Dynasec; as CEO of SafePeak Technologies; as CMO at BluePhoenix Solutions; as V.P. of Marketing at Unipier Mobile; and as VP of Worldwide Marketing at Magic Software Enterprises. Mr. Leichner has been a member of the global board of the Israeli Mobile and Communication Association since 2005.