The Opening Launch Salvo For Arianepasce — Intelsat 29e Pushed To Slot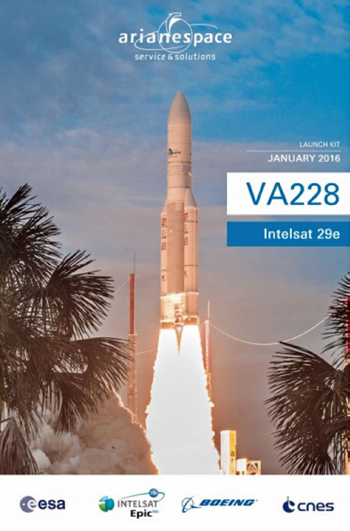 Arianespace kicked off its fast-paced 2016 operational schedule with the 70th consecutive launch success using Ariane 5 on January 27, which orbited a pioneering new-generation satellite for this workhorse vehicle's leading commercial customer.
Lifting off exactly on time from the Spaceport's ELA-3 launch zone in French Guiana, Ariane 5 pushed the Intelsat 29e satellite to orbit.
This was international operator Intelsat's milestone first high-throughput EpicNG-series spacecraft and headed into geostationary transfer orbit after a flight sequence that lasted approximately 30 minutes—the mission was designated Flight VA228 in Arianespace's numbering system.
30+ Years Of Cooperation
Intelsat 29e, which had a liftoff mass estimated at 6,552 kg, is the 56th Intelsat satellite to be launched by Arianespace to date, extending a long relationship between the two companies that was further underscored by Arianespace Chairman and CEO Stéphane Israël during his comments from the Spaceport.
"Our companies started their cooperation more than 32 years ago with the launch of Intelsat 507 in 1983," he said, speaking from the Jupiter control room. "We are particularly proud to contribute to Intelsat's goal of delivering global high-throughput satellite services with the launch of the first of its new EpicNG series."
Intelsat 29e has one of the most advanced digital payloads commercially available, operating in the C-, Ku- and Ka-bands.
The spacecraft will offer enterprise-grade broadband services to fixed- and mobile-network operators, aero and maritime mobility service providers, along with government customers; and its coverage area is the Americas and over the North Atlantic (for sea and aviation routes).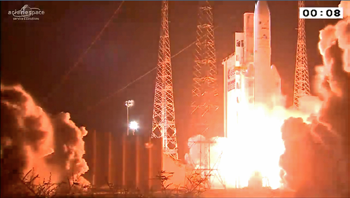 Positioned at 50 degrees West over Brazil in geostationary orbit, the satellite has a design life of 15 years and is the first of a new generation of telecom satellites that will provide the fastest commercially available connectivity to mobile network operators, aero and maritime mobility service providers and government customers. Coverage is the Americas and over the North Atlantic for shipping and aviation routes.
Israël added that Arianespace's support for Intelsat is far from over, saying, "Our roadmap is now clear: Arianespace is ready to deliver Intelsat 33 and Intelsat 36 this year, and next year, it will be Intelsat 37." During his own post-launch comments, Intelsat CEO Stephen Spengler paid tribute to Arianespace for another successful launch with one of the company's spacecraft. He added, "It is known for delivering, and tonight, Arianespace delivered."
A Warm Welcome
Payload prime contractor Boeing also was acknowledged following Intelsat 29e's successful launch.
This launch marked the first time in more than eight years that one of their company-built satellites was orbited on an Arianespace mission. With this flight, the company has launched 51 Boeing-built spacecraft in total.
Speaking to the Boeing team members in attendance, Israël added, "We are on track for another series of successful launches with no less than four of your future satellites in our order book."
These four spacecraft consist of the two additional Intelsat satellites for launch in 2016 and 2017; along with SES-15, which will be orbited for operator SES, and one for an undisclosed customer.
Boeing Satellite Systems President Mark Spiwak was in attendance at the Spaceport and offered his own special take on Arianespace's role in the Flight VA228 success.
"It was cloudy all day today, and Stéphane—I don't know how you did it—but as the rocket was ready to go, the clouds parted and it was a beautiful evening." He added jokingly, "I commend Arianespace for having a higher ability to control the weather."
A Launch, And A Year, To Remember
Tonight's mission was unique for more than its pioneering EpicNG payload. First, Intelsat 29e has the distinction of being a single telecommunications satellite on a dedicated Ariane 5 flight, which is in contrast to the typical two-passenger configuration for this launcher on missions to geostationary transfer orbit.
Flight VA228 also was the first Arianespace mission since 2002 to be performed in the month of January—giving the company an excellent start as it targets a record operational year for Ariane 5, with as many as eight launches to be performed in 2016 using the heavy-lift vehicle.
"Be it for telecommunications or other applications such as ATV (Automated Transfer Vehicle resupply spacecraft) toward the International Space Station, nobody should dispute that Ariane 5 has already made history in the launch industry," said Arianespace's Israël as he looked to the future successor.
"We do not intend to rest on our laurels. 2016 will be the year of the full confirmation of Ariane 6, which will be our success story for the next decade."
Altogether, Arianespace has the objective of performing up to 11 missions in 2016 with its full launcher family of today - consisting of the heavy-lift Ariane 5, medium-lift Soyuz and lightweight Vega.
arianespace.com/
intelsat.com/
boeing.com
---
EUTELSAT 9B Rises Up + Payload Traveling Down The Space Data Highway
EDRS-A, the first relay satellite of the SpaceDataHighway, was successfully launched into geostationary orbit on January 30, 2016, hosted by the EUTELSAT 9B satellite via an International Launch Services Proton launch vehicle.
After a test period, this satellite will become operational for its first end-user customer by mid-2016.
The SpaceDataHighway system will provide high-speed laser communication in space at up to 1.8 gigabits per second.
This major program, which cost nearly 500 million euros to develop, is the result of a public-private partnership (PPP) between the European Space Agency (ESA) and Airbus Defence and Space.
Using communication relay satellites such as EDRS-A, the SpaceDataHighway will be able to transfer high-volume information from Earth observation satellites, UAVs and surveillance aircraft, or even from a space station such as the ISS.
Thanks to the very high communication rates possible with lasers of up to 1.8 Gbit/s and the geostationary orbit positioning of the relay satellites, up to 50 terabytes per day can be transmitted securely in near-real-time to Earth, as opposed to the delay of several hours currently experienced.
The laser technology developed by Tesat Spacecom, a subsidiary of Airbus Defence and Space, offers a highly precise pointing capability that enables two laser terminals located 75,000 km apart to be connected. In parallel, Airbus Defence and Space will validate the broadband (1.8 Gbps) laser link concept between EDRS-A and an Airbus A310 MRTT mid-2016.
Airbus Defence and Space is also solidly committed to partner General Atomics for the airborne laser terminal product development efforts that should become available for communication with EDRS-A.
As lead contractor of the EDRS-SpaceDataHighway PPP, Airbus Defence and Space not only co-finances, owns, manufactures and operates the system but as well commercializes it.
The German Aerospace Center (DLR) is also significantly participating in financing the system and also in the development and operation of the ground segment. Overall, eleven European countries are involved in the consortium.
The first communication node of the SpaceDataHighway system, EDRS-A, is a hosted payload carried on Eutelsat 9B, a Eurostar E3000-type satellite built by Airbus Defence and Space and to be operated by Eutelsat.
EDRS-A will be positioned at 9 degrees East and will be able to establish laser links with orbiting observation satellites and UAVs positioned over Europe, Africa, Latin America, the Middle East and the eastern coast of North America.
A second satellite will be launched in 2017, which will extend the coverage, capacity and redundancy of the system.
Airbus Defence and Space and ESA are looking for partnerships to further expand the SpaceDataHighway by 2020, with a third node to be positioned over the Asia-Pacific region. The Pacific Rim region, for instance, has witnessed a dramatic rise in the communication needs for airborne missions.
As part of the Copernicus initiative, the European Commission is the anchor customer for the SpaceDataHighway. Its use will allow the Sentinel-1 and Sentinel-2 satellites, all equipped with laser communication terminals, to significantly accelerate the delivery of time-critical and large volumes of data to Earth monitoring centers.
In case of crisis or natural disaster management, up-to-date, near real time information is crucial for the authorities to prepare the most appropriate emergency response.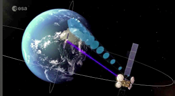 "SpaceDataHighway is no longer science fiction. It will revolutionize satellite and drone communications, and help to keep the European space industry at the forefront of technology and innovative services," said Evert Dudok, Head of the Communications, Intelligence & Security (CIS) business line at Airbus Defence and Space.
International Launch Services (ILS) successfully placed the EUTELSAT 9B satellite into geosynchronous transfer orbit, for Eutelsat Communications of Paris, France.
With this mission, ILS completed its 92nd Proton launch overall and 1st Proton launch of 2016. Since its maiden flight in 1965, this was the 410th aggregate launch for the Proton vehicle, including both Federal and commercial missions.
The launch of EUTELSAT 9B, built by Airbus Defence and Space, was conducted for Eutelsat using the Proton Breeze M launch vehicle, manufactured by Khrunichev State Research and Production Space Center (Khrunichev), the majority owner of ILS and one of the cornerstones of the global space industry.
The Proton Breeze M vehicle carrying EUTELSAT 9B launched from Pad 39 at the Baikonur Cosmodrome, on January 30, at 04:20: local time (22:20 GMT and 17:20 ET on January 29).
The first three stages of the Proton used a standard ascent profile to place the orbital unit (Breeze M upper stage and the EUTELSAT 9B satellite) into a sub-orbital trajectory.
The Breeze M performed planned mission maneuvers to advance the orbital unit first to a circular parking orbit, then to an intermediate orbit, followed by a transfer orbit, and finally to a geosynchronous transfer orbit. Separation of the EUTELSAT 9B satellite occurred 9 hours, 12 minutes after liftoff.
EUTELSAT 9B is a high-capacity 56-transponder Ku-band satellite for Eutelsat's 9 degrees East position. Capacity will be spread across five footprints, with frequency reuse optimizing overall bandwidth.
EUTELSAT 9B will address high-growth digital TV markets through one pan-European footprint delivering wide coverage and four regional footprints. EUTELSAT 9B also hosts the first data relay payload for the European Data Relay System (EDRS) being implemented through a Public Private Partnership (PPP) between ESA and Airbus Defence and Space.
ILS President Kirk Pysher said, "The EUTELSAT 9B launch truly represents an example of an international partnership: a European-made satellite for Eutelsat with an ESA / Airbus Defence and Space payload launched on a Russian rocket by an American company. The entire EUTELSAT 9B team of Eutelsat, ILS, Khrunichev and Airbus Defence and Space worked very hard to ensure mission success. We want to express our sincere thanks to Eutelsat for their confidence and trust and look forward to launching future satellites in the Multi-Launch Agreement, designed to provide Eutelsat additional schedule flexibility, and assured access to space at cost effective prices."
"Our congratulations to ILS and Krunichev for today's flawless launch that sees a new Eutelsat satellite propelled on its way to geostationary orbit. This sophisticated satellite program reflects outstanding collaboration between Eutelsat, ESA, Airbus Defence and Space, ILS and Khrunichev. We look forward to putting EUTELSAT 9B to work for the benefit of our broadcaster clients and to the inauguration of the ground-breaking European Data Relay System that illustrates the complementary programs of geostationary and Low Earth Orbit (LEO) satellites for fast transmission of data flows back to Earth," said Michel de Rosen, Eutelsat Chairman and CEO.
eutelsat.com/
ilslaunch.com/
www.esa.int/
airbusdefenseandspace.com/
---
Autonomous Spacecraft Maneuvering Demo'd By Deep Space Industries + UTIA Space Flight Laboratory
The world's first demonstration of autonomous spacecraft maneuvering was recently completed by Silicon Valley-based Deep Space Industries (DSI) and the Space Flight Laboratory (SFL) of Toronto, Canada.
Using their highly-successful CanX-4 and CanX-5 pair of nanosatellites, SFL operators executed a DSI-defined experiment on-orbit, in which the world's first spacecraft-to-spacecraft orbit maneuver was commanded by one satellite and executed by the other.
In this experiment, one of the two spacecraft (CanX-4) autonomously programmed the other (CanX-5) to perform an orbit change using its on-board propulsion system, over a shared S-band Inter-Satellite Link (ISL) radio.
CanX-5 subsequently executed the maneuver, raising its orbit, as confirmed by operators at SFL's Mission Control Center (MCC) in Toronto and data from the Joint Space Operations Center (JSpOC) at Vandenberg Air Force Base.
To the best of each organization's knowledge, this is the first time in history that one satellite has autonomously commanded another to execute propulsive maneuvers, with no operator in the loop.
"This experiment was a key demonstration of a critical capability for multi-spacecraft asteroid missions, as well as constellations of spacecraft in Earth orbit," said Grant Bonin, DSI's Chief Engineer.
"It was also a first step in demonstrating ship-to-shore command relay in-space, which could potentially reduce the difficulty of communicating with very small spacecraft at long range."
"The experiment was an important risk reduction exercise for DSI, which intends to use small spacecraft for initial asteroid prospecting missions in the next five years," Bonin continued.
"The ability to relay commands from spacecraft to spacecraft, and perform in-space maneuvers autonomously, without operator intervention, is a critical capability that has major implications for mission-level redundancy—not just for asteroid missions, but also for low-cost Earth orbit constellations. This also shows that, if necessary, we can take the operator entirely out of the loop during a mission, which can translate into significant savings."
Deep Space Industries' partner, the Space Flight Laboratory at the University of Toronto Institute for Aerospace Studies (UTIAS), challenges the current state-of-the-art in space technology performance while achieving remarkably low cost without sacrificing quality or introducing risk.
In an age where significant advances have been made in data processing and information technology, SFL strives to leverage the latest advances in commercial technologies to provide performance advantage in space for tomorrow's space-based data users.
The organizations' high rate of success and distinguished legacy of being on the forefront of space technology make the team a great fit for partnering with Deep Space Industries.
"Teaming with a satellite provider like SFL is a big win for us," said DSI CEO Daniel Faber. "DSI's philosophy is to partner with other organizations whenever it makes sense, in a way that maximizes complementary capabilities. Having a partner like SFL allows us to tap into almost 20 years of heritage, experience, and capabilities, while giving DSI the capacity to focus on key elements of its own roadmap, by leveraging already well-honed skill sets that exist elsewhere."
"We are very pleased to have contributed to DSI's objectives through the tasking of CanX-4 and CanX-5. SFL welcomes the opportunity to partner with DSI, and we see great potential in such collaboration," said Dr. Robert Zee, Director of SFL.
"For SFL, it is an opportunity to apply our heritage and experience in an emerging application area, one that can potentially revolutionize humanity's use of deep space. SFL recognizes the pioneering work of DSI and their talented team, and looks forward to future projects with DSI."
Bonin concluded, "Technologies such as launch-safe high-performance propulsion systems, long-range, high-data-rate communications, and autonomous spacecraft relative navigation are at the core of DSI's current technology development efforts. By combining our enabling technologies with the excellent satellite platforms being offered by SFL, DSI can provide innovative, reliable and robust systems for a wide range of customers and mission types, both in Low Earth Orbit and beyond."
This work is the first project in what both organizations expect to be a long-term strategic relationship to bring cutting-edge, low-cost space technologies and missions to market, while also enabling low-cost asteroid missions.
deepspaceindustries.com/
---
SDA To Assist Members With Interference Struggles
As part of a continued drive to improve the integrity of satellite services, the Space Data Association (SDA) announces the launch of a new geolocation support service for its members.

Geolocation is an important process used to identify the geographical origin of transmissions to a satellite and requires specialized measurement equipment located around the globe managed and operated by skilled engineers.
The new service proposed by the SDA offers a support matrix between satellite operators whereby they will share resources and expertise to locate sources of interference.
Members who are subject to interference on any of their satellites can now count on a system and a process to engage support from other SDA members and request help in performing a geolocation.
Interference continues to cause problems for satellite operators and can be disruptive to customer services.
When it occurs, and in the absence of Carrier-ID for the interfering carrier, geolocation is an important tool that enables quick and efficient resolution.
Once located, satellite operators can then take the necessary steps to resolve the interference. The new service is currently available free of charge to all SDA members."
"The SDA is actively pursuing its policy of information exchange and cooperation in order to ensure quality of service for the satellite communications community," said Mark Rawlins, Chairman of the Space Data Association.
"In offering this service, we will be able to help our members resolve interference issues quickly and efficiently. Interference is an industry issue. A problem affecting one member today may affect another tomorrow."
space-data.org/sda/
---