The 1.8m antenna sitting on top of the laundry building at Hospital Sacre Coeur in Milot, Haiti, a rural northern community located only 70 miles from the still-devastated city of Port au Prince, might not look like much to passersby.
But to the dedicated staff at the over-stretched 73-bed hospital — many of whom are volunteers working around the clock to care for Haitians who have suffered unimaginable disease and hardship since last year's horrific earthquake — that antenna symbolizes the difference between life and death. This life-saving antenna facilitates satellite-based Internet connectivity and telemedicine services for the hospital.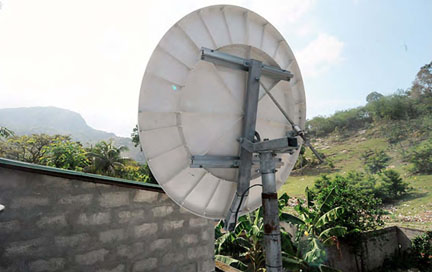 "It is not exaggerating to say this will save lives," said
Tim Traynor
, building and grounds coordinator for
Sacre Coeur
who spearheaded the Internet/telemedicine project for the hospital. "I would suspect that it has already done so even in the short period of time it has been up. Even for a small hospital in the United States to have exposure to this kind of technology would be awesome. To have this available in Haiti is unheard of."
The Internet and telemedicine project was made possible through a collaborative effort between
iDirect
, which donated all of the necessary equipment, and
NewCom International
, which donated a year of high bandwidth satellite-based Internet connectivity, VideoMeetings technology, project management and technical support. The system officially went live in early February, providing what Traynor calls a "revolutionary service" for the struggling hospital. Beyond the critical life-saving support the technology provides, what makes the project remarkable is the lengths to which everyone involved had to go to in order to make it a success.
What started as a relatively quick project in June of last year turned into an arduous seven-month process marred by disease, natural disaster, and civil unrest that has become an all-too-familiar way of life in Haiti.
Connecting Sacre Coeur To The World
It was
Traynor
, who left the comfort and security of the corporate world in the U.S. a few years ago to devote his life to helping the hospital care for the people of Haiti, who initiated the call with iDirect. For months he had been frantically trying to consult with doctors in the U.S. and generate media exposure that would bring medical help for thousands of patients seriously injured in the January earthquake. The hospital didn't have the bandwidth or software necessary to make multi-party conference calls so he resorted to conducting interviews and consultations via Skype™, where he was continually losing connectivity due to a passing storm cloud or the erratic behavior of a particular satellite modem.
"All we had were three Starband units with another network and connectivity was poor or non-functioning on all four dishes during the day," says
Traynor
. "Night brought a little better service because of a decrease in satellite traffic. But a passing cloud or the constant threat of a thunderstorm rendered these systems useless until calm, blue sky reappeared. Email was as or less reliable than snail mail because there was no expectation that the correspondence would ever reach its mark."
When a visiting volunteer who understood the dire situation that the lack of reliable Internet communications posed for the hospital told Traynor she knew an executive at iDirect, a global leader in satellite communications technology,
Traynor
jumped on the opportunity. His request for help was routed to
Rob Kilroy
, Regional Vice President for the Americas, who readily agreed to offer assistance. However, in assessing the situation,
Kilroy
realized that beyond equipment, the hospital was in need of a satellite-based Internet service provider and immediately turned to NewCom International, a global satellite communications provider that focuses on providing bundled solutions that make a positive social impact in the world.
"NewCom has been a long-time customer of iDirect and is very strong servicing Latin America," explains
Kilroy
. "They have an excellent teleport facility in Miami and offer incredible customer support. The culture at iDirect and NewCom are very similar in that when there is a serious issue, it becomes about a lot more than making a dollar. It's about `How can we help?'"
The project started out quite smoothly.
Christian Vivas
, who oversees IP services and procurement for NewCom, consulted with
Traynor
to understand the exact needs of the hospital. He then customized a solution, requested a 1.8m antenna, modem, routers, cable kit and other necessary equipment from iDirect, and began configuring and testing the service.
Jaime Munera
, Director of Product Development and IT for NewCom, stepped in to handle the VideoMeetings portion of the project, helping Traynor and his team to understand the full interactive telemedicine capabilities of the technology, which enables a team of medical experts from different locations around the world to collaborate in real time over video and online whiteboard to diagnose and treat a patient.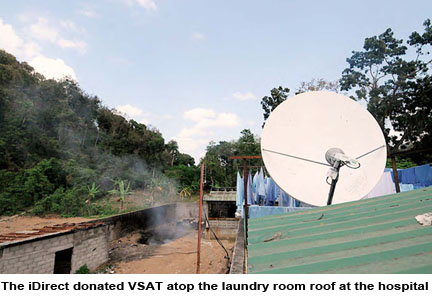 Within a few weeks, the system was ready to be shipped to the hospital, installed and activated. "It was all pretty straightforward," recalls
Vivas
. "Tim said he could take care of the transport so from that point, it was just a waiting game for us until the equipment landed at the hospital."
Trouble Brews
Traynor contacted The
Royal Caribbean Cruise Lines
, which has been working with Sacre Coeur since the early days after the earthquake hit Haiti. The cruise line staff agreed to bring in the equipment from Miami and drop it off at their port of call in Labadee, located approximately 30 miles from Milot.
The logistics were more difficult than anticipated. However, by autumn, the cruise lines had managed to bring in the 1.8m VSAT antenna donated by iDirect for installation. Then trouble hit.
In early November,
Hurricane Tomas
bore down on Milot and the surrounding areas. The storm brought torrential rains into the open trenches that served as sewer lines, which led to flooding and a deadly Cholera outbreak. The outbreak of the deadly disease, coupled by the civil unrest that followed, kept the cruise line from stopping at the Labadee port. As a result,
Traynor
had to rely on help from hospital volunteers who were coming from the United States to bring in the rest of the equipment, which further delayed the process.
When all the equipment finally made it to the hospital,
Traynor
brought in an installer and coordinated with NewCom's
Network Operations Center
to walk through the installation process. During installation, NewCom discovered that one of the modems had been damaged during transport and had to be returned — causing another delay while iDirect quickly sent a replacement satellite remote router to NewCom, which had to reconfigure it and then get it back down to the hospital.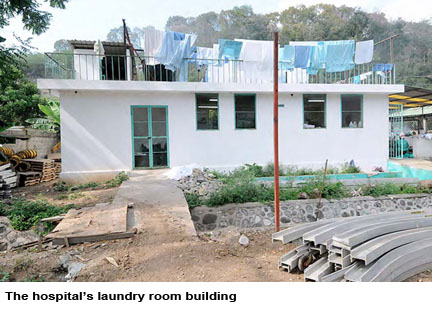 After a rocky, seven month effort, the pieces were finally in place and between NewCom's NOC and Traynor's efforts, the system was finally launched.
"It's been a long, arduous process and without NewCom's continued support and refusal to get discouraged along the way, this project wouldn't have happened," said
Traynor
. "In a place like Haiti, we are always trying to overcome just the challenges of day-to-day life and a lot of people get discouraged by this. It's nice to have that spark of excitement — that ving, vang, voom at the beginning of a project. But it takes something altogether different to grind it out when there is no spark, and that's what NewCom did. Every time I called, they gave me the assistance I needed and were there every step of the way. They have been remarkable. I can't imagine how they service people who are actually paying them.
Success
The system went live in February 2011 and, as its first test,
Traynor
immediately sent cardio graphic information on seven pediatric pulmonary cases — which required two gigs of data — to doctors in the United States. Since then, several video consultations have taken place and
Traynor
envisions using the technology to launch weekly training sessions in which medical experts from throughout the U.S. would hold virtual classes with groups of nurses at the hospital.
Traynor
, who calls the Internet/telemedicine project "an extraordinary gift that is changing the face of health care in Haiti," says the difference the technology has made is monumental.
"During the quake relief activities, this thin thread of unreliable to non-existent connectivity was all we had to connect our doctors, donors, suppliers and others who availed themselves to the fragile lifeline we had established," says
Traynor
. "By contrast, the current VSAT network provides a strong, reliable signal even through the worst of tropical storms or most impenetrable cloud cover."
Knowing that their joint efforts have made such a powerful impact on the lives of people in Haiti is a gratifying, humbling experience for the team at iDirect and NewCom. Both companies say the project illustrates what they view as the big picture when it comes to satellite communication, which is to use the reach and power of today's global communications technology to change lives.
"The iDirect platform is designed to overcome traditional threats to satellite links such as weather and latency," says
Kilroy
. "We are proud to be part of such a life-saving effort with NewCom. When I was contacted by the hospital I immediately thought, 'what can we do that would have an impact?' and I thought of partnering with NewCom. This was a huge challenge on all of our parts and it's nice to see perseverance pays off."
"We're grateful that iDirect brought this opportunity to us," adds
Munera
. "It's what we are continually striving toward as a business, which is to take an integrated approach and bundled satellite communications into comprehensive solutions that drives positive social advancements around the globe. By taking a more integrated approach, connectivity has a purpose: It becomes a tool for education, health care and improving the welfare of people around the world."
About the author
Ingrid Ricks oversees marketing and public relations for NewCom International.