Comtech EF Data enhances portfolio
Comtech EF Data Corp. a subsidiary within Comtech Telecommunications Corp.'s (Nasdaq: CMTL) Commercial Solutions segment, has set a new industry performance record for General Packet Radio Services (GPRS) Tunneling Protocol (GTP) acceleration, enabling faster downloads and enhanced Quality of Experience (QoE) in LTE and 5G networks.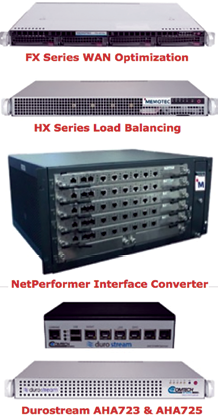 As the mobile industry is preparing for the introduction of 5G, Comtech EF Data has enhanced their award-winning satellite modem and optimization portfolio to support demanding mobile applications and services.
The November 2018 Ericsson Mobility Report highlights that there are now 25 LTE-Advanced networks in the world supporting Gigabit download speeds.
The report also states that with the introduction of 5G, user demand for mobile data services are expected to increase at a 31 percent CAGR until 2024.
Comtech EF Data states they are the primary satellite modem vendor that develops and manufactures an end-to-end portfolio of optimizers and modems in-house to accommodate high throughput in LTE and 5G networks over satellite.
The latest test of the Comtech EF Data FX Series WAN Optimization solutions demonstrated 700 Mbps of throughput for a single IPv6 TCP session in an LTE environment.
When paired with Comtech EF Data's lineup of satellite modems or the Heights™ Networking Platform, the FX Series provides acceleration to maximize the throughput and usage of the link to the modem's current capacity.
When coupled with Comtech EF Data's HX Series Load Balancing product, the total throughput can reach up to 5 Gbps, well within the performance goal established by the International Telecommunication Union (ITU) for 5G networks.
In North America, a major satellite operator is already rolling out the solution in support of 3 Gbps to a single site while supporting hundreds of thousands of concurrent accelerated TCP sessions.
Richard Swardh, SVP, Mobile Network Operators for Comtech EF Data, said the company is recognized as the performance leader in satellite backhaul infrastructure equipment. With the latest additions to the firm's portfolio, Comtech EF Data is again demonstrating the company's commitment to supporting the most demanding mobile applications and services.
Richard added that customers can be assured that by investing in the firm's technology today, they have a solution that will grow and scale in line with ever-increasing demands for higher speeds as 5G is being deployed worldwide.
---
Acquisition: Bradford Space and DSI
Deep Space Industries (DSI) has been acquired by Bradford Space, a U.S.-owned company with facilities in the Netherlands and Sweden — the announcement was made on January 1, 2019, and has been confirmed by a Bradford director, Mr. Ian Fichtenbaum — terms of the acquisition were not disclosed.
A group of entrepreneurs and space advocates founded DSI in 2012 with a goal of developing technologies for prospecting and eventually extracting space resources, such as water and ice, from asteroids. It proposed carrying out those missions using small spacecraft the company planned to develop.
More recently, DSI pivoted toward smallsats in general, including the production of a propulsion system called Comet that used water as propellant. The company promoted Comet on that smallsat's ability to provide performance approaching that of traditional monopropellant systems such as hydrazine, but with a non-toxic propellant that was less expensive and safer to handle.
Bradford Space has its own green propulsion systems for spacecraft, courtesy of the firm's 2017 acquisition of ECAPS, a Swedish company that developed high-performance, non-toxic, satellite propulsion systems. Fifteen spacecraft are using those ECAPS thrusters, including three launched on December 3, 2018, on a SpaceX Falcon 9. That launch also carried four satellites using Comet thrusters from DSI.
---
Australian launch infrastructure development initiated
NewSpace company Southern Launch will begin developing the infrastructure to deploy smallsats from the Eyre Peninsula in South Australia.
The Whalers Way Orbital Launch Complex in South Australia will be capable of launching rockets such as Rocket Lab's Electron, pictured here.
Southern Launch CEO Lloyd Damp said that after an 18 month search for the perfect spot, the company found a site at Whalers Way on the Eyre Peninsula for their new launch pad.
"We looked at sites from Western Australia to Victoria that were suitable for a southern launch and provided the right safety for people and the environment and South Australia met all the criteria," said Damp. "In addition to offering the ability to launch rockets into a polar or sun synchronous orbit, we also needed to have access to major infrastructure like ports and airports."
Called the Whalers Way Orbital Launch Complex, the 1190 hectare site sits at the bottom of Eyre Peninsula, about a 35 minutes drive from the regional center of Port Lincoln. The complex is 300 km. Northwest of Adelaide and 500 km. South of Woomera, the historic rocket launch site that is restricted to military use.
Damp said the startup was in discussions with domestic and international rocket manufacturers to begin designing and developing the necessary infrastructure at its site for launch vehicles and would begin construction early in 2019 with the aim of being operable by the end of the year.
"Both here and overseas I realized a lot of new companies were developing small rockets, but there weren't many places to launch these rockets from and Australia has this really unique geography," Damp said.
Southern Launch will target rockets with payloads between 50 kg. and 400 kg., such as the aforementioned Rocket Lab's Electron, that carry smallsats into polar or sun synchronous orbits to service internet of Things (IoT) applications for operations such as monitoring agricultural land.
"There has been a huge shift in the space ecosystem from the old-space equatorial orbits for large telecoms and TV satellites to the NewSpace polar orbits for IoT," Damp said. "Satellites in a north-south orbit mean you need a smaller number of inexpensive satellites to observe the entire globe."
Southern Launch is working with the South Australian government, the Australian Space Agency and other regulators to work through the regulations and assessments needed to launch from the site.
Rockets launched at the site will fly 500 km. South over the Great Australian Bight before reaching orbit.
Italian Space Company Sitael Australia's general manager, Mark Ramsey, said the firm, which established an office in Adelaide in 2018, would use the complex for its satellites.
"This will allow us to offer satellite customers the ability to launch out of Australia to these new orbits," Ramsey said.
The site announcement came at the same time that South Australian startup Fleet Space Technologies launched its fourth smallsat from different international sites.
The Adelaide-based IoT company's second Centauri smallsat was successfully launched aboard SpaceX's Falcon 9 SSO-A mission from Vandenberg Air Force Base in California last year.
Fleet sent Centauri I aboard Indian Space Research Organization's PSLV-C43 mission on November 29, 2018, and launched experimental satellites Proxima I and II aboard Rocket Lab's It's Business Time manifest on November 11, 2018.
Fleet Space co-founder and CEO Flavia Tata Nardini said both Proxima satellites and Centauri I were successfully completing their duties and the second Centauri satellite was expected to start transmitting data in the next few weeks.
"We're thrilled to showcase Fleet Space Technologies' capabilities to the world by launching our very own constellation of nanosatellites within a matter of weeks. It is incredible to work with industry heavyweights such as SpaceX, ISRO and Rocket Lab to help make our vision of building the global digital nervous system a reality," Nardini said. "There's no time to rest, we're onwards and upwards to provide our customers with global connectivity to solve the world's future challenges from space."
The launch news came a day before Australia's space industry met at the 6th South Australia Space Forum in Adelaide to discuss the future of the industry and get an update from the newly-established Australian Space Agency.
Story by Jim Plouffe of The Lead infosite.
---
Galileo's global system update
Having completed all necessary qualification testing, ESA has received the green light to upgrade the global infrastructure running Europe's Galileo satellite navigation system.

Artistic rendition of Galileo satellites on orbit.
The resulting migration, set to start in February, will incorporate new elements into the world-spanning system and boost the robustness of Galileo services delivered from the 26 satellites on orbit.
Authorization for this upgrade — formally known as Galileo System Build 1.5.1 — has been given by the Galileo Security Accreditation Board, made up of European Union Member States.
This important milestone marks the climax of a system qualification campaign that took more than a year to execute: more than 150 system tests summing up to a total of 409 tests runs across Europe in the various Galileo operational centers.
This work was performed by the ESA Galileo project team in tight collaboration with the WP1x system support team led by
Thales Alenia Space in Italy.
"This marks the first update for Galileo's operational infrastructure since it entered service," said ESA Galileo system test and verification manager Edward Breeuwer. "Galileo Initial Services began in December 2016 then last year we passed control of the system to our partner organisation, the European Global Navigation Satellite System Agency, or GSA.
"This, therefore, marks a major step, but migration to the upgraded system should in principle be entirely transparent to Galileo users. We achieve this by taking advantage of the redundant elements of the Galileo system, taking them offline to update them while their operational counterparts continue to run."
The constellation in orbit is only one element of the overall satellite navigation system. At the same time as satellites were being built, tested and launched, ESA was putting in place a global ground segment, extending to some of the world's loneliest places.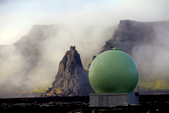 The ground station on Jan Mayen
Island. Photo is courtesy of
ESA/Fermin Alvarez Lopez.
The ground segment is essential to keeping Galileo services running reliably. It identifies and generates corrections for any tiny drifts in the onboard atomic clocks delivering meter-scale positioning, or in the positioning of the satellites themselves.
Establishing Galileo's ground segment was among the most complex developments ever undertaken by ESA, with the requirement to fulfill strict levels of performance, security and safety.
A major driver of this latest update was the growth of the Galileo constellation, which increased by 12 satellites through a trio of Ariane 5 launches in the last three years to become Europe's largest.
The updated ground system incorporates a sixth telemetry, tracking and control station in Papeete, used to oversee Galileo satellite platforms, as well as an expansion of the number of antennas at the sites of uplink stations at Kourou in French Guiana; Reunion Island in the Indian Ocean and Noumea in French Polynesia — serving to upload navigation message corrections to the satellites for rebroadcast to users.
Additional receivers have been added to the Galileo sensor stations to ensure full redundancy: their small antennas check the accuracy and signal quality of individual satellites in real time, and work together to pinpoint the current satellite orbits.
And the two Galileo control centers at the heart of this global ground segment — Fucino in Italy focused on Galileo navigation payloads and Oberpfaffenhofen in Germany on the satellites hosting them — will be made fully redundant of one another, each one able to perform all the functions of the other at a moment's notice ensuring the required business continuity.
Operation of the individual Galileo satellites from the control centers will be further streamlined, with automation of key housekeeping tasks.
The system build connects two brand new Galileo Security Monitoring Centers, one in Paris and, in the near future, one in Madrid currently under construction, to the core Galileo infrastructure.
These two sites check on security issues related to Galileo services, and are used for controlling access to the Public Regulated Service, the single most accurate and secure class of Galileo signal, restricted to governmental users.
Similarly, the new System Build is able to connect to the Galileo Service Centre in Madrid, the portal for the Galileo user community and to the Galileo's Search-and-Rescue Return Link service, overseen by French space agency CNES from Toulouse, France.
---