Signalhorn + Digitaria—On-Board Presence
Digitaria International has selected Signalhorn to provide satellite communications services to passengers and crew aboard a fleet of 12 luxury vessels operated by a leading provider of shipboard travel in the Americas, Mediterranean and South African markets.

Signalhorn will provide passengers and crew with on-board Internet access and voice-over-Internet (VoIP) phone service with connectivity through its teleport in Leuk, Switzerland.
This connectivity will also allow shipboard crews to use positioning applications for offshore safety.
Digitaria International, based in Luxembourg, delivers network services to its customer's fleet, following the seasonal location of each of the dozen ships.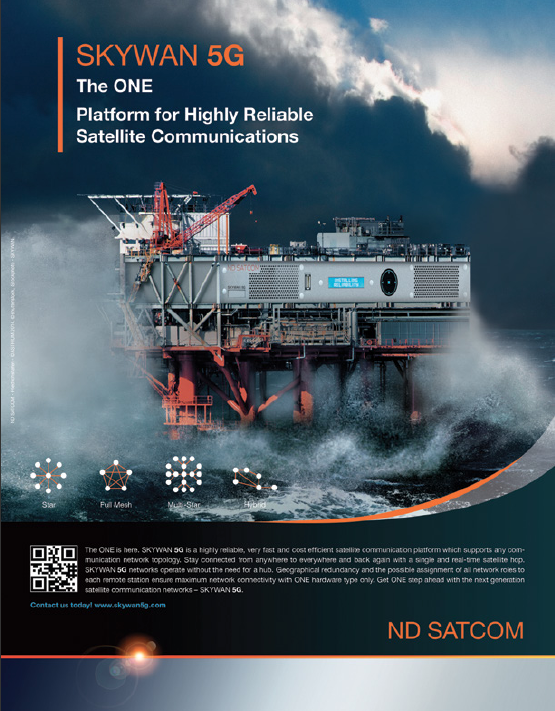 The firm provides continuous service with roaming capabilities independent of each ship's physical location in the Caribbean, Mediterranean and Southern Africa.
Additional routes are planned for the near future. Under the contract, Signalhorn will provide the service through four different satellites for a term of three years, with options for extension.
More information regarding Signalhorn is available at: http://www.signalhorn.com/
Digitaria's infosite is located at: http://www.digitaria-international.com/
* * * * * * * * *
ILS + EUTELSAT—Slotting Soon
International Launch Services (ILS) and Eutelsat Communications have announced that the EUTELSAT 9B satellite will be launched in 2015 by an ILS Proton launch vehicle.

The EUTELSAT 9B satellite is a high-capacity Ku-band spacecraft that is being built by Space Systems (formerly Astrium) of Airbus Defence and Space. Based on a Eurostar E3000 platform, its 66 transponders will deliver to Eutelsat fresh resources and enhanced performance for broadcasting at the established 9 degrees East location via multiple service areas over Europe.
EUTELSAT 9B will also host the first data relay payload for the European Data Relay Satellite System (EDRS) being implemented through a Public-Private Partnership (PPP) between Space Systems and ESA.
The EDRS system of telecommunication satellites in geostationary orbit will enable very high data rate, bi-directional data relay communications between Low Earth Orbit Earth observation satellites and an associated ground segment.
The Proton launch vehicle is Russia's heritage heavy-lift vehicle, built by Khrunichev Research and Production Space Center, the majority owner of ILS and one of the mainstays of the global space industry.
The ILS infosite is located at: http://www.ilslaunch.com/
* * * * * * * * *
Northrop Grumman + NASA—Milestone Marvel
Northrop Grumman Corporation (NGC) has passed a Critical Design Review (CDR) for the James Webb Space Telescope way ahead of schedule.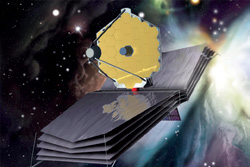 The CDR ensures that the construction of this space will support the powerful telescope and science instruments that will deliver astonishing views of the universe.
NGC passed the CDR five months ahead of schedule. The spacecraft provides the power and communications for the entire observatory
and is responsible for
pointing the telescope and image stabilization.
Northrop Grumman is under contract to NASA's Goddard Space Flight Center in Greenbelt, Maryland, for the design and development of the Webb Telescope's optics, sunshield and spacecraft.
An independent panel of experts conducted a rigorous, week long review of the detailed design, construction and testing plans, and flight software for the Webb Telescope's spacecraft.
The CDR included extensive discussions on all aspects of the spacecraft to ensure construction of a vehicle that will enable the powerful telescope and science instruments to deliver astonishing views of the universe.
The team successfully completed more than 76 preceding reviews on the spacecraft subsystems to prepare for this CDR.
"Our Northrop Grumman team did an incredibly thorough job preparing for this design review and demonstrated impressive knowledge of Webb's subsystems," said Andy Cohen, Webb spacecraft manager, Northrop Grumman Aerospace Systems. "I am exceptionally proud of how hard this team worked to meet this important mission milestone on an accelerated schedule."
NASA's James Webb Space Telescope is comprised of three major components; the telescope, the tennis-court sized sunshield, and the spacecraft. The sunshield separates the observatory into a warm sun-facing side and a cold anti-sun side to protect the telescope optics, or mirrors, from the sun and Earth's heat. The warm side below the sunshield is the spacecraft side. The spacecraft provides power, pointing capability and fuel for station keeping.
The completed mirrors arrived at NASA's Goddard Space Flight Center in December 2013, and production of the final flight sunshield layers is currently underway. The spacecraft CDR was the last major design to complete, marking significant progress toward completion of the Webb Telescope.
Following this successful review, manufacturing of the various parts that make up the spacecraft such as the fuel tanks, gyroscopes and solar panels will continue.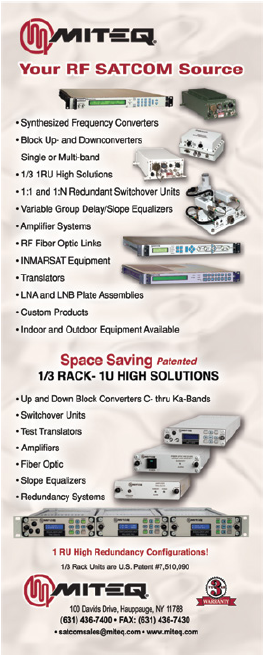 The James Webb Space Telescope is the world's next-generation space observatory and successor to the Hubble Space Telescope. The most powerful space telescope ever built, the Webb Telescope will observe the most distant objects in the universe, provide images of the first galaxies formed and see unexplored planets around distant stars.
The Webb Telescope is a joint project of NASA, the European Space Agency and the Canadian Space Agency.
To follow the JWT's progress, access: http://jwst.nasa.gov/
* * * * * * * * *
Spaceflight + NanoRacks—The Cubes Have Arrived
Whether you are a well-funded start up, a university, or kick starter campaign, access to space for nanosats is steadily improving with each launch and deployment.

Spaceflight and NanoRacks had multiple CubeSats sent to the International Space Station on the Orbital Sciences Cygnus Orb-1 Mission. This was made possible by close cooperation between the two companies. The satellites were manifest via the NanoRacks Space Act Agreement with NASA, and are scheduled for deployment using the self-funded NanoRacks CubeSat Deployer.
Spaceflight, with an extensive network of Launch Service Providers worldwide, was able to offer its customers the NanoRacks space station mission opportunity. The two companies have a joint teaming agreement to find the optimal launch and orbit for payload provider customers.
On January 9th, 2014, at 1:07 PM EST, the Orbital Sciences Antares launched the Orb-1 Mission to the International Space Station (ISS) commercial resupply mission from Wallops, Virginia. Cygnus docked with the ISS and the payloads were unloaded for deployment via the NanoRacks CubeSat deployers over a period of six weeks.
Adam Hadaller, Mission Manager at Spaceflight, commented, "It has been a pleasure to work on this mission with our launch partners and customers over the past year and half." Hadaller added, "Whether you are a well-funded start up, a university, or kick starter campaign, access to space for nanosats is steadily improving with each launch and deployment."
Jeffrey Manber, CEO of NanoRacks praised the teaming with Spaceflight as well as thanking "everyone at NASA and JAXA and throughout the ISS partnership that allowed our historic commercial ISS deployment to move forward." Added Manber, "Spaceflight is our largest partner in facilitating ISS satellite opportunities and we respect their expertise in the industry."
Spaceflight's next launch is slated for April of 2014 onboard the Kosmostras Dnepr launch vehicle. NanoRacks next launch is the Orb-2 mission to ISS slated for the spring.
Spaceflight—The Space Logistics Company—provides frequent, cost effective, and routine access to space for deployed and hosted payloads. Spaceflight specializes in the launch of CubeSats, nanosatellites and microsatellites with masses between 1 and 300kg.
Through its global network of launch vehicle providers, Spaceflight can deploy payloads to low Earth orbit, the Moon, and beyond.
Additional information is available at: http://www.spaceflightservices.com/
NanoRacks LLC was formed in 2009 to provide quality hardware and services for the U.S. National Laboratory onboard the ISS. The company developed and has research platforms onboard the U.S. National Laboratory, which house plug and play payloads and a family of other research facilities.
The current signed customer pipeline includes domestic and international educational institutions, research organizations and government organizations, and has propelled NanoRacks into a firm position in the emerging commercial market for LEO space use and beyond.
Further details at: http://nanoracks.com/
* * * * * * * * *
Satellite Industry Association (SIA)—Moving On Up, Executive Committee Election Results
The Satellite Industry Association (SIA) has announced the election of its 2014 Executive Committee.

The SIA Board of Directors elected Bill Weller of Space Systems/Loral (SSL) to serve as Chairman for the coming year, joined by Stacy Fuller of DIRECTV, as Vice Chairman, and Jennifer Manner of EchoStar, as Treasurer.
"SIA is privileged to announce such experienced industry executives to lead its Board. The incoming Executive Committee reflects the diversity of the satellite industry businesses that SIA represents and demonstrates the strong commitment our members have made to the Association," said Patricia Cooper, President of SIA. "I would like to thank SIA's outgoing board for their service during the past year and we look forward to 2014, poised to continue our role as the voice of the U.S. satellite industry."
Bill Weller is Vice President, Marketing and Sales at SSL, where he leads technical and business teams that work with U.S. and international satellite operators to design and procure customized new geostationary communications satellites. He also leads space policy efforts with the U.S. Government for SSL. Mr. Weller was named to this position in 2001 after serving as Director of Americas Marketing and Sales, and previously for the Asia-Pacific region. Prior to these positions he served as project manager for satellite ground-systems development and satellite operations programs and led new business development in these areas.
Stacy Fuller is Vice President, Regulatory Affairs at DIRECTV. In this position, she is responsible for overseeing DIRECTV's federal regulatory issues impacting DIRECTV. Prior to joining DIRECTV in 2005, Stacy was Media Legal Advisor to former FCC Commissioner Kathleen Q. Abernathy. Before serving in the government, Stacy worked at Skadden, Arps, Slate, Meagher & Flom, LLP, Discovery Communications, Inc., Alston & Bird, and Wiley, Rein & Fielding. Stacy is a graduate of Emory University School of Law and the University of Michigan.
Jennifer Manner is Vice President, Regulatory Affairs at EchoStar. Prior to joining EchoStar, Ms. Manner served as Deputy Chief of the Office of Engineering and Technology and before that Deputy Chief of the Public Safety and Homeland Security Bureau of the FCC. Before that, Ms. Manner was Vice President of Regulatory Affairs at MSV. Previously she served as senior counsel to FCC Commissioner Kathleen Q. Abernathy, where she focused on international, satellite, wireless, new technologies and consumer issues. She has also served respectively as Director of International Alliances and Associate Counsel for Foreign Market Entry and International Wireless Services at MCI WorldCom, Inc. Ms. Manner is an adjunct professor at Georgetown University Law Center. She has published numerous articles as well as books, including International Market Access (Artech House, 1999) and Spectrum Wars (Artech House, 2000).
SIA is a U.S.-based trade association providing worldwide representation of the leading satellite operators, service providers, manufacturers, launch services providers, and ground equipment suppliers. Since its creation more than eighteen years ago, SIA has advocated for the unified voice of the U.S. satellite industry on policy, regulatory, and legislative issues affecting the satellite business.
For more information, visit http://www.sia.org/
* * * * * * * * *
Surrey Satellite Technology (SSTL) + Ghalam—Building KazSTSAT On A New Platform
Surrey Satellite Technology Ltd (SSTL) and Ghalam LLP (Kazakhstan) have agreed that SSTL's new X50 platform design will deliver KazSTSAT, a small satellite mission announced under a contract signed last year.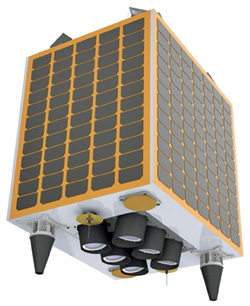 KazSTSAT will be based on the SSTL-X50 Earthmapper variant and will carry an SSTL SLIM-6 imager, providing 22m resolution multispectral imagery with a swath width of more than 600km for global wide-area imaging.
The new SSTL-X50 Earthmapper variant combines a large volume of data storage, enhanced power generation capacity and high downlink availability to continuously image the sunlit land mass making it particularly suited to applications requiring a high temporal revisit rate, such as agricultural and flood monitoring, water quality assessment, forest monitoring and disaster management.
Luis Gomes, SSTL's Director of Earth Observation and Science, said, "It is very gratifying that less than three months after the public introduction of the X50 Earthmapper, one of our longstanding customers has decided to base its new satellite on this platform."
Under a joint development program 14 Kazakh engineers will work alongside SSTL engineers to design and build the KazSTSAT spacecraft. In addition to the SLIM-6 imager, KazSTSAT will fly a number of Ghalam LLP developed payloads, and will join the Disaster Monitoring Constellation, which provides daily images for applications including global disaster monitoring. Environmental testing will take place at a new Ghalam LLP test facility being established in Astana, Kazakhstan.
SSTL has developed the new X50 satellite platform to provide a smaller, lighter, flexible spacecraft with enhanced systems capabilities and quality. With a mass of 50kg, the compact, highly integrated design baselines flight-proven heritage with next-generation avionics to incorporate fully dual redundant subsystems and scaled core platform services such as power, structure, data processing, communications and high-precision attitude control.
The new platform design allows SSTL to take advantage of automated batch avionics manufacturing and test processes, and aids rapid assembly and integration of the spacecraft, bringing customers the benefit of shorter order to orbit timescales and reduced fixed-price costs.
SSTL's infosite: http://www.sstl.co.uk/
* * * * * * * * *
SMi—The Technology + Tools To Combat Interference
Communication engineers face a number of challenges today, including maximizing the amount of information that can be communicated over the limited resources available.
As the number of satellites increase, the spacing, or separation between satellites decreases, and the increase in demand for more and more content to be delivered from the same or multiple satellites, interference between the satellite signals has become an issue.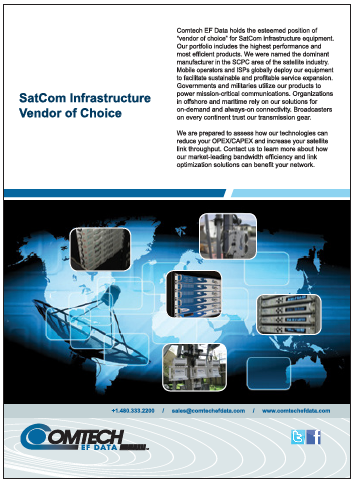 Satellite services are widely used by the commercial sector and the military. Reliance on detecting minute signals in a fog of radio frequency "noise" interference, either unintended or deliberate, is a challenge for all trying to maintain assured and reliable communications links.
SMi's masterclass, which will be conducted on April 15th, 2014, in London will discuss the technology and tools used to mitigate interference through commercial sector initiatives and explore how interference is managed and reduced. Presenters from the IRG, SAT Corporation and Newtec will look at the challenges posed by this important issue, identify current and potential solutions, describe what is being done within the satellite community to ensure that robust satellite communications can be sustained as services rapidly expand.
Key benefits to this masterclass:
• Gain a better understanding of the key causes of interference
• Understand how the external environment can impact operations and cause satellite interference
• Gain knowledge of the tools and technology available for mitigating satellite interference
• Gain a better understanding of the current global initiatives for satellite interference mitigation
The Masterclass Speakers...
• Martin Coleman, Executive Director, Satellite Interference Reduction Group
• Robert Rideout, Vice President of Sales & Marketing, SAT Corporation
• Thomas Van Den Driessche, COO, Newtec
Those who should consider attending this conference should be personnel within military or commercial organizations that...
• Uplink to satellites
• Operate/maintain satellite broadcasting and VSAT networks
Additionally, those involved with implementing interference initiatives should register to attend... they include professionals working on...
• Carrier/Spectrum Monitoring and Geolocation
• Implementing Carrier ID
• Improvement to VSAT networks
• Military communications personnel—Ops + Eng
• Satellite operators (commercial, sales and marketing)
• Uplinkers (commercial, such as broadcasters and military service providers)
• Communication project managers
Register online at this direct infopage link: http://www.smi-online.co.uk/defence/uk/masterclass/satellite-interference
* * * * * * * * *
Arianespace—Cryogenic + Staging Elements' Trip Is Completed
[SatNews] Arianespace's "supply pipeline" is supporting the company's high-activity launch pace planned for 2014, with launcher elements arriving this week in French Guiana for its third flight of the lightweight Vega and another heavy-lift Ariane 5 mission.
These components were delivered by the MN Toucan—one of two sea-going vessels performing rotations between Europe and South America, regularly transporting stages and other hardware for the Ariane 5, Vega and medium-lift Soyuz vehicles that compose Arianespace's launcher family.
Included in the MN Toucan's roll-on/roll-off interior cargo bay were the main cryogenic stage for an Ariane 5 to be launched this spring on a mission designated Flight VA218, along with its combined cryogenic upper stage/vehicle equipment bay unit.
Also carried in the cargo bay, as well as on the ship's upper deck, were components for the Zefiro 23 second stage and Zefiro 9 third stage to be used on Arianespace's next Vega mission – designated Flight VV03 in the company's numbering system.
This flight will be the third performed from French Guiana by the lightweight vehicle, and is to carry the DZZ-HR high-resolution observation satellite built for the Republic of Kazakhstan by Airbus Defence & Space.
This hardware was unloaded from the MN Toucan after it docked at the city of Kourou's Pariacabo Port, enabling the transfer by road to the nearby Spaceport.
For 2014, Arianespace's order book provides payloads for up to 14 launch opportunities, with the company's objective to perform 12 missions during the year – depending on the availability of satellites.
Based on current planning, this activity would be composed of six Ariane 5 launches, four Soyuz missions and two Vega flights.
The Arianespace infosite is located at: http://www.arianespace.com/
* * * * * * * * *
Türksat + Mitsubishi—A Model, For Now
A scale model of a "Turksat-4A" communication satellite produced by Japan's Mitsubishi Electric was delivered to the Turkish space company Turksat.
The model was displayed after a handover ceremony that was attended by Turkish Prime Minister Recep Tayyip Erdogan at Mitsubishi's Kamakura plant in Kamakura, in suburban Tokyo, in early January.
Turkish Prime Minister Recep Tayyip Erdogan attended the delivery ceremony of the Türksat 4A satellite that was co-produced by Turkish and Japanese engineers in Tokyo.
As part of his official tour, Turkish Prime Minister visited the satellite production center of the Mitsubishi Electric Company located in Tokyo, where the two satellites Türksat 4A and 4B were produced.
Erdogan, in his speech at the center, stated that the project was a concrete indicator of the joint achievement of both countries in aerospace studies, aviation, science and technology. The satellite will enable Türksat to offer telecommunication and TV broadcasting services throughout Turkey, as well as in Europe, Central Asia, the Middle East and Africa, the company official said.
The Turkish prime minister confirmed that the satellite will be sent to the launch base in Kazakhstan and will be launched with a proton rocket on Feb. 15. He added that they have been planning to launch the second one (Türksat 4B) in the second quarter of 2014 after its test period completes. He said that this satellite would also provide television broadcast and satellite communication systems for the African continent.
* * * * * * * * *
Saft—9,000 Cells + 275 Million Hours...
Saft has now placed more than 9,000 battery cells into orbit and has logged 275 million hours, or 31,000 years, without failure or deviation.
Saft, a designer and manufacturer of high technology batteries for industry, achieved a milestone when the 100th satellite to use the company's pioneering Li-ion battery technology launched this month. The firm's latest success was the Inmarsat 5 F-1 satellite that lifted off via a Proton M rocket from Baikonour, Kazakhstan, on December 8 of last year. The launch also marked the 75th GEO satellite in orbit using Saft batteries.
To date, Saft customers have launched Li-ion batteries valued at 120 million euros into space/ The company's Li-ion technology is proven to last throughout the life of the satellite with up to 18 years of orbit, in most cases.
Saft's extensive list of partnerships with flight heritage includes space and defense industry leaders, such as Boeing, EADS Astrium, Thales Alenia Space, Orbital Sciences Corp, NASA, the European Space Agency, CNES and many others.
Most of the company's batteries in orbit are within the GEO commercial or military telecommunication satellites, with the oldest, W3A manufactured by EADS AST, launched in 2004.
For these 100 launches, Saft provided long-life, high energy batteries, comprised of VES 140, VES 180, VL 48E and MPS cells, for the satellites. Saft's Li-ion battery packs supply a voltage range of 4V to 100V with a capacity from 5.8 to 52 Ah at the cell level and up to 625 Ah at battery level. The Li-ion battery system is lightweight, which reduces the overall mass of the satellite to improve efficiency.
Saft's infosite: http://www.saftbatteries.com/market-solutions/space