PerúSAT-1 and SkySat-4 to -7 Satellites Pushed By An Arianespace Vega To Their Slots
PerúSAT-1 and SkySat-4 to -7 satellites have been successfully launched by Arianespace, with the push occurring from the Guiana Space Center in Kourou, French Guiana.
The Peruvian space agency CONIDA owns and will operate PerúSAT-1, while the Google company, Terra Bella, will manage the SkySat -4, -5, -6 and -7 smallsats.
Designated Flight VV07, this was Arianespace's seventh launch of the year and also the seventh consecutive successful launch by Vega, the latest member of the Arianespace launcher family, introduced at the Guiana Space Center in 2012.
According to Arianespace, Vega is especially well suited to the dynamic Earth observation market. With this launch, the company starts full-fledged commercial operation and has already nine future launches in their order book.
With the complete family of three launch vehicles, Arianespace can launch any type of Earth Observation (EO) or meteorology satellite. Arianespace has already launched 59 satellites for these markets and fully one-fourth of th firm's future launches also target these applications.

PerúSAT-1 is Peru's first EO satellite and was ordered within the scope of an agreement between the Peruvian and French governments—this launch was carried out under a turnkey contract with Airbus Defence and Space for the Peruvian space agency CONIDA.
This optical observation satellite features very high resolution (0.7 meters) and will operate from Sun-synchronous orbit at an altitude of 695 km and will acquire images from across the planet.
PerúSAT-1 is the 115th satellite built by Airbus Defence and Space to be launched by Arianespace.
The Arianespace order book includes 13 other satellites from this manufacturer, along with an order for the OneWeb constellation (which will be composed of more than 600 satellites).
The PerúSAT-1 satellite was built by Airbus Defence and Space in Toulouse, France, using that company's AstroBus-S platform and their NAOMI instrument.
PerúSAT-1 weighed 430 kg at liftoff and offers a design life of 10 years.
The satellite was injected into Sun-synchronous orbit at an altitude of 675 km and will be positioned at an operational orbit of 695 km to acquire images of the entire planet.
SkySats-4, -5, -6 and -7 are the first four satellites launched by Arianespace for new customer Terra Bella, a Google company that is a commercial operator of EO satellites.
Injected into Sun-synchronous orbit at an altitude of 500 km, these smallsats will provide very-high-resolution (less than one meter) maps of the entire planet.
Designed by Terra Bella, the Skysat-4 to -7 satellites were manufactured by SSL (Space Systems Loral) using a dedicated SkySat platform that was produced in SSL's Palo Alto, California, facility. SkySats-4 to -7 are the 55th to 58th SSL satellites launched by Arianespace.
The Arianespace order book includes five more geostationary communications satellites built by SSL.
Vega is a European Space Agency (ESA) program that is jointly funded by Italy, France, Spain, Belgium, the Netherlands, Switzerland and Sweden. Avio is the launcher design authority and industrial prime contractor, operating through its Italian subsidiary, ELV (in which the Italian space agency ASI has a 30 percent stake).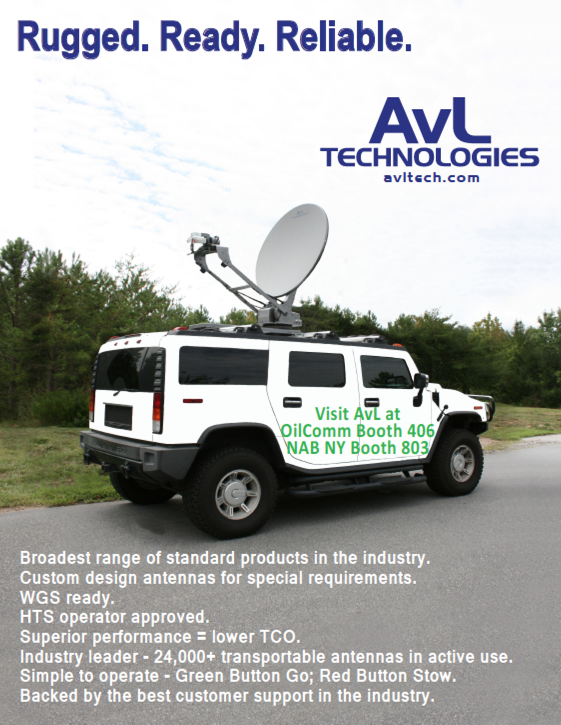 Arianespace markets and operates Vega from the Guiana Space Center alongside the firm's two other launchers, Ariane 5 and Soyuz, enabling the company to address the full range of market needs.
Vega's six previous missions prior to Flight VV07 were all carried out for institutional customers (European Space Agency-ESA / European Commission / national space agencies / governments).
These six missions, all successful, fully demonstrated the launcher's operational capabilities and versatility, with missions to low Sun-synchronous orbit (Sentinel-2A), a ballistic trajectory (IXV), and transfer orbit to the Lagrange point L1 (LISA Pathfinder), for a wide variety of applications (Earth observation, science, education, defense).
The successful LISA Pathfinder mission for ESA in December of 2015 marked the end of the Vega development phase and the start of commercial operation.
There are currently nine Vega missions in Arianespace's order book, a majority of them for EO. One-third of the backlog is for institutional customers and two-thirds for export customers.
The nine missions include two contracts signed in 2016: the CERES mission for French DGA defense procurement agency and French space agency CNES, along with the ADM-Aeolus mission for ESA's Earth observation directorate.
The upgraded Vega C, slated to make its first flight in 2019, will provide a significant performance increase over the current version in terms of payload capacity (weight and volume).
This means the rocket will be able to carry out an even wider range of missions, thus improving the launch service competitiveness. Arianespace should be able to start marketing Vega C launches by the end of this year.
Arianespace Chairman and CEO Stéphane Israël said, "With the first Vega launch of 2016, and the seventh since its introduction in the Guiana Space Center, Arianespace has proudly served—on a single mission—both the Peruvian government, through its space agency CONIDA, and the operator Terra Bella, a Google company.
"I would like to thank our long-standing partners, Airbus Defence and Space, our direct customer for PerúSAT-1, and also the manufacturer of this spacecraft; and SSL, manufacturer of the SkySat satellites.
"I would also like to congratulate the industrial prime contractor, ELV/Avio, for Vega's excellence and availability, along with the European Space Agency and national space agencies, especially ASI of Italy, for their critical support for the Vega program.
"And, of course, thanks to CNES-CSG and all companies and staff at the launch base, always by our side for new successes. Lastly, congratulations to Arianespace's own teams for this seventh successful launch of the year: launch after launch we make a difference."
www.arianespace.com
www.airbusdefenceandspace.com
www.sslmda.com
---
Israel Injects Ofeq-11 Into orbit
A new intelligence satellite was launched on September 13th by Israel whose basic purpose will be to gather intelligence on that nation's regional adversaries, according to various online infosite reports.
The afternoon launch of Ofek-11, also known as Ofeq-11, occurred from Palmahim Air Base south of Rishon Lezion several weeks ago.
However, according to an Israeli Defense Ministry announcement post-launch, even though the Ofeq-11 satellite entered the planned, retrograde LEO for pre-planned testing, the satellite was not acting in an "expected manner."
Some of the satellite's crucial systems did not appear to be functioning correctly, according to a report in the Jerusalem Online infosite.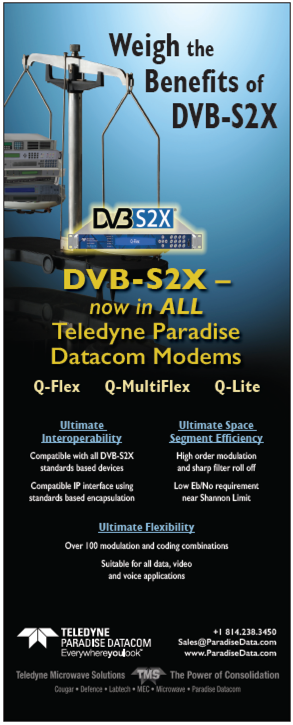 The cost to build the satellite was around $300 million and Ofeq-11 will be joining Ofek-9 and -10. According to the IDF (Israel Defense Forces), these satellites are engaged in approximately 800 annual sorties to film areas of interest, which amounts to about 64,000 minutes of footage.
This launch occurred nearly two weeks after the AMOS-6 communication satellite destruction in an explosion of the SpaceX Falcon launch vehicle at Cape Canaveral.
Then, a news story in the Jerusalem Post indicated that Israel's Ofek-11 satellite may have stabilized.
More than a week after the satellite was launched and ran into serious technical difficulties, the Ofek-11 spy satellites began sending "great images" back to the ground control station, the Defense Ministry of Israel announced.
Amnon Harari, head of the Space Administration in the Defense Ministry, and Ofer Doron, head of Israel Aerospace Industry's MBT Space Division, said the satellite's transponder and image broadcasting system began kicking in on Thursday and that ground control officials were now seeing "operational results."
Harari and Doron said the images they were now receiving "are what we hoped for," though they declined to provide further details on the overall health of the satellite.
Since the launch, engineers have been working to stabilize the satellite and the craft's on board systems, the Defense Ministry and IAI said in a joint statement.
The teams systematically checked all of its systems from the moment of launch, and maintained continuous communication and control with it.
Ofek-11 is part of the Ofek series of satellites, is Israel's sixth active spy satellite and carries a SAR (Synthetic Aperture Radar), which has advanced day and night imaging capabilities.
Two years ago, the Defense Ministry and IAI launched Ofek-10 successfully into space on board a Shavi launch vehicle.
---
Award Win For Artel's Demod & Sat Scanner
The NewBay Media Best of Show Award was awarded to Artel Video Systems at IBC2016 for that firm's DLC510 Dual-Port L-Band Demodulator and Satellite Scanner.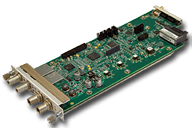 The DLC510 adds new satellite scanning and carrier ID functionality to the company's media transport portfolio.
Presented by TV Technology Europe magazine, the Best of Show Award is one of the industry's most prestigious technology honors. Products nominated are evaluated by an independent panel of judges on a wide range of criteria including ease of use/maintenance, performance against the category standard, richness/relevance of the feature set, value/ROI, versatility, anticipated reliability, and originality.
Artel's DLC510 functions as an L-band satellite demodulator and as a fully automatic L-band satellite scanner. As a scanner, the device enables satellite operators and engineers to scan and locate quickly and accurately active signals on a satellite without complicated test equipment and clearly displays signals in an easy-to-read list with other essential data. End users can then highlight the required signal, and the scanner immediately locks on to the demodulated signal for broadcast. The DLC510 is fully integrated into Artel's Telco grade DigiLink Media Transport Platform and the newly introduced InfinityLink broadcast media transport solutions, enabling ASI to IP conversion and ASI routing using other DigiLink or InfinityLink modules or FiberLink® product for transport over IP or fiber networks.
A host of other features, such as the dual RF inputs, DVB-S2X support, and the recently adopted ETSI Carrier ID transmission coding, make the DLC510 a must have for any satellite or operations department. Also, the module functions as a test-and-measurement system for busy satellite operations or engineering departments.
www.artel.com
---
SCATSAT-1 & Seven Smallsats Travel With Alacrity To Their Slots
The Indian SCATSAT-1 satellite and seven smallsats have been successfully placed into orbit by the ISRO, being impelled to their designed slots by the organization's PSLV rocket.
SCATSAT-1, a weather satellite with a five year mission life, is a follow-on mission for the country's Oceansat-2 and improvements were made in this craft's hardware configuration. The improvements were based on the lessons learned while operating the instruments aboard Oceansat-2.
SCATSAT-1 has the goal of achieving reliable and viable data for Climate Data Records in addition to the facilitation of routine meteorological applications such as providing wind vector data products for weather forecasting, cyclone detection and tracking services for users.
The satellite carries a Ku-band scatterometer similar to the one onboard Oceansat-2.
Seventeen minutes into the flight, The 371 kg SCATSAT-1 was injected into a 730 km polar sun synchronous orbit after 17 minutes of flight time.
The remaining seven satellites will be placed in a 689 km polar orbit later and they include five foreign satellites: three from Algeria (Alsat-1B 103 kg, Alsat-2B 117 kg, Alsat-1N 7kg), and one each from Canada (NLS-19, 8 kg) and US (Pathfinder-44 kg). Two additional Indian satellites were also aboard: Pratham (10 kg), built by Indian Institute of Technology-Bombay (IIT-B), and Pisat (5.25 kg) from PES University, Bengaluru and their consortium.
The Pratham mission is to estimate the total electron count with a resolution of 1 km x 1 km location grid, while Pisat is for remote sensing applications.
After placing SCATSAT-1 into orbit, the rocket's fourth stage was restarted one hour and 22 minutes into the flight and then cut off approximately 20 seconds later.
Two hours and 11 minutes into the flight, the fourth stage was restarted to be cut off one minute later.
Following that, in three minutes, all seven of the satellites were ejected closing out PSLV's longest mission to date.
The PSLV rocket is a four stage engine rocket powered by solid and liquid fuel alternatively.
Vikram Sarabhai Space Centre (VSSC) director K. Sivan stated that the long time gap between the cutting off of the engine and the engine restart was not an issue.
Sivan said the first time the multiple burn technology was first tested by ISRO was while flying the PSLV rocket on December 16, 2015, and then in June of 2016, the technology was again demonstrated.
About this challenge, Sivan stated that after cutting off the engine, its condition was brought to an appropriate stage to enable the restart.
The next challenge is to control the engine and bring it to the correct position to eject the remaining satellites into a different orbit.
He added that the rocket has a GPS aided navigation system so that data generated by the rocket's inertial navigation system and the GPS system could be blended to erase any errors and to generate precise data.
According to the ISRO, the two Algerian satellites Alsat-1B and Alsat-2B are remote sensing satellites, while Alsat-1N is a technology demonstration smallsat for Algerian students.
The US satellite Pathfinder-1 is a commercial, high resolution, imaging smallsat.
The Canadian NLS-19 satellite is a technology demonstration smallsat for experimentation in helping to reduce space debris and for tracking commercial aircraft.
The PSLV rocket is 44.4 meters in height and weighs 320 tons.
www.isro.org
---
Kymeta Reveals The Future Is Flat At The Monaco Yacht Show
September 28th through October 1st was quite a gathering for superyacht enthusiasts, all of whom assembled in Monaco for the Monaco Yacht Show, where crafts of all sorts and sizes were be on display for attendees to view.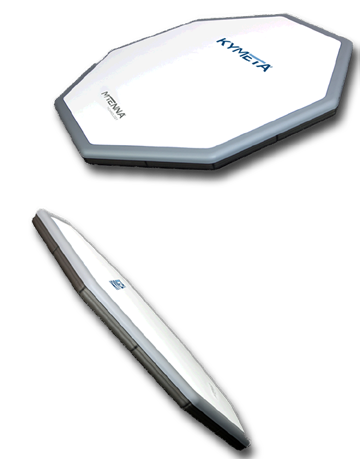 Companies were demo'ing their superyacht related wares... and this included Kymeta® who presented what is possible when SATCOM solutions become flat, thin, lightweight, quiet, and scalable.
Live demonstrations provided owners, captains and designers the opportunity to see how a satellite antenna without any moving parts can deliver a reliable, quiet and seamless solution that eliminates satellite communication domes.
The Kymeta satellite antenna design provides a secure, scalable and future-proof system that will meet the needs of owners and crew while delivering on the promise of global, mobile connectivity and entertainment.
Through the use of software pointing and steering, Kymeta has increased reliability and eliminated noisy and unreliable gimbaled satellite communication systems.
The thin profile of Kymeta's mTenna technology means it can be embedded into the superstructure of a vessel as opposed to having the unsightly domes associated with mechanically steered antennas.
In addition, Kymeta mTenna technology gives superyacht owners scalable connection options to increase throughput to meet requirements for large bandwidth.
Joined by partners Intelsat, Panasonic, iDirect, Intellian and e3 Systems, the maritime market will be among the first to benefit from Kymeta's technology when the technology becomes commercially available in 2017.
According to Håkan Olsson, the Vice President, Maritime, Kymeta, currently, satellite communication on superyachts requires large, mechanically-steered satellite dish technology that relies on moving parts to make and keep a satellite connection.
Kymeta's thin, flat, metamaterials-based satellite technology eliminates the domes, noise and reliability issues because uses product uses software to connect and track a satellite.
Superyacht owners, designers and builders can now have access to a solution that will redefine the profile and design of superyachts.
www.kymetacorp.com/
---