Harris Selenio™ is the industry's first integrated media convergence platform — a modular solution that combines traditional baseband video and audio processing, compression and IP networking features within a single, 3RU platform.
Suitable for any fixed or mobile production environment, broadcast facility, ATSC or DVB-T/T2 terrestrial head end, Selenio enables service providers to support content from multiple sources and deliver it over multiple mediums. While the media convergence platform fits into existing infrastructure, it also provides customers with an on-ramp to the IP world that can be accessed at their own pace.
Selenio hosts up to 28 channels of high-density baseband video processing in a single frame. MPEG-2 and H.264 compression standards are supported from SD and HD to 3 Gb/s and mobile. Advanced audio capabilities such as Dolby processing and DTS Neural Loudness Control can be mixed and matched on a single module.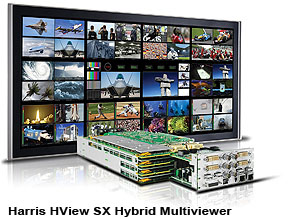 A built-in, highly intuitive, graphically rich, web-based interface using Microsoft
®
Silverlight
®
technology promotes a user-friendly environment. With the first GUI on the market to feature functional block diagrams, Selenio enables operators to confidently configure, monitor and manage the platform's functionality without having to deal with an avalanche of manuals and bespoke commands.
Pure user benefits include intelligent, efficient management of IP and baseband signals and reduced control complexity. Efficiencies of the single-box design include easy deployment and increased functionality in a smaller footprint. Business benefits include the ability to rapidly deploy new capabilities and services with no need to replace infrastructure.
HView IP + Hybrid Multiviewers
The Harris HView IP multiviewer provides all the monitoring capabilities of a traditional baseband multiviewer, but functions in a networked environment where the feeds being monitored are all compressed video or audio. With its ability to support multiple compression formats and resolutions, the new IP-based multiviewer is ideal for operators that use different codecs for different jobs — from high-quality H.264 to lower-bit MPEG-2.
Unique features include support for virtual network connection (VNC) control, which allows the user to view and control PC-based devices; RSS display, which enables interaction with a broad range of network data providers; and multiformat IP stream decoding with built-in, visual alarming.
The Harris HView SX Hybrid multiviewer is designed for hybrid applications with routing and monitoring of both traditional and IP signals. Combining baseband and broadband monitoring, superior graphics, and optional integrated test and measurement tools for baseband signals in a single chassis, the multiviewer/router solution is built to reduce integration costs and enable a more efficient use of space in today's complex A/V monitoring environments.
The HView SX Hybrid multiviewer resides within the output section of the Harris Platinum router frame, and is available as either a multiviewer-only or multiviewer/router integrated solution.