Patrick Henry brings more than 25 years of high technology experience to Entropic. He has served in executive management roles in companies ranging from small, innovative startups to large multinationals. Just prior to Entropic, he served as president and CEO of Pictos Technologies, developers of digital imaging products — he exited after completing a multimillion-dollar sale of the company.



Prior to Pictos Technologies, Henry was CEO of LinCom Wireless, a chip company focused on Wi-Fi products. He also served as a vice president and general manager at LSI Logic and was a senior vice president at C-Cube Microsystems, a pioneer in the development of digital video ICs. Henry also held sales and marketing management positions at Hyundai Electronics America (now Hynix) and AMD.

Henry serves on the board of directors of CommNexus, a San Diego technology industry trade association, and has been recognized by Ernst & Young as Entrepreneur of the Year, named one of San Diego's "Top Influentials" and named Most Admired CEO by the San Diego Business Journal. He earned his MBA from the University of Southern California, and holds a Bachelor in Engineering Science and Mechanics, with high honors, from the Georgia Institute of Technology.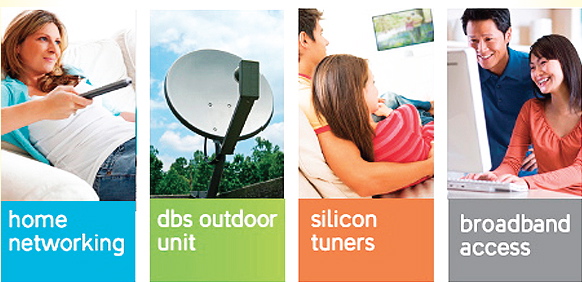 SatMagazine (SM)
SatNews has covered Entropic Communications news throughout the past few years, but this is the first opportunity we've had to discuss the Company with you and learn what it does within the satellite industry. Please explain your role in the satellite industry sector.
Patrick Henry
Entropic was founded with the mission of developing solutions to improve the connected home entertainment experience. To achieve this, we've spent the past five years developing innovative product lines for direct broadcast satellite (DBS) service, home networking, silicon TV tuners, and broadband access.
Specifically for our satellite outdoor unit product line, we offer two solutions — our Channel Stacking Switch (CSS) and our Band Translation Switch (BTS) technologies — both are designed to enable DBS service providers to cost-effectively deliver new satellite services, including Digital Video Recorder (DVR) capabilities. This can be accomplished over a single cable architecture, while lowering installation and future upgrade costs, and improving the customer experience for single-family home and multi-dwelling unit environments.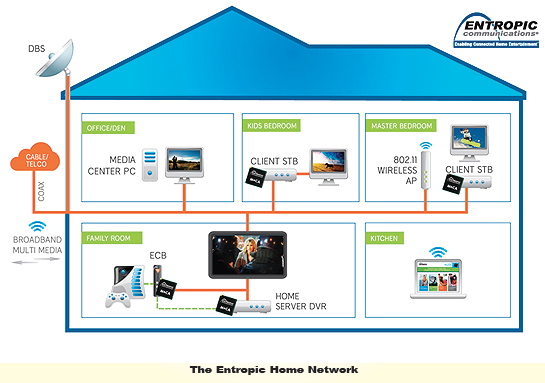 Our single cable architecture fundamentally changes the way DBS providers deliver content into the home, as Entropic's technology allows for a single cable run that homologates multiple satellite inputs into a single cable output supporting up to 12 tuners or six DVRs. Entropic technology enables either multiple set-top-boxes in and around the home, or a media center inside the home. This in turn enables picture-in-picture viewing or even the ability to watch and/or record multiple programs simultaneously.
We've had much success with our DBS product line and are currently working with DIRECTV and DISH Networks in North America, as well as international service providers from Canada and Brazil to Europe.
SM
Lets talk more about your Channel Stacking Switch solution. What does this solution provide to DBS service providers? How is it helping DBS operators be more successful?
Patrick Henry
Our CSS technology is designed to significantly reduce both the cost and complexity of satellite installations, enabling satellite service providers to deliver multiple video streams over a single cable.
Let's look at a multi-dwelling unit case, where often the environment only allows DBS access via a single coax line, where the cost difference for adding or upgrading DBS service into an apartment — off the traditional trunk system versus a CSS truck system — is substantial. In a traditional system build-out, multiple new cables would be brought into the apartment when more than a single tuner set-top box was installed. By simplifying the cabling architecture approach with Entropic's CSS technology, only a single cable is required, and DBS service providers can provide access to available programming for up to twelve tuners within this single cable run — keeping installation costs at a minimum and in many cases, enabling DBS service where it would otherwise be impossible to deliver.
Single family homes greatly benefit from our low power and industry leading performance IC solutions designed for Low Noise Block applications supporting either single or dual satellite systems with single cable outputs supporting between 2 and 6 tuners. This allows DBS operators to aggressively launch churn reducing HD DVR services while lowering the cost to do so.
With an Entropic 4CH CSS solution DSB operators are able to use a single cable run, often this cabling already exists within the home significantly reducing costs, to support an HD DVR in the main viewing location and single tuner STB in the bedroom. Upgrading an existing single tuner subscriber to HD DVR can be as easy as shipping them the STB in mail if the subscriber was future proofed originally with CSS. Feedback from our customer base is that without CSS technology DVR upgrades would not be possible.
We find that many DBS operators are leveraging our CSS technology to generate new lines of revenue while providing significant infrastructure savings. They're improving the customer experience, reducing customer churn and offering a conduit to deliver new services to drive average revenue per user (ARPU) while offsetting the rising cost of content — all of which can create a positive position in the highly competitive Pay-TV market.
SM
Is there a consumer benefit?
Patrick Henry
Absolutely. Consumers are seeing several benefits when our CSS technology is included in their deployments. Most U.S. homes have a cabling network already in place, usually consisting of a single point of entry at the curb or garage with splitters used as required to support multi-room outlets. This pre-existing network goes largely unused during a traditional DBS installation, resulting in a lost opportunity to leverage the existing cabling and reduce labor and material costs during installation.
Not only do consumers immediately benefit from cost savings and aesthetics (no more holes punched in every room for wiring) of a single-wire solution, but they gain access to home entertainment services and home networking capabilities as well. A single cable network gives consumers access to video-on-demand (VOD) and pay-per-view (PPV) services with a central, conveniently located telephone line or broadband connection versus a connection at each set-top box location. CSS also enables DBS operators to create large chunks of bandwidth within the 950MHz -2150MHz band, giving the operator a means to incorporate a whole-home entertainment network system using the home networking standard, MoCA (Multimedia over Coax Alliance), which gives the consumer greater capacity and access to stream multiple high-definition video, audio, and data traffic throughout the home.
SM
How does this impact installation?
Patrick Henry
Improved cost and ease of installation are among the core benefits of all our DBS ODU solutions. For a traditional DBS installation, a DVR requires two unique cable runs to the set-top box (STB). A home with 3 DVR's requires 6 cable runs. One can see how this complex cabling architecture is a significant cost driver for the DBS operator and an area of concern for the homeowner.
These cost and complexity issues are addressed through the use of Entropic's CSS technology, creating a channel-stacking architecture where multiple channels can be transmitted on a single cable based on the demands from multiple STBs and tuners connected to that cable. A single cable drop from the ODU provides each set-top box tuner with dedicated channels, eliminating the need for multiple cables, and greatly reducing installation material and labor costs.
SM
Once the satellite signal is brought into the house through a single wire, how does Entropic distribute the signal through the home?
Patrick Henry
While our CSS technology allows DBS operators to support multiple viewing locations within the home via a single cable network, Entropic also has an industry-leading product specifically designed for distributing HD video, audio, and data traffic throughout the home. Our silicon, based on the MoCA standard, leverages existing in-home coaxial cable to create a robust, high-speed IP-based network for easy sharing of HD entertainment and multimedia content throughout the home.
Combining the two technologies allows a DBS operator to provide industry leading HD content via DBS and home networking services such as multi-room DVR, media centers, and server-based VOD/PPV. Additionally, with MoCA as the basis for the home network, the customer can access their personal content over this high-speed network and stream music, view a slideshow of family photos or watch stored or downloaded video from the NAS or PC to any viewing location in the home network.
SM
How does MoCA work? Do you need to have both, or can they work independently of one another?
Patrick Henry
The primary goal of the MoCA standard is to deliver a high-performance, high-capacity home network suitable for transporting multiple streams of high-definition multimedia content that leverages existing residential coaxial cabling in the home, while simultaneously supporting the existing services delivered over the coax. The MoCA 1.1 standard, with throughput of 175 Mbps, has been widely deployed throughout North America, principally to support VOD services and as the backbone for the mutli-room DVR deployments we're seeing by major payTV operators today.
While CSS and MoCA can operate independently of one another, combining the technologies brings benefits to both the satellite operator and the consumer. DBS service providers who combine MoCA home networking solution with CSS technology gain the opportunity to offer new services while reducing the capital costs associated with new subscriber installations and current customer upgrades. Entropic's technology is behind the recently deployed DIRECTV Whole-Home DVR deployment. Furthermore, CSS provides a flexible way to allocate spectrum on the subscriber's coax wiring so that it is future-proofed against any potential bandwidth expansion required for the home network.
SM
How many consumers are experiencing satellite television in this way and how large do you expect the market to grow by 2012?
Patrick Henry
According to industry analysts at IMS Research the satellite market has a base of 0.5 billion and is projected to grow at 10.5 percent compound annual growth rate through 2012. This growth is largely driven by the attractive packages and the availability of HD content, live sporting events, ethnic programming, local content, and premium movies which provide entertainment value to the service subscriber.
Consumer demand for advanced entertainment options such as HD DVR services and their ability to easily access this content lowers service provider churn rates. The phenomenon is helping service providers offset the investment required to deploy advanced services and remain competitive, while giving us new opportunities to enable enhanced consumer experiences.
SM
Is this technology exclusive to North America or can Entropic's CSS technology be used in other countries/continents?
Patrick Henry
We see this as a global opportunity. We have long-standing relationships with the top two DBS operators here in the U.S., but we have a growing number of design wins for CSS deployments with major satellite service providers outside of the U.S., particularly in Canada, Brazil, and Italy.
This growing international deployment of our CSS technology is a direct result of the growing use of HD DVRs in the world and is a clear proof-point to the global momentum established to make the single-wire infrastructure the industry standard for DBS installations. As the only single cable solution compliant to the ASTRA Single Cable Specification, our CSS solution is evolving the way broadcast satellite communications is brought into the home; enabling DBS service providers to differentiate themselves by providing innovative services to attract new customers while retaining current subscribers.
SM
What can we expect to see from Entropic Communications in the next two years?
Patrick Henry
We envision greater integration across our CSS and MoCA technologies, as satellite service providers looking for solutions to reduce installation cost and complexity, reduce customer turnover and increase ARPU. We feel strongly about our growth prospects for our DBS technologies, as our roadmap continues to enable operators to offer home networking services such as multi-room DVR. Further, investments in our satellite and home networking technologies will bring next-generation home entertainment to consumers around the world.