---
Paradigm
Paradigm has continued with their industry leading goal to make SATCOM simple and used their expertise in technology, manufacturing and integration to swiftly respond to market requirements.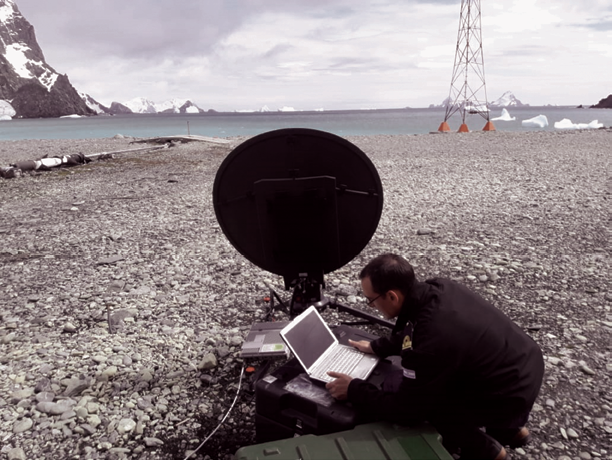 Paradigm's Hornet terminal in use in Antarctica.
Central to this progress has been the popular PIM® (Paradigm Interface Module) which allows an unskilled user to easily and rapidly point a VSAT by using onboard audio cues with a visual cross-hair LED target.
The PIM provides the modem, baseband switching, power management, assisted pointing and setup functions for VSATs. Temperature management and maintenance-free operation is achieved with fanless convection cooling or heating. This makes it ideally suited for the harshest of extreme environments proven by its successful deployment in the sub-zero climate of Antarctica and the dust and high heat of the African desert.
The PIM is already certified for use on all major satellite networks using a range of RF, antenna and modem combinations. By integrating the PIM into existing and new terminals, the time needed for network testing and certification is drastically reduced thus shortening a product's development time. All of Paradigm's terminals below are PIM-enabled and present a range of terminals all linked by a common operation process which also minimizes training requirements.
MANTA®
Launched in 2018, the MANTA is Paradigm's solution to satellite Comms-On-The-Move (COTM) and Comms-On-The-Pause (COTP). In less than a year, it has transformed mobile SATCOM and become the most reliable, proven solution for COTM and COTP applications.
Its rapid adoption is partly due to it requiring no specific satellite skill set from the user and, once fitted to a vehicle or used straight from its case you just need to add power to be transmitting and receiving in minutes.
______________________________________
Additional feature sets for all terminals
will continue to be released by Paradigm,
working closely with partners and key
customers to deliver enhancements and
developments to suit specific requirements.
Even the vehicle or vessel fitting process has been made simple by Paradigm with the MANTA quickly attaching to standard roof bars using the supplied quick deploy vehicle kit.
Global roll-outs of the MANTA have been achieved over 2019 with high levels of demand from aid agencies and governments. Following trials and feedback from operational customer deployments over the year to date, demand is expected to increase even further.
MANTA®+
During a demo of the MANTA in late 2018, a user suggested adding an integrated cellular capability to the terminal. Rather than just a rudimentary plug-in cellular connection, this request was for a sophisticated terminal system that could offer users complete autonomy over the backhaul method from a ruggedized, single user interface with smart routing and a VPN capability.
In response, and by end of Q1 2019, Paradigm had developed and launched the MANTA+, the first flat-panel COTM/COTP VSAT system with a fully integrated cellular capability. An impressive turnaround in an industry traditionally slow to respond to technological advancements.
Paradigm's MANTA+ offers all the advantages of the MANTA but with the added benefit of services either connected via various satellites or routed via available 2G/3G/4G LTE, 2.4/5GHz Wi-Fi services, with UHF/VHF radio connection options also available.
The MANTA+ is a discreet, plug and play unit that provides seamless network switching between cellular and satellite to offer an 'always connected' service. The user can 'weight' their operational services depending on their specific needs for availability, least cost routing, load balancing and failover/ fallback.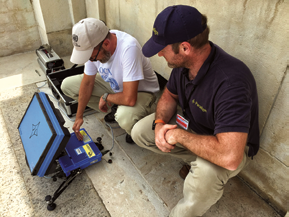 United Nations SWARM training.
Photo is courtesy of Paradigm.
As the MANTA+ transitions between cellular, Wi-Fi and satellite (or any other sequence), the IP (Internet Protocol) path automatically routes without the need for any user intervention (e.g., creating of routing tables or port re-wiring) and, depending on the weighting rules implemented, will keep the user's services connected. In addition, VHF and UHF solutions can also be connected to the MANTA+ to provide extended reach communications for the connected operator.
The MANTA+ has revolutionized COTM capabilities for its users by harnessing the best of both worlds in mobile connectivity. As High Throughput Satellite (HTS) networks grow and cellular coverage expands, the MANTA+ will act as a force multiplier for the NGO and first responder communities. It is ideally suited for border protection, coastal surveillance and any areas of critical operation where constant connectivity is required through communication blackspots.
HORNET
Paradigm's PIM-enabled HORNET terminals are designed to be lightweight, portable and simple to use. They are ideal for situations where a tough and rugged solution is needed without compromising simplicity and throughput.
In 2019 the HORNET was developed further so as to be available as an interchangeable modular system operational on Ka, Ku and X-Band frequencies. This provides a highly flexible solution for users needing to configure antenna size and frequency bands either in the field or at the planning stage. This interchangeable solution is available on all major network providers.
The HORNET terminals are extremely rugged and weatherproof with low power consumption. They are modem agnostic, supporting all high performance modems and provide single case solutions which are IATA compliant for
easy transportation.
Using the integrated PIM, pointing HORNET terminals is very fast and simple using the audio and visual cross-hair cues and target of LEDs. The PIM also integrates adjustable legs to provide a low and wide operational footprint to maintain stability.
By fulfilling requirements for flexibility, cost reductions, rapid tool-free deployment and portability, the HORNET is the ideal solution for first responders, government and broadcast users.
HORNET deployments during 2019 include providing fast, reliable and critical communications for the Argentine Antarctic Summer Campaign at a number of sites including Argentina's southernmost permanent base; a fantastic example of how 'internet at the Earth's extremes' is a reality.
As Paradigm's MD Ulf Sandberg remarked, "not only can our PIM-enabled terminals be operated by anyone, this also proves that location is no longer a restriction."
SWARM
Demand for this discreet and powerful terminal continues to grow, with key 2019 global deployments.
The SWARM terminal provided broadcast-level communications for a 6,000 km. African continent motor rally and a television production company filming in the sparsely populated Patagonian region of South America.
Once more, the SWARM was able to provide vital communications channels to aid agencies: in Mozambique following Cyclone Idai and in the Bahamas after the devastation caused by Hurricane Dorian.
The SWARM and the CONNECT100T terminal have now been adopted by the UN and other NGOs. Together, they enable assessment teams to respond rapidly to emergency situations, using the ultra-portable SWARM to provide critical emergency communication channels with the co-ordination teams following up with the larger CONNECT100T to provide higher throughput for longer-term setups.
Developments at Paradigm
As Paradigm continues to grow, the company's main facility in the UK expanded further during 2019 to accommodate an increase in manufacturing and staff. Paradigm's website was updated in Q4 to give prominence to the latest PIM-enabled terminals and to underline the company's ethos of Making SATCOM Simple.
Additional feature sets for all terminals will continue to be released by Paradigm, working closely with partners and key customers to deliver enhancements and developments for the terminals to suit specific requirements.
2020 Plans and Opportunities
Paradigm sees lots of really exciting industry developments coming on line into 2020. The introduction of new satellite constellations, in particular, the potential of Low Earth Orbit (LEO) and Medium Earth Orbit (MEO) satellites which will bring new capabilities to a variety of users.
Paradigm will continue to position and structure their products to enhance these advances.
www.paracomm.co.uk

Ulf Sandberg, the Founder and Managing Director at Paradigm, has more than 30 years of experience in the global satellite and telecommunications world. He served in the Swedish Armed Forces and, from there, Sandberg joined Notelsat, the operating company for Tele-X, one of the earliest Nordic Communication satellites. From there, he was with the Swedish Attaché for Science and Technology office, based in the USA. Leaving the Government sector, Mr. Sandberg worked for Swedish Telecom International and then Unisource, where he advanced to be Managing Director for the satellite business based in the Netherlands. Mr. Sandberg was also involved in the start-up and creation of a number of companies and ventures in Europe and the USA. In 1993 Sandberg became Managing Director, EMEA for ComStream, where he was responsible for growing regional operations. He was then with ACT Networks prior to starting Paradigm in 1996, where he has spent the past 23 years as Managing Director.
---
Phasor
It's been a non-stop year for Phasor, where the antenna developer has been in the midst of the transformation that will take it to the commercial market.
As the company has focused on its end goal of bringing about seismic change to the global satellite mobile connectivity market, it has been busy reaching key milestones in terms of technical development and the move to commercialization. The enterprise-grade electronically steered antenna is poised to offer a new level of connected experience to passengers and crew on land, sea and in the air.
---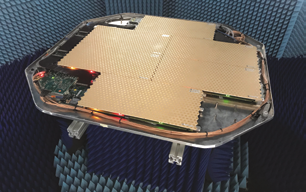 Phasor's M6 Electronically Steered Antenna (ESA).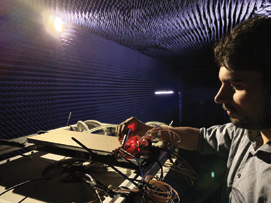 ---
Technology Development
Phasor has been working with Vicor, a manufacturer of high efficiency power supply systems, and the two companies have developed a new power architecture that enables Phasor to deliver extremely high current at low voltage, thus ensuring robust mobile communications. The power solution provides connectivity speeds and bandwidth previously unachievable while on the move.
The Factorized Power Architecture™ (FPA) represents a major breakthrough in the delivery of satellite connectivity in aeronautical, maritime, land mobile and defense applications. However, it will also enable the end user traveling on any mode of transportation to enjoy true mobile broadband connectivity, and all the applications that this will enable.
______________________________________
Though 2019 has been a
year where milestones have
been achieved in preparation
to get the product to market,
years of hard work have provided
a solid foundation for the future.
The FPA technology plays an integral role in Phasor's ESAs and the support of Vicor in the technical innovation of the products helps to differentiate Phasor in what is a very competitive marketplace.
Vicor's FPA package consists of a Pre-Regulator Module (PRM) and a Voltage Transformation Module (VTM)/Current Multiplier which together deliver the full, regulated, isolated DC-DC converter function. The Voltage Transformation Module (VTM) is a resonant converter and therefore also has very low noise when compared to a hard switched converter.
Vital to realizing performance targets in small and large aperture Phasor ESAs is the ability of Vicor's systems to transform a 48V supply into a 1.5V supply (1V in the next generation of antenna with even higher current).
Phasor's desire to make this transformation at 65A (or even 80A) represented a major design challenge for powering its application-specific integrated circuits (ASICs). Offering superior power delivery and efficiency than traditional DC/DC converters, Vicor's approach to transforming voltage eliminates the need for multiple hard-switching converters with several different phases to attain 65A.
Certification
Phasor achieved ISO 9001 Certification ahead of the release of its product range. ISO 9001 is the internationally recognized standard for a quality management system (QMS). This enables companies to operate more effectively on several different levels, including the ability to focus on customer requirements and constantly finding ways in which to improve and become resilient and sustainable.
Why is this significant? It shows Phasor's evolution from development company towards a process-centric commercial products organization. The processes and procedures that have been implemented and also approved by BSI, will enable better management of the business and will demonstrate to customers that Phasor will support them as they grow.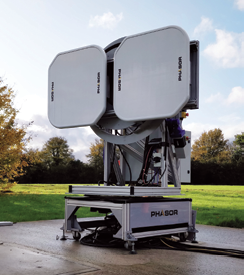 Preparation for Production
In order to prepare for commercial production, and to be able to scale -up to meet projected demand for its revolutionary ESA system, Phasor created a partnership with industry-leading electronics contract manufacturer Surface Technology International, (STI). STI will bring best-in-class manufacturing capability and will enable Phasor to continue to focus on new technology and product development. In a rapidly expanding market such as mobile broadband, it is important that production is scalable and able to grow with the projected market demand. Therefore, contract manufacturing with a leading partner is a core tenet of Phasor's strategy.
STI is a specialist Contract Electronics Manufacturer, serving world-class customers in high-reliability industries by providing a complete set of electronics design and manufacturing solutions in both printed circuit board assembly (PCBA) and full box-build manufacturing. The products will be manufactured in the STI Poynton facility, in Cheshire, UK, which is an industry-leading center manufacturing high-quality electronic systems.
Headquartered in Hampshire, UK, and part of the AC Industrials group, STI has decades of experience in the manufacture of complex aerospace, military and satcom systems. This will ensure that Phasor can successfully ramp up production as required with a renowned partner that is located within easy reach of Phasor's London Technology Center.
Showcasing Capabilities
The Mobile World Congress (MWC19) in Barcelona gave delegates the first glimpse of Phasor's land mobile Advanced Compact Terminal (ACT) for connected emergency vehicles from partner, HISPASAT.
The satellite operator participated in a demonstrator of a 5G and satellite communications (satcom) connected ambulance at the stand of the Generalitat de Catalunya, showing how future satellite and cellular-based hybrid connectivity will make it easier for emergency medical personnel to receive instructions from specialists in a hospital enabling a full ubiquitous audio-visual connection between the vehicle and the hospital. This will allow the specialist to monitor the patient's status in real time, which may be key to their survival and subsequent recovery.
An ambulance equipped with Phasor's Advanced Compact Terminal, will enable the crew to connect via satellite so that the first responder team may use applications such as video teleconference, real-time operational telematics links and high-quality Internet access during the journey to the hospital, regardless of their location or access to terrestrial networks. The ACT including an ESA, which is designed and in-development by Phasor in cooperation with HISPASAT, has full electronic steering and enables mobile connectivity services to be efficiently and reliably offered with high bandwidth.
It was another opportunity to highlight the versatility of the system and its ability to deliver mission critical connectivity, when every second counts.
Our Partnerships
Airbus
Phasor announced a Memorandum of Understanding (MoU) with Airbus through its Network for the Sky (NFTS) program. The two companies are working together to adapt Phasor's commercial-off-the-shelf (COTS) aeronautical electronically steerable antenna (A-ESA) already in development, for use on Governmental air-transport aircraft and unmanned aerial vehicles (UAVs).
Reliable, resilient aero connectivity that can support the highest data rates is essential to Network Centric operations today to enable a broad range of applications and services.
The Phasor ESA will be capable of supporting high bandwidth data communications with Ku-band satellites in both commercial GEO and LEO orbits and will also include an integrated radome, as a single line replaceable unit (LRU). Delivering as one, NFTS securely and reliably connects airborne assets together with the rest of operations. Operating over a mix of technologies to form one, resilient, high speed global network. NFTS sets the foundation for connected airborne network centric operations.
Gogo
Phasor and Gogo also confirmed that their development partnership achieved its initial core-technology performance objectives and will progress to the productization phase. During the next phase, the technology will be packaged as an airborne terminal to address the commercial aviation market.
Gogo identified the promise of Phasor's innovative solution due to a range of factors, including its multi-constellation capabilities and form factor and sees a number of potential applications for the technology, with initial applicability targeted at smaller commercial aviation aircraft.
Astronics
Astronics Aerosat previewed its next-generation SATCOM connectivity solutions, in conjunction with Phasor at AIX in Hamburg. The new SATCOM inflight connectivity antennas feature electronically steered array (ESA) technology that will deliver unprecedented connection reliability for both civil and military aircraft.
Available in three configurations and with an ultra-low profile, the E-Series will provide Ku- and Ku-HTS connectivity for today's Geostationary Earth Orbit (GEO) networks, as well as tomorrow's Medium Earth Orbit (MEO) and Low Earth Orbit (LEO) networks. The system also will offer dual-beam capability, enabling it to support the future "make before break" requirement of non-GEO networks from a single array, or the ability to communicate with two independent GEOs or a LEO & GEO network simultaneously.
Astronics' E-Series antennas will feature Phasor's active electronically steered array to provide maximum antenna performance. Unlike competing systems, the E-Series will feature technology that enables a simultaneous transmit and receive from a single antenna array, with no need for bulky extra panels that drive up costly size and weight.
Everywhere On
As Phasor approaches the year of its product launch, it can reflect upon five years of development of a system that will bring fundamental change to on-the-move connectivity.
Though 2019 has been a year where milestones have been achieved in preparation to get the product to market, years of hard work have provided a solid foundation for the future.
The team relishes the challenge of bringing this transformative technology to the people that want and need a completely new and connected experience that is always on, no matter where they go.
www.phasorsolutions.com

As president and CEO of Phasor Inc., David Helfgott has the responsibility for the company's strategic direction, to drive the development of its new & revolutionary Electronically Steerable Antenna (ESA) products and technology, and to implement its operational programs. As a 20-year industry veteran, he has extensive experience in satellite broadband, mobile telecommunications and commercial & government SATCOM networking services.
Mr. Helfgott has held leadership positions at Inmarsat, Cobham, DataPath and SES. He holds a BA Degree from the University of Virginia and an MBA from the Darden School.
---
QuadSAT
2019 has been a big year for both SATCOM and QuadSAT respectively. We've seen the first satellites launched into LEO for the planned mega constellations, processes being virtualized within the cloud and plenty of discussion regarding the 5G rollout.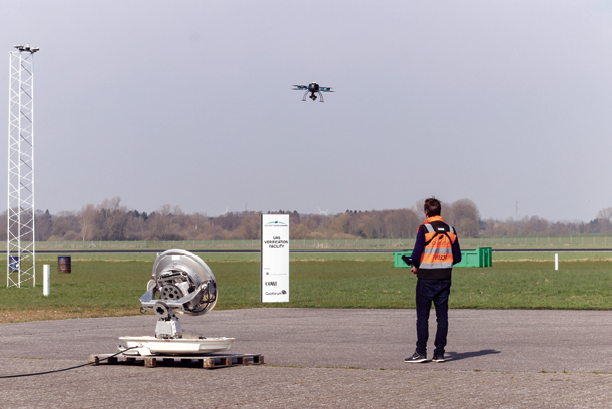 Mega Constellations
We're entering into an interesting era in SATCOM; during the next few years, we're expecting the number of orbiting satellites to dramatically increase. With approximately 1,800 currently on-orbit, we could see numbers rise to as many as the tens of thousands of satellites. This increase is sure to raise operational challenges, both on-orbit and at the ground terminal.
LEO is promising more connectivity, something that consumers are expected to fully embrace. The increase in SATCOM use will see RFI management become as important as ever; however, the industry must ensure it is as cost-efficient as possible. The need for SATCOM to be financially competitive must be offset by the need for high quality equipment to deliver reliable coverage.
The mega-constellations could potentially open up huge opportunities for the maritime and aviation industries. Offering consumers constant connectivity is appealing. But beyond this,the company anticipates that these industries will be adapting workflows and procedures to incorporate the seamless connectivity that LEO offers. The opportunities are vast — we just need to make sure that we have the tools to deliver the robust connectivity required.
5G has been one of the most talked about aspects of connectivity in 2019. There's no doubt the discussions around C-band have seen some of the most experienced professionals stop and consider the implications it may have on the industries involved.
The objective is clear; technology must keep improving to manage consumer demands. As always, when using radio frequencies, care must be taken to avoid accidental interference.
______________________________________
With more and more consumers
and industries adopting online
applications, we must be sure that
the connectivity we are delivering
is of the highest quality.
As more operators — and even industries — use RF, managing interference will become increasingly important to ensure that services don't inadvertently impact upon one another.
Use of the Internet of Things (IoT) is growing quickly. According to a 2019 report by Gartner, the enterprise and automotive IoT market will grow to 5.8 billion endpoints in 2020, a 21 percent increase from 2019. Consumers are turning more and more to the convenience that IoT offers, with building automation, utilities and physical security being some of the more common uses.
IoT is centered around consumers remaining connected with their surroundings, regardless of where they are located. But in addition to consumers adopting the tech, we're seeing industries employ the technology to improve efficiencies.
Maritime organizations are turning to IoT to streamline operations and to make data driven decisions that improve efficiencies. The aviation industry is also noting huge benefits in adopting IoT tech. Predictive maintenance, in-flight customer behavioral patterns, in-flight data collection, baggage tracking and flight efficiency are all examples of the role IoT can play in aviation, which is saving airlines time and money.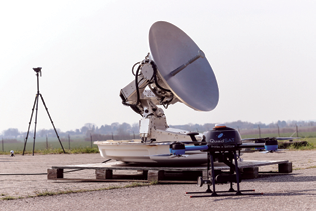 As always, seamless connectivity is key in delivering these services. The aviation and maritime industries have an obvious need for satellite due to the geographically remote nature of work. This does also highlight the industries' reliance on SATCOM; there is little room for error in connectivity and reducing the risk of RFI is hugely important.
RFI RF interference is a challenge that has faced the industry since its inception, with human error and poor-quality equipment being some of the most common reasons for RFI incidents. An antenna that is being used daily, especially on a moving vessel, can easily become misaligned and see a break in connectivity.
Testing and calibration must be performed at regular intervals to mitigate RFI, although performing these tests can be costly, technically challenging and inconvenient on an in-service plane or ship. However, antenna testing remains important; we can see efficiencies improving in many industries as a result of improved connectivity.
Drone Tech to Reduce RFI and Increase Efficiency
During 2019, the company completed significant steps forward in reaching business goals. At the start of the year, QuadSAT's drone tech was in the early stages of development.
In January, QuadSAT secured 700,000 euros in seed funding, led by Vaekstfonden, with participation from Seraphim Capital and additional, existing investors. In addition to the testing and calibration capabilities mentioned above, QuadSAT has always aimed for the product to be used to deliver type approvals, allowing quality testing at the sourcing of equipment.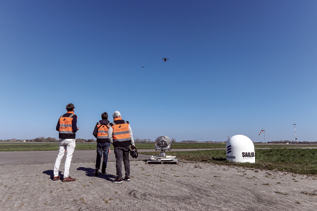 These investments were critical in developing the prototype for key testing and has allowed us to expand the team, as well as advance our technology. We moved the office to the Hans Christian Andersen Airport in Odense. This has given us useful access to the airfield as well as the great tech community at HCA.
The firm's drone technology applies a consistent method to determine the performance of new antenna models. All new antennas have to pass through a validation process to ensure that satellite users are sourcing the correct equipment and processes... QuadSAT plays the role as a portable farfield test range, making it location flexible and cost effective. The solution is set to promote consistent calibration and testing procedures of VSAT antennas and, in turn, reduce RFI.
Following months of development, July found the company signing an important contract with ESA, GVF and the Danish Technological Institute to develop the QuadSAT testing solutions to comply with the industry-wide antenna performance SOMAP (Satellite Operators' Minimum Antenna Performance) requirements, providing our product with certification to deliver compliant type-approvals.
The company's team traveled to Aflenz in September with SES and Eutelsat for a demonstration of our product and its testing results. We delivered thorough antenna testing on-site using this drone technology, which was witnessed by representatives of both organizations.
The results were sufficient enough for SES to consider adopting QuadSAT`s antenna testing product for future, commercial, antenna qualification activity.
Increasing Connectivity and Minimizing RFI
2019 has undeniably seen many changes within SATCOM; organisations within the industry are adapting to the ever-increasing need for constant connectivity.
However, with LEO, 5G and IoT, companies must be confident in delivering uninterrupted services. RFI is linked to an increase in equipment cost and increase in antenna power levels. To keep SATCOM competitive, it is crucial to keep interferences low.
With more and more consumers and industries adopting online applications, we must be sure that the connectivity we are delivering is of the highest quality. RFI must be both prevented and mitigated to allow seamless connectivity to become a reality.

However, to promote discipline within RF management we must make the tools accessible and cost-effective.
www.quadsat.com
Joakim Espeland is the Chief Executive Officer of QuadSAT.
---
Rock Seven
As 2019 draws to a close, Rock Seven can look back with justifiable satisfaction on a year of measurable success. Rapid growth since our acquisition by Wireless Innovation in 2018 is best illustrated by the appointment of four new job roles across development, marketing and production, demonstrating our commitment to constantly innovate new products, and to raise awareness of our existing ones.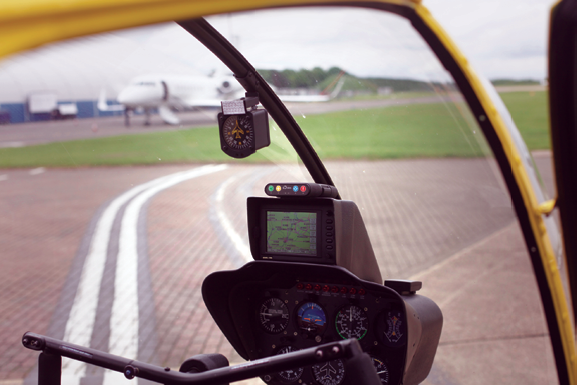 With the backing of Wireless Innovation and Horizon Capital, the company has been able to expand more rapidly than we otherwise would have done and have been able to capitalize on rapidly growing markets, such as Internet of Things (IoT),
Machine to Machine (M2M) and Fisheries Monitoring
The latter market has been a big area of expansion for us this year, and our RockFLEET product has now made significant inroads into Vessel Monitoring System (VMS) and Fisheries reporting in markets across the world. This growth will continue throughout 2020 and beyond.
Our collaboration with Pivotel, a leading remote communication provider in Australia and New Zealand, has seen RockFLEET units fitted to more than 700 fishing boats. This number is likely to exceed 1,000 by the end of 2020 as fleets in both countries comply with existing and planned regulations requiring commercial fishing and charter boats to be tracked.
______________________________________
Increased adoption of
Rock Seven's established
products have made this a
great year for the company.
Pivotel selected RockFLEET due to the company's comparatively low capital and airtime costs as well as for ease of installation. The unit's global two-way communication ability, low cost of ownership and the reliability of the Iridium network give clear advantages over alternative VMS options.
Asked about installations in Queensland, Pivotel CEO Peter Bolger said, "The partnership between Rock Seven and Pivotel has ensured fishers receive informative and timely support for all product queries. The RockFLEET device is a high-quality product that has proven easy to install and operate, but still offers the sophisticated data and coverage that the Queensland fishing industry requires."
In aviation, Rock Seven continues to consolidate the firm's already well-established position. The RockAIR unit — launched in 2017 — is now a regular sight in the cockpits of helicopters and light aircraft worldwide and, as far as we know, is the only dual-mode GSM/Iridium carry-on flight tracking unit available, giving flexibility to pilots and fleet operators globally.
This dual-mode communications ability allows users to send tracking information through your mobile network as frequently as every 15 seconds while in cellular coverage, only switching to use satellite credits once out of range. Message frequency can be configured independently for both modes, keeping costs under control.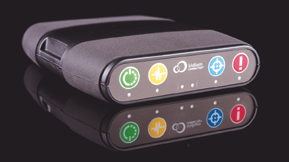 Iridium SBD is a market with huge potential and our work with Iridium Short Burst Data (SBD) goes from strength to strength. The RockBLOCK family of products maintains its status as a recognized brand in Iridium SBD, helping customers in every industry with their remote monitoring requirements. Specifically, we have seen great growth in Iridium SBD use in areas such as AgriTech and UAV/drone work.
The ability to send and receive short messages anywhere in the world opens up a broad range of applications. RockBLOCK products are used for messaging, tracking, equipment monitoring and control, fleet management, telemetry, remote network monitoring, oceanographic monitoring and security, amongst other things.
The units can be very small and light — the RockBLOCK 9603 units measure only 45x45 milometers and weighs just 36 grams, yet offers full, two-way communication, making them ideal for small installations and even personal trackers.
They're also inexpensive both to buy and run, making them affordable to any customer, from big research ventures which might require thousands of units, through to individual hobby projects.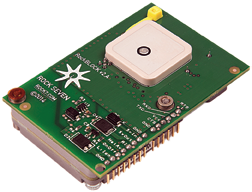 The Maker Buoy is one such example: this solar-powered, Arduino-based research buoy measures ocean drift and sea temperature and carries a RockBLOCK 9603 for communications.
The unit can be built inexpensively by hobbyists and the data shared with research organizations to further understanding of our oceans.
Another, innovative example of how a RockBLOCK can enhance a system's abilities was demonstrated by James Dziadulewicz in Malibu, California. Having built a home in an area with a high risk of forest fires, he built an off-grid fire detection and prevention system to protect his property.
He was 54 miles from home when he received a message to his phone, sent via a RockBLOCK attached to the system, notifying him that a fire was approaching his property. He was able to remotely trigger 12 high-pressure sprinklers to drench his house and the surrounding area 35 minutes before the fire assaulted his property, leaving his home unscathed. His success has led him to found a company, Hot Shot Wildfire Fire Protection Systems Inc.
Until now, all our RockBLOCK products and the Iridium Edge modems on which they are based have required some form of external power. This year, however, Rock Seven has been selected as a beta partner for the new Iridium Edge Solar, a self-contained, solar-charged, programmable SBD device with GPS tracking, local wireless and Bluetooth communications capabilities.
Configuration for this product can be updated over-the-air, and in normal use, the device has a service life of up to 10 years. The internal battery will support twice-daily reporting for as many as five years, even if the unit is never exposed to sunlight. With the ability to operate unattended for extended periods of time anywhere in the world, this is an exciting new market and one to watch during 2020.
The company's RockSTAR device made the news in October when it was used by British Search and Rescue charity S.A.R.A.I.D for a natural disaster search and rescue demonstration, in association with Wireless Innovation and Iridium. Showcasing Iridium's high-speed Certus service, which is designed for critical applications, each SAR team member carried a RockSTAR, transmitting 15-second updates every minutes.
The Certus platform gave the people on the ground a strong, secure internet connection that allowed them to tap into the RockSTAR tracking applications online and allowed the team leader to know where any individual was located and in real time.
Even the rescue dog carried a RockSTAR, demonstrating the versatility of these devices.
Increased adoption of Rock Seven's established products, teamed with extended market reach thanks to the firm's friends at Wireless Innovation, have made this a great year for the company.
The Rock Seven team expanded significantly during 2019 to support this growth and to ensure the company can continue to provide
the recognized quality of service the firm supplies to customers.

This is certainly an exciting and challenging time for everyone, and Rock Seven has big plans for the future.
www.rock7.com
Nick Farrel is the Director of Rock Seven, based in Southampton, United Kingdom.
---