This year is proving to one of profound change for the world's major satellite operators. For example, Telesat of Canada is just one of many smaller operators potentially up for sale while there are major changes in store for Intelsat, SES of Luxembourg and Eutelsat of Paris.
On April 3rd, Luxembourg-based SES' CEO Romain Bausch steps aside and hands over the running of the company to Karim Michael Sabbagh. Bausch will stay on as a member of the operator's Board of Directors, and, even though Bausch is one of the world's most modest men, he might—just this once—take pride in what he has achieved in his 19 years of running the SES business.
SES' growth has been stupendous. Indeed, SES is already carrying more than 6,230 satellite channels, some 18 percent of the world's total channels (35,000), and sometime this year— if market expectations are reasonably accurate—the operator will overtake Intelsat as the world's largest satellite business measured by revenues.
The reason is that Intelsat is highly dependent on what is coyly referred to as 'govermental' business. That's industry shorthand for military contracts. With the U.S. budget cut-backs as well as the withdrawal of troops from Afghanistan, during 2013 Intelsat experienced a severe decline in those revenues.
This year, Intelsat expects a further 15 to 20 percent reduction in their military business. SES, on the other hand, is not so dependent on government business and, instead, saw a 1.9 percent rise in revenues. This year, SES is anticipating a 6.5 percent rise in overall income.
As of December 31st, 2013, however, Intelsat was just ahead of SES in terms of dollar revenues (Intelsat at $2.604 billion, with SES at $2.563 billion).
Of course, rivalry takes many forms and the two players can still argue size and position in any number of ways. For example, Intelsat's contracted backlog (at $10.1 billion) is good, but SES is currently better (at 7.5 billion euros, or $10.3 billion)—the size of the satellite fleet is another measure, as is the number of transponders on the fleet. However, here's another metric that will soon become increasingly important: The number of Ultra-HD channels carried. SES serves TV-hungry Germany, France and Spain from its lucrative 19.2 degrees East neighborhood. SES has about 15 empty transponders at 19.2 waiting for the acceptance of Ultra-High Definition TV (UHD, or, UHDTV, or 4K).
Romain Bausch, speaking on February 21st, said that SES anticipates UHD taking off in a meaningful fashion for viewers in 2016 with the Rio Olympic Games and the Euro 2016 UEFA Soccer Championships (which occur in soccer-mad France).
This means that fans will need new 4K TV displays and broadcasters will have to supply or, more likely, adapt existing set-top boxes (STBs) to receive the fat signals, but new dishes will not be required. The same satellites, from the same positions, will supply the new signals.
The same applies to SES' other hot spot locations, not the least of which is 28.2 degrees East, which serves the United Kingdom (UK) and Ireland. One of the SES fleet will also carry UHD signals to the British Isles the moment BSkyB goes live with that service. The same argument applies to the Americom assets in the U.S., as well as other SES-owned satellites that girdle the Earth.
The world's current Number 1 operator, Intelsat, is itself going through dramatic changes. Last year's Initial Public Offering (IPO) in April placed the operation firmly in the public eye—President/CEO Dave McGlade is busy coping with the reduction of government business, as well as paying down its massive debt burden as fast as it possibly can. In November of 2013, the company refinanced a huge $3 billion loan in order to trim some of its heavy interest charges, which were said to be touching $1 billion a year. As of March 2013, Intelsat's long-term debt burden was some $15.8 billion. Just before the 2013 Christmas holiday, Intelsat paid down another $100 million of this massive debt, taking last year's debt repayments total to some $617 million.
The next steps for Intelsat are exciting and "Epic,"which also happens to be the name for the firm's new fleet of extremely high-throughput satellites (HTS). The first of these satellites will be launched in 2015—Intelsat 29e—and Intelsat is already busy pre-marketing capacity on what will represent a quantum-leap in the company's bandwidth, and at lower prices (based on bit-rate pricing).
Lower debt and increased revenues will also give McGlade and his team some flexibility in possibly acquiring or merging with some of those operators looking to exit the business. Now that Intelsat has a stock exchange valuation, the company has the machinery to refinance, and be fleet-of-foot enough to — perhaps — pick up a new asset or two, and regain its Number 1 position. However, as every CEO and CFO will tell you, "any acquisition has to make commercial sense," which is absolutely true.

McGlade summed up his thoughts in February, "When we look at M&A opportunities, besides the ability to have an accretive deal from a free cash flow standpoint, we will look to enhance revenue growth to serve certain regions or customer sets. So it has to fit strategically with what we're doing."
McGlade added that additional contracts were being signed for its Epic series of satellites.
"Harris CapRock did an additional agreement that transition from existing capacity to a future Epic satellite. Panasonic Avionics also did a follow-on deal to expand their capacity in Europe and Asia. We also had standard capacity sold on Intelsat-35e. We still have a pre-sales campaign underway. And we feel confident that we'll be able to expand other customers and customer applications on Epic. So we feel good about where we are today."
In other words, don't write this company off just yet as the industry leader. Far from it... this year's revenue expectations are in the $2.45 to $2.5 billion range, which will allow Intelsat to pay down another large chunk of debt—or an acquisition made!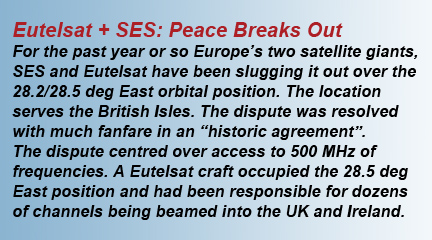 Naturally, SES isn't lying down either. SES has its own HTS scheme. Four O3b MEO orbiting satellites are already in space, and another eight will be launched this year in two batches of four each. Once there are eight of them orbiting, then a full service can be initiated for the "other 3 billion" underserved consumers.
In addition to these MEO craft, Romain Bausch is leaving his successor with a busy launch manifest of conventional geostationary satellites.
Astra 5B launched on March 23rd. Bausch confirmed in February an order for SES-10, another 'expansion' satellite that will replace current capacity (AMC-3 and AMC-4) over South America and the Caribbean (67 degrees West) and, in with the other satellites in the launch manifest, an extra 110 transponders will be added to the fleet by 2016.
Bausch denied that the extra supply going into the LATAM market would lead to an over-supply—SES-10 had a guaranteed client in the Andean Community, which was planning to use the craft for broadband services.
Taking a snapshot of the past year (since year-end 2012) the SES fleet will have grown 24 percent by the end of 2016 with the launch of the just announced SES-10 (and representing a massive 193 extra transponders in orbit).
Interestingly, Elon Musk's SpaceX Corporation and its lower-cost Falcon-9 rocket launcher will be responsible for two of these upcoming launches (as part of a long-term four-launch contract with SpaceX). Bausch explained that its multiple launch supplier relationships would continue, and this included French-backed Arianespace, although he expressed a strong wish to see lower costs from the European launch community.
SES' similar multi-launch options and obligations towards Arianespace have all been fulfilled, although Bausch said SES would maintain a 'multi-launch' supplier portfolio, including International Launch Services, as far as launch contractors were concerned.
SES-10 will be built by the Airbus Defence and Space owners). SES-10 will carry 50 transponders, and although it will use electric plasma propulsion for on-orbit positioning, it will have a conventional chemical system for orbit-raising.
"The new satellite, ordered through SES's wholly-owned subsidiary SES Satellite Leasing, will expand SES's capabilities in Latin America and the Caribbean through high power beams tailored to provide DTH broadcasting, enterprise and broadband connectivity services in the entire region," said SES. "SES-10's comprehensive coverage includes Mexico, Central America and South America, as well as the Caribbean.
"The satellite will be positioned at the 67 degrees West orbital position, pursuant to an agreement between the Andean Community (Bolivia, Colombia, Ecuador and Peru) and SES, which provides for use of the Andean Community's Simon Bolivar 2 satellite network. The specifically designed beam of SES-10 over the Andean Community Member States, combined with its optimum elevation angle, represents a unique proposition for telecommunications operators, broadcasters and service providers for the Andean countries."
Indeed, Central and South America is the focus for the world's Number 3 operator, Paris-based Eutelsat, which is fast becoming a true global service provider. On January 1st, it wrapped the purchase of Mexico's SatMex.
Back on September 16, 2013, following a decision by the French Chamber of Commerce arbitration process, SES announced they had won the dispute and would start transmission on October 4th on its own satellite, which it duly did. Eutelsat's clients switched to the SES satellite.
Sarah Simon, a senior analyst at Berenberg Bank, summed up the three key elements of the agreement:
1: Of the 500MHz that was in dispute (using German filings) and which has been operated by SES since October 4, 2013, following the ruling of the Bonn court, Eutelsat has acquired outright 125MHz, with a one-time capital payment, thus allowing it to continue to monetize that portion of the capacity.
2: Of the 250MHz which was previously operated by Eutelsat using French filings, all will be operated on SES satellites, but Eutelsat will buy back all of this capacity in a one-time payment, meaning that the revenue effect is zero (this capacity was never in dispute)
3: SES has additionally made a payment to Eutelsat in relation to the co-ordination agreements that the two companies have reached across the entire 0 degrees to 52 East arc. This payment has not been quantified, although we should be able to see it in SES's next balance sheet. SES has indicated that it will amortize this payment over the multiple years to which the agreement relates. Eutelsat is recognizing the payment to the tune of five million euros per quarter.
In summary, Berenberg said, "In short, there is a payment from Eutelsat (to purchase capacity), and a payment by SES for the co-ordination agreement. Eutelsat's top line becomes whole (until such time as it has amortized the payment by SES), and SES gains the ability to operate in orbital positions where presumably it would have had a problem had it not reached this agreement with Eutelsat."
The agreement gets close to the old established status quo which had existed between the two parties since 1999 (the 'Intersystem Co-ordination Agreement'). Sources say that the structure of the new agreement resolves a number of outstanding technical and co-ordination issues between the two operators stretching over Europe, Africa and the Middle East and further afield. The co-ordination also applies to power-levels.
Eutelsat's CEO Michel de Rosen is aggressively pursuing a policy of expansion and has cleverly created a number of 'partnerships' with locally important players such as Russia's RSCC/Express, Egypt's Nilesat, Qatar's Es'Hail Sat, Turkey's Turksat, as well as Spain's Hispasat, although most observers see the Hispasat friendship as cooling somewhat. Each of these relationships gives Eutelsat access to frequencies, as well as valuable revenues and growth and sometimes without the aggravation and costs of building new satellites.
Typical is a January 29th signing in Kabul of a potentially valuable MOU with Afghanistan's Ministry of Communications & Information Technology (MCIT), which will see Eutelsat deploy an existing in-orbit satellite (Eutelsat 28B) immediately to 48 degrees East to deliver full national coverage and extensive reach of Central Asia and the Middle East. The satellite will be officially called Afghanisat-1 by the Government of the Islamic Republic of Afghanistan, reflecting Afghanistan's entry into the commercial satellite business.
Minister Amir Zai Sangin said, "Afghanisat-1 is a new milestone in the development of the ICT sector in Afghanistan, which in the last 12 years has already seen mobile telephony coverage of 88 percent and penetration grow from zero to 75 percent through the licensing of six operators, ICT sector employment provided for more than 138,000 people and more than $2.1 billion invested in the national economy. We are very happy to partner with Eutelsat on Afghanisat-1 which will provide access to ICT and broadcast services to Afghans, especially in unserved areas, and support our vision of transforming Afghanistan into an information society."
Michel de Rosen, agreed, saying, "This MOU represents the fastest and most effective route to accessing infrastructure configured to deliver full coverage of Afghanistan and surrounding regions. It enables Afghanistan to scale up capacity as and when needed and to offer broadcasters, telcos and ISPs the immediate benefit of resources providing exceptional reach and performance. We are honored to be Afghanistan's chosen partner for this important initiative."
Eutelsat 48B/Afhghanisat-1 is good until 2020, despite some on-board capacity problems.
These recent expansions mean that Eutelsat can now (from its SatMex acquisition) cover most of 'the Americas' as far as 116.8 degrees West, and an orbital arc that stretches three-quarters of the planet as far as the old GE slot at 172 degree East. De Rosen explained that its recent acquisitions (the GE craft and SatMex deal) meant that their priority was now to consolidate, although did not deny that there were further M&A possibilities. He remained convinced that the industry would continue to further consolidate. However, another key priority was that Eutelsat wanted to maintain its investment grade—and suggested that borrowing to finance any potential acquisition would be limited.
In conclusion, it is anyone's guess as to who might buy Telesat of Canada, or Israel's Spacecom, or Malaysia's Measat, or Singapore's Optus, or any number of other smaller—but locally important—players in the satellite business.
The next few years will see at least some of these assets transferred. However, the industry is already preparing for its next expansion stage: UHDTV, which will start transmissions this June in South Korea and Japan. From these embryonic tests will flow full-fledged 4K broadcasts by the fall of 2015, and then a significant number of channels will be on air by the summer of 2016.

About the author
Senior Contributor Chris Forrester is a well-known broadcasting journalist and industry consultant. He reports on all aspects of broadcasting, with special emphasis on content, the business of television and emerging applications. He founded Rapid TV News and has edited Interspace and its successor Inside Satellite TV since 1996. He also files for Advanced-Television.com . In November 1998, he was appointed an Associate (professor) of the prestigious Adham Center for Television Journalism, part of the American University in Cairo (AUC), in recognition of his extensive coverage of the Arab media market.