The Asia-Pacific satellite market has experienced significant growth in recent years. The growth of digital pay TV, broadband applications and government communications remains strong — particularly in India, Australia, the Pacific Islands and East Asia.
Intelsat
has a 45-year history of successfully serving the Asia-Pacific region. Today, customers using capacity on 22 satellites from Intelsat's global fleet are introducing and expanding a variety of satellite services within and from the region. These services include: expanding broadband infrastructures that bridge the digital divide in developing nations; introducing mobile and maritime communications; distributing regional programming to a global audience, and; enhancing government communications for data, video and voice transmissions.
A robust satellite network offers customers a complete transmission solution for both regional and global delivery of the above-mentioned services. We are witnessing a surge of demand for these services — from international customers wishing to increase their presence throughout Asia-Pacific as well as regionally, while local providers seek advanced platforms to meet their growing communications requirements.
Last year, Intelsat recognized that a long-standing customer,
Office des Postes et Telecommunications of French Polynesia
(OPT), required more robust coverage of its country, as it experienced growing demand for its domestic services. Working with OPT, the Ku-band beam on
Intelsat 18
(
IS-18
) was worked to provide coverage to all of French Polynesia. The Ku-band beam's broader footprint also reaches the Cook Islands. The contract, which spans the 15-year expected life of the satellite, expands the services currently provided to OPT on the
IS-701
satellite. OPT expects to use the Ku-band capacity on IS-18 for its domestic DTH service and to offer VSAT and Internet services to the outer islands of French Polynesia — helping to provide rural and remote residents with the high-speed broadband services already enjoyed by the residents of the capital and larger cities.
Key Drivers for Video Growth
Asia-Pacific broadcasters continually search for new ways to bring the highest-quality programming to loyal viewers. To meet the growing demand for media services, Intelsat offers unrivaled Asian video neighborhoods that reach millions of homes. The
Intelsat 8
satellite at
166 degrees East
in the Pacific Ocean region, and
Intelsat 10
at
68.5 degrees East
in the Indian Ocean region, are among the most valuable regional video neighborhoods hosted, offering unmatched reach and connectivity for cable networks and DBS providers transmitting into the Asian region.
In the growing High-Definition (HD) arena, significant achievements by customers such as
Discovery Communications, Inc
. and
NHK Global Media Services, Inc
. to bring HD content to their customers have been witnessed. In the case of NHK, their programming is distributed in Asia via the Intelsat network, and Intelsat is providing a distribution platform that takes this content worldwide.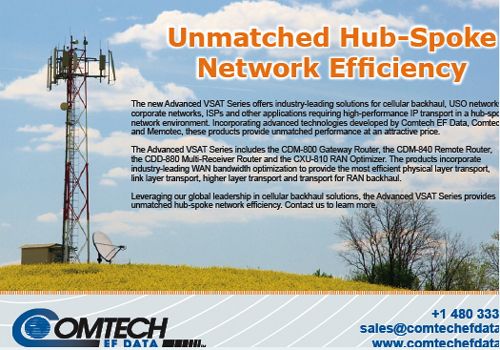 NHK is using Intelsat satellites program turnaround services at three Intelsat teleports and Intelsat's video fiber network to transmit its first global HD news channel,
NHK World TV
. NHK World TV is an English-language channel broadcasting HD and SD news and Asian lifestyle programming. Content is gathered from NHK's 30, HD-equipped news bureaus worldwide and distributed to millions of viewers in more than 80 countries.
Enterprise + Government Sectors Broadband Throughput Is Increasing
Network service providers are striving to meet increased demand for more powerful communications networks to serve enterprises and governments, providing them with solutions for mobile voice, secure data and Internet services.
Today, global satellite operators such as Intelsat are assisting the region's network service providers by offering teleport, space segment and managed solutions that include Internet backbone access, video conferencing, LAN/WAN interconnections, multicasting, virtual private networks, data file transfers and secure communications linking remote offices, vessels at sea and government operations. Quickly deployable, satellite networks are expanding customer services on a local, national and international scale.
In the network services sector, connectivity platforms between the Asia-Pacific and other regions remain especially strong. For example, Korea's leading communications service provider,
KT Corporation
, recently signed a multi-year, pre-launch contract for capacity on the
Intelsat 17
satellite (
IS-17
). KT intends to use this IS-17 capacity to deliver enhanced broadband VSAT services to its government and enterprise customers with remote operations in Asia, Africa and the Middle East.
In fact, there is now a huge demand for services from Asia to the Africa and Middle East regions. IS-17, to be located at
66 degrees East
, will provide higher-performing capacity across Europe, the Middle East, Russia and Asia, while also expanding Intelsat's C-band video distribution community in the Indian Ocean region with additional high-performance linear C-band capacity. IS-17 will replace the
Intelsat 702
satellite in 2011.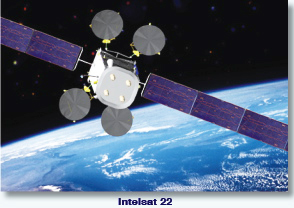 For government services, there is some significant business from the
Australian Defence Force
(ADF)
, as announced last year. The ADF agreed to purchase a specialized UHF communications payload aboard the
Intelsat 22
satellite to provide communications for its military. There is substantial potential in hosted payloads. Such hosted payloads are prime examples of how governments can take advantage of commercial platforms to meet long-term communication requirements in an economical way.
Intelsat's Asian Satellite And Ground Network Expansion Plans
Intelsat's commitment to the Asia-Pacific region remains strong. This is evidenced by the number of satellites we have dedicated to, and will be launching over, the region throughout the next few years. Intelsat expects to launch eight new satellites between now and the end of 2012, five of which will provide new or replacement capacity in Asia. The Asian build includes the acceleration of replacement satellites for two core video-distribution roles, as well as one new satellite that increases capacity for media and networking customers and addresses defense-related opportunities in the region. In addition to IS-17, Intelsat will introduce the following satellites that will enhance our current regional service offerings:
The
Intelsat 18
satellite (
IS-18
), to be located at
180 degrees East
, will provide continuity and enhanced performance in C- and Ku-band for network, voice, DTH and video distribution services to the Pacific Islands, and will offer connectivity to the western United States. IS-18 will replace the Intelsat 701 satellite in 2011.
The
Intelsat 19
satellite (
IS-19
), to be located at
166 degrees East
, will feature increased Ku-band capacity optimized for DTH and network services applications in Australia. The satellite's C-band capacity will provide enhanced-performance capacity for distribution of international video content throughout the Asia-Pacific region, with reach to the western United States. The Ku-band payload also will support demand for mobility and enterprise network applications across the region. The IS-19 will replace the Intelsat 8 satellite which today carries the premier video distribution neighborhood in the Asia-Pacific region. The IS-19 satellite will be launched in 2012.
The
Intelsat 20
satellite (
IS-20
) will replace the Intelsat 10 and Intelsat 7 satellites, that are co-located at
68.5 degrees East
and that represents South Asia's most successful cable-distribution neighborhood. This satellite will provide regional and international programmers with complete C-band penetration of the South Asian cable communities. IS-20 also will carry a Ku-band payload, which will provide services into Africa and the Middle East for enterprise networks and DTH services. The IS-20 satellite will launch in 2012.
The
Intelsat 22
satellite, to be located at
72 degrees East
, will increase C-and Ku-band capacity in the region and address the growing opportunities for enterprise networks, mobility and defense-related applications. This satellite will also launch in 2012.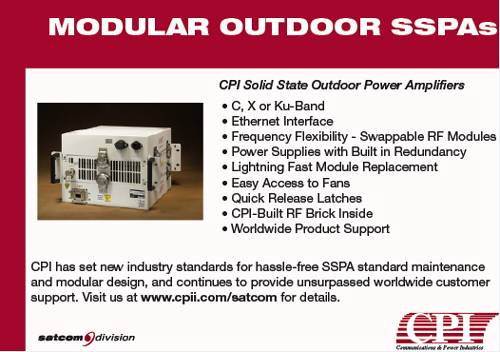 In addition to the fleet program, the Company continues to invest in ground network infrastructure, expanding customer access to Intelsat's Asia-Pacific assets. An upgrade at the
Paumalu Teleport
in Hawaii improved available fiber diversity and upgraded the antenna facilities to expand accessibility and redundancy on Pacific Ocean satellites, enhancing services for media customers.
Intelsat also expanded its
Network Broadband Managed
services, adding hubs at KT's teleport facilities in South Korea. Likewise, the teleport infrastructure at Fuchsstadt, Germany, provides access to the Indian Ocean region, and Riverside and Napa, California, teleports to provide access to the Pacific Ocean region for media and network-services applications.
Also expanded is the ground infrastructure within other parts of the region. KT Corporation is hosting two new Intelsat Network Broadband hubs, providing Intelsat access to KT's teleport facilities in South Korea — effectively expanding the managed-services portfolio to KT's growing customer base. The Intelsat services include Internet Trunking, Network Broadband and International Private Line. Intelsat also works with Reach in Hong Kong and Australia for regional presence and termination of traffic.
Protecting The Satellite Spectrum
As the pre-commit campaigns continue on the new satellites, and determine customers' future distribution needs, Intelsat is also leading technical initiatives to protect the
fixed satellite services
(
FSS
) spectrum. Continued vigilance is necessary to protect FSS spectrum from encroachment by competing technologies. C-band spectrum is vital for video, voice and data transmission services. The use of satellite spectrum by competing technologies can result in interference that would interrupt program broadcasts and critical network services for governments and corporations.
Intelsat customers continue to state that
Radio Frequency Interference
(
RFI
) is the single most important service issue relative to the use of satellite services. By reducing instances of interference, customers can protect revenue and avoid costly service outages. In working with customers to reduce the causes of interference, a shared objective is to maintain the quality and reliability of satellite communications.
Proper installation and operations of ground VSAT and satellite news gathering (SNG) systems is paramount to reducing the occurrences of interference and achieving these objectives. That is why Intelsat is providing free training opportunities for its customers through the
Intelsat Interference Management Initiative
(
I3
).
Last year, Intelsat purchased an online coursework series from the
Global VSAT Forum
(
GVF
) and
BeaconSeek
programs. Training is offered, on a complimentary basis, to customers. The goal is to have 1,200 customers complete the course over the next three years. Many customers have taken advantage of this offer and, since completing their online training, are applying the lessons learned and encouraging others to take advantage of this opportunity.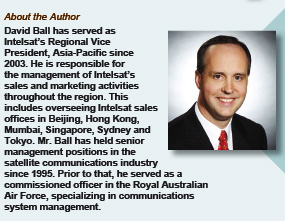 Future Holds Promise
The Asia-Pacific region holds tremendous promise for Intelsat and all other major satellite operators. Satellite's critical role in ensuring business productivity and media growth has never been stronger. Expect mobile applications to continue to see dynamic growth over the coming years. Mobility will include delivering content and network services to aircraft, trains, ships, and automobiles. Military communications and maritime services are business sectors where satellite technology will continue to be an integral component of the transmission chain. Mobile backhaul also will continue to be a key service area for satellite — complementing cellular and wireless networks as they expand their grid to include larger coverage areas.