by Mark Dankberg
CEO and Chairman, ViaSat Inc.
The first time the "radical" concept of a 100 Gbps satellite was introduced was four years ago, at Satellite 2004 with a frank presentation explaining why business as usual in satellite broadband wouldn't work. Continuing with that topic, if we spent time trying to sell what we had, rather than discerning what customers would buy, we were looking at a declining market, rather than an opportunity for growth.
These new ideas conflicted with the traditional view that low cost terminals exclusively were the driver that would enable satellites to compete more effectively,. The new message stressed that the industry should shift its focus to producing low cost bandwidth. In addition, the 100 Gbps satellite would radically change our ability to compete with a satellite that wouldn't require any fantastic technology stretch. As the CEO of a ground systems' company, and in a room full of satellite operators, the new declaration was pretty risky.
No End in Sight for Bandwidth Demand Growth
However, the past four years have done nothing but validate that message. This was witnessed with the exploding demand for more bandwidth to interconnect a growing array of clever electronic communication and entertainment devices.
Another key trend is that subscriber expectations for the Internet, for broadband, and therefore for satellite broadband, are much different now than they were just two or three years ago—even compared to when current Ka-band services were designed and launched.
The chart below shows clearly how much consumer use of the Internet has changed – and its anticipated growth. The data was generated by Cisco in its
"Global IP Traffic Forecast and Methodology, 2006-2011
".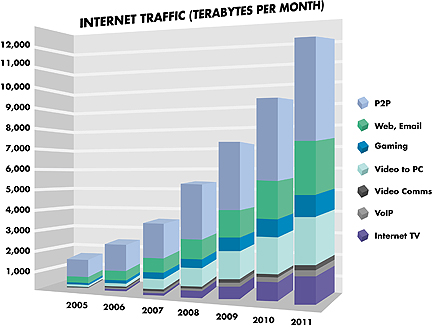 In 2005 there were basically two classes of traffic; web browsing/e-mail/file transfer and peer-to-peer. Peer-to-peer growth is still a major factor, but new categories are driving Internet traffic growth even faster.
The other class includes video communications, video to PC, and gaming. Those combined, increased by a factor of eight from 2005 until now, have overtaken browsing and email.
Note that the chart measures the volume of traffic over the Internet in millions of terabytes per month.
If you divide that by the number of global users, you can measure Internet usage in gigabytes/subscriber/month, which is not the same as speed.
It is a measure of how many subscribers share access to bandwidth, or in satellite terms, how many users are put on a transponder, a spot beam, or a satellite.
If usage doubles, and you don't provide clients more bandwidth, the result is congestion, slow service, or simply denying access (fair access policies) to bandwidth intensive applications.
Current Satellite Systems Can't Meet Bandwidth Needs
Unfortunately, satellite has not been able to meet this rising bandwidth demand. Satellite broadband growth patterns, in the past three years dramatically revealed a sharp spike in subscriber uptake each time new broadband satellite capacity was brought to market.
Then within months, capacity was sold out in key geographic areas, and subscriber growth flattened out again.
Also, current satellite systems aren't designed for high bandwidth applications such as video, photo sharing, VoIP, and peer-to-peer networking. It's not just speed that customers want, but more bandwidth.
This is a big problem for our industry when YouTube, Slingbox, iTunes, Nightfalls, streaming live events, and other services are some of the biggest attractions on the web. Distributors in the U.S., Europe and every developed country identify abundant bandwidth as one of the most critical measures related to customer satisfaction.
The solution is to increase capacity per satellite, and give people more bandwidth at the same price. By putting additional, less expensive cheaper bits in space, we can propel satellite broadband to provide service quality on a par with DSL and cable.
The 100 Gbps Satellite is Becoming Reality
Now four years after introducing the "crazy" idea of a 100 GBPS satellite, its design and development has begun. This initiative can transform satellite broadband by providing more capacity than all current North American satellites combined, and ten times the throughput of any other Ka-band satellite.
And the design of the satellite can deliver that capacity at a small fraction of the in-orbit costs for even the newest satellites in space.
Close to two million subscribers in the U.S. and Canada will comfortably fit on this new satellite, with unparalleled speeds and service quality.
The gains in terms of service levels indicate the median DSL speed in the U.S. is 768 kbps, and median cable speed is much faster, at about 4.5 Mbps.
Current satellite speeds are mostly below the median for DSL and premium satellite plans barely match it. All are well below the median for cable.
This new satellite will enable distributors to establish the price of basic service at 2 Mbps compared to the current 512 kbps, thus raising satellite to about the 80th percentile of DSL.
Premium plans would easily surpass the best DSL service, and put satellite broadband well above the current median for cable.
This 10X leap forward in satellite capacity can re-shape what the world's perception is of broadband by satellite. Demand is proven, and we've learned satellite broadband is not just for people who live in outlying or unserved areas. Millions of underserved households, in more heavily populated areas, are also our target now.
Consumer satellite broadband service providers may never have considered metro Los Angeles to be a market. However, there are hundreds of thousands of customers there who may respond favorably to a satellite service with the pricing and high bandwidth capacity that provides them the great online experience they desire.
Responding to The Changing Market
By responding to the irresistible communication market forces, our industry can offer far more options than we ever thought possible. Additionally, we believe the same combination of cheap bits and better service will appeal just as much to defense, mobility (aviation, trains, ground), and enterprise VSAT customers.
Indications are that the satellite industry has the will, and the insight, to transform itself right along with the changing information technology environment around us.
About the author
Mr. Dankberg cofounded ViaSat Inc. in 1986 and is the CEO and Chairman, having led the company to become one of the fastest growing high-tech companies in the world. He has held the position of Chairman of the Board and Chief Executive Officer since inception. Before its initial public offering in 1996, ViaSat was named three times to the Inc. 500 list of fastest growing privately held companies. Since then, the company's continuing superior performance has earned it recognition on the BusinessWeek "100 Best Small Corporations," the "200 Best Small Companies in America" by Forbes, the Business 2.0 list of "100 Fastest Growing Technology Companies", and Red Herring magazine's "Small Cap 100". In 2000 Mr. Dankberg was named Ernst & Young "Entrepreneur of the Year" in San Diego.