SSPI's 2018 Better Satellite World Award bestowed upon Kacific
Kacific founder and CEO, Christian Patouraux, has accepted the 2018 Better Satellite World Award at a ceremony in London in recognition of the company's work bringing affordable connectivity via next-generation satellites to the people of South East Asia and the Pacific.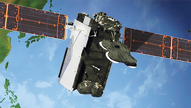 Bestowed by the Space & Satellite Professionals International (SSPI), the award honors companies who use satellite systems to make the world a more prosperous, healthier, better-educated, sustainable and inclusive home for humankind.
Once launched in 2019, Kacific's first satellite, Kacific1, will help connect more hospitals, clinics, schools, libraries, post offices, police stations and many other public institutions in rural areas where terrestrial broadband infrastructure is not an option or not economical.
The satellite beams will cover previously isolated or underserved regions of South Asia, South East Asia, Melanesia, Micronesia and Polynesia, providing a channel for connectivity.
---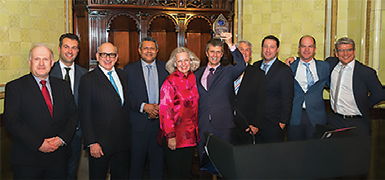 The Kacific team celebrate their Better Satellite World award.
---
Christian Patouraux said that when he started Kacific, he wasn't interested in following the status quo. By serving only narrow, lucrative telecoms segments, the status quo was leaving many populations behind and increasing the digital divide. Kacific didn't re-invent the wheel, but the company's team took advantage of innovative new space technology and operated a lean organization to match the cost expectations of emerging markets.
Patouraux continued that the flagship project in this proof-of-concept service connects the Vanuatu Interisland Telemedicine and Learning Network.
He noted that the Network has already saved the lives of a number of people in emergency situations, because of the speed with which outer island health clinics can contact the main hospitals and specialist doctors. So, the company knows that Kacific1 will make a tangible difference to people's lives.
The company CEO added this service is just one of several community-based projects the firm is currently operating in the Asia-Pacific region.
He concluded his remarks by stating the company is honored to receive this award ahead of 2019, when the services of our next-generation satellite commence.
---
Spaceflight's 64 smallsat launch meets with success
Most will never know all that is necessary to plan a launch, and then add to that the challenge of managing and being responsible for the launch of 64 satellites, a record breaking event to be sure, but that's exactly what Spaceflight did.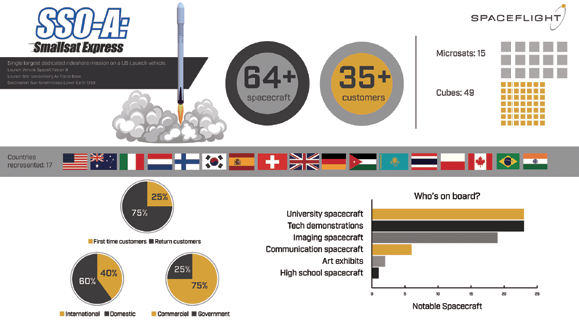 Spaceflight, the leading rideshare and mission management provider, is enjoying the success of their SSO-A: SmallSat Express mission, the largest single rideshare mission from a U.S.-based launch vehicle to date.
The company successfully launched 64 spacecraft to Sun-Synchronous Low Earth Orbit via a SpaceX Falcon 9 that launched from Vandenberg Air Force Base on December 3, 2018.
"This was an incredibly complex mission, and I'm extremely proud of what our talented team at Spaceflight has achieved," said Curt Blake, President of Spaceflight. "SSO-A is a major milestone for Spaceflight and the industry. We've always been committed to making space more accessible through rideshare. This mission enabled 34 organizations from 17 different countries to place spacecraft on orbit. It's also special because it was completely dedicated to smallsats."
Spaceflight launched 15 microsats and 49 cubesats from government and commercial entities that included universities, startups, and even a middle school. The smallsat payloads varied, from technology demonstrations and imaging satellites to educational research endeavors.
One research payload includes the University of North Carolina Wilmington's smallsat, SeaHawk-1, carrying the HawkEye Ocean Color Imager. UNCW has been funded by the Gordon and Betty Moore Foundation, and NASA serves in an advisory capacity to ensure the maximum scientific utility of the science data.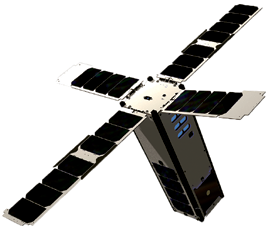 Artistic rendition of UNCW's SeaHawk-1 smallsat.
NASA's Science Mission Directorate and UNCW have created a partnership to expand accessibility to the data.
"We are thrilled to have SeaHawk-1 on orbit and to be part of such a historic launch superbly executed by Spaceflight," said Professor John Morrison, SeaHawk's co-project manager and lead principal investigator. "SeaHawk will make ocean observations at significantly higher spatial resolution and at much lower costs than standard satellite systems. Since the data collected will be publicly available, our hope is that it will benefit not only researchers, but policymakers and others to make informed decisions when addressing issues related to the environment."
To accommodate the large number of payloads, Spaceflight built an integrated payload stack that was nearly 20 feet tall. Once the launch vehicle reached orbit, the upper and lower free flyers separated from the vehicle.
The free flyers then successfully deployed all spacecraft, dispensing one payload every five minutes over five hours.
"This launch was an impressive undertaking and an important milestone for the smallsat industry as well as for many of the organizations involved," said Payam Banazadeh, founder and CEO of Capella Space Corporation. "Capella's first satellite is now on orbit and we are one step closer to our goal of providing timely, reliable, and frequent information using Synthetic Aperture Radar technology."
With the success of SSO-A, Spaceflight has now launched more than 210 satellites since the firm's founding in 2011.
In addition, the company is contracted to launch nearly 100 satellites during 2019.
Among the upcoming launches is Spaceflight's next dedicated rideshare mission, which will occur in 2019 aboard a Rocket Lab Electron rocket.
---
Kepler's on the CASE with their second smallsat launch via the ISRO's PSLV-C43 rocket
Kepler Communications successfully launched their second, wideband satellite to LEO on the Indian Space Research Organization (ISRO) Indian Polar Satellite Launch Vehicle (PSLV) C43 mission that lifted off from the Satish Dhawan Space Centre in Sriharikota, India.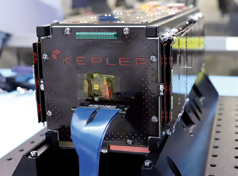 Photo of the CASE smallsat. Photo is courtesy of
Kepler Communications.
Lift-off of PSLV-C43 — HysIS Launch, with Kepler's CASE smallsat aboard.
Kepler's latest satellite within the company's network will be used to deliver service to early customers.
The first satellite was launched in January 2018. Both satellites carry a Ku-band payload onboard that is used for wideband connectivity.
The third satellite will launch in 2019 and will provide narrowband connectivity for the Internet of Things (IoT) devices.
The lessons learned from almost a year of operating the first satellite were incorporated into the development of the second to improve the reliability. Kepler has already demonstrated a capability to deliver upwards of 40 Mbps to 60 cm. diameter VSAT and more than 300 Mbps to Kepler's 3.4m gateway in Inuvik, Canada.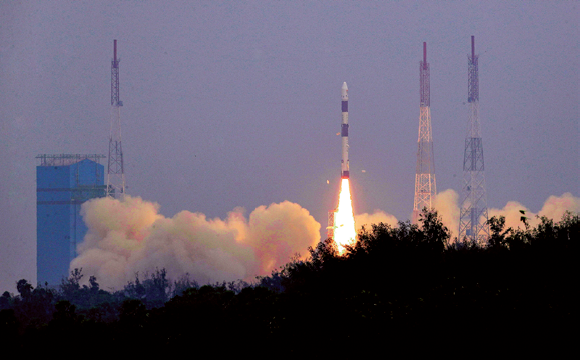 Kepler also became the first company to use a wideband LEO satellite to acquire, track, and communicate with an electronically-steered antenna when Kepler and Phasor performed their collaborative demonstration.
As Kepler builds out the capabilities on their satellite infrastructure, the company is also adding capacity on their ground segment.
In addition to their gateway deployed in Inuvik, Canada, Kepler has also recently deployed ground stations on Svalbard and in New Zealand.
As new ground stations and gateways are added, Kepler is able to increase the reliability of their communication service and decrease the latency of customer data delivery.
CASE was built in collaboration with ÅAC Clyde and Bright Ascension Ltd. The satellite payload is Kepler's proprietary software defined radio and antenna that uses Enclustra and AHA (of Comtech EF) components.
The Kepler ground support network was built in collaboration with Comtech EF Data, Kongsberg Satellite Services and Innovative Solutions in Space.
The satellite was launched by Antrix Corporation Ltd., a wholly owned Government of India company, with the support of ISED, Canada for licensing.
Kepler's ultimate goal is to deliver in-space connectivity to address the data need from space faring assets, and support the future space economy. However, Kepler's network currently focuses on delivering wideband and narrowband connectivity.
With this launch on the back of receiving FCC market access authorization and the announcement of Kepler's 16M USD Series A round of financing, the company is well poised to take a leadership role in
LEO communications.
Mina Mitry, CEO of Kepler, said this is an exciting month for Kepler. Following the company's recent FCC approval, the successful launch of the firm's next satellite marks an important milestone for the team to deliver Kepler's network on schedule. This is but the start of an upcoming and regular launch cadence. The company continues to increase network capacity and deliver a more persistent, reliable, service to our customers every step a long the way.
www.kepler.space
---
SSTL's KazSTSAT EO smallsat gains orbit
Surrey Satellite Technology Ltd. (SSTL) has launched their KazSTSAT, a small Earth Observation (EO) satellite jointly developed by SSTL and JV Ghalam LLP, a joint venture between JSC "National Company Kazakhstan Garysh Sapary" (KGS) and Airbus Defence and Space.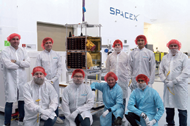 KazSTSAT with Ghalam-SSTL launch
team. Photo is courtesy of Spaceflight.
The satellite was launched into a 575 km. Sun-Synchronous Oorbit on board a SpaceX Falcon 9 from Vandenberg Air Base on December 3, 2018.
Sarah Parker, Managing Director of SSTL said "I am pleased to confirm that following separation from the launch vehicle a joint commissioning team here in Guildford have successfully made contact with KazSTSAT and established that all initial systems checks are nominal. I would like to congratulate our customer Ghalam on their new Earth Observation satellite and look forward to seeing the first mission results from the spacecraft soon."
"It is a great event for us, this is the first mission in which the Ghalam team participated rather than being involved in its design, assembly and testing, and which also has a number of Kazakh technologies on board. We are very pleased with our partnership with SSTL and are grateful to our British partners for invaluable experience our team got in a truly collaborative environment," said Ghalam CEO, Aibergen Ruslanuly.

KazSTSAT during assembly at SSTL.
Photo is courtesy of SSTL.
KazSTSAT has a mass of 105kg and will acquire image data at 18.7 m GSD with a swath width of 275 km. The spacecraft carries several experimental and demonstration units, including a beyond diffraction limit imager, a sun sensor, and a novel OBCARM. KazSTSAT will be operated by Ghalam, using a fully virtualized ground segment with S/X-band software defined back-ends deployed at KSAT ground stations in Svalbard and a technology demonstration ground station in Astana.
KazSTSAT is the second satellite SSTL has worked on with Kazakhstan; KazEOSat-2, a medium resolution satellite designed and manufactured by SSTL for KGS, was launched in 2014.
---
Student built ESEO smallsat attains space
The European Student Earth Orbiter satellite (ESEO), which contains a vital payload designed and built by students from the University of Surrey, was launched into space on Monday, December 3, 2018 by the SpaceX Falcon 9 rocket from Vandenberg Air Force Base in California, USA, as one of Spaceflight's SSO-A mission payloads.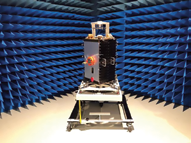 The ESEO satellite in the anechoic
chamber at the ESTEC test facilities,
in the Netherlands. Image is courtesy
of AMSAT-UK.
ESEO is part of a European Space Agency project that aims to prepare the European space workforce of tomorrow — with University of Surrey students getting the kind of hands-on, real life space engineering experience — through access to the Surrey Space Centre — that students elsewhere simply cannot receive.
The radio and computing payload was designed and built by undergraduate and postgraduate students at the Surrey Space Centre and was achieved without central ESA funding.
The joint Surrey and AMSAT-UK payload transmits key information to the ground — such as vital power, temperature and speed — and is designed to use very low energy, allowing it to remain in a permanently on state. This allows members of the public to track the satellite with low tech equipment such as a direct amateur radio connection to the satellite's internal data.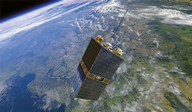 This mission is already part of history as it was the first time a rocket, the Space X Falcon 9, has been used on three launch missions.
Dr. Chris Bridges, project lead and Senior Lecturer in On-Board Data Handling at the University of Surrey, said that at the Surrey Space Centre, all are accustomed to building and launching small satellites that have been engineered by seasoned experts and professionals. This project is unique as it has been achieved on a shoe string budget and completely led by students. This is the culmination of several final year students working to create something that will be flown in space. Students simply don't get this type of experience elsewhere — here at the University of Surrey, their skills are honed on real industrial missions.
---
RUAG Space has just passed a review for a very large part of what will become the Payload Fairing tor ULA's Atlas V-500 at their factory in the U.S. furthering the company's focus on market growth in the U.S. This is the company's first piece of hardware that has been constructed in the U.S. The process involved many participants, and understandably, it is critical to pass every test to ensure safe transport into space.
A Manufacturing Readiness Review (MRR) is a formal examination of a program to determine if the design is ready for production and if the producer has accomplished adequate production planning. MRR topics presented included infrastructure, quality, safety, and all related aspects.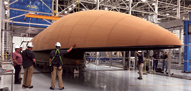 The MRR was conducted from November 6-8 in RUAG's facility in Decatur — which is a part of ULA's rocket factory — and approval of readiness to perform the bonding processes of the first U.S.-made United Launch Alliance (ULA) Atlas V-500 payload fairing. Participants included ULA, the U.S. Air Force, NASA, the Aerospace Corporation and RUAG Space were all in attendance.
Mike Morningstar, President and Country Manager for RUAG Space USA, Inc. said that this milestone emphasized his company's commitment and focus on market growth within the United States.
RUAG Space in Decatur began production of Payload Fairing flight hardware on November 26. Previous production deliveries from this facility were 5, 400-ISAs (Interstage Adapters for the 400 series of the Atlas V) built partially in Switzerland and the U.S., which were all successfully delivered on time.
The second half of the MRR process will occur tentatively in mid-February, 2019. The first full payload fairing is set to be complete in the fourth quarter of 2019, to support a launch in 2020.
The RUAG Space Atlas V-500 fairing is made with composite technology based on aluminum honeycomb cores with carbon fiber reinforced plastic face sheets. It uses a state-of-the-art process — called Out-of-Autoclave — that cures the structure in one piece in an industrial oven. A demonstration test fairing was completed through the bonding processes earlier this year. The demonstration test fairing went through the complicated production process seamlessly, leveraging the latest automation technology, and went through significant testing and inspection.
RUAG Space payload fairings come in flexible measurements to fit the respective launcher. For an Atlas V-500, the fairings have a diameter of 5.4 meters (17.72 feet) and have a height of up to 26.5 meters (87 feet). Payload fairings are designed to protect the launcher's payload on its way into orbit, from outside temperature and pressure during the launch.
RUAG Space has been supplying Atlas V-500 fairings, built in Switzerland, to ULA for more than a decade.
---