With the ever-increasing demand for fast, uninterrupted coverage and connectivity worldwide, this is an exciting time to be active in the satellite broadband market.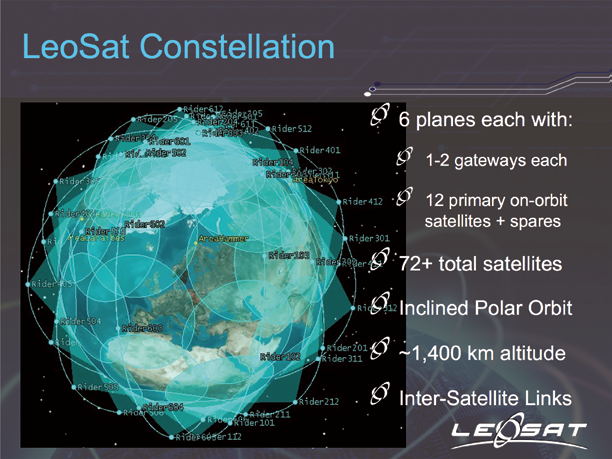 In particular, technological and economical improvements in recent months have led to the rise of Low Earth Orbit (LEO) satellite constellations. The big names are all vying for a piece of this lucrative market. As demand for data transport and products continues to increase, and the size and cost of satellites continues to fall, now is the correct time for a unified LEO broadband network that spans all corners of the globe.
I joined LeoSat to deliver on this promise of global connectivity and to advance the future of non-geosynchronous orbit (NGSO) satellite broadband systems. Founded by former Schlumberger executives Cliff Anders and Phil Marlar, LeoSat is focused on developing a LEO constellation that will provide extremely high-speed, low-latency, cost-effective broadband coverage anywhere on the planet.
The company is harnessing the latest advances in satellite communication technologies for this constellation as well as for our mobile, fixed and portable ground-segment equipment and services, with the vision of providing the most reliable solution with the highest capacity. However, LeoSat isn't just another initiative to bring Internet to the masses. The company is focused on the top 3,000—not the three billion unconnected—uniquely and deliberately aimed at addressing the unmet, critical need for fast coverage specifically within the business and government markets.
What sets LeoSat apart is an incredibly advanced system for high-end users to solve essential communications issues in key markets such as maritime, mobility, oil & gas exploration and production, enterprise VSAT and telecom backhaul and trunking of all types. As an alternate to the Internet, LeoSat will provide the fastest network for global data transfer by launching 80 to 120 high-powered Ka-band satellites into LEO.
In line with this focus on businesses and governments, a key component is that LeoSat's network will be highly secure to meet the sensitive needs of these markets. Acting as a connected, continuous, "fiber in the sky," LeoSat will provide a global, private data network with autonomous routing of secure traffic.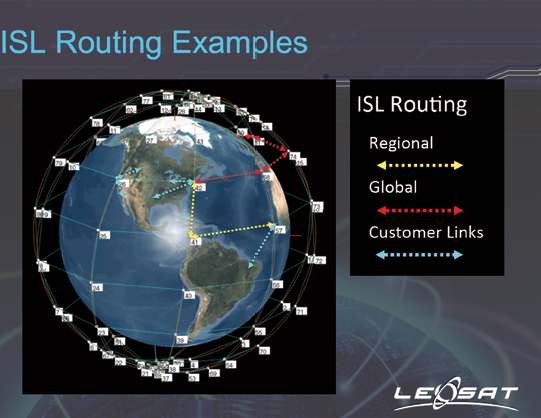 This system will offer point-to-point data connections to and from anywhere worldwide, all without the need for interstitial terrestrial landings or transport. The data will be able to travel in its native form, but is encrypted and secure from end-to-end.
In this way, the system is perfectly suited for large corporations, communications service providers, or governments that need to move huge, sensitive amounts of data around the world at very high-speed. LeoSat satellites will be able to provide 4G backhaul while seamlessly complying with LTE switching protocol standards, and the terminals will receive and forward data to multiple satellites to hasten delivery. LeoSat is considering the use of optical inter-satellite links (ISLs) to maximize capacity and minimize system-wide latency.
LeoSat's low-orbiting constellation of High Throughput Satellites (HTS) will provide high-speed data transfers across the constellation using RF or optical ISLs. Compared to "fixed" geosynchronous communications satellites, low-orbiting satellites enjoy dramatically reduced latency.
LeoSat's system is expected to provide 1.2 gigabytes of synchronous connections worldwide for business and government customers. Thanks to the constellations extremely low latency, even time-sensitive applications, such as voice services, become feasible.
Many other factors differentiate LeoSat from other mega constellations announced by major players such as Google, OneWeb and SpaceX. Generally aimed at providing connectivity to the consumer level, these constellations are comprised of hundreds to thousands of small satellites— they have relatively low onboard power with the resultant capacity constraints. In contrast, LeoSat's extremely high-capacity constellation will alleviate the most difficult communications issues for organizations that cannot be solved by the new LEO or legacy geosynchronous systems. LeoSat is complementary to existing fixed satellite service (FSS) operators by offering new services that start where the legacy FSS services end in terms of capacity, latency and coverage.
Other key differentiators of LeoSat's constellation include low-delay, multiple satellite redundancy, extremely high-speed ISLs, and interconnected satellites with intelligent routing. These satellites will use a patent-pending integrated network linked via our ISLs to transport client data transmissions worldwide.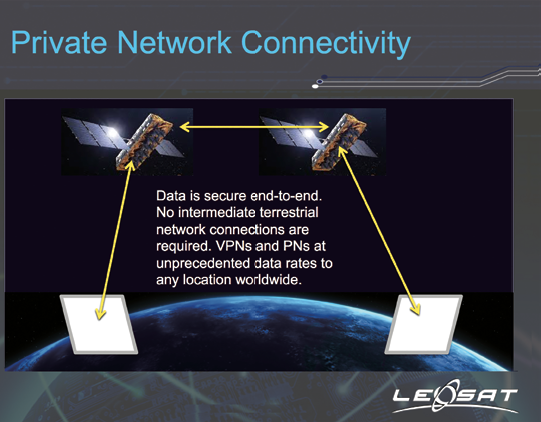 LeoSat will also implement a new generation of client Earth stations that use electronic beam steering, have no moving parts, are self-initializing, and which can simultaneously handle multiple beams. Incorporating all of these qualities, LeoSat will stand alone as the ultimate complementary satellite system to the existing satellite and terrestrial service providers.
To date, the company has achieved significant milestones at a relatively early-stage and the satellite platform concept is proving to be well received by the technical community and the market. LeoSat has been developing the network architecture, spectrum planning and satellite payload, all in conjunction with many leading aerospace contractors and equipment manufacturers.
This progress has created a solid foundation for building out global operators and market reach in the coming months—some extremely significant industry alignments and service delivery partnerships will be announced shortly. Contracts for satellite development should be initiated within a year.
Recently, LeoSat retained Axiom Capital Management to coordinate an initial Series A round of financing to see the firm through our preliminary design phase, with work on a much larger Series B round expected in Q3 to support the initial satellite supply contract. Through these strategic objectives, the focus is on reaching the next phase of our development and building LeoSat into a world-class organization.
Not long ago, successfully deploying a large-scale LEO satellite constellation would have seemed out of reach. Back in the 1990s, companies such as Teledesic failed to launch massive spacecraft constellations, resulting in waning hopes for the future feasibility of such systems. However, the industry has reached a tipping point in recent years, where advancements in materials science and electronics, unique LEO manufacturing methods and improved economics have made this type of constellation not only possible, but an imminent reality.
The key ingredient here is the emergence of low-cost, electronic beam-forming antennas, such as those Phasor Solutions and Kymeta are developing that enable tracking and signal hand-off with no moving parts. Combine this technology with developments in interlinking satellites and ground segments, new business opportunities and growing demand for fast data transport, and a new wave of lucrative market growth and technological development is nigh.
With a highly efficient, easily deployable, cost-effective and secure LEO constellation, LeoSat's "fiber in the sky" is well positioned to forge this next phase and bring fast, unlimited broadband connectivity for the world's most data-intensive and mission-critical markets.
www.leosat.com
Vern Fotheringham, chairman and CEO of LeoSat, has been a serial entrepreneur in the broadband wireless and satellite communications industry for more than 30 years. He has created and built numerous successful ventures and contributed to large-scale projects for major service providers, system vendors and software solution suppliers. He has also been a public policy and regulatory advocate for new telecommunications' service rules and standards, and an inventor and creator of now globally adopted standards and innovative new products and services. Contact the author at vern.f@leosat.com.
---