Europe is suffering a massive amount of deliberate satellite jamming—most is coming from the Middle East and, mainly, affects ArabSat and NileSat. However, the deliberate jamming is also adversely affecting Paris-based Eutelsat.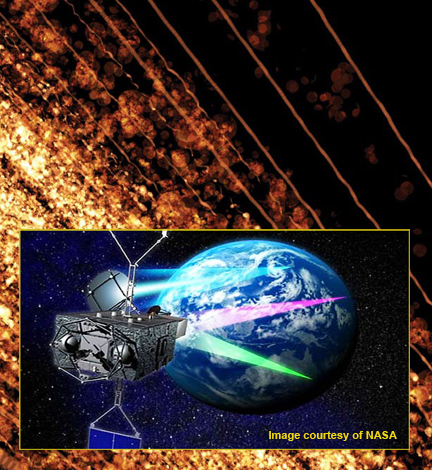 The problems came to a head, at least as far as Eutelsat and Intelsat were concerned, in October when Eutelsat stopped carrying channels from Iranian state broadcaster IRIB (Islamic Republic of Iran Broadcasting). The UK-based services provider holds the contract, which has now terminated the IRIB contract. Some 19 TV and radio channels are affected, mostly transmitting from Eutelsat's popular Hot Bird satellites.
French media regulator, the Conseil Superieur de l'Audiovisuel (CSA) started the ball rolling and confirmed that the Iranian channels had violated various human rights in its transmissions. Earlier this year, the EU placed the head of IRIB,
Ezzatollah Zarghami
, on a list of people 'sanctioned' again due to human rights violation terms. Eutelsat says it is duty bound to obey the CSA.
The EU followed by approving tough new sanctions on Iran covering financial transactions, trade, energy and shipping. "We terminated the contracts because it was the order of the European Commission. We have to follow it,"
Karen Badalov
, area manager at Eutelsat told
Press TV
, an Iranian-financed English-language channel that's also been banned by some European countries for its highly controversial on-air statements and comments.
Iran TV also initiated a
Facebook
petition to 'save' the channels over Europe, although some of its statements border on the absurd.
For example,
Press TV
in a statement described the move as hypocritical."Never was there freedom of expression in the U.S. or EU, only selective loose talk that is branded as Freedom of Expression."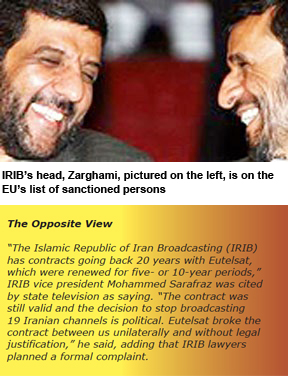 Another wholly ridiculous posting, part of the non-stop flow of rhetoric from Tehran, described Eutelsat as "actually Israeli" and that the "French sounding 'Michel de Rosen' who runs Eutelsat is an Israeli citizen, and the company has Israeli stockholders, that the company has long been dictated to by extremist groups within Israel, such as the militant ultra-nationalists of the Likudist regime of Netanyahu."
Syria also climbed onto the anti-Eutelsat bandwagon. Its Journalists Union has condemned the action, stressing that the decision constitutes a violation of the UN Charter and the rights of people to express themselves. On October 19th, Press TV started an on-line petition to generate comments on the ban.
All in all, tensions have been raised and those who actually suffer are usually the innocent channels that share transponder space alongside the equally innocent (by 'Western' standards) 'jammed' channels. There have even been allegations—unproven—that some sophisticated jamming is coming from within Saudi Arabia. Eutelsat has used its diplomatic contacts to formally complain to the ITU and other regulatory bodies, but, seemingly, there's little that can formally be done to punish transgressors.
* * * * * * * * *
Deliberate Interference
The BBC revealed on October 18th that it was again experiencing interference to transmissions in Europe and the Middle East. Describing the actions by parties as yet unnamed as "deliberate," although "intermittent," the corporation says that it and a number of other broadcasters have experienced interference that has impacted services that include the BBC World News and BBC Arabic television channels as well as BBC World Service radio services in English and Arabic.
In a statement, the BBC said it, and other broadcasters, continue to suffer. "Deliberate interference such as the jamming of transmissions is a blatant violation of international regulations concerning the use of satellites and we strongly condemn any practice designed to disrupt audiences' free access to news and information."
The other broadcasters affected include Voice of America and Deutsche Welle.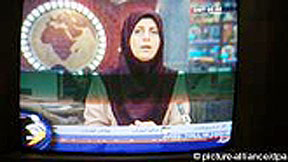 * * * * * * * * *
Closer To Home
Paris-based satellite operator Eutelsat is also involved in an increasingly bitter dispute with its arch-rival SES Astra, based in Luxembourg. The two satellite giants are arguing over 500MHz of satellite capacity at the hugely valuable 28.5 degree East position, which is used to beam hundreds of channels into the UK and Ireland. If Eutelsat loses the slot, it would also lose significant revenues. It is not clear, as of this writing, whether SES Astra has included potential revenues into its formal guidance to the market for anticipated earnings.
Eutelsat on October 16th filed a request for arbitration against SES with the Paris-based International Chamber of Commerce (ICC), arguing that SES Astra is in breach of an agreement signed with SES back in 1999 which coordinated the transmission of each party's signals from 28.2 degrees East (over which there is no dispute) and 28.5 degrees East. SES is obliged to recognise the ICC arbitration process as it was a built-in legal safeguard to the core 1999 agreement.
"Eutelsat's position is that the agreement between SES and Media Broadcast, signed seven years ago, and only disclosed by SES in its release of October 1, 2012, violates the terms agreed in the 1999 Intersystem Coordination Agreement, specifically SES's commitment to respect Eutelsat's operations at 28.5 degrees East," said Eutelsat in a statement.
Eutelsat also says that, while Media Broadcast (which is owned by French transmission company TDF Group) has the absolute right to end its contract with Eutelsat one year from now, it is not entitled to sell off the 500MHz of bandwidth included within the agreement.
SES fired back a robust—and highly detailed—statement that bluntly explained why the company believes they are on safe ground. In essence, SES claims they have acquired the disputed rights by means of a clear and above-board agreement with the company, which actually owns the license to use the frequencies. Moreover, they say the rights have the backing of the German regulator as well as the ITU. SES says it "strongly disagrees" with Eutelsat's position and will "vigorously defend" its rights.
The full statement says, "SES has been granted rights to use German Ku-band orbital frequencies at the 28.5 degrees E orbital position effective from October 4, 2013 onwards pursuant to a 2005 agreement with German media service provider, Media Broadcast ("MB") (as successor to T-Systems Business Services). MB holds a license for these frequencies issued by the Bundesnetzagentur, the German regulator, on the basis of German filings that have priority under the rules of the ITU.
SES continues, saying: "The agreement will give SES the right to use, on its fleet, 500MHz of bandwidth at this orbital position adjacent to SES's 28.2 degrees East in the frequency bands 11.45 – 11.70GHz and 12.50 – 12.75GHz in downlink and 14.00-14.50GHz in uplink. SES has procured and will launch and operate new satellites (ASTRA 2E and ASTRA 2G) at 28.2 degrees East/28.5 degrees East, along with the recently launched ASTRA 2F satellite, to replace SES's existing fleet at 28.2 degrees East and to provide new capacity. The new satellites in this neighbourhood will use the additional frequency spectrum as of October 2013 for DTH satellite television services in the UK and Ireland and for other services inside and outside of Europe."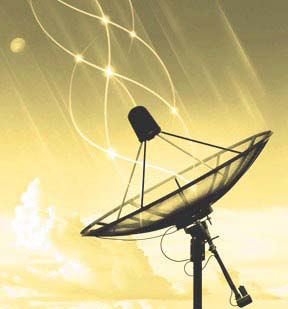 "Eutelsat," added SES, "is currently operating these frequencies on the Eurobird-1 satellite (also known as Eutelsat 28A) under a 1999 agreement with Deutsche Telekom AG ("DTAG"), the former license holder of these rights before it transferred its satellite activity to MB in 2002. Eutelsat has commenced arbitral proceedings against DTAG and MB in April 2011, claiming that it has the rights to use these frequencies beyond October 2013."
SES' statement concluded, saying: "Eutelsat also disputes the grant of right of use of these frequencies by MB to SES. SES strongly disagrees with Eutelsat's position and will vigorously defend its right to use these frequencies from October 4, 2013 on the basis, among other things, that Eutelsat's rights to these frequencies will expire on October 3, 2013, that nothing prevents SES from using these frequencies as of October 4, 2013 and that the filings pursuant to which MB's license for these frequencies was issued by the Bundesnetzagentur have priority under the rules of the ITU."
SES stresses it is launching new, powerful satellites to enhance coverage from 28.2/28.5, and bring these craft into use during 2013-2014, as well as the recently launched Astra 2F which will supply the new capacity.
Eutelsat already has an application before the Paris Arbitration Court, which it is asking to rule in its agreement with Media Broadcast. SES is not involved in this action.
It is also worth examining the damage this (potential) loss of 500MHz of satellite capacity and what it could represent to Eutelsat's revenues. The disputed 500MHz is about two-thirds of the satellite's capacity and equals about 30-transponder equivalents (some are 72MHz transponders), or around 300 standard-definition (SD) channel equivalents.
A recent report from bankers Credit Suisse talked about Eutelsat generating $3.54 million/year per transponder at its nearby 'Hot Bird' slot. However, revenues from the 28.5 position are said by interested parties to be much less than this, especially at Eutelsat's 'wholesale' rates to the likes of Arqiva and Globecast which sells on the capacity to end-user broadcasters.
Of course, the same sort of number could apply to SES if—and it isn't yet clear that they have—if they have built in these revenues into their own guidance for 2013-14 and beyond. With a results announcement in November, analysts will have to ask SES these questions for clarification.
However, while the satellite operators squabble over what is an extremely valuable piece of orbital real estate, and where there can be only one 'winner' (unless another compromise agreement emerges), it seems the actual broadcasters will not be unconvinced.
It seems they have been made aware of the problems and told that any switch from Satellite A to Satellite B will be seamless. Of course, the one group which will always make money out of these sorts of problems are the lawyers, and while arbitration might see an eventual resolution, such disputes are rarely solved overnight.
In other words, this problem could take some time to come to a solution. At the moment, it isn't clear what will happen come next October in terms of a practical solution for broadcasters.
* * * * * * * * *
The Spirit Of The Agreement?
The BBC revealed on October 18th that it was Eutelsat that was complaining that its 1999 'Intersystem Coordination' agreement with SES was 'open ended', which a joint press statement issued on June 8 1999, seemed to confirm. Your editor has tracked the debate and argument between the two operators closely for more than 13 years.
Here's a brief historical timetable:
1989 Eutelsat files to occupy the 29 degrees East slot with a pair of EuropeSat craft

January 1999 SES wins an ITU ruling in favour of SES at 28.2, thus rendering 29 deg E redundant

January 1999 Eutelsat appeals against the 29 deg East decision

June 7 1999 Both sign an 'Intersystem Coordination' agreement, but with conditions

2005 SES signs agreement with Media Broadcast, but keeps deal secret

2011 Reportedly, SES tells Eutelsat of its intentions

May 2011 Eutelsat asks for Arbitration with Paris Court, over Media Broadcast's rights

October 2012 Eutelsat calls for Int'l Chamber of Commerce to arbitrate on SES agreement

The veiled threat is that the 1999 agreement between SES and Eutelsat could now be seen to be ended—this could well lead to a much more complicated life for the two transmission giants ...
* * * * * * * * *

About the author
Senior Contributing Editor Chris Forrester is a well-known broadcasting journalist and industry consultant. He reports on all aspects of broadcasting with special emphasis on content, the business of television and emerging applications. He founded Rapid TV News and has edited Interspace and its successor Inside Satellite TV since 1996. He also files for Advanced-Television.com. In November 1998 he was appointed an Associate (professor) of the prestigious Adham Center for Television Journalism, part of the American University in Cairo (AUC), in recognition of his extensive coverage of the Arab media market.