SATCON 2013: Industry CEOs and future leaders set the course at SATCON where compelling content, industry-leading exhibitors, partners and satcom end-users connect.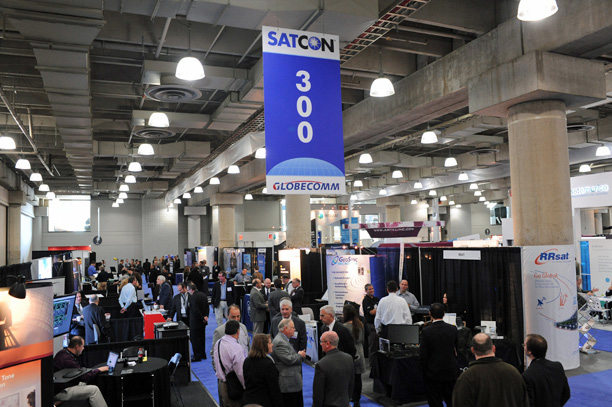 For the twelveth consecutive year, the satellite industry will be converging on New York City for the SATCON exhibition and conference that will occur on November 13th and 14th at the Jacob Javits Convention Center.
(www.satconexpo.com)
SATCON continues to offer an important gathering place each fall for satellite industry executives, their partners and many high powered end-user customers—this makes the event a "must attend" industry exhibition, conference and networking opportunity.
This year SATCON, combined with Content & Communications World (CCW), will feature a world-class program with 175 speakers, 50 sessions (25 of which are satellite focused) and more than 300 exhibitors in the combined two shows—some 6,000 people are expected to attend the trade show.
The SATCON conference program will cover a wide range of important topics related to satellite-enabled communications used by government and military, broadcast, media and entertainment, telecommunications, mobile satellite and enterprise firms. Thought leaders from DISA, DoD, the MSUA, SSPI, the WTA, Global VSAT Forum (GvF), the Hosted Payload Alliance, Intelsat, SES, Hughes, Inmarsat, ABC, CBS, CNN, Fox and others have contributed to this year's session topics and speaker selection for panel sessions and keynotes related to commercial and government SATCOM users.
Expert speakers, including end-users, industry experts and satellite industry executives, will provide SATCON attendees with strategies for managing their communications infrastructure including video, data, voice and Internet using satellite, fiber, mobile and wireless technologies.
New + Notable Events @ SATCON
According to SATCON Event Director, David Reynolds, some of the many notable features of this year's SATCON event include:
– The Industry Keynote session, entitled "Leadership Dialogue: Present Priorities, Future Visions, will feature Steve Collar, CEO, 03B Networks Ltd. and Pradman Kaul, President, Hughes Network Systems. These luminaries will be joined by the winners of SSPI's 2013 Promise Awards for a discussion concerning the most profound trends that are shaping technology, the global markets and business models over the coming decades, from HTS to launch vehicles, ubiquitous communications to in-orbit industries. The SATCON Industry keynote will be held at 9:00 a.m. on November 14th, the second day of the show.
– The winners of the 2013 Promise Awards will be recognized at the SSPI Future Leaders dinner, which will be held during the evening on November 12th. Since 2006, the Promise and Mentor Awards have honored men and women under 35 with the talent and motivation to advance into leadership positions in the satellite industry, as well as one executive recognized for mentorship of the next generation.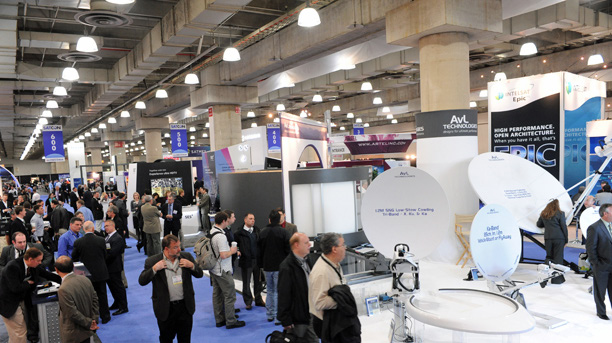 At the end of the first day of SATCON on November 13th Satellite Markets and Research will be hosting the second annual Vision Awards presentation and reception from 6:00 to 7:00 p.m. The Vision Awards will be presented to deserving individuals, companies and products in three categories: The Visionary Executive of the Year, Most Promising Company of the Year, and Most Innovative Product or Service of the Year. A key difference between the Vision Awards and other awards in the industry is that the Vision Award recognizes future promise and potential as well as visionary thinking and execution. All SATCON attendees are invited to attend the Vision Awards .
Separate registration is required to attend the Vision Awards reception and the SSPI Promise and Mentor Awards dinner.
Top Notch Conferences Sessions
"We have a full range of topics related to the industry, government and military markets, emerging markets, maritime, aeronautical, broadcasting, emergency response, hosted payloads, high throughout satellites and more. We offer very competitively-priced conference passes for vendors and complimentary conference passes for qualified end-users. The exhibit hall passes, which are free if you pre-register, include access to the keynote sessions and the vendor forums and workshops. Our informative sessions, industry-leading exhibitors and attractive attendee pricing make SATCON and CCW a great value for the attendees." said Reynolds.
The 2013 SATCON topics include:
– Fundamentals of Satellite Communications Systems, Part 1
– Fundamentals of Satellite Communications Systems Part 2
– Government Keynote
– Hosted Payloads Spawn New Paradigms on Affordability
– Pushing the Envelope: How are Satellite Communications Systems Keeping up with and Leveraging Moore's Law?
– Fighting Interference with Technology
– Disaster Response: The Evolving Role of Satellite Communications in Survivor-Centric Responses
– Platform Contractors' Perspectives on Future SATCOM Needs
– The Role of Satellite in Aeronautical Communications
– Next-Generation Content Distribution: Getting 4K to the Home (CCW Session)
– Will High Throughput Satellites (HTS) Re-invent Satellite Communications?
– Shifting Distribution Platforms
– Keynote: Leadership Dialogue: Present Priorities, Future Visions
– Industry Innovations to Compliment MilSatCom
– The Over-The-Top Viewing Environment: Where Do Satellites Fit In?
– Commercial SATCOM: The Importance of a Defined Role in the Future DoD Architecture
– Maritime Communications: Opportunities and Threats
– Emerging Markets: Satellites Fill the Gaps
– The Continuing Revolution in Next-Generation Newsgathering
"This year our conference team has created an interesting and compelling mixture of commercial and government sessions that will provide valuable insights into many of the most important satcom markets and technologies. On the exhibit floor attendees will see both the long-time, industry-leading, SATCON exhibitors as well as several new ones, so we encourage attendees to make plans to visit as many exhibitors as possible. SATCON and the co-located CCW event provide a comprehensive showcase of the latest satellite, terrestrial wireless, mobile and hybrid technologies for global communications, content delivery and distribution." Reynolds said in summary.
Attendee registration at SATCON is online at www.satconexpo.com.
SatNews readers, apply for your complimentary pass using VIP Code CCG52.
If you have any questions regarding this event, please contact the organizers of SATCON at info@jdevents.com.