M2M and IoT is exhibiting growth across the globe as more and more things are becoming automated, more devices are connecting to the internet and connected things are contributing a greater proportion than ever to increased economic output across a huge range of industries — from agriculture, to transport to energy, and many, many more.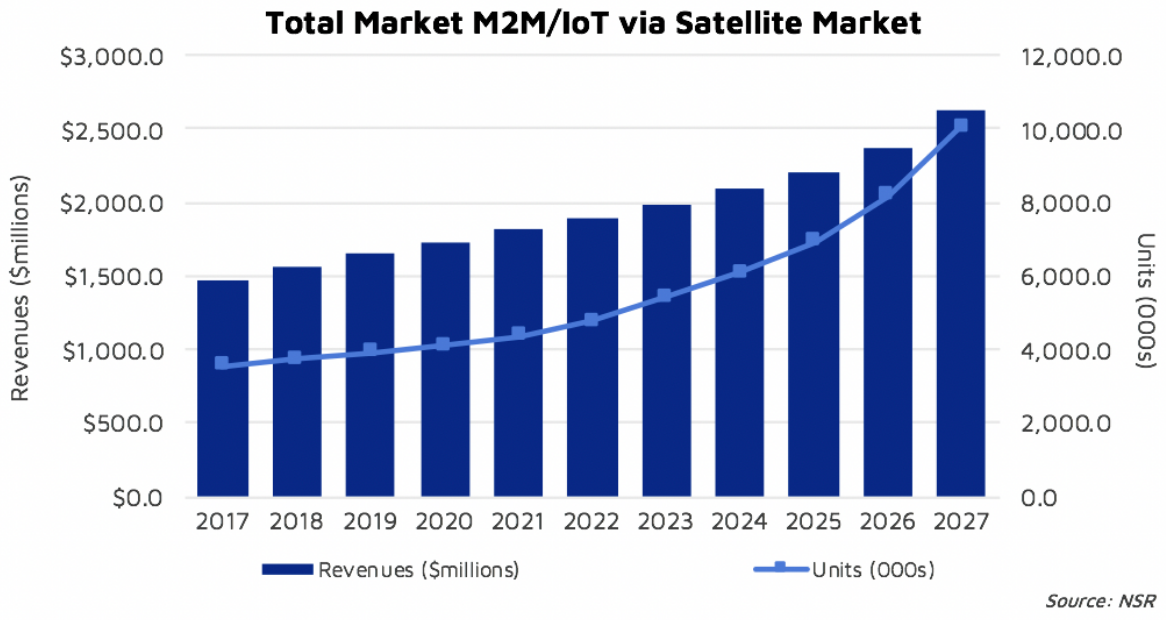 While ~99 percent of things are and will, in general, be connected via terrestrial means, there remains a small and valuable niche that satellite can serve. This M2M via IoT via satellite niche will derive a disproportionate share of revenues, given the high value verticals which satellite serves.
In NSR's recently publish report M2M and IoT via Satellite, 9th Edition, NSR expects more than 10 million in-service units by 2027. While traditional M2M operators exhibit strong growth, this technology surge will start to accelerate from 2022 as smallsat constellations designed for M2M and IoT are fully developed and will contribute to user demand. This growth is due, in part, to end-users becoming increasingly accustomed to always-on connectivity. Having 24 hours visibility into assets and things is the expectation with mandatory across industries.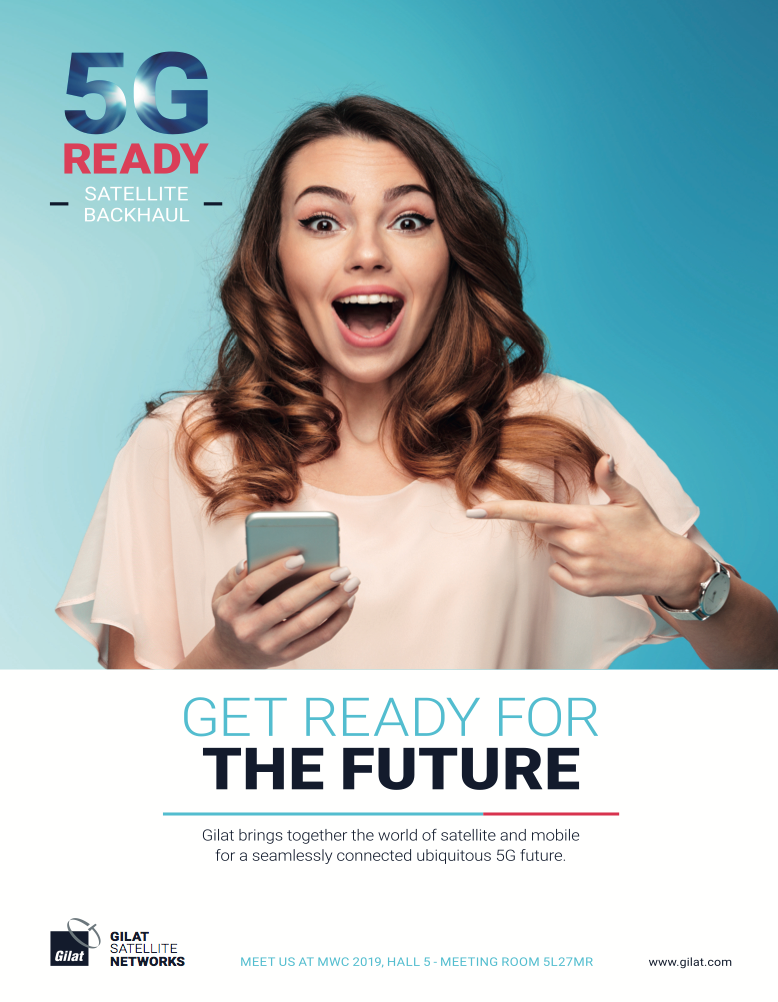 Agribusiness demands high resolution data on performance of crops and data optimization to increase yield through precision agriculture. Land vehicles, ships and aircraft demand a plethora of readings to investigate performance and to handle maintenance issues. Consequently, M2M and IoT are forming some of the strongest growth components of operators revenues in recent years. Iridium, for instance has seen a year-over-year increase of subscribers of 26 percent in Q3 2018, and Orbcomm has, likewise, witnessed a 21 percent subscriber increase in the year prior to Q2 2018. NSR expects this growth to continue over the coming decade, and even accelerate in the years after 2021.
Due to this growth, there are significant levels of investment at present and that funding is increasing their involvement in M2M and IoT. Companies such as Thinxtra have developed products that combine Low Power Wide Area networks with satellite being used for backhaul connectivity, which is an increasing trend in the agriculture space to connect livestock. For instance, Orbcomm has also partnered with John Deere for agriculture connectivity, and Iridium with Appareo. While there is incremental investment made in M2M and IoT made by the traditional M2M satellite operators, which include Orbcomm, Globalstar, Thuraya, Iridium and Inmarsat, there are two main new technologies that will shift the needle in favor of increasing investment in SATCOM M2M and IoT — smallsat constellations and 5G technologies.
Smallsats
Traditionally, M2M/IoT services have been offered on VSATs or via MSS services, such as Iridium and Inmarsat. These systems are highly reliable and are relied upon by millions for critical M2M demands, and have higher priced airtime and hardware costs to match.
A plethora of new smallsat constellations have been proposed to offer services to a portion of the billions of new internet connected devices over the coming years. Such proposed constellations are intending to offer prices from $1 per month to a few dollars per year, depending on the end-users data requirements — typically 1 data packet per day at these prices. Due to the significantly lower price offered by these services, new markets are expected to open up to satellite, such as life jackets with embedded satellite connectivity, or other traditionally unconnected objects.
NSR is tracking more than 15 smallsat constellations aiming to enter the market, including companies such as Fleet Space, Kepler Communications and Hiber. New terminal form factors will be developed to function with these new constellations for low cost (under $50) and system-on-a-chip systems for significantly less cost to integrate with a wide range of products, which will drive much more significant adoption (outside of those areas with terrestrial network coverage).
Because of the potentially huge addressable market, investments into smallsat constellations continue to be announced. In the past year, Myriota has raised $15 million, Astrocast $4 million and the aforementioned Kepler Communications $21 million, as well as many other firms. However, because of these significantly lower prices, millions of IoT devices will be required to turn a profit on each constellation.
NSR expects only 3.7 million connected devices to come online via smallsats over the coming decade and competition will be extremely fierce between the 15+ constellations on orbit for this purpose, with most companies either merging or never actually launching.
However, existing funding available for most IoT smallsat constellations will not be enough to support operations over the short term, with additional funding required to fully launch their spacecraft. Kepler Communications, for instance, estimates that its constellation will cost $50 million. This is more pronounced due to the extremely high latency during the early to mid-launch of the constellations (greater than 12 hours), which is a tough sell to end-users for most applications.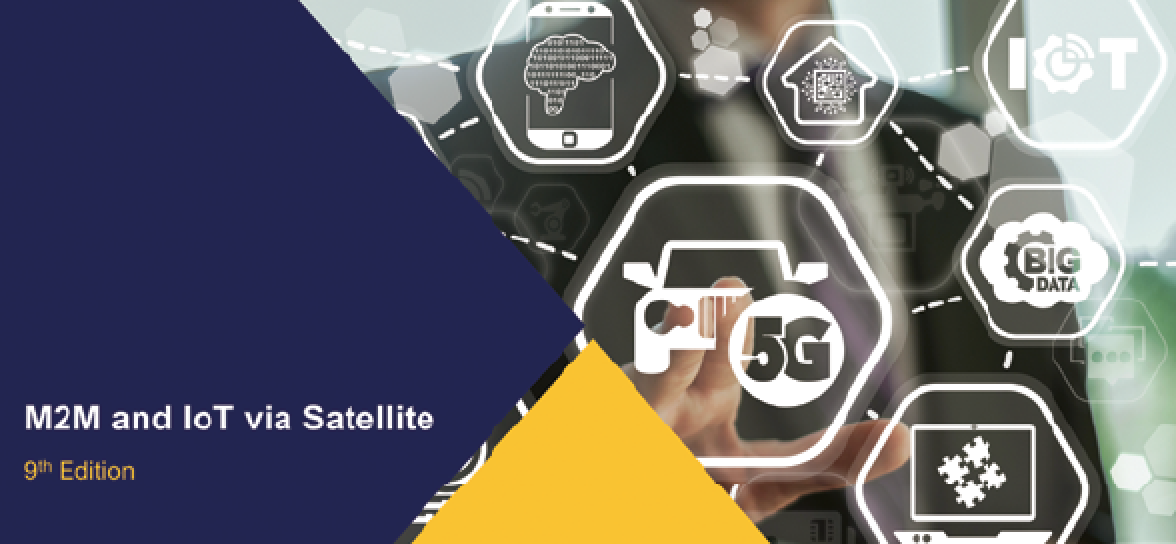 The number of satellites is key for launch CAPEX; Kepler Communications capital expenditure is higher compared to Hiber and Astrocast due to the greater number of satellites planned — this design and manufacturing costs will absorb the majority share of capital expenses, followed by the constellation launch costs.
5G
5G is often defined as a network of networks. One of the main targets of this transition is providing a uniform network involving many technologies, including satellite as a critical component. 5G network implementation is finally coming online after years of planning where in the U.S., for instance, all big four operators have started building out 5G networks and where Verizon has launched its own proprietary '5G' home Internet service.
The introduction of 5G will also spur development and growth potential within the satellite M2M/IoT ecosystem. While 5G has been traditionally seen as being a competitor in the terrestrial space, the technology opens up the opportunity for satellite to seamlessly integrate with ground networks. The consolidation of technologies will provide a way for satellite to be integrated from a platform operational perspective. This includes leveraging Network Functions Virtualization (NFV) and Software Defined Networking (SDN). With this simpler integration between terrestrial and satellite networks, new growth potentials for M2M/IoT will be provided, specifically in terms of backhauling IoT data from terrestrial networks. This is especially true for intermodal units and fleets.
Many further deployments are expected when the benefits of 5G connectivity for IoT devices become fully realized. Hispasat is already performing tests on the design of hybrid networks between satellite and 5G in Barcelona, Spain, where the aim is to validate satellite network ubiquity for extending the range of 5G services to areas with poor or no connectivity. The initiative could set the stage for widespread collaboration with M2M/IoT operators and systems integrators, significantly increasing satcom involvement in the process.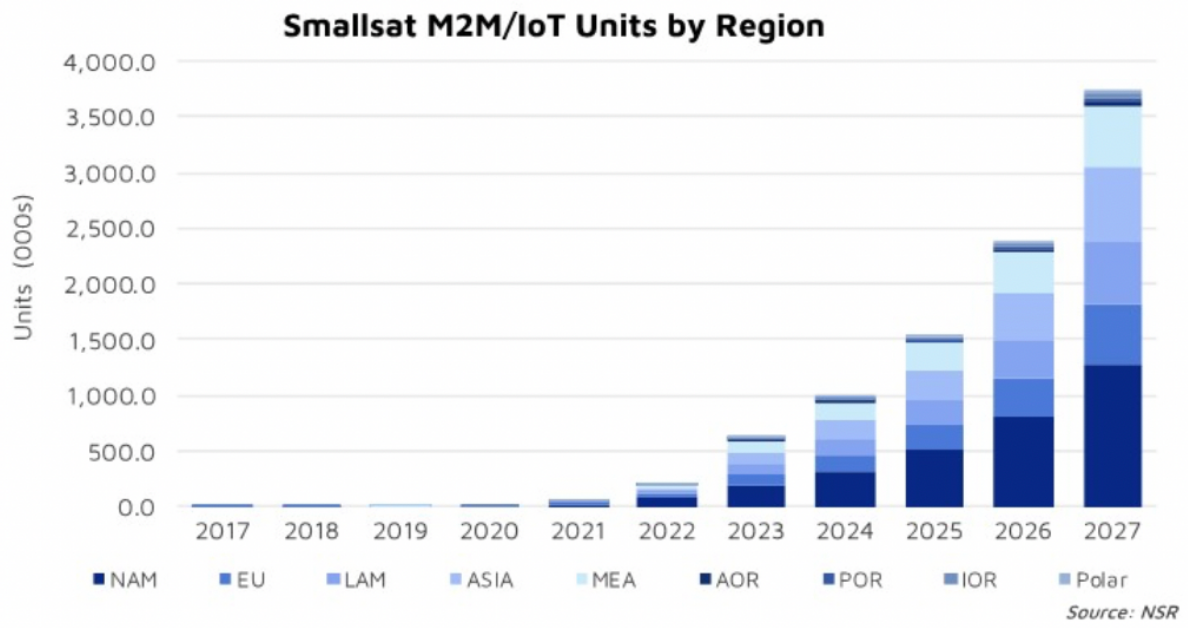 Challenges
While smallsats have their own challenges as noted in this article, traditional M2M SATCOM players will also have their own set of challenges and those are different in nature to those of the smallsat players. With airtime pricing declining, a greater proportion of revenues will be driven by service providers, systems integrators and other value-added services including software, databases and big data analysis. Consequently, it will be increasingly important for satellite operators to enter into these parts of the value chain and to reach customers directly.
However, it will be important not to compete directly with service providers. Iridium has managed to balance this challenge by directly serving only large customers, including the U.S. Department of Defense (DoD). Inmarsat is also in the process of becoming more of a managed service provider to large customers to capture this greater revenue, and Orbcomm has, in recent years, made a string of acquisitions, including Blue Tree Systems, inthinc, and Skygistics in order to achieve this.
More broadly, smallsat constellations will need to develop their distribution channels to have an impact on the greater market. To achieve this in part, MoUs have been established between these newcomers and existing operators for increased distribution through the sale of dual-mode solutions through existing distribution channels as well as the potential co-development of M2M technology and services. This indicates there will not be a significant overlap between MSS and smallsat M2M markets, with these solutions already being complementary in nature. These MoUs include Astrocast signing an MoU with Thuraya, and a similar agreement between Iridium and Hiber.

Bottom Line
With a large addressable market, M2M and IoT via satellite has a long way to go in terms of demand growth — involvement in SATCOM M2M and IoT will continue to surge. However, the new technologies, most notably smallsats and 5G, including dual mode connectivity, will see the greatest investment levels over the coming years and will attract new customers into the SATCOM IoT ecosystem. By pairing these technologies with lower cost solutions, and by providing customers with easy to use solutions, the result will be opportunities for the greatest obtainable growth, well beyond the traditional demand drivers of the land transport and energy markets.
www.nsr.com/research/m2m-and-iot-via-satellite-9th-edition/
Alan Crisp is a senior analyst at NSR Hong Kong and a member of the research and consulting firm's Fixed Satellite Services Group. He is the co-author of NSR's annual M2M and IoT via Satellite Report.
---