In space, no one can hear you scream. However, if a satellite fails in space due to the inclusion of faulty counterfeit parts, everyone on Earth will hear the screaming as recriminations fly to and fro about the loss of a multimillion-dollar project.
With some spacecraft failures having already been attributed to counterfeit parts, and with reports of phony components soaring amid tighter government regulation, it's critical that aerospace firms arm themselves with the essential tools and information needed to mitigate counterfeit risk—well before the satellite leaves the launch pad.
Counterfeit Reports Skyrocket
Reports of counterfeit parts have soared dramatically during the last two years, presenting huge challenges for electronics manufacturing in general, and for the military and aerospace industries in particular, according to information and analysis provider IHS (NYSE: IHS). Supply chain participants in 2011 reported 1,363 separate verified counterfeit-part incidents worldwide, a fourfold increase from 324 in 2009, as presented in Figure 1. In all, more than 12 million components have been reported in counterfeit incidents since 2007, equating to more than one part being involved in worldwide counterfeit incidents every 15 seconds.
U.S.' Anti-Counterfeit Initiative
Adding to the urgency of the problem for the defense and aerospace industry, President Obama on December 31, 2011, signed the fiscal year 2012 U.S. National Defense Authorization Act (NDAA), which adds regulations for counterfeit-part detection and avoidance. The new NDAA places the onus for detecting and avoiding counterfeit parts—and for fixing and paying the costs for counterfeit-related problems—squarely on the shoulders of contractors.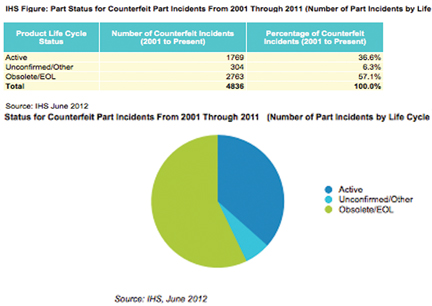 The NDAA also requires that qualification procedures and processes be established to use trusted suppliers and procure electronics from authorized suppliers. While driven by the United States, its regulatory requirements are shaking up international organizations as counterfeit detection and avoidance requirements are flowed down through all tiers of global supply chains.
Rocket To Russia
Counterfeit parts were named as one of many possible causes of the failure of Russia's Phobos-Grunt Mars mission in January. Vladimir Popovkin, director of the Russian space agency Roscosmos, said the failure could be traced back to counterfeit parts, which malfunctioned due to exposure to cosmic rays.
A commission investigating the accident concluded that the Phobos-Grunt mission failure was the culmination of multiple factors, including poor quality control and lack of testing. Multiple factors, including poor quality control and lack of testing also contributed to the mission failure, according to a commission investigating the accident.
Counterfeit Costs
NASA has also laid the blame for cost overruns and project delays on counterfeits.
The Russia incident is not without precedent. In 2009, for instance, Christopher Scolese—then, the acting administrator of the agency—told the House Science and Technology subcommittee that counterfeit parts had contributed to problems with schedules and budgets, according to a report on the Aero News Network.
"We find out late they are counterfeit parts," Scolese had said. "We find out about it while sitting atop a rocket or, worse, find out about it in space."
Scolese noted that NASA personnel working on the Kepler space telescope project had detected a counterfeit part in the system—the removal and replacement of the fake part then contributed to the project's delays and cost overruns. The Kepler project at the time had exceeded its budget by 20 percent, raising total costs to $595 million.
Scolese went on to note that NASA's counterfeit problem, ongoing for a long period of time, was actually worsening.
Fighting Back
In response to the significant and increasing volume of counterfeit electronic parts entering the aerospace supply chain, NASA became heavily involved in the formation of the SAE International G-19 Committee in September 2007 to develop standardized requirements, practices and methods related to counterfeit-parts risk mitigation. The committee subsequently released the SAE International AS5553 standard, Counterfeit Electronic Parts; Avoidance, Detection, Mitigation, and Disposition, and NASA was the first government agency to formally adopt the standard.
NASA has since put in place many processes and procedures aimed at counterfeit detection and avoidance. In April 2012, NASA's Dryden Flight Research Center shared strategies with global business leaders attending an executive conference co-hosted by IHS and ERAI Inc. There, the space agency shared a strict approach to counterfeit parts. This includes methods to assess suppliers' capabilities and expose their deficiencies.
NASA also shared its approach to new U.S. NDAA regulations, noting how it was the first federal agency to formally promulgate a counterfeit-part mitigation strategy. The agency also outlined its development of a comprehensive database of counterfeit parts, including ERAI counterfeit incident reports. Indeed, the industry's team efforts from IHS, ERAI, G-19, NASA and other leaders are making a positive impact on controlling–and in some cases, choking off—any counterfeit parts from entering their supply chains.
The Obsolescence Conundrum
A particular problem for firms in the military/aerospace industry is obsolete parts, which represent a breeding ground for counterfeits. A total of 57 percent of counterfeit-part reports from 2001 through 2012 have involved obsolete or end-of-life (EOL) components, as presented in Figure 2. Another 37 percent involved active parts. In all, these counterfeit incidents represent many millions of parts in circulation in the supply chain.
As military/aerospace projects, such as rockets and satellites, have extended life cycles, they are particularly vulnerable to the hazards of obsolete parts. For instance, the Department of Defense (DoD) recently extended the life of the B-52 bomber by 15 years, even though it is set to end service in 2040—nearly 90 years after the bomber's first flight in 1952.
Such changes can have the effect of creating a sudden shortage of critical parts for replacements and maintenance. Such forces buyers to quickly find new sources of supply or alternative parts. Meanwhile, changes in the supply base—such as the enactment of a regulation such as the European Restriction of Hazardous Substances Directive (RoHS)—can result in diminishing manufacturing sources and material shortages (DMSMS).
While counterfeits and obsolete parts are a supply chain reality that must be dealt with by older systems, even new systems can be subject to the obsolete-part problem. In one dramatic example, more than 70 percent of the components used in a surface ship sonar system were obsolete—even before the first system was installed.
Oversight Of The Obsolescence Onslaught
With obsolete parts inevitable and so heavily linked to counterfeits, it's critical for electronics buyers to plan for this eventuality. Electronics buyers need to know as quickly as possible which parts are out of date, which parts are being phased out, and when parts have become EOL in order to mitigate costly obsolescence issues. It's critical that firms are aware of alternative parts they can use as replacements, and which safer suppliers they can utilize to access those components.
However, obsolescence management solves only part of the counterfeit equation. To explicitly and directly address the problem of counterfeit parts, organizations must understand which fake components are actually in circulation and being reported, whether they are obsolete or active. Furthermore, constant vigilance in supply planning for parts is necessary not only to stay ahead of component price and supply chain health issues but also to ensure continuity of supply from safer, approved and trustworthy part sources.
Combating The Counterfeit Crisis
IHS provides content, software and expert analysis about worldwide electronics for component selection, sourcing, and logistics as well as integrated obsolescence management, BOM management, environmental compliance, and counterfeit risk mitigation. IHS is a leader in providing verified counterfeit-incident report information, of which more than 90 percent is availed only though the exclusive IHS and ERAI partnership.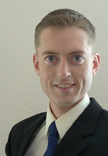 About the author
Rory King is the director of supply chain product marketing at IHS. For media inquiries on this article, please contact Jonathan Cassell, senior manager, editorial, at
jonathan.cassell@ihs.com
. For non-media inquiries, please contact
analystinquiry@isuppli.com
.
To learn more about this topic, go to this IHS URL...
http://www.ihs.com/info/sc/a/combating-counterfeits/index.aspx
"Combating Counterfeits in the Supply Chain."