Mr. Dario Zamarian is Group President of SSL, where he is responsible for all of the satellite and space systems markets the company serves including GEO Communications, LEO Communications, space robotics, and Earth Observation. With an execution track record that spans Fortune 100 companies, Private Equity firms, and VC-backed start-ups, Mr. Zamarian brings experience in leading transformative growth to SSL.

SatMagazine (SM)
How does SSL view the past year's performance?
Dario Zamarian (DZ)
2017 has been a transformational year for SSL (www.sslmda.com). The company has diversified its business, announced breakthrough technologies, introduced new leadership, and its parent company acquired DigitalGlobe and was renamed Maxar Technologies. It has done all this while continuing to build and launch many of the world's essential GEO and LEO satellites.
SM
One of your strategies for business growth has been diversification. What markets are you pursuing and have you made any progress on that in 2017?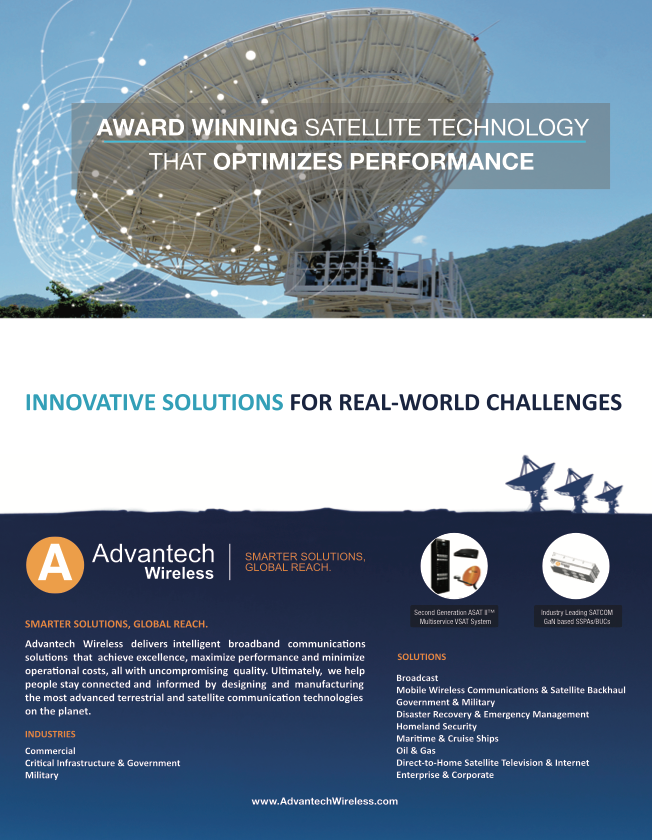 DZ
SSL has been the leading provider of commercial GEO communications satellites for many years and there are currently more SSL-built commercial satellites in the GEO arc than satellites from any other manufacturer. However, the company has been steadily building its reputation for smallsats, remote sensing satellites as well as other types of spacecraft.
This reputation was reinforced in July when the announcement was made that SSL will design and build a next-generation satellite constellation for high-resolution Earth imaging for DigitalGlobe, the global leader in Earth imagery and information about our changing planet.
The team at SSL worked closely with DigitalGlobe to develop an innovative and flexible design for the WorldView Legion Low Earth Orbit (LEO) constellation.
When launched, the satellites will more than double DigitalGlobe's high-resolution capacity in important regions.
These SSL-built satellites will help DigitalGlobe provide even greater insights into global events of significance and allow its customers to make critical decisions with confidence when time is of the essence.
In other work on remote sensing satellite constellations, the company reached a milestone with their contract to build the SkySat constellation for Planet. (As a supporter of startups, SSL began working with Skybox Imaging, which became Terra Bella, which was owned by Google until it was sold to Planet in early 2017.)
Planet launched six SSL built SkySats from Vandenberg Air Force Base on a Minotaur-C rocket on October 31, and began receiving signals shortly thereafter. Now, 11 of the SkySat satellites that SSL was contracted to provide are on orbit and there are eight more for Planet still under construction at SSL's smallsat manufacturing facility in Palo Alto, California.
SM
Why is there so much interest in on orbit satellite servicing? Is this another area of diversification for SSL?
DZ
Today's technology advances and the demand for value and flexibility have driven satellite servicing to become a reality. It no longer makes sense for space to be a throwaway economy, where costly infrastructure is abandoned because it has consumed all of its fuel or experienced a mechanical issue. With its heritage of highly sophisticated robotics, and its versatile satellite bus architecture, in 2017 SSL began to design and build two spacecraft that will be used for on orbit servicing.
Restore-L is a servicing vehicle for refueling in LEO that SSL is building for NASA Goddard Space Flight Center's Satellite Servicing Projects Division (SSPD). The contract was awarded to SSL in December 2016, and the company announced the success of the preliminary design review in August. The spacecraft will change the nature of how infrastructure in space is managed by refueling a satellite in Low Earth Orbit (LEO).
Restore-L will use robotics and an advanced suite of technologies to grasp and refuel an existing U.S. government satellite already in LEO with the goal of not only demonstrating the extension of the operational life of space assets, but also to demonstrate important tools, technologies, and techniques that are vital to future space exploration missions.
In the GEO domain, and equally essential to U.S. competitiveness in space, SSL announced in February that it was selected by the U.S. Defense Advanced Research Projects Agency (DARPA) to partner in the development of the capability to service and maintain spacecraft and other infrastructure in the geostationary arc.

DARPA's Robotic Servicing of Geosynchronous Satellites (RSGS) program is expected to be the foundation of a new business that will serve both commercial and government operators with sophisticated close-up inspection, repair, upgrade, and refueling of on-orbit assets.
In June, a new business was established called Space Infrastructure Services (SIS). SIS will commercialize satellite servicing in order to provide a sustainable on orbit capability. The company also announced that its first commercial customer will be global satellite operator, SES. SSL is working with numerous partners including the Naval Research Laboratory, The Charles Draper Laboratory, and MDA to develop the servicer.
On orbit servicing provides satellite operators with greater flexibility in fleet management and a more resilient space infrastructure.
Designed for both commercial and government operations, mastering complex in-space robotic manipulation of satellites is fundamental to the security of our nation's current satellite fleets as well as the deployment and maintenance of future space architectures.
SM
It sounds like you have made progress in growing your work with the U.S. government. Is that also part of your company's diversification strategy?

DZ
Yes, another focus of SSL's diversification strategy is to help the U.S. government benefit from SSL's cost effective and highly reliable commercial technologies. 2017 marked significant progress in this direction with the company now building three spacecraft that will be used for U.S. government missions, and participating in a number of important studies that are expected to enable future missions.
In addition to the two satellite servicing vehicles for NASA and DARPA, in early 2017 SSL was selected to provide a spacecraft platform for a NASA Discovery Mission. The goal of the mission is to explore an asteroid called 16 Psyche, which is a unique planetary body composed of mostly iron and nickel situated in the asteroid belt between Mars and Jupiter.
SSL is working with NASA's Jet Propulsion Laboratory (JPL) to support Principal Investigator Dr. Linda Elkins-Tanton, director of Arizona State University's (ASU) School of Earth and Space Exploration, in a mission to research the ~220 km diameter asteroid, which might be a core of an early planet and could help us understand more about how Earth's core formed.
As the industrial partner to NASA, SSL is providing a highly capable composite structure spacecraft platform equipped with a high-power solar electric propulsion (SEP) system that will carry the scientific instruments on their five year mission.
SSL has been building solar electric propulsion systems since 2004 and has built more than 30 spacecraft with electric thrusters that are operating on orbit today. The proven reliability and affordability of the SSL platform is a perfect fit for this exciting discovery mission that is expected to help us better understand how Earth was formed.
SM
Growth for any company within this industry requires investment in R&D — what innovations were the most significant to SSL in the past year?
DZ
SSL continues to evolve multiple technologies that help make both its commercial and government customers more successful. In August 2017, we announced our Ultra-High Density Satellite (UHDS) technology, which provides unprecedented satellite broadband capacity for high demand regions and represents a breakthrough for the satellite industry in terms of serving today's increasingly data-driven environment.
UHDS technology is based on a new architecture that aligns bit density with population density to maximize revenue generation for satellite operators resulting in the lowest cost per bit satellites available today. By focusing a satellite's concentrated capacity on highly populated regions, it means every bit that the satellite carries is a usable bit, providing very fast broadband speeds for Internet browsing and downloads from homes, businesses and even ships and planes.
SSL invested in a broad range of technology advances to develop this new satellite architecture which includes the miniaturization of electronics, solid state amplifiers, and more efficient antenna designs. UHDS design includes 18 patented or patent-pending SSL technology advances to enable breakthrough performance.
In August, we announced our first UHDS contract award with a satellite for Hughes Network Systems. The satellite, called EchoStar XXIV/Jupiter 3, will enable significant increases in service performance for Hughes and will power future generations of Hughes' consumer, enterprise and aeronautical services over the Americas.
SM
Can you tell us a little about what brought you to the industry and the management changes at SSL?
DZ
I joined SSL over the summer after John Celli announced his plans to retire. John had served the company for 36 years and achieved many honors and successes over the course of his career. I know that he is missed but he left the company with a strong reputation as the world's leader in commercial satellites.
This is a transformative time for the satellite industry and there is a lot of focus on space from the investment community. My experience is in working with technology companies, ranging from Fortune 100 companies, Private Equity firms, and VC-backed start-ups, with a focus on guiding businesses through times of technology disruption.
Now I am working closely with the SSL executive team to support the needs of satellite operators and space system innovators around the world. My goal is to continue to drive company growth in all the satellite and space systems markets SSL serves including GEO Communications, LEO Communications, Earth Observation, Space Infrastructure Services, Robotics, Exploration and U.S. Government Systems.
My colleague, Paul Estey, was appointed Executive Vice President and Chief Operating Officer at SSL at the same time I joined the company. He was previously Executive Vice President of Engineering and Operations and continues to implement the advances that bring excellence to the company's design and manufacturing processes and performance on spacecraft orders.
SM
Your parent company made a big acquisition this year. Can you tell our readers anything about that event?
DZ
Yes, it has been very exciting! SSL's parent company, MacDonald, Dettwiler and Associates (MDA) completed the acquisition of DigitalGlobe, the global leader in high resolution Earth imagery and information about our changing planet in early October. The combined company, was renamed Maxar Technologies and is a new leader in space technology.
The merger creates a diversified commercial space technologies company offering end-to-end systems and expertise in satellites, robotics, ground stations, imagery and analytics for commercial and government customers worldwide.
As a business unit of Maxar Technologies, SSL continues to be a leading provider of advanced spacecraft systems, with broad expertise to support commercial and government satellite operators and innovative space missions.
SM
Looking ahead to 2018, what can be expected from SSL?
DZ
2017 was a year of many changes and successes for SSL. It was a year of business diversification, management and corporate change, and advances in how satellites are built and serviced. The one element that remains constant is the many ways in which the satellites and space infrastructure developed at SSL help make the world a better and safer place — this will continue and intensify during 2018.
The commercial satellites built at SSL bring information and communications to remote areas, which improves economic opportunity. They provide emergency communications services when terrestrial communications are unavailable, and they are used for telemedicine and distance learning.
The remote sensing satellites the company builds are used to assess climate change, monitor crop health, manage natural resources and energy infrastructure, and prevent human rights abuses.
Next generation SSL imaging satellites will provide even greater monitoring persistence and improve the world's ability to respond to and recover from events like the wild fires that ravaged California and the hurricanes that devastated the southern United States and Caribbean this year.
Satellites and space infrastructure are critical to national security and, as humans continues to explore the universe, SSL will be there with systems for remote operations, habitats in space as well as support for the pioneers that strike out to inhabit the moon, Mars and beyond.
The company's 2017 successes are just a foundation for the achievements the firm aspires to for 2018 and the future.
www.sslmda.com
www.maxar.com
---
Please note: Dario Zamarian, the Group President of SSL, will be the Keynote speaker at the
Smallsat Symposium on February 7, 2018, 9:30 a.m., at the Computer History Museum in Silicon
Valley, California. Register now to ensure your attendance at this major event...
---