When Millennium Space Systems (MSS) needed to secure launch integration support and a rideshare slot for its DRAGRACER mission aimed at solving the orbital debris challenge in low earth orbit (LEO), it turned to TriSept, a launch integration and brokerage innovator deeply experienced in traditional and new space programs.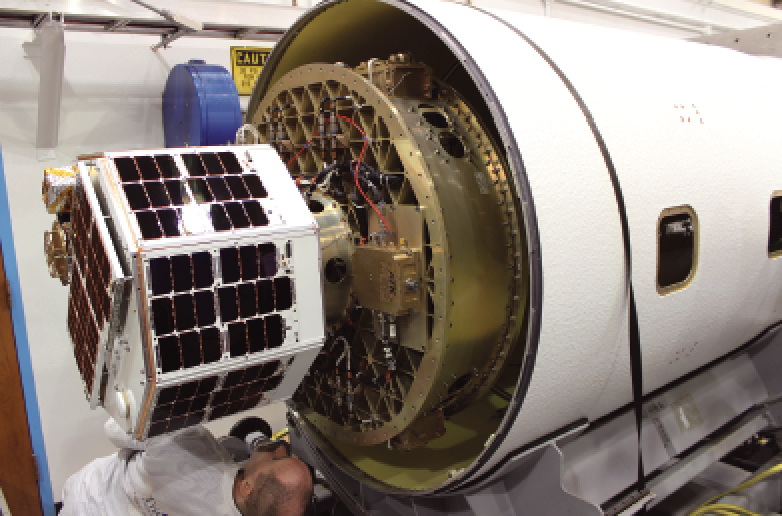 TriSept inspecting an ORS mission. Photo is courtesy of the company.
TriSept brokered a spot for MSS on a Rocket Lab Electron launch vehicle slated for lift off in early 2020. TriSept will provide full spacecraft integration with the rocket that will carry the unique 25 kg. MSS RAPTOR satellite into orbit, where it will split into two payloads to demonstrate how new tether technology can accelerate reentry and orbital debris removal
.
"DRAGRACER is the first in a series of critical project missions we expect to launch with TriSept," said Mike Scardera, Vice President of Advance Concepts, Millennium Space Systems. "By working with such a seasoned support crew, we can focus on building the best flight solutions for today's challenges in space."
Rocket Lab's Senior Vice President of Global Launch Services, Lars Hoffman, also mentioned TriSept's expertise when the mission was announced in August during the SmallSat 2019 conference in Logan Utah. "This rideshare mission slated for launch aboard our Rocket Lab Electron is very significant," noted Hoffman, "as Millennium Space Systems, supported by TriSept's experienced launch integration team, tackles one of the biggest challenges facing our industry today."
"We are honored that Millennium Space Systems has entrusted TriSept with the integration and management of this important mission aboard our second launch with the proven Rocket Lab Electron," said Rob Spicer, TriSept President and CEO. "DRAGRACER could ultimately help shape how the industry handles orbital debris for years to come."
Bringing Traditional Space Knowhow to New Space
Millennium Space Systems and Rocket Lab are among the latest of the new space leaders to tap the TriSept team that are steeped in a level of experience that bridges many of the iconic missions of traditional space with the emerging new era of smallsats and launchers.
"When we sit down with anyone, from NASA and the big launch providers to the emerging small sat manufacturers and launchers, they express a real sense of confidence in our capabilities that only comes with experience," noted Spicer, who founded TriSept in 1994 after a legendary career that included working side-by-side with NASA Space Shuttle astronauts during mission preparations and Shuttle operations.
TriSept has enabled the launch of more than 200 satellites on 70 different missions and 20 different launch vehicles, from 13 launch sites across the globe. National security and sensitive Intel missions are among the dozens of programs TriSept consistently supports across a diversified project portfolio.
The small firm of about 55 employees headquartered in Chantilly, Virginia, has helped to shape the very rideshare and smallsat missions it supports today. SpaceX counted on TriSept's integration expertise and early rideshare breakthroughs to drive its Falcon 1 program, which culminated in the successful launch of the Malaysian RazakSAT satellite into orbit in July 2009. Much of SpaceX's Falcon 9 success was born from the tireless work put in by countless teams contributing to Falcon 1, including TriSept's role in dispenser hardware integration that ultimately led to commercial and government payloads hitching rides together in space.
On the heels of the Falcon 1 mission, the U.S. Air Force's (USAF) Operationally Responsive Space (ORS) office selected TriSept to lead payload integration and nexgen platform solutions for cubesat rideshares and to help demonstrate commercial use of Cold War-era missile assets on the Minotaur class of launch vehicles. The ORS-3 Minotaur 1 mission, briefly held the record for the most payloads (31, including 28 cubesats) released into space during a single launch in 2013.
Enabling a New Era in Space Access
Now at the heart of collaborative programs aboard a new breed of satellites and launch vehicles, TriSept has its fingerprints all over some of the most innovative commercial and government missions bound for space today.
The ability to build missions and identify existing missions for small commercial and government spacecraft looking to launch in a timely and efficient manner is a real strength based on TriSept's thorough knowledge of the evolving landscape of launch vehicle providers.

CEO Rob Spicer
founded TriSept 25 years
ago, following a successful
career supporting major
missions, including NASA's
Space Shuttle program.
"Our insight and unmatched database enables us to simplify a once complicated brokerage process to the point where we can pinpoint the best launcher for a client's mission in near real time," said Jason Armstrong, Director of Launch and Integration Services for TriSept.
That capability is keeping TriSept busy matching payloads with traditional and new age launchers.
TriSept is leading the launch integration for NASA's upcoming VCLS ELaNa XX mission on the Virgin Orbit Launcher 1, an 11 cubesat manifest that will mark the first official operation aboard the new launch vehicle set to lift off late this year, or early in 2020.
The firm was also the integration lead for NASA's VCLS ELaNa XIX mission that sent 13 cubesats into orbit aboard a Rocket Lab Electron from Mahia, New Zealand in December of last year, Rocket Lab's first government mission.
TriSept also inked an agreement with Equatorial Launch Australia (ESA) to provide TriSept customers with priority access to one of the most exciting and efficient new launch sites in the world — ELA's Arnhem Space Center (ASC), located just 12 degrees from the equator in Australia. Leveraging the earth's extra rotational speed at the equator of 1635 kilometers per hour, spacecraft producers can gain faster, more reliable and cost-effective access to LEO, GEO and deep space missions from the ASC launch site.
"Fresh from a series of space conferences and events and dozens of meetings with commercial and government organizations, we're seeing growing demand for launch integration and brokerage, and an overall understanding of the big picture. There's no doubt our experience is a big differentiator that is fueling our success and growth as a company," said Armstrong. "TriSept is extremely well positioned to meet the needs of the traditional and new space markets around the world."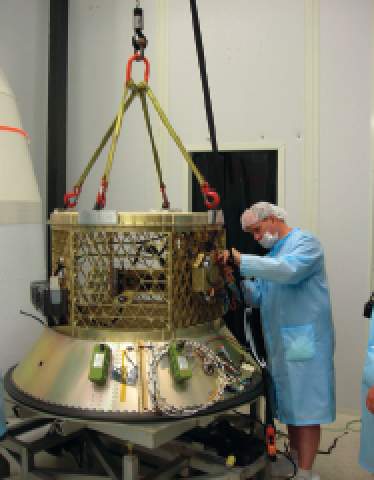 TriSept's Jason Armstrong working on the launch integration for the SpaceX Falcon 1 mission. Photo is courtesy of the company.
Going Global
TriSept continues to think out of the box and out of strictly U.S. markets to expand capabilities and market coverage.
The company has initiated a new SCIF (Sensitive Compartmented Information Facilities) business to meet the growing demand for permanent and portable locations on the fly where customers, especially government agencies, can view, store and process sensitive types of classified information.
TriSept is also going global with plans to open its first overseas office within the Harwell Space Cluster, which is at the heart of the UK space innovation movement. TriSept has established a number of collaborative alliances with UK space companies residing in the Harwell cluster of businesses, labs and clean rooms — an incubator for startups to further develop technologies and solutions, many already playing a major role in space initiatives today.
"We see the UK as a major player and difference maker in the new space market, and we're very excited to have a significant presence within the Harwell campus, as two new launch facilities are being developed and built nearby in the region," noted Spicer. "TriSept brings a rich launch integration and brokerage expertise to the UK, a strategic move that will in turn further our support of our commercial, government and academia customers throughout the US and the Americas as well."
TriSept sees its global expansion as a way to open the door even wider to new ideas and transformative breakthroughs aimed at accelerating reliable and affordable access to space.
"As we celebrate our 25th year at TriSept, it's exciting to see the leaders across the space industry continue to redefine and stretch the limits of possibilities and capabilities," Armstrong said, pointing to SpaceX's reusable rockets and Rocket Lab's new spin on reuse as impressive examples. "It is mind boggling to see the new innovations, and exciting to know our experience at TriSept is helping to fuel that kind of transformation."
Paul Sims is an award-winning reporter and industry professional at Sims Communications, where he specializes in traditional and new space, satellite, and connectivity markets. For more information about Sims Communications, visit

www.simscomm.com

.
---