The small satellite (smallsat) industry is receiving significant attention these days, specifically when it comes to the US military and NASA-based applications.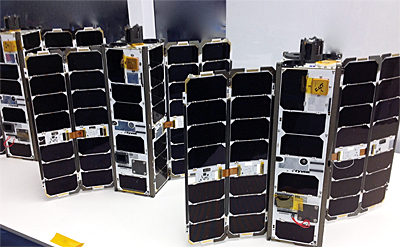 The commercial world hasn't yet embraced widespread use of this technology; however, the expectation is that, by 2019, the smallsat market will reach $1.8 billion, with the commercial sector comprising the largest portion of this market (Source: "Nanosatellite and Microsatellite Market—Worldwide Market Forecast (2014-2019").
There are numerous benefits when employing smallsats—from providing inexpensive, space-based data collection to troubleshooting and repairing large, individual satellites and constellations that are already on orbit. They are able to provide servicing operations and refueling capabilities to other space vehicles; awareness and notification of space and Earth-based natural and manmade threats; formation flying activities; innovative telecommunications platforms; collection of weather pattern data; and fast, low-cost space debris inspection and removal, just to but a name a few of the many smallsat solutions.
Commercial companies can also leverage smallsats to protect larger space systems, which can represent a significant investment of time and resources. Smallsats can maneuver autonomously up to a larger spacecraft in orbit, assess that satellite's health, repair noted malfunctions and broken hardware, resupply fuel and also assist with de-orbiting tasks.
There have been multiple attempts to bring smallsat implementation projects to fruition by more traditional commercial companies, as well as through government projects such as the Air Force "ANGELS" program and the canceled DARPA F6 formation-flying satellite demonstration. The key, missing element throughout these programs was the inclusion of a company that specialized in the design, development, deployment and operations of smallsat technology. The potential success of these missions is now about to get a significant boost.
In the spring of 2016, a unique, first-of-its-kind mission will occur. NASA's CubeSat Proximity Operations Demonstration (CPOD) mission, led by Tyvak Nanosatellite Systems (a Terran Orbital Company), will demonstrate rendezvous, proximity operations, and the docking of two 3U nanosatellites on behalf of the NASA Small Spacecraft Technology Program, and Space Technology Mission Directorate. This mission will employ a novel, universal docking and grappling system that has been developed by Tyvak engineers. Each satellite will use its space-to-ground data link to transmit visual images of the other satellite.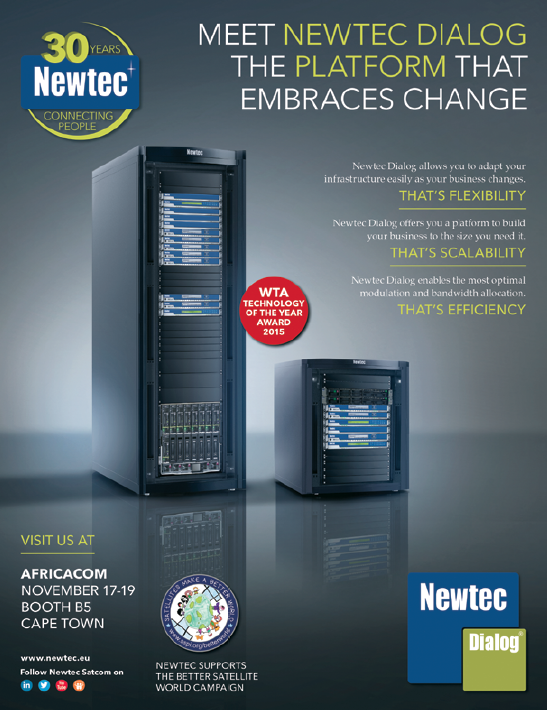 The ability of satellites to operate in close proximity to one another is an important capability to enable on orbit inspection, servicing and maneuvering of target satellites. Such also enables the rescue of tumbling satellites and satellite de-orbiting.
Tyvak has already developed these capabilities through its smallsat architectures that are based on the company's "Endeavour" platform, which is adaptable for missions from five to 50 kg, with high-power capabilities, precision attitude control, high-data communication rates and fault handling/autonomy. While CPOD is a NASA-focused demonstration, this mission will prove the viability of smallsat capabilities that will have a broad range of valuable applications within the commercial sector.
The Commercial Benefits of Smallsats
Formation Flying
There are significant benefits in a broad availability of the technology needed to have "swarming" capabilities. The multitude of antennae and image-gathering technologies in a cluster of smallsats creates a wider surface in which to transfer larger, clearer images to ground-based customers, de-facto mimicking what is already being done on the ground.
Smallsat swarms also increase the footprint for each mission and provide redundancy that has clear implication toward a more secure on-orbit architecture. A successful NASA/Tyvak CPOD mission in early 2016 will demonstrate a nearly 100 percent formation flying capability that can then be leveraged into commercial applications currently being evaluated by multiple customers.
Sentinel Capability
Smallsats can be sent on sentinel deployments, ahead of more expensive missions, to collect measurements, video and images of an intended target (an asteroid for example). The ability to gain early intelligence on a mission can save time and money, or even the entire mission.
Resupply + Troubleshooting
Smallsats can provide on orbit fuel resupply and also have the ability to repair other spacecraft on orbit, as needed.
Orbiting + De-orbiting Spacecraft
Smallsats can significantly contribute toward solving the space debris problem by grabbing inactive objects or decommissioned spacecraft and then forcing a de-orbit if and when such is needed.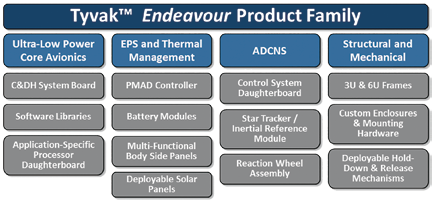 High Frequency Re-Flight
The ability to obtain short re-flight time via smaller satellites is unmatched among larger spacecraft. Smallsats ensure effective agility in dynamic mission profiles. The monitoring of crops, weather patterns, wildlife migrations, asteroid trajectories, orbital debris and near real-time communication are but a few of the applications that will maximize smallsat usage in the near future.
Currently, there are few companies that provide a true smallsat turnkey solution to commercial customers. Interested parties can easily purchase off-the-shelf satellite components and hardware, engineering services, launch coordination and launch insurance through separate companies across the globe. However, only Tyvak offers a complete, one-stop solution—this solution lowers cost and timelines for commercial customers who are interested in using these leading edge technologies.
"We continue to lead the way in developing and deploying a total solution for commercial customers. The capability is available, now. It's inexpensive, it's timely and it's available," said Tyvak President and COO, Dr. Marco Villa.
One company that has availed themselves of Tyvak's turnkey, smallsat solution is GeoOptics, an environmental data and weather monitoring company based in Pasadena, California. The company is leveraging Tyvak's Endeavor platform to assure the proper delivery of environmental data to scientists and decision-makers around the world.
"Tyvak really stood out as the company with the best technology and systems approach to meet our customers' demanding mission goals," said GeoOptics CEO Admiral Conrad Lautenbacher. "No other company in the market today offers a comparable, integrated approach for high performance, affordable missions."
Moving forward, there may well be other companies who are similar to California-based Tyvak Nanosatellites that are developing full-service solutions to commercial customers—for now, Tyvak stands out in an industry laden with off-the-shelf component manufacturers.
To learn more about Tyvak, visit www.tyvak.com and www.terranorbital.com.
---