There was, without doubt, a spring in the step of SES' Romain Bausch as well as other senior staff at the recent Satellite 2013 event in Washington DC. The reason revolved around O3b, which sees the first four satellites emerge from their Thales Alenia manufacturing facility in Cannes over the next few days, prior to their transfer to Arianespace's Guiana spaceport with a Soyuz launch vehicle scheduled for the end of May.

Bausch mentioned, and mentioned, and mentioned O3b during his 'off the record' press briefing and repeated his O3b mantra to thousands of delegates at the annual 'Big Four' session at the show. One fact did emerge concerned another $150 million of forward contracts, taking the project's backlog to more than $750m. Steve Collar, O3b's CEO, was also upbeat during his panel session at Sat 2013.

Indeed, when you examine the general state of readiness of the O3b project, with ground segment installations having been built and completed on time, and hard orders coming in from telcos around the world, it is clear there are grounds for optimism.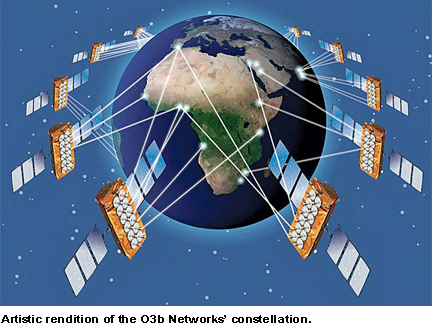 However, a joking request to 'visit Fiji and see how the local clients will be tapping into O3b's constellation' was met with only a polite smile!

Perhaps the "strong fundamentals" of SES also boosted his optimism, given the impressive launch schedule (for O3b and conventional GEOs) which will add "some 1000 Ku-equivalents" to SES' existing 1400-transponder inventory.

"Add in O3b's remaining contracted MEO craft, and we will end up having doubled our transponders in the fleet," he said. O3b's team is busy pitching for contracts, and is winningmore than its fair share. While services will not kick in before Q4 (when the first constellation is ready for work), Bausch was happy to predict quite large expansion plans for O3b.
Additionally, SES enthusiasm is perhaps rubbing off on the financial community. Sarah Simon from Berenberg Bank released a note to clients on March 18th ("HOLD" SES, "SELL Eutelsat") and, while expressing the view that both SES andEutelsat would continue to "deliver organic growth that is well above the sector average," she added that the next six months was likely to see significant developments for both of Europe's satellite operators.

She also re-valued O3b in terms of SES' current stake from a cautious 481m euros to a much more interesting 700m euros. She also pointed out that with annual contracted revenues on O3b already well over the 100m/year euros range (she suggests 175m euros a year), it is more than exceeding Eutelsat's own 100m euros a year that KA-SAT targeted for 2014.


"Regarding Eutelsat," she said, "the most important will be the outcome of the arbitration with SES concerning the 28.5 degree orbital position. If Eutelsat is successful, our estimates will likely be maintained. However, if the judgement goes against Eutelsat, we estimate a PBT downgrade for fiscal 2014 of around 5 percent. The second key issue is what impact, if any, sequestration will have on Eutelsat's U.S. government business. The third is progress with KA-SAT, which, having had a slow start, now appears to be gaining traction with various new services emerging."



"For SES, without doubt, the most important event will be the launch of the O3B satellites. The first four satellites launch on May 28, 2013. The backlog continues to grow, and we expect acceleration in demand once proof of concepthas been delivered. A second issue for SES will be decisions regarding whether or not to order more satellites (for LatinAmerica and/or Asia). A third will be decisions that the company makes regarding the use of cash at the end of 2013.We estimate that the company will end the year with net debt/EBITDA of 2.7x, well below the 3.3x limit. Even allowing for the purchase of control of O3B, SES looks likely to "need" to return cash to shareholders in 2014, we think."

"For SES, we look for a successful launch of the three wholly-owned satellites due to launch in June, as well as for the eight O3B satellites which are due to go into orbit in Q2 and Q3. Regarding the latter, this could trigger an increase in the market's appreciation for this asset which, being below the line at present, does not appear to have been fully factored into SES's fair value by the market."


Overall, Simon gives a fresh valuation for SES, boostingits price target from 22.50 to 28.60 euros per share.

Eutelsat Gets Tough On European Broadband
Speaking of Eutelsat, the company is starting to make demonstrable progress with its giant KA-SAT broadband satellite. Eutelsat says it now has 72,000 'active' Tooway terminals as of December 31st—that's up from 52,450 in June of last year.

Eutelsat significantly modified and simplified its pricing structure for Tooway last month. The increased subscriber levels on broadband means that Eutelsat's Value-Added Services division grew 37.6 percent to 31.2m euros. Eutelsat says it is now launching Tooway services in Turkey and Russia.Challenged on the pricing strategy for Tooway, Eutelsat's Deputy CEO Michael Azibert says it is possible to reduce prices because of the increased throughput of the satellite and the price reflected the competitive environment. Sales growth should follow, he added, speaking at the Eutelsat half-year results announcement on February 8th. Azibert said none of the spot-beams are full and there's plenty of capacity available."We are also hopeful to sell complete beams to [subcontractors]. We are also creating with our partners a telemarketing campaign [for KA-SAT/Tooway]."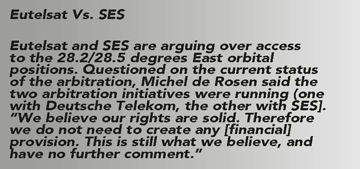 In other Eutelsat half-year numbers (to December 31st), which were released late on February 7th, overall revenues grew 5.2 percent at 633.6m euros, while EBITDA grew 4.9 percent to 501.9m euros, helping deliver its operating margin of 79.2 percent. Net income was up 14 percent.

Overall group revenues were helped by the strong performance of Hispasat (meaning a 20 percent increase in Hispasat's revenues to Eutelsat). Mr. De Rosen also said Eutelsat's increase in Hispasat's shareholding was not yet finalised, having to go through various Spanish approval processes. "We have yet to pay over the cheque," he joked,"but we have no idea as to the future intention of Spain's government shareholding. Our investment in Hispasat is a long-term one."


Other key metrics include a record contract backlog for Eutelsat of 5.4B euros (up 0.5 percent) and a useful increase on the 4.9B euros in place two years ago.

At December 31, 2012, the total number of TV channels broadcast by Eutelsat's satellites was 4,485, up 7.5 percent (+312) year-on-year. The channel count includes 398 HDTV channels, up 40.6 percent, implying an overall HD penetration rate of 8.9 percent compared to 6.8 percent a year earlier. The strongest channel growth was recorded at the 7 degrees/8 degrees West video neighbourhood (+25 percent). The largest increase in HDTV channels (+97 percent) showed 36 degrees East, with coverage of Russia and sub-Saharan Africa. HDTV adoption is "very encouraging" says Azibert, with the number of HD channels doubling over the past two years. Eutelsat's'Hot Bird' neighborhood at 13 degrees East (covering Europe), 7 degrees/8 degrees West, 16 degrees East and 7 degrees East (covering Turkey) all reported growth in HD channels at rates higher than 30 percent.


Eutelsat says the professional business on KA-SAT is also developing; in October, for example, 12,600 professional terminals were deployed via distributor Datagroup in the Ukraine during national parliamentary elections. Eutelsat's Air Access division will become active in the next few months, starting with the Air Lingus aircraft fleet out of Dublin.

However, Eutelsat's Data Services segment fell back by 1.5 percent to 93.7m euros. "This reflects the full year impact of factors identified in 2011-2012, notably competitive pressure in the African market which remains, however, one of the strongest in terms of potential growth for fixed satellite service operators, as well as the end of a contract with a late-paying customer whose capacity has since been resold," says the company.

CEO Michel de Rosen explained the "strategic partnership" with Russia's RSCC covering 36 degrees East and 140 degrees East, with 36 degrees East will see added Ka-band capacity on its replacement satellite, for example, while 140 degrees will have its current capacity doubled.

He added that Eutelsat now has sales offices in Washington, Tampa, Rio, Johannesburg, Dubai, Madeira, Singapore and Beijing. These were additional to locations in Paris, London, and other European offices. However, he stressed that MENA, Russia and Africa and the video market generally still represented plenty of upside revenues for the operator "and Ultra-HDTV is just around the corner".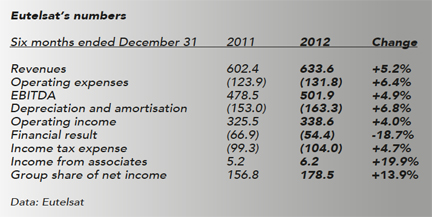 He quoted industry forecasts that suggested significant growth in Africa from VSAT demand which would lead to considerable increase in transponders although Africa represented a highly-competitive environment not only from industry rivals but also from services such as fibre.

Mr. De Rosen confirmed guidance for the period to 2015, and anticipating 5 to 6 percent growth for this year, and 6 to 7 percent CAGR growth for the following two years to June 2015, with EBITDA margins of around 77 percent in the period to June 2015.

* * * * * * * * *


Operator Eutelsat is re-introducing what it describes as the fastest satellite-based broadband available in the U.K.—and at lower-than-ever prices for a satellite-based system. The new package offers potentially unlimited overnight data download and cheaper home consumer receiver units. Eutelsat says that the new pricing should appeal to the U.K.'s 3.3m "digitally deprived" homes.

Eutelsat says it has 72,000 Tooway numbers, up from 52,450 broadband subscribers at the end of June 2012. Tooway was launched in 2007 in a simpler form, offering 3.6 Mb/s downstream and just 384 kb/s upstream. KA-SAT was designed to give much faster speeds and as a High Throughput Satellite (HTS) is capable of working much harder thanks to its spot-beam technology. KA-SAT was launched in 2010, and its service went live in May 2011. Last July 30th, Eutelsat said that the pre-KA-SAT Tooway user base was just one quarter of the 52,400 total.


The new recommended monthly retail prices for the new U.K. Tooway satellite broadband services start from less than £20 ($31) a month including VAT for the entry level Tooway S service, rising to just under £50 ($75) a month for the Tooway XL service, which offers a monthly data allowance of 30GB and unlimited data use overnight (11:00 p.m.-7:00 a.m.). However, to tap into a fully uncapped/unlimited (day and night) service will cost £74.99 ($114) per month or 74.90 euros in mainland Europe.

Some of these new prices (in particular Large, Xtra-Large and Absolute) are lower than those announced last summer. Although the names were then tagged a little differently, the new prices seem to more aggressively priced. Comparing and contrasting the old vs new rates is something of a challenge given the €/£ differences, and new download limits, but here's the end result.


"Whatever their location, the benefits of high speed broadband, including applications such as film downloads, heavy file uploads and video chat that are now standard user expectations. Research shows that there are 3.3m U.K. premises that cannot receive broadband or receive a service of less than 2 Mbps," said Eutelsat. Eutelsat has suggested that its European potential market is in the region of 30 million under-served (or non-served) and about 3.3m in the U.K.

Steve Petrie, Eutelsat's U.K. commercial manager for Tooway, says that support is going to be given to its local retailers. "We have listened to them and our customers and potential users. We think we are now delivering what the market needs to take it to the next level." Petrie declined to supply existing subs numbers.

"The new packages, called Tooway S, M, L, XL and Absolute, will be available through service providers from February 1st and will offer across the board download speeds of up to 20Mbps and upload speeds of up to 6Mbps." Eutelsat says the enhanced Tooway system is the fastest satellite broadband service in Europe. The services are delivered by KA-SAT.