NBN Co—Strategic Report Finds Broadband Needs To Triple For The Bush
A new National Broadband Network (NBN Co) reveals that the firm expects broadband connections in the Australian bush to triple. The report indicates...
• Demand outside fixed-line footprint up to three times greater than originally anticipated
• Near doubling of fixed-wireless footprint can serve 85 percent more users
• Fiber-to-the-Node network should be extended
• Tighter management of scarce satellite capacity needed to deliver robust speeds to users
• Funding requirements for expanded program in line with Strategic Review; 33 percent more funding required than in previous Corporate Plan
• Closer co-operation with mobile operators required to identify tower-sharing opportunities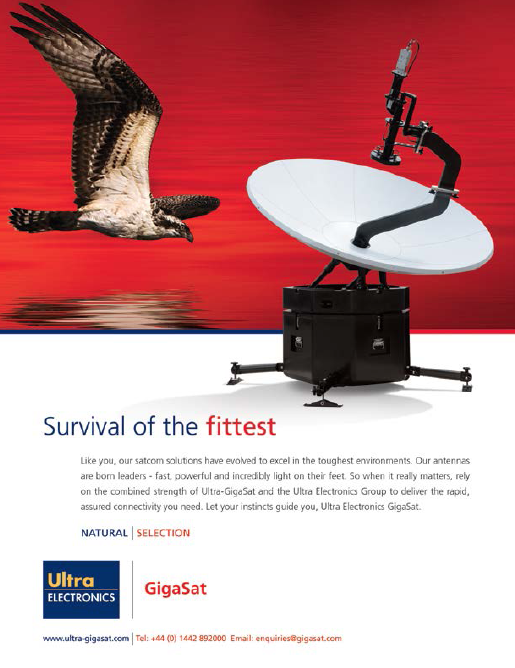 The company building and operating the National Broadband Network will make high-speed Internet available to more Australians in rural and low-density areas.
A review of NBN Co's satellite and fixed-wireless programs estimated there was demand for the NBN from more than 600,000 families, farms and businesses outside Australia's cities by 2021. That's up to three times greater than originally anticipated.
The Fixed Wireless and Satellite Review follows NBN Co's Strategic Review of the rollout in the fixed-line footprint, published in December 2013.
Both documents will form key inputs into the company's new Corporate Plan, to be released later in the year. Among the key findings of the Fixed Wireless and Satellite Review:
• Up to 620,000 homes, farms and businesses outside the fixed-line footprint will be connected to the NBN by 2021, up from the 230,000 envisaged in NBN Co's 2012-15 Corporate Plan
• To accommodate the higher take-up, NBN Co must:
– improve all construction methods
– nearly double the number of fixed-wireless base stations from 1400 to 2700 to serve 85 percent more premises
– extend the reach of the fiber-to-the-node network to serve the needs of up to 25,000 homes, farms and businesses that had been slated for a fixed-wireless or satellite connection
• The company must also secure additional radio spectrum to ensure 80,000 premises located in the urban fringes of cities and other major population centers, such as the Gold Coast hinterland, can receive the fixed-wireless NBN
• The fixed-wireless and satellite programs will cost up to $5.2 billion by 2021—around a third more than originally anticipated—but contribute just $1 billion in accumulated revenues over the period (versus c.$200 million), even with the greater take-up rate. This reflects the loss-making nature of serving premises outside the fixed-line network. These higher cost assumptions align with those made about the non-fixed line footprint in the December 2013 Strategic Review. No further changes are necessary to the peak funding requirements should NBN Co decide to implement the recommended approach.
NBN Co CEO Bill Morrow said, "A central aim of the NBN is to ensure all Australians have access to high-speed broadband no matter where they live or work so they can participate in the digital economy. This comprehensive review sets out a range of options that can help us deliver better broadband to more people more effectively in rural, remote and low-density areas. In order to meet the higher-than-expected demand for broadband in these areas, the review tells us we need to think smarter about the way we use technology. That way we can meet the needs of those Australians who stand to benefit most from fast, affordable and reliable broadband."
As of this writing, the fixed-wireless network covered 80,868 premises, with 12,859 connected to the NBN. There were 43,652 premises using the NBN Interim Satellite Service. The comprehensive review also considered a range of alternative operating models and commercial options for both the satellite and fixed-wireless networks, including sale-and-leaseback arrangements and joint ventures with private operators, but ultimately recommended they continue to be managed by NBN Co and remain in public ownership for the foreseeable future.
The report did, however, recommend that NBN Co explore closer cooperation with mobile operators to maximize the opportunity to share towers.
The Review also urged NBN Co and its customers, the retail telecommunications providers, to work together to carefully manage the available capacity on the two Long Term Satellites. It said satellite products should be designed to include better and more enforceable fair usage controls to enable all users to receive consistent, quality performance from the new satellites, at up to 25Mbps wholesale speeds. It further suggested that the commencement date for the Long Term Satellite Service be moved to early 2016, or sooner if possible, to enable NBN Co to focus on its activation as well as the migration of services from the Interim Satellite Service.
The NBN Co infosite is located at http://www.nbnco.com.au/
* * * * * * * * * * *
---
European Space Agency + Empa - Swiss Federal Laboratories—Comet Landing
In March of 2004, the Rosetta orbiter was launched into space to analyze and observe the nucleus and environment of the comet 67P/Churyumov-Gerasimenko.
Among the equipment on board were highly complex metal ceramic sensors integrated into two mass spectrometers.
The devices were specially developed for the mission to measure gas particles in the vicinity of the comet.
Little research has been done on comets and they still hold many secrets. One theory is that comets brought water (and thus possibly even life)
to Earth.
Although space probes have been able to carry out isolated investigations, this has only been while the comets were flying past. At least until now.
The European Space Agency (ESA) developed the Rosetta space probe in conjunction with numerous European institutions. This will be the first probe not only to collect measurement data "en passant" as it were, but to accompany the comet—and even to land on it.
Various devices on board are measuring, mapping and analyzing the comet and the gases and molecules in its environment over a period of two years.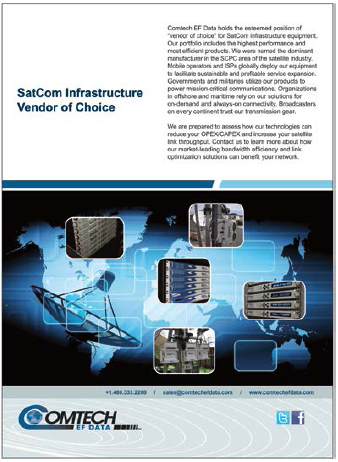 Even the interior of 67P/Churyumov-Gerasimenko will not be spared. A specially designed "lander" will—as its name implies—land on the surface of the comet and investigate its properties and its nucleus.
Numerous institutions are involved in the project, including the University of Bern, which was responsible for developing ROSINA (the Rosetta Orbiter Spectrometer for Ion and Neutral Analysis).
This group of instruments consists of two mass spectrometers and a pressure sensor. The researchers from Bern brought Empa on board to undertake the development and manufacture of the ion optical sensors for the two spectrometers. These not only had to be lightweight, but also had to withstand the harsh conditions of space.
After its cosmic rendezvous with the comet, ROSINA will analyze ions and neutral gas particles in the (extremely "thin") atmosphere and in
the ionosphere of 67P/Churyumov-Gerasimenko.
This will enable conclusions to be drawn about how the solar system was formed. The DFMS (double focusing mass spectrometer) has two different operating modes, a gas mode for measuring neutral gas particles and an ion mode for analyzing ionized particles.
The RTOF (reflectron time-of-flight) mass spectrometer enhances the DFMS by increasing the sensitivity of the whole instrument.
Mass analysis is carried out by means of the time-of-flight technique. This allows the combination of extremely high mass and time resolutions. This enables snapshots to be taken over the entire measurement range from 1 to 1000 amu (atomic mass unit).
The ion optical modules for the two mass spectrometers were developed and manufactured by a team led by Empa engineer Hans Rudolf Elsener. A major challenge was to translate the ideas and requirements of the astrophysicists into a multifunctional "space-grade" product capable of satisfying the highest demands: it had to be ultra-lightweight, mechanically robust, high-voltage resistant and very precise.
In addition to making design modifications, Elsener also developed various processes to join "unusual" materials, such as metals and ceramics, to each other.
The individual components were not screwed together as would usually be the case, but instead were brazed in a vacuum furnace. During this process, the materials are chemically bonded using brazing materials. This requires a range of different coatings, all of which have to be tested beforehand.
The parts to be joined are in a solid state—only the brazing material is fused and reacts with either the coating or the base material.
The methods and technologies developed at Empa were so successful that further space projects soon followed. Elsener and his team are currently developing a new ion optical sensor for an even smaller and lighter mass spectrometer for the Russian/Indian "LUNA" Moon mission, and Empa engineers also recently made highly complex modules and sensors for the European/Japanese "BepiColombo" mission to Mercury.
Although the probe will not reach the comet until August, the first measurements have already been taken. During the flight to the comet, the mass spectrometer analyzed Rosetta's exhaust gases and the components of the calibration gases.
The equipment tests carried out recently were also successful and nothing now stands in the way of the encounter with 67P/Churyumov-Gerasimenko.
* * * * * * * * * * *
---
NOAA + Space Foundation—An Award Winning Presence
The international COSPAS-SARSAT rescue network, responsible for saving more than 37,000 people worldwide, including more than 7,300 in the United States thanks to NOAA satellite operations, has been inducted into the Space Foundation's Space Technology Hall of Fame.
The COSPAS-SARSAT system is one of two inductees into the hall that was announced at the 30th Space Symposium at the Broadmoor Hotel in Colorado Springs, Colorado. The honor recognizes technologies originally developed for space applications that now improve life on Earth. COSPAS-SARSAT comprises 43 countries and organizations. The United States, France and Canada make up the "SARSAT" (Search and Rescue Satellite Aided Tracking) portion, while the Russian Federation leads the COSPAS portion.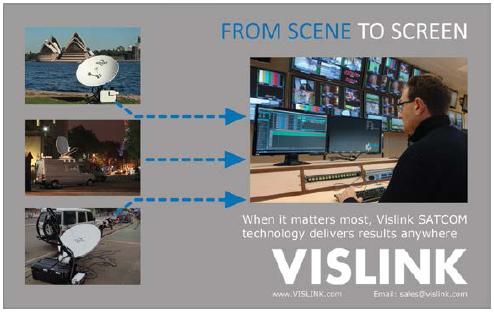 Since the inception of COSPAS-SARSAT in 1982, NOAA satellites have been a part of the system, which uses a network of other spacecraft to quickly detect and locate distress signals from emergency beacons onboard aircraft and boats, and from handheld personal locator beacons called PLBs. In the United States, when a NOAA satellite finds the location of a distress signal, the information is relayed to the SARSAT Mission Control Center based at NOAA's Satellite Operations Facility in Suitland, Maryland. From there, the information is quickly sent to a Rescue Coordination Center, operated by either the U.S. Air Force for land rescues or the U.S. Coast Guard for water rescues.
By law, owners of emergency beacons are required to register them with NOAA at http://www.beaconregistration.noaa.gov/. The registration information often helps provide better, faster assistance to people in distress. At the start of May, NOAA's database contained more than 411,000 registrations.
For more information about NOAA SARSAT,please visit http://www.sarsat.noaa.gov/
Additional NOAA Satellite and Information Service: http://www.nesdis.noaa.gov/
To learn more about the Space Technology Hall of Fame event, please access
http://www.spacesymposium.org/about/space-foundation-awards/space-technology-hall-fame
* * * * * * * * * * *
---
IHS—The Formation Of The Asian M2M Alliance
With cellular machine-to-machine (M2M) connections in Asia expected to more than triple in the coming years, local wireless operators have banded together in a group dedicated to facilitating M2M deployments in
the region.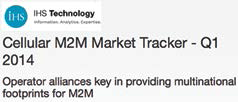 The installed base of wireless M2M connections in the Asia-Pacific (APAC) region will rise to 109.0 million in 2017, up from 32.6 million in 2012, according to IHS Technology.
By 2017, Asia-Pacific is set to be the second-largest regional M2M market, behind only Europe in total cumulative cellular M2M connection volume.
This past January, 11 operator members of the Bridge Alliance in the Asian-Pacific region formed the Bridge M2M Alliance. The group was chartered to promote the growth of cellular M2M services in APAC.
The 11 founding Bridge M2M Alliance operators were Airtel of India, AIS of Thailand, CSL of Hong Kong, Globe of the Philippines, Maxis of Malaysia, MobiFone of Vietnam, Optus of Australia, SingTel of Singapore, SK Telecom of South Korea, Taiwan Mobile of Taiwan and Telkomsel of Indonesia.
Together, these companies provide connectivity to more than 570 million mobile subscribers in the Asia-Pacific region. The Bridge M2M Alliance will specifically address market inhibitors unique to the Asia-Pacific region.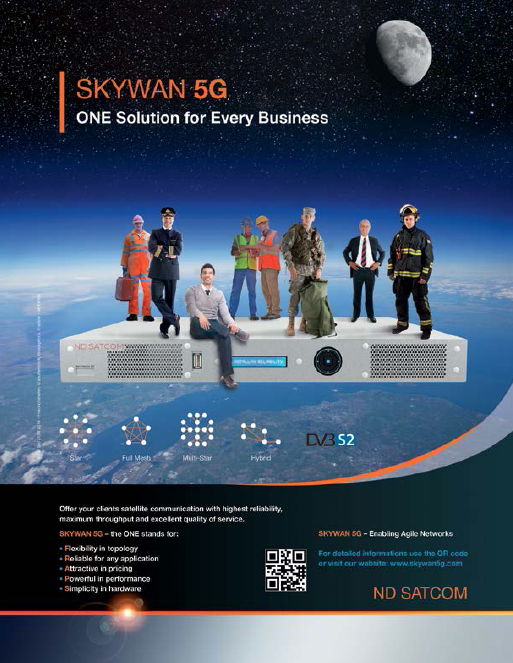 Asia-Pacific boasts a plethora of cellular air interface standards, including CDMA, WCDMA, TD-SCDMA, and TD-LTE. This diversity makes the value proposition of a multinational deployment, either to enable one device to travel among several countries or to enable on stock-keeping unit (SKU) of a device to be shipped to multiple countries, harder to attain.
This diversity is not present in other regions to the same degree. Europe, for example, has largely standardized on GSM, WCDMA and FD-LTE.
Also, compared to regions, Asia-Pacific has more countries separated by large bodies of water, which reduces opportunities for connected devices to travel from country to country.
For example, there is little chance that long-haul truck fleets will need to be tracked from South Korea traveling to China or from Australia to Japan.
This situation is in contrast, again, to Europe, or North America, where there is significant movement via direct land borders.
Finally, major country-level M2M markets in Asia-Pacific are developing along more individual lines from one another than is the case in other regions.
For example, M2M in China is heavily state-driven, with strong government support for the IoT and smart-city development. This parallels the country's growing connected-car market, which is more market driven.
South Korea, in comparison, is relatively more focused on consumer connected devices and smart home applications, while the Japanese M2M market is diverse, ranging from smart-vending machines to connected cars.
In contrast, the M2M markets in North America and Europe tend to be more homogenous, facilitating multinational deployments.
Despite these significant structural barriers, IHS believes there is little doubt that rapid growth will occur in multinational M2M deployments in APAC.
To the extent that such deployments occur, the Bridge M2M Alliance is beneficial. Key benefits are a harmonization in commercial terms—such as service-level agreements (SLAs) and customer support, technical interoperability between different operators' platforms and the joint development of a supporting ecosystem of technology vendors.
These findings are contained in the report, "Cellular M2M Market Tracker – Q1 2014," in the M2M Intelligence Service of IHS. That URL is...
https://technology.ihs.com/425668/cellular-m2m-market-tracker-q4-2013
* * * * * * * * * * *
---
EUMETSAT—Copernicus "Captures" Earth Necessities
EUMETSAT has started to deliver sea surface temperature products to Copernicus, the EU program for monitoring the Earth environment and security.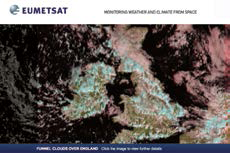 The data is derived from the Suomi-NPP spacecraft of the US National Oceanic and Atmospheric Administration (NOAA).
The sea surface temperature data is being provided to MyOcean2, the consortium tasked by the European Commission to deliver the pre-operational Copernicus marine service.
EUMETSAT has been designated by the European Commission as the provider of data from the Suomi-NPP polar-orbiting satellite to the Copernicus marine and atmosphere services under a project known as SNPP4C.
Through this project, EUMETSAT will also deliver atmospheric composition products to MACC-II, and ocean color products to MyOcean2.
EUMETSAT's long and productive relationship with NOAA is key to the success of the project.
Sea surface temperature has important applications in understanding and predicting ocean currents, as well as the development of weather systems over open water.
Data from Suomi-NPP is transmitted in near real-time, traveling via the NOAA ground segment to EUMETSAT, where it is tailored for
the Copernicus service's requirements.
The product is disseminated on EUMETCast.
"The new sea surface temperature product is a valuable addition to our service," says Laurence Crosnier, MyOcean Central Product Manager.
"We are pleased to rely on EUMETSAT for the tailoring and distribution of essential data."
"This project demonstrates that we can create a smooth path from other satellite operators to European users," said Simon Elliott, the project manager for SNPP4C at EUMETSAT. "Even when all of the Copernicus satellite instruments are operational, there will still be a need for complementary data."
EUMETSAT information is readily available at http://www.eumetsat.int/website/home/index.html
NOAA's infosite may be accessed via http://www.noaa.gov