One senior staffer at satellite operator SES has some bonus share options open to him. The problem is they kick in when the SES stock price hits €32.
In mid-March their market value was at an 'all time low' of barely €5.80. He summed up the position succinctly: "Bang goes my retirement fund!"
---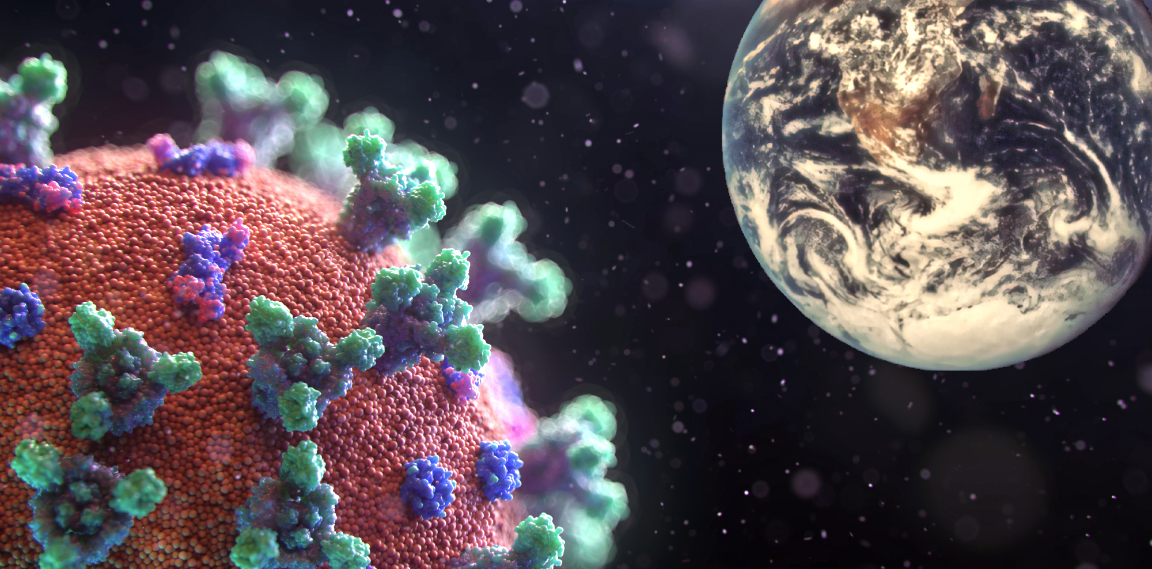 ---
But SES isn't alone. Satellite stocks are truly in the toilet. While it is fair to say that coronavirus anxieties have badly affected the world's stock markets, it is also a fact that stock prices for the world's major satellite operators are suffering massively. We cannot measure Asiasat (now a private company) or Inmarsat (which delisted in December of 2019) or London's Avanti Communications (taken private in September of 2019).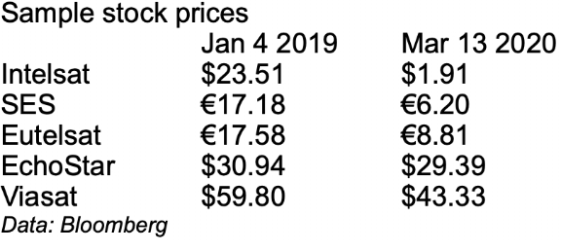 However, we can look at the 'Big Three' (Intelsat, SES, Eutelsat) and include Echostar and Viasat as being good examples of slightly broader-based businesses.
While our mid-March data is up-to-date, we have deliberately not sourced valuations from the five listed companies which showed their best performance levels over the past year or so. For example, a snapshot price for Viasat (on May 24, 2019) showed an especially buoyant $94.25. Charlie Ergen's Echostar enjoyed a $50 value in January 2018.
Even allowing for the past three years of volatility because of the complete C-band process and uncertainty, the decline in satellite values is extraordinary and largely inexplicable.


Top to bottom: Steve
Collar, Michel Azibert,
Pradman Kaul
At a recent industry event, the topic was barely raised. Indeed, a significantly trimmed down 'Global CEO' panel at the show reflected the challenges of the coronavirus. Normally populated with eight senior execs, this year's session presented only three people on the panel (SES' Steve Collar, Eutelsat's deputy CEO Michel Azibert and Hughes' Pradman Kaul).
However, it would be wonderful if the collapse in the share prices of Intelsat, SES and Eutelsat were also caused by the meltdown in stock prices at bourses around the world due to the coronavirus. As observers know only too well, the share price reductions were well underway before the virus impacted the 'big three'.
Additionally, there are some observers beginning to wonder whether the FCC's impending end-May date to establish its "Clearinghouse" operation will be met, or will Intelsat mount a legal challenge or even press the nuclear trigger and enter Chapter 11?
Not meeting the FCC's Clearinghouse date, or Intelsat stepping aside and not joining the FCC's clearing plan, will only drive prices down further.
Do investors blame the current managements at the three operators for these depressed stock prices? Certainly, the recent speculation — and fall following the C-band decisions — has not helped. As tof this writing, there's still a huge amount of uncertainty over Intelsat's decision in regard to C-band over the US.
The C-band conundrum is that if Intelsat does not proceed with the FCC scheme, the regulator can scrap the whole process. The FCC is cannily requiring that at least 80 percent of the participants must participate in the project. With Eutelsat and Telesat (and Brazil's StarOne) barely accounting for 9 percent of the spectrum on offer under the scheme, then Intelsat has to agree with SES to proceed or the whole pack of cards falls.
Intelsat could receive the largest pay-out (of some $4.87 billion) in terms of incentive payments if they participate, plus having their technical and new satellite costs covered by the auction's winning bidders.
The event's panelists addressed the C-band challenges with Eutelsat's Azibert saying he hoped the FCC would stick with its December 2020 auction start-date. SES CEO Steve Collar reminded delegates that SES would hold Intelsat to its obligations that had ben entered into under the C-Band Alliance.
However, SES, prior to the DC show, had already suffered further market depression following the company's March 2nd results announcement, with Collar telling the market that a period of capital expenditure (€2.5 billion over the next four years) would be financed by a 50 percent reduction in shareholder dividend.


Rodolphe Belmer
A month ago, Eutelsat's CEO Rodolphe Belmer told analysts that the firm's dividend policy would stay in place and would expand over time. Intelsat pays no dividend.
Collar also announced that SES is contemplating a split of its "two businesses under one roof" and hiving off its plateauing Video division away from the healthier and growing Networks division.
Collar said, "We intend to consider the separation of our networks business within SES and potentially provide it with access to external capital to accelerate growth and scale. We expect that this will provide us with operational and strategic focus within each business, provide the external market with greater visibility into our fast-growing Networks business and provide us strategic flexibility and optionality in the future."
Investment bank Jefferies issued its report on the SES results on March 2, advising investors to "read between the lines." While admitting that the day "was painful" for the company, analyst Giles Thorne added, "In our view, [the day] will be looked upon in time as the day SES signaled structural solutions to its structural problems, namely: functional and legal separation of Networks so as to better highlight its merits while de-risking its capex; and the creation of a Video 'RumpCo' ahead of industry consolidation."
However, the market's view of the SES numbers and prognosis was nothing less than horrible. SES shares ended the day (March 2) down a worrying 30.3 percent at €7.21, and the-then-lowest price since 2004.
Jefferies have a Price Target for SES of a respectable €26/share, but the 30+ percent collapse on March 2 means that the bank's target seems an impossibly long way off. Indeed, it is a question of whether this normally industry-leading stock can ever recover.
Another analyst, Laurie Davison, from Deutsche Bank, summed up the results and said that the day was "ugly". He said that the Dividend cut was "worse than we had feared," and added that splitting 'Networks' from 'Video' could lead to an eventual merger between Eutelsat and the SES Video business — and potential synergies worth around 20 percent... Perhaps.
While reviewing the various options explained by CEO Steve Collar, the Jefferies's note stated that the operator's 'Simplify & Amplify' strategy is "Positioned as an evolution of principles and direction laid down in 2017, we see the following as the most pertinent elements and our reading of what's going on between the lines: a potential functional / legal separation of Networks within SES, with potential for Networks to access external capital (reading between the lines: surely a IPO of the business to better mark-to-market its credentials; primary / partner capital to fund the mPower capex peak; leave Video equally separated to realize the now increasingly timely Eutelsat merger) and operational focus (reading between the lines: rightly so, there's a huge opportunity ahead of mPower, at a time when infrastructure competition is set to increase, i.e., the LEOs); a focus on core strengths (DTH, FTA, mobility, government) and "stop doing what others can do" (reading between the lines: the final curtain on the deeper push into Video services); and EBITDA optimization equal to €40-50m annually from 2021 (reading between the lines: a self-help programme that is a natural by-product of the aforementioned re-focusing of the business)."
The analyst also included comments on the FCC decision on C-band, reporting, "SES is very much looking to the future - we note: a major statement of support for the plan; creation of a dedicated team for clearing the band; and first official guidance for the use of proceeds (pragmatic deleveraging, targeted investments and returns to shareholders)."
SES Numbers
• Group revenue of €1.983.9 billion, down 1.3 percent as reported (-3.8 percent YOY at constant FX)
• FCF before financing activities of €826.3 million (2018: €870.5m) representing 41.7% of group revenue
• Video revenues, now 61 percent of revenues, declined 7.8 percent to €1,210 million
• 365 million homes now obtaining services from SES
• More than 3000 HD and UHD channels carried
• Contracted backlog €6.3 billion
Collar was not offering the hand of friendship toward Intelsat. "We were disappointed at Intelsat's 11th hour change of direction and change of heart. It was in our view transparently motivated and regrettable after having worked with them for some two-and-a-half years at the C-Band Alliance. But we fully intend to hold Intelsat to their commitments to the Alliance and that they made to SES over this period."
Collar explained how SES would meet its obligations to replace lost capacity under the FCC scheme. "It only makes sense to do this as part of the FCC plan but we are not able to leverage the sort of scale that we might do normally. These will be eligible expenses and eligible costs as part of the C-band replacement scheme. They will remain as C-band, and it isn't our plan to add other frequencies simply because the time frame that we have to meet requires [the new satellites] to be simple, plain vanilla, C-band dedicated and standardized satellites that can launch quickly.
"Going from 500 MHz of spectrum to 200 MHz means a lot more orbital slots. We have those slots. We will re-populate slots that we have consolidated over the past 15 years or so. The good news is that there are plenty of clients who still have dishes pointing to those old positions," Collar noted.
As mentioned, much depends on Intelsat's decision. A detailed report in the New York Post alleges that two important investors in Intelsat "partly escaped" the devastating collapse in Intelsat's share price. The newspaper states that BC Partners and Silver Lake Partners, the two largest holders of Intelsat stock, "managed to sell a big chunk of Intelsat shares before the company's hopes began to unravel".
The Post report alleges that Intelsat's CEO met with a senior FCC official on November 5. This meeting was routinely reported by the FCC three days later. However, on November 6, and before the FCC meeting was reported, Bloomberg News reported that Morgan Stanley had sold a 10 million block of Intelsat shares on behalf of clients — at $24.60 per share.
It is being alleged that Morgan Stanley acted on behalf of BC Partners and Silver Lake. BC Partners held two seats on the Intelsat Board of Directors. BC Partners confirmed that it sold some 8.3 million shares in the quarter-year to December 31st.
The New York Post reported that the November 5 meeting between Intelsat's CEO and the FCC was key — the CEO was allegedly heard to say that the FCC was going to rule on an FCC-organized auction of C-band assets.
On November 8th — and again, prior to the FCC routine announcement of the November 5 meeting — Intelsat submitted a revised proposal to the FCC (which was rejected by the FCC on November 18).
Intelsat told the newspaper that it does not reveal private discussions with its directors. A statement from BC Partners to the New York Post said, "The sales in question were executed based solely on available public information at the time and were executed in full compliance with all relevant market rules and regulations."
The Post is reporting that other Intelsat investors are concerned and demanding that the share sale be investigated. One securities lawyer told the newspaper that the powerful Securities & Exchange Commission (SEC) would open an inquiry into the share movements. Another, a hedge fund investor, confirmed to the newspaper that they were talking to lawyers about possible legal action.
Intelsat, in one of its final responses to the FCC, stressed that it is a "proudly American company" and said in order to counter some of the critics who suggested that all of the incentive payments were going to non-American businesses. Intelsat is headquartered at Tyson's Corner, just a few miles from the FCC's own offices and highly visible to anyone who ever shops at the adjacent shopping mall. Intelsat is, however, formally domiciled in Luxembourg for the small nations tax-friendly benefits to satellite operators.
Intelsat's full statement states, "Throughout this proceeding, Intelsat, a proudly American company, has sought to enable a speedy transition of spectrum to accelerate the deployment of 5G services in the U.S. while protecting the nation's television and radio distribution system. We will analyze the details of today's final order, including timing, technical parameters and responsibilities of the various stakeholders, in addition to acceleration incentives and clearing cost reimbursements. As we do so we will preserve all options to ensure our company is treated fairly and protect our spectrum rights."
Can the next year or two lead to an improvement in satellite's fortunes? If the FCC scheme goes ahead, then SES can pocket $4 billion, and Eutelsat will receive the best part of $1 billion. Sets of revenues will help the pair's bottom line and potentially reduce their borrows. Every cent that Intelsat could receive from the FCC's auction would probably go to help their overall financial restructuring, and reduce their debt burden.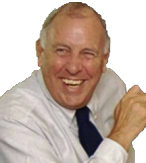 Senior Columnist Chris Forrester is a well-known broadcasting journalist and industry consultant. He reports on all aspects of broadcasting with special emphasis on content, the business of television and emerging applications. He founded Rapid TV News and has edited Interspace and its successor Inside Satellite TV since 1996. He also files for Advanced-Television.com.
In November of 1998, Chris was appointed an Associate (professor) of the prestigious Adham Center for Television Journalism, part of the American University in Cairo (AUC), in recognition of his extensive coverage of the Arab media market.
---
CBA: The 100 percent upside
"OK," you might say if you were a satellite operator. "We've lost this battle, but we can win the war!"
The FCC and C-Band Alliance machinations have been the primary focus for the satellite industry for the better part of three years. The rationale for a major 'win-win-win' for the US-focused satellite sector is simple. Whether SES or Intelsat, the pair will each receive almost $4 billion (less tax in the case of SES) for surrendering their spectrum rights to an overall 300 MHz of C-band frequencies over the US. They will also be compensated for as much as an overall $5 billion (and it could be more) for the ground-based restructuring and relocation of existing hardware at cable and IP head-ends.
As well as providing a wonderful portfolio of work for US technicians and engineers as they carry out the work, this also means a portfolio of orders for US satellite manufacturers. The original submissions to the FCC talked of around eight new satellites would be needed to compensate for the 'lost' frequencies.
SES CEO Steve Collar has explained the company is planning for new satellites to be placed in older — and less used — orbital locations to serve the US. "We have those slots. We will re-populate slots that we have consolidated over the past 15 years or so. The good news is that there are plenty of clients who still have dishes pointing to those old positions.," he said.
These new smaller satellites will be C-band only and ordered promptly for speedy delivery into orbit and certainly before the FCC's key dates (now December of 2021 for the first 100 MHz of spectrum, and December of 2023 for the final 180 MHz of frequencies)
New satellites ordered by satellite operators these days tend to be ultra-sophisticated craft with multiple frequency ranges (C-, Ku- and sometimes Ka-band) and state-of-the-art, on-board digital switching, as well as multiple beams and spot beams to maximize the coverage and versatility of the craft and its orbital position.
These new C-band craft are a different beast. As Collar explained: "These will be eligible expenses and eligible costs as part of the C-band replacement scheme. They will remain as C-band and it isn't our plan to add other frequencies simply because the time frame that we have to meet requires [the new satellites] to be simple, plain vanilla, C-band dedicated and standardized satellites that can launch quickly."
Nevertheless, the move gives SES (and probably Intelsat) a brand-new C-band fleet over the US that should be good for the next 15 to 17 years — and paid for by the incoming 5G auction winners! There will be some initial Capital Expenditure, but that will be refunded by the auction winners.
There are challenges ahead, not least the threat from smallsat operators (specifically Bermuda's ABS, Argentina's ARSAT and Spain's Hispamar) who have said they will initiate legal action as they have been excluded from the FCC's plans.
Brazil's Embratel Star One qualifies for an FCC award (of $13.7 million) due to the company's Florida footprint and the southeast corner coverage of the US with its satellite footprint.