---

---
The SpaceX Transporter-2 Mission Launches Without A Hitch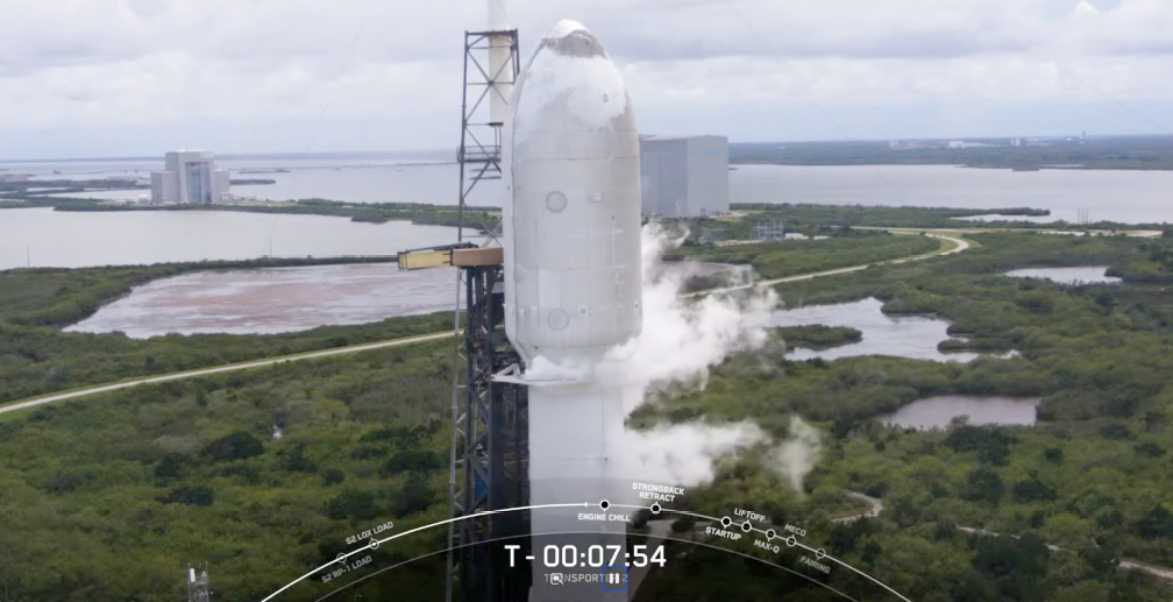 SpaceX Falcon 9 Transporter-2 mission fairing
before launch. All story imagery is courtesy of SpaceX.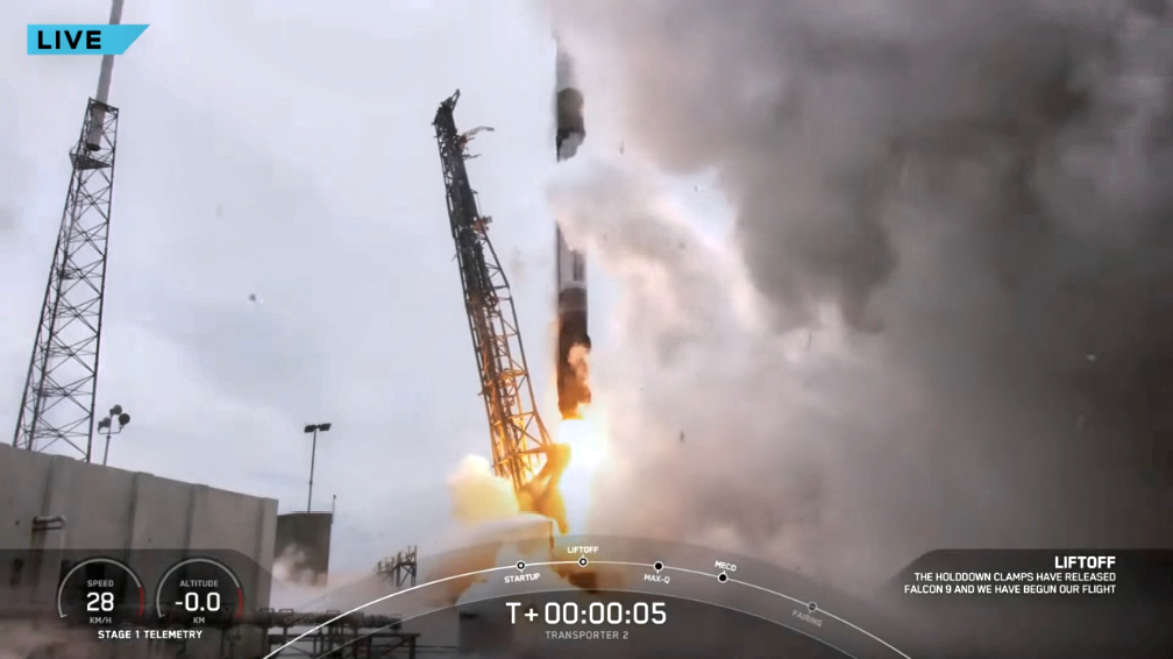 The successful launch of the SpaceX Transporter-2 mission from Cape Canaveral.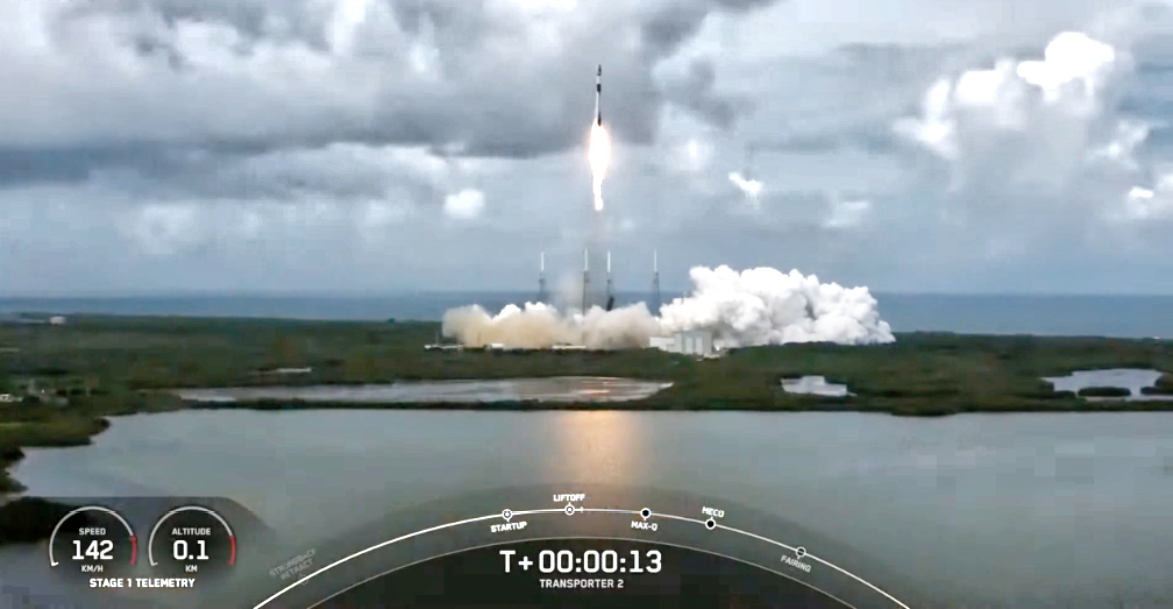 The Transporter-2 launch.
Following a disappointing 'No Go' yesterday, June 29, for the launch of the Transporter-2 mission, today's launch attempt by SpaceX (June 30, 2021) experienced the exact opposite result… success!
This day, the weather was cooperating and the downrange indicators were all clear, unlike yesterday's (June 29) incursion into this zone by an aircraft that caused a halt to the launch proceedings.
Although the 88 commercial and government payloads within the 70-meter tall, Falcon 9 launch vehicle's, 17-feet in diameter fairing — it's third flight — for this Transporter-2 mission is not quite the same number as the 144 smallsats SpaceX launched by the company on January 24, 2021, what makes this a unique, historic launch for the company is that, this time around, SpaceX is pushing more mass to orbit for the firm's customers than their previous Transporter-1 mission.
Liftoff occurred from Space Launch Complex 40 (SLC-40) at Cape Canaveral Space Force Station in Florida on schedule, with this Falcon 9's first stage booster previously having supported the launch of GPS III Space Vehicle 03, Turksat 5A and five Starlink missions.
Then quite a feat occurred, as three Merlin engines engaged in burns to reduce speed of the 1st stage for landing… at Cape Canaveral and not out in the Atlantic Ocean aboard one of the firm's droneships.
Quite an amazing site watching the first stage accurately land in the exact, defined spot for its return.
A perfect 1st stage landing for the SpaceX Transporter-2 mission.
---
The National Oceanic and Atmospheric Administration (NOAA) announced plans on June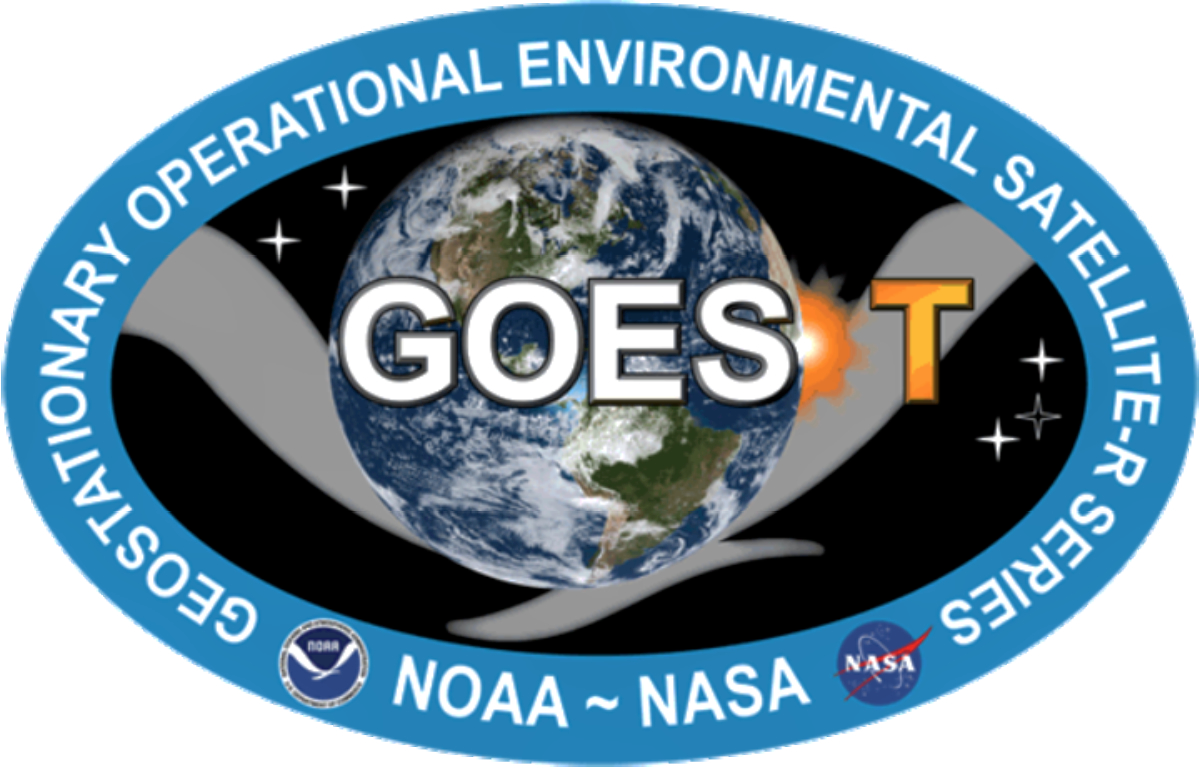 25, 2021, to move the agency's newest geostationary weather satellite, GOES T, into an operational role "as soon as possible." The launch is expected to occur in December.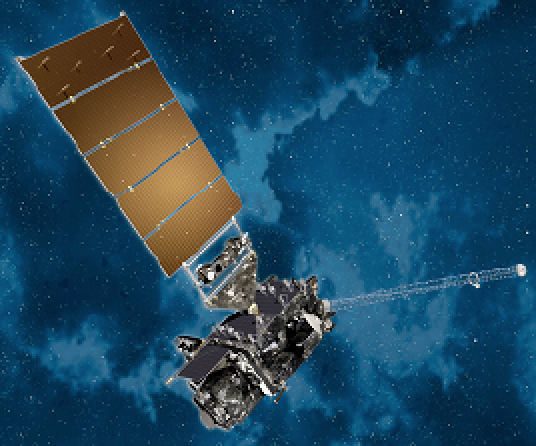 Artistic rendition of the GOES T satellite is
courtesy of NOAA.
This advances the previous GOES-T flyout and operational status schedule by a whopping four years. No word as of yet for GOES 17's fate. The assumption is that the satellite could be placed in on-orbit storage in a "central" location in geostationary orbit and called into service as needed as a backup, like GOES-15, or during complex weather conditions like hurricane and tropical storms seasons.
NOAA's GOES-T will replace GOES-17 as the new satellite in the GOES-West position, following its scheduled liftoff (which is scheduled for December 7th, 2021) from Cape Canaveral, Florida, top NOAA officials announced on June 24th, in an announcement posted on the NOAA- National Environmental Satellite, Data, and Information Service (NESDIS) website.
Liftoff info (as of this writing):
• Launch time: 2140 GMT (4:40 p.m. EST)
• Launch site: SLC-41, Cape Canaveral Space Force Station, Florida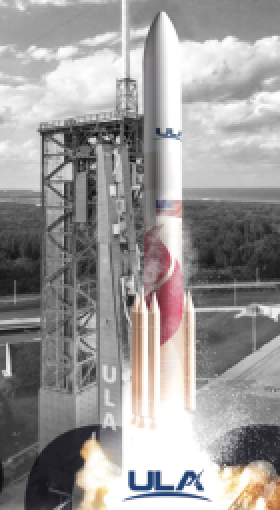 A United Launch Alliance Atlas 5 rocket will launch GOES-T, the third, next-generation, geostationary weather satellite for NASA and NOAA. GOES-T will orbit 22,300 miles above the equator to monitor weather conditions across the United States. The rocket will fly in the 541 vehicle configuration with a five-meter fairing, four solid rocket boosters and a single- engine Centaur upper stage.

The decision to place GOES-T into operational service as soon as possible after launch is a result of the blockage in the loop heat pipe of the Advanced Baseline Imager (ABI), the key instrument on GOES-17. The LHP issue was overcome by engineers, and GOES-17 was able to deliver 98% of it's intended data.
GOES-T, which is the third satellite in NOAA's advanced GOES-R series, will be renamed GOES-18 following a successful two-week post-launch checkout phase. Once operational and in service, the satellite will work in tandem with GOES-16, which operates in the GOES East position.
Reported by Carl Reinemann of USRADIOGUY.com
---
Gilat's Wavestream Receives Million$ For LEO Constellations Gateway Support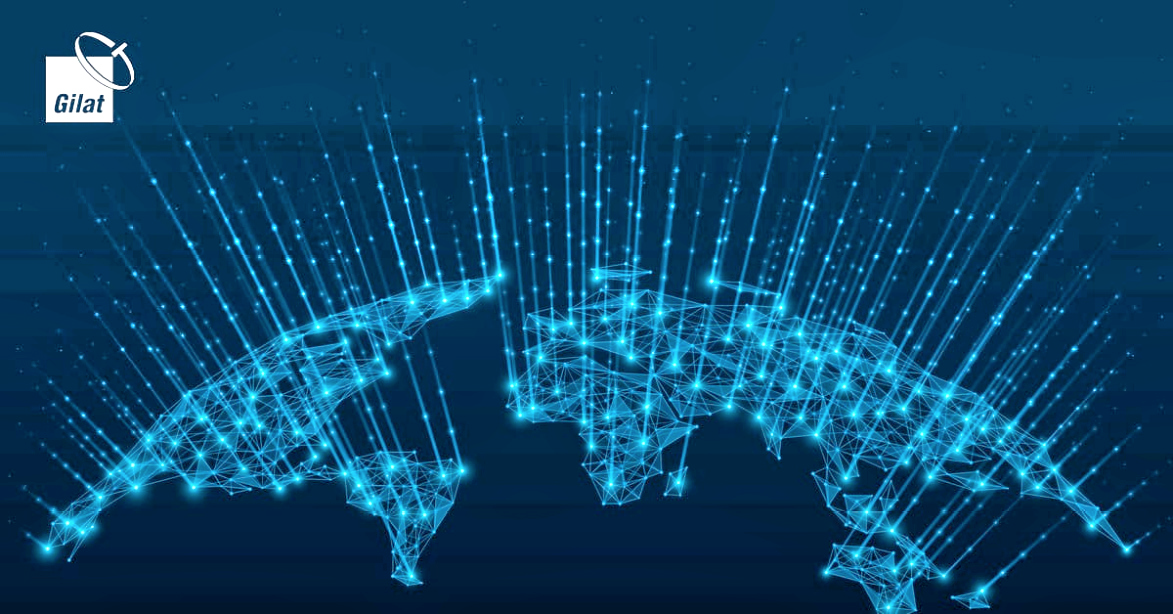 Gilat Satellite Networks Ltd. (Nasdaq: GILT, TASE: GILT) has received $9 million in orders for support of gateways of Low Earth Orbit (LEO) constellations.
Gilat's subsidiary, Wavestream, was selected as the vendor of choice to supply Gateway Solid State Power Amplifiers (SSPAs) to a leading satellite operator to support the LEO constellation gateways. The orders were received as part of the previously announced contract.
Wavestream is proceeding according to plan with orders that now exceed 800 Gateway-Class SSPAs. Wavestream's PowerStream

160Ka is designed specifically for networks using wide bandwidth uplinks and high order modulation schemes, thus best addressing the stringent requirements of Non-Geostationary Satellite Orbit
(NGSO) constellations installed in remote locations.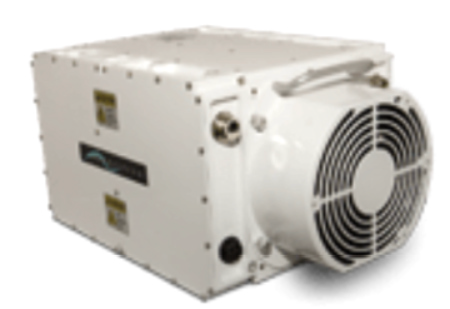 "The high-volume manufacturing of these highly-complex Gateway- class SSPAs is proceeding at an unprecedented production rate, with all deliveries expected in the next 12 months," said Bob Huffman, Wavestream's General Manager.
"Our manufacturing capacity, product reliability, and experience with high-power Ka-Band SSPA technologies stand alone in the NGSO Gateway market, and we are honored to be trusted to deliver more than 1,000 of these units for the entire program."
---
NASA's StarBurst Smallsat Mission To Be Developed By Space Flight Laboratory

NASA Marshall Space Flight Center has contracted Space Flight Laboratory (SFL) to develop a smallsat platform for the StarBurst astrophysics mission — part of the newly formed NASA Pioneers Program, StarBurst seeks to detect high-energy gamma rays that are emitted from events such as the mergers of neutron stars.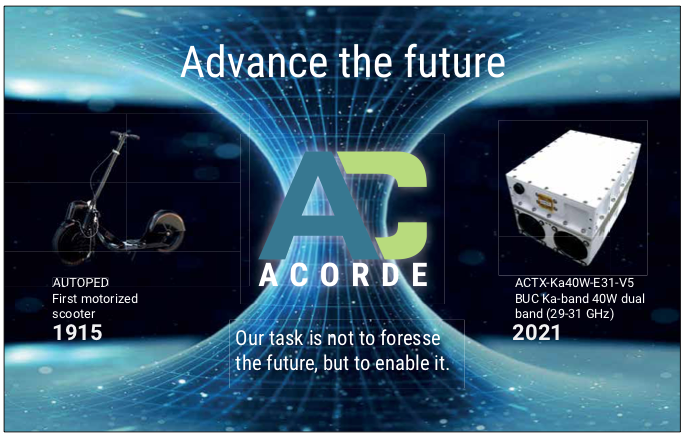 NASA announced the Pioneers Program in 2020 to develop small-scale astrophysics missions using smallsats, balloons, and modest International Space Station payloads to explore cosmic phenomena.
In the first round, NASA selected four proposals to study galaxy evolution, exoplanets, high-energy neutrinos, and neutron star merger.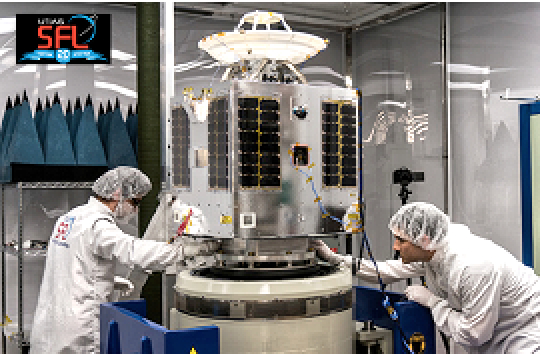 Managed by the NASA Marshall Space Flight Center, StarBurst will focus on neutron star research, using a 250 kg smallsat built by SFL to observe the gamma rays emitted from these merger events, which form most of the heavy metals, such as gold and platinum, in the universe. It is believed StarBurst could observe up to 10 neutron star mergers every year.
SFL will develop the StarBurst mission on its space-proven 1x1x1-meter scalable DAUNTLESS bus. Under Phase A of the program, SFL will complete the platform concept design, and upon approval by NASA, will then proceed with detailed design, integration, and testing of the spacecraft. SFL will also support the launch, commissioning, and operation of StarBurst, notionally scheduled for 2025.
"SFL is pleased that NASA has chosen us to participate in the Pioneers Program that was created specifically to perform astrophysics science with smaller, more cost- effective hardware, including small spacecraft developed the microspace way," said SFL Director Dr. Robert E. Zee.
---
Extra Bharti Cash Fully Funds OneWeb

Bharti Global has invested an extra $500 million (€420.5 million) into satellite constellation OneWeb and that means the business is now fully funded at $2.4 billion.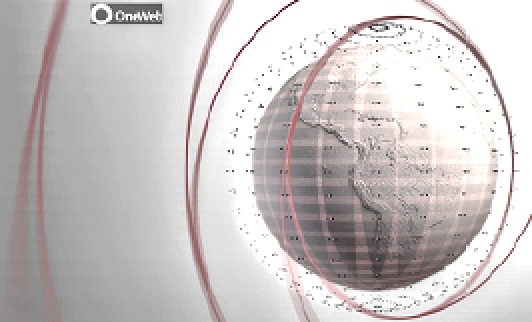 Bharti's influx of extra cash means that the company now owns 38.6 percent of the business. The other key investors, Eutelsat, the UK government and Softbank, each hold 19.3 percent of the company. The new money from Bharti came as a result of a Call Option to investors. This current shareholding might change if one or the other of the remaining investors decides to respond positively with more money.
OneWeb's Executive Chairman, Sunil Bharti Mittal, said, "OneWeb represents a unique opportunity for investors at a key moment in the commercialization of Space. With its Global ITU LEO Spectrum priority, Telco partnerships, successful launch momentum and reliable satellites, OneWeb is ready to serve the vital needs of high-speed broadband connectivity for those who have been left behind. Nation states can accelerate their universal service obligations, Telcos, their backhaul and Enterprise and Governments can serve remote installations."
Neil Masterson, CEO of OneWeb, added, "The completion of our funding puts OneWeb in a powerful position. We have significantly lower entry cost of any LEO. We benefit from $3.4 billion of pre-Chapter 11 investment by the original shareholders, making new OneWeb a three-times lower cost Constellation. With the forthcoming launch we will have completed 40 percent of