There is no doubt that the maritime industry is increasingly vital for a plethora of resources for industry, commerce, and leisure. Indeed, 70 percent of the Earth is covered by oceans and we rely heavily on the maritime industry to transport globalized trade goods, supply food and energy, as well as providing us with entertainment. With increasing importance, however, comes the need to communicate effectively while at sea.
A Challenging Environment
Maritime is one of the most challenging environments foreffective communications, while at the same time being onefor which communication is vitally important—often, quiteliterally, a lifeline. Indeed, satellite is at times the only wayto effectively communicate when at sea, reaching whereother communication methods simply cannot provide theneeded services.
The challenge is that by its very nature maritime satellite installations use comms-on-the-move (COTM) solutions and often use auto-deploy technology. For manufacturersto produce these products so as not to cause satellite interference, especially as they will be movingduring operation, is by nomeans a simple task. With more and more products on the marketplace and manufacturers facing stiff competition, that challengeis becoming all the more apparent.
In 2010, the Global VSAT Forum (GVF) established the GVF Maritime Satcom Forum (MSF) to facilitate more productivesatellite-sector engagement with shipping companies.GVF has focused on building strong relationships with theinternational association of shipping managers, InterManager,as well as running a number of practical initiatives to addressthe challenges of satellite communications at sea.
Understanding Who Wants What, Where, + For Whom
The maritime marketplace is like no other, meaning that satellite operators need to fully understand the wide-ranging requirements that vary by type of vessel, type of owner /operating company, data volume, and crew requirements.Only by fully understanding these requirements and how theydiffer for each customer can the satellite operator offer a trulytargeted offering to address these to each individual user.
This very subject was recently the focus of a meeting at Satellite 2013 in Washington. Delegates learned how to better recognize and address those individual needs.
At The Helm + At The Desk.
The technology of communications and the exchange of information it facilitates have undergone highly-accelerateddevelopment. With such advanced communications, themaritime communications service environment has now progressed fully into the broadband age. Ships' captains inthe 21st Century have to wear two hats: Vessel commanders and office managers who run a complex emote business. For captains' access to mission critical satellite communications solutions, supporting complex maritime applications andbusiness applications is essential for a successful voyage andfor a successful enterprise.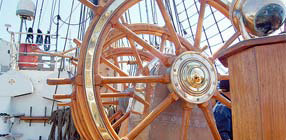 At Satellite 2013 in another GVF-led session, the question was put as to whether the current fixed and mobile satellite environment is providing all the answers and, If not,"What is missing?" The session addressed a number of key issues, including the following:
GMDSS in theFixed & Mobile Satellite Environment
No maritime SATCOMs discussion is complete without addressing GMDSS in the Fixed &Mobile Satellite Environment—more so with the advent of maritime piracy on commercially strategic sea lanes. The fixed satellite service (VSAT) environment can serve to meet GMDSS requirements, supplementing the position of theestablished mobile satellite service in performingthis function.
Maritime Comms For A New Arctic Horizon
Climate Change is here, bringing forth new opportunities for the maritime sector. With the Northwest and Northeast passages open to navigation for a longer period of time every year, and commercial activity in the Arctic region increasing dramatically, new challengesfor the delivery of satellite-based broadbandcommunications solutions to the higher northernlatitudes present themselves for analysis.
Test Procedures
Satellite interference is a huge problem facing our industry today. As mentioned above, the challenge specifically in the maritime satellite communications sector is that the systems aremainly auto-deploy or comms-on-the-move, whichare potentially prone to errors if not built correctly.
Therefore testing auto-deploy and comms-on-the move products is one way of reducing errors and potential interference from these systems. GVF has recently finalized a test procedure for auto deploy systems, and is currently working with the industry to finalize a test procedure for comms-on-the-move equipment. Those products, which pass muster, are then considered compliant with a range of industryrequirements, which make them less prone to errorand less likely to cause satellite interference.
The key factor with those test procedures in place, will be ensuring that VSAT service providers and other satellite operators encourage theircustomers to use earth station equipment that has been tested and shown to be compliant with industry performance specifications.
Meeting The Challenges
There is no doubt that the maritime satellite communications sector has a number of unique challenges, however theseare being overcome through more effective collaboration between the satellite and maritime industries. There are a number of practical initiatives to help resolve those challenges further and ensure the maritime industry has the efficient and reliable provision of satellite communication upon which itrelies.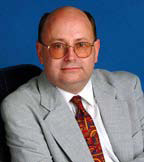 About the author
Martin Jarrold has worked for GVF for more than 10 years, having been appointed GVF Chief of International Programme Development in June 2001. His particular responsibilities include outreach to the member organisations of the GVF and for the further development of the profile of the Forum within the satellite communications industry, and across the global telecommunications policy and regulatory community. This extends to the development and delivery of programmes focused on extending the understanding of, and promoting the use of, satellite-based communications in various key end-user vertical markets. Mr. Jarrold is Chairman of the GVF Oil & Gas Communications Conference Series, and of the GVF Broadband Maritime Conference Series, which combined have produced 17 conferences in Europe, the Middle East, South East Asia, and South America (as of 1st July 2011). The Oil & Gas Communications Series is expanding into the Angola market in 2012. Mr. Jarrold is also Co-Chairman of the GVF Maritime Satcom Forum.