Euroconsult's satellite report insights
Euroconsult's analysis and forecast of satellite manufacturing and launch services worldwide is available in their "Satellites to be Built and Launched by 2026" report and includes PDF and Excel files.
The report highlights include...
• Nearly 3,000 satellites, weighing more than 50 kg, will be launched in 2017–2026 (threefold increase compared to the previous decade)
• Revenues for the world space industry over the next decade are estimated at $304 billion (manufacturing and launch services)
• In the first nine months of 2017, a total of 70 satellites weighing more than 50 kg were launched out of a planned total of 173
• In 2016, 100 satellites were launched for a market value of nearly $32 billion (average capex of $322 millio per satellite)
• Growth in satellite launches in recent years was driven by the launch of LEO and MEO constellations
• As opposed to the previous decade and due to constellations, the largest market will be for commercial satellites, with approximately 2,000 satellites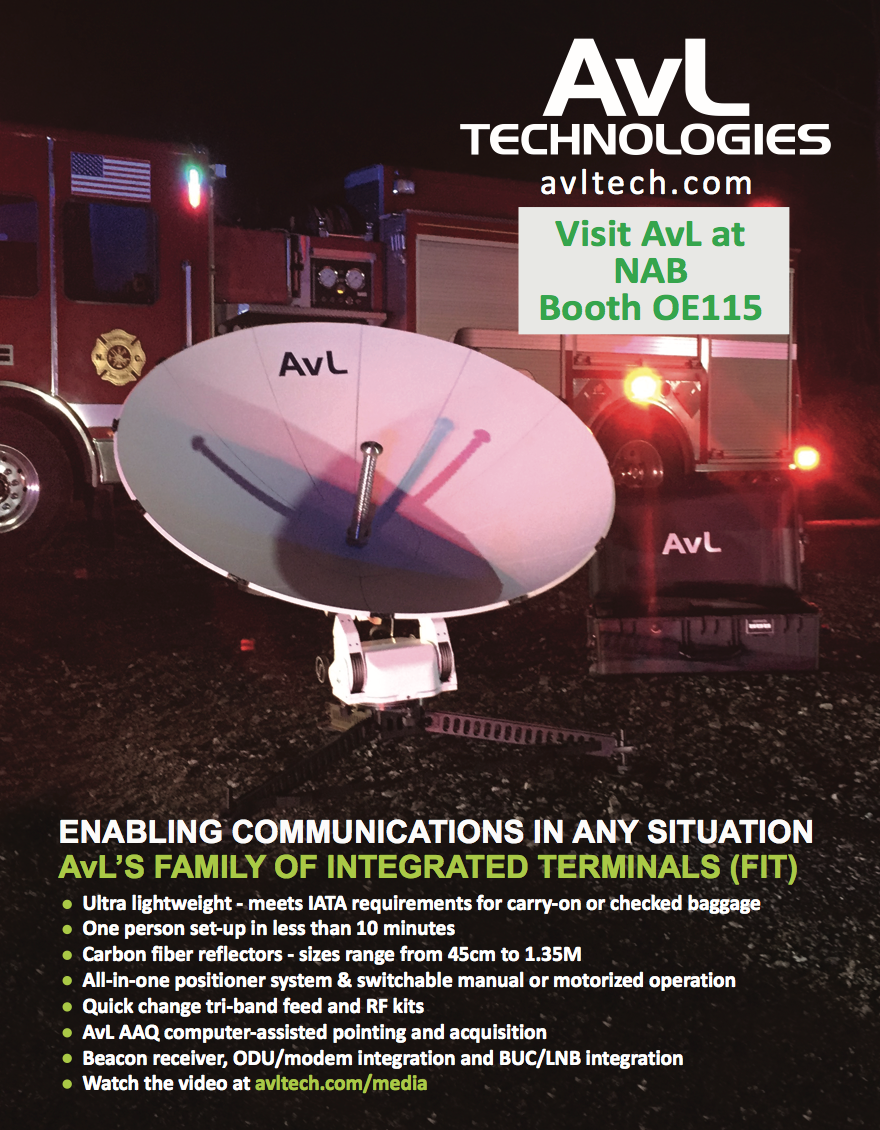 Key Trends, Drivers and Forecasts
• Exclusive 10-year forecasts including breakdown by customer and by orbit, with number and mass of satellites to be manufactured and launched, plus market value (manufacturing and launch services)
• Review of strategic issues from both supply (industry) and demand (customers) perspectives
• Detailed demand database for commercial (order book) and government satellites (forecasts) including: application, launch date, launch mass, satellite platform, manufacturer, launch provider
New in this edition
• Retrospective analysis of Euroconsult's forecast matching with satellite reality over the past 17 years
• Market share of the satellites of the report relative to the cubesat and mega-comsat constellations
• New data series in Excel files
• New format and layout
To learn more about this highly informative report and to download an extract, please access
euroconsult-ec.com/download-satellites-built-launched-extract
---
Microsemi's radiation tolerant channel source driver gets DLA qualified
Microsemi Corporation (Nasdaq: MSCC), a provider of semiconductor solutions announced its radiation-tolerant AAHS298B eight-channel source driver for space applications, which has been successfully qualified and certified by the U.S. Defense Logistics Agency (DLA) as Qualified Manufacturers List (QML) Class V and Q, with four Standard Microcircuits Drawings (SMDs) listed, is now in production.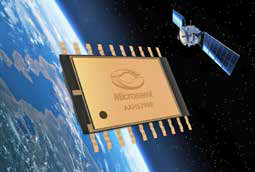 Offered in two package types with various screening options, the device has met the key requirements to operate in space environments, as the qualifications are mandatory for design-ins for space programs and for manufacturers to be listed on the QML by the DLA.
Dorian Johnson, Microsemi's product marketing manager, said that successfully achieving these qualifications is vital to securing design-ins in satellite programs requiring the highest quality and reliability performance. Obtaining QML status not only demonstrates Microsemi's continued commitment to supplying integrated space solutions, but gives their customers the added assurance that their radiation-tolerant AAHS298B source driver can meet the demanding requirements of the DLA while offering the ability to use the device in conjunction with their LX7730 telemetry controller, LX7720 motor controller and LX7710 diode array devices.
Microsemi's high-performance AAHS298B source driver provides an interface between spacecraft bus electronics and other subsystems, with the highest output source current for space applications requiring radiation tolerance. Command signal outputs from the spacecraft's digital control electronics are typically TTL (5-volt) (V), CMOS (3V) and high-level (12V) logic and are not directly compatible with users' command input requirements. These user requirements occur in payload, power, thermal and housekeeping subsystems and range between 14V and 45V. The AAHS298B is an interface between these systems, providing a continuous 700 milliamps (mA) current to switched high side-drivers on the output.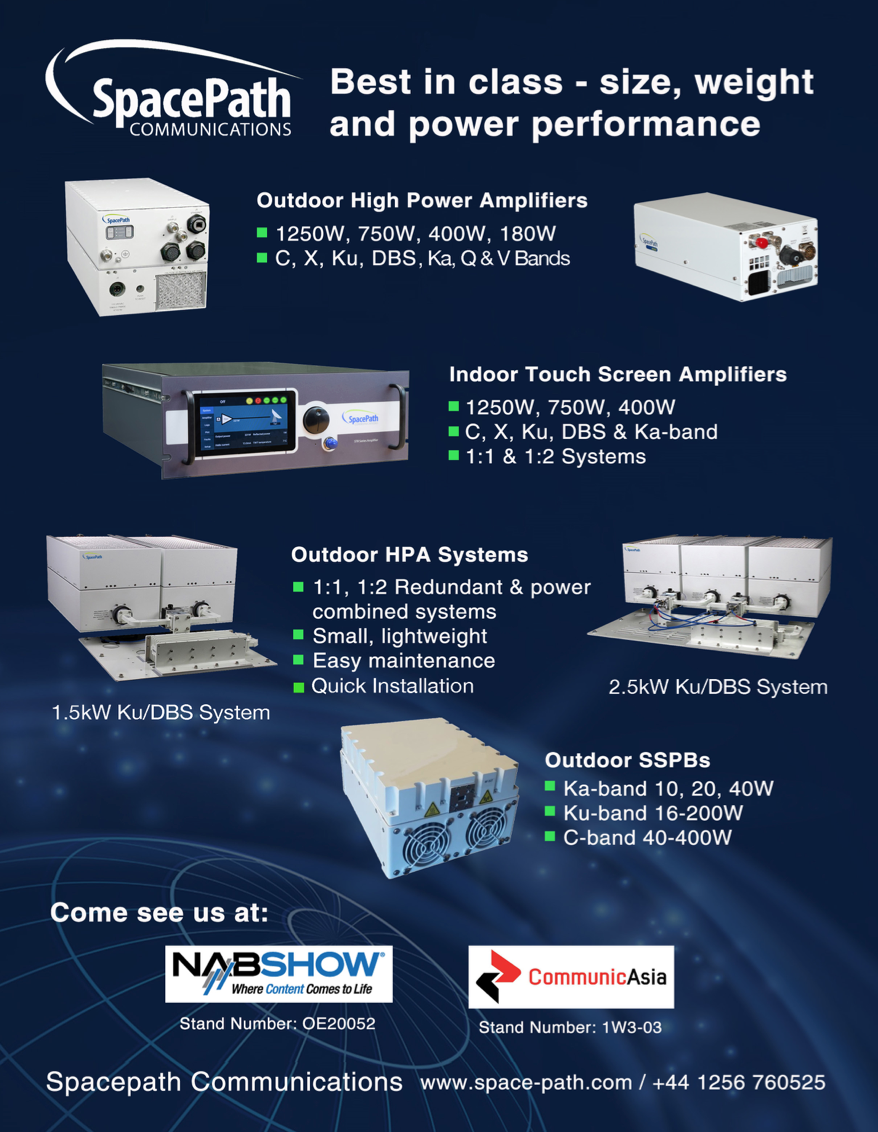 The integration of eight non-inverting high side channels gives satellite designers reduced weight, resulting in smaller board space, and higher reliability as compared to discrete implementations. As many satellite manufacturers and projects require the DLA QML certifications and listings as assurance the product meets Military Performance Specification (MIL-PRF) requirements, the AAHS298B meets these standards as part of the company's growing portfolio of mixed signal integrated circuits (ICs) for demanding space applications.
Glenn Lommasson, Vice President of Design and Development Engineering Services (DDES) Corp. said that increasing requirements for higher output currents combined with demands for weight and board space reductions were compelling reasons to initially investigate Microsemi's AAHS298B source driver for their designs, and in addition, the presence of the internal clamp diode in the driver output allowed a much more efficient method for implementing transient protection during inductive kickback events, which reduced the number of clamp diodes needed in other solutions. The recent device qualification and SMD listing as a QML-V device was also a very important element for them to baseline this part as more programs are mandating Technical Operating Report (TOR) guidelines for parts quality, DLA certification and radiation assurance.
As satellite manufacturers typically require Class V and Q qualifications, the designations provide customers with an added level of assurance that the radiation-tolerant AAHS298B eight-channel source driver has met the stringent industry standards. The QML qualification achievement allows designers across the entire spectrum of space designs, from low cost commercial and scientific applications to human rated and top priority government systems, to use the parts without cumbersome part selection justifications or source control drawings.
Microsemi's AAHS298B source driver is ideally suited for applications including command and data handling power subsystems, spacecraft control electronics attitude control, relay/solenoid drivers, as well as stepper and/or servo motor drivers. Key features of the device include:
www.microsemi.com/applications/space
---
The AireonSM global air traffic surveillance system gets closer to deployment
Aireon's fifth successful launch and deployment of the company's space-based Automatic Dependent Surveillance-Broadcast (ADS-B) payloads, hosted by the Iridium® NEXT satellite constellation, succeeded at 7:13:51 AM PDT (14:13:51 UTC), as a flight-proven SpaceX Falcon 9 rocket lifted off from Vandenberg Air Force Base in California — this brings the total number of Aireon payloads on orbit to 50.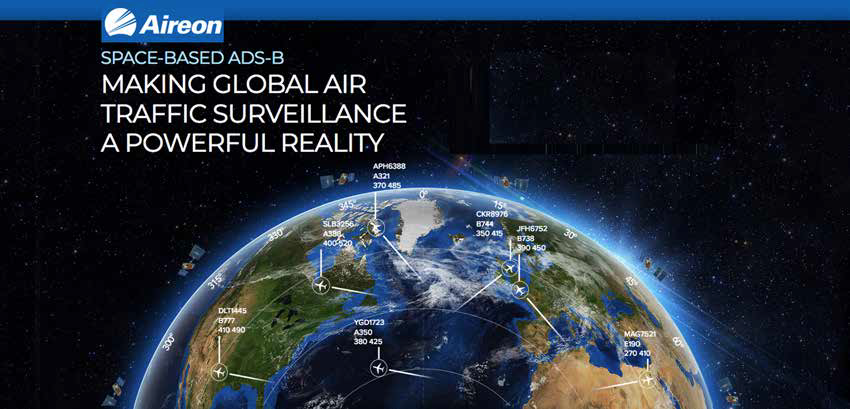 When the Aireon payloads from the fifth launch come online, the system will have nearly global coverage with 15-minute or better update intervals.
This signifies optimal timing for airlines to begin testing the capabilities of space-based ADS-B. This will assist airlines with meeting the International Civil Aviation Organization (ICAO) and European Aviation Safety Agency (EASA) regulations that require aircraft be equipped with an aircraft tracking system for those flights not tracked by air traffic control by the end of 2018.
With the Aireon service and access to the space-based ADS-B data, airlines can meet this directive set by regulators and safety organizations.
"We're more than two-thirds of the way there," said Don Thoma, CEO, Aireon. "And as we get closer to a fully operational system, thorough testing and validation is now underway with our customers and partners." Thoma continued, "Aireon is working closely with not only ANSPs, but partners like FlightAware to ensure airlines have early access to this global data, ahead of regulations and requirements. Aireon will be able to help airlines meet these mandates, and upon completion of the constellation, update rates of a few seconds will be the service standard around the world."
FlightAware and Aireon have worked together to create GlobalBeacon, a first-of-its-kind product. GlobalBeacon combines FlightAware's data processing platform and web-interface with Aireon's space-based ADS-B data for a cost-effective, easy to deploy solution to help meet the ICAO Global Aeronautical Distress Safety System (GADSS) standards.
"We are fusing Aireon data with FlightAware data to empower airlines and other aircraft operators with products that exceed GADSS recommendations for flight tracking," said Daniel Baker, founder and CEO, FlightAware. "With the satellites from today's successful launch, customers will be able to beta test coverage that meets the November 2018 requirement for aircraft tracking."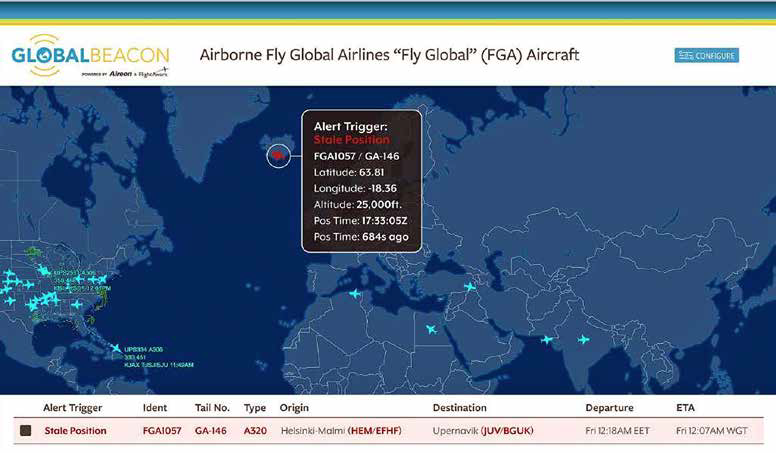 In addition to GlobalBeacon, FlightAware is delivering the data through services that are already commonly used by airlines and industry leading service providers such as SITAONAIR.
"Our partnership with FlightAware means that any airline using AIRCOM® FlightTracker will have at its fingertips a dynamic tool providing an overview of the exact position, speed and altitude of its airborne fleet," said Dominique El Bez, Vice President, Product and Strategy, SITAONAIR. "Most critically, the coverage will now be 100 percent even over oceanic, remote and polar areas. By receiving once per-minute positions from Aireon's network of space-based ADS-B receivers, airlines will exceed the ICAO GADSS upcoming 15-minute recommendation."
The Aireon system is hosted on the Iridium NEXT satellite constellation. A total of 81 Iridium NEXT satellites are being built, all of which will have the Aireon payload onboard.
Currently, 75 satellites are planned to be deployed, with nine serving as on orbit spares and the remaining six as ground spares.
The constellation is planned for completion during 2018.
www.aireon.com
---
World Teleport Association certifies three Speedcast teleports
The World Teleport Association (WTA) has announced that Speedcast has achieved provisional certification of three teleports in Australia: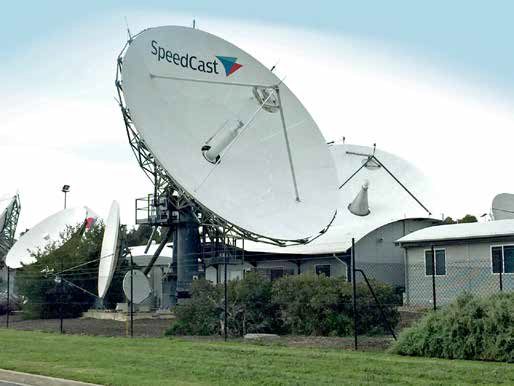 • Bayswater (Perth, Western Australia)
• Henderson (Western Australia)
• Mawson Lakes (Adelaide, South Australia)
These teleports were awarded the certification under WTA's Teleport Certification Program — further certification of Speedcast teleports globally will be forthcoming.
Since the program's introduction at IBC 2015, the Certification program has quickly grown in popularity, with 16 teleports currently engaged in the quality evaluation process and certifications already issued to teleports owned by Eutelsat, du, Signalhorn, Optus, Globecomm, Horizon, Media Broadcast, Elara Comunicaciones, GlobalSat, Talia, Telenor, Vivacom, Cyta, Batelco and Arqiva.
To achieve Provisional Certification, a teleport operator completes a +170-item questionnaire and submits it to WTA.
The Association analyzes the data based on standards established by its Certification Committee and issues the Provisional Certification based on the self-reported information.
The teleport then has six months to achieve Full Certification. To achieve Full Certification under WTA's program, an auditor is dispatched to visit the teleport, provide independent validation of the data submitted in the questionnaire and identify additional factors that may positively or negatively affect the score.
Full Certification is issued at a Tier number from 1 through 4, of which 4 represents the highest degree of excellence, and remains in effect for three years.
WTA's Teleport Certification Program serves both teleport operators and their customers by creating an objective, transparent, and internationally accepted method for teleport operators to document the quality of their operations for customers and strategic partners.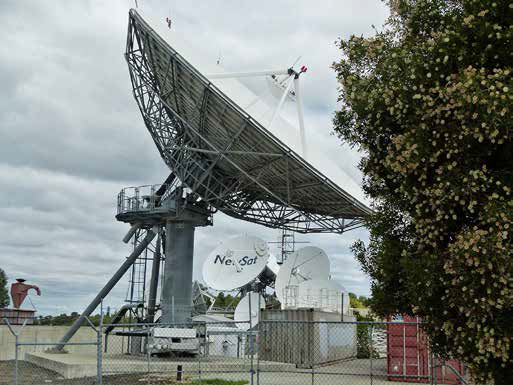 This certification also provides a means for customers to select teleport vendors delivering the price-performance level that is appropriate for their applications.
Keith Johnson, the COO of Speedcast, noted that the WTA certification program demonstrates Speedcast's focus on quality by meeting the requirements of the only certification program for teleports, facilities, and technical infrastructure in the industry.
WTA Executive Director Robert Bell added that the teleport industry faces increased competition for complex managed services, which are the specialty of operators suchn as Speedcast, from satellite operators and cloud service providers. Certification defines the quality difference that will ensure teleport operators remain competitive in the market.
For more information about the Teleport Certification Program, visit
www.worldteleport.org/?page=Certification
www.speedcast.com
---
The fifth set of Thales Alenia Space-built Iridium NEXT satellites ascend
The fifth batch of Iridium NEXT satellites built by Thales Alenia Space have been successfully launched by SpaceX from Vandenberg Air Force Base in California.
Thales Alenia Space, the system prime contractor for the Iridium® NEXT program, is in charge of engineering, integration, and on orbit validation of all 81 Iridium NEXT satellites, in addition to the definition and validation of the overall system.
The satellites are manufactured in production line process by Thales Alenia Space's subcontractor Orbital ATK, at that firm's Satellite Manufacturing Facility in Gilbert, Arizona, under the supervision of a dedicated local Thales Alenia Space team.
Launch and Early Operations (LEOP) and In Orbit Tests are performed by Thales Alenia Space from Iridium's Satellite Network Operation Center (SNOC) in Leesburg, Virginia.
"Two-thirds of our satellites are now on orbit and performance is exceeding expectations. The next two sets of Iridium NEXT satellites are already available in anticipation of the 6th and 7th launches.
Everything is on track to meet our objective, namely to launch all 75 Iridium NEXT LEO satellites in 2018," said Denis Allard, Constellations Vice President for Thales Alenia Space.
The Iridium NEXT constellation will offer global connectivity, thanks to 66 interconnected satellites at an altitude of 780 km., along with nine spares in parking orbits and six more spare satellites on the ground.
According to the company, this global network provides unrivaled capabilities for communications on the move (individuals, land vehicles, aircraft and ships), and ensures fully global coverage, including the poles and over the ocean.
Thanks to the global coverage and independent operation that does not require any ground infrastructure, Iridium NEXT provides vital assistance under very challenging conditions, such as in isolated areas, during natural disasters or during conflicts, to name a few.
The independence from local ground infrastructures delivers secure communications, including protection against intrusion and hacking.
www.thalesaleniaspace.com
www.orbitalatk.com
---