---
Exolaunch
2021 started for Exolaunch with record-breaking missions and has been significant in all aspects of the company's activities. Growing commercially, technologically and geographically, Exolaunch strengthened not only its posture on the smallsat launch services market but also added new weight by extending Exolaunch's global presence, product portfolio and team.
In less than a decade, Exolaunch has quickly evolved into a global leader in launch services, separation systems and in-space logistics for smallsats, empowering the global space economy by providing turnkey launch solutions for an exponentially growing smallsat market. To date the company has launched and successfully deployed 170 smallsats across 13 missions for 30+ customers from all over the world, including the most demanding top industry leaders. Exolaunch entered 2021 with a tremendous success of launching 30 satellites on the record-breaking Transporter-1 as part of the first of SpaceX's dedicated rideshare missions. Named 'Zeitgeist,' Spirit of the Times, this Exolaunch rideshare symbolized the company's swift response to the smallsat market demands in disruptive, competitive and cost-efficient launch services.
A direct result of collaboration and synergy between SpaceX and Exolaunch, this mission revolutionized the entire architecture of launch offerings and solutions. Zeigeist lifted off on January 24 on a Falcon 9, completing one of the most diverse rideshare missions for Exolaunch under the company's multi-launch agreement with SpaceX that was signed in late 2020. Among the customers were the German Aerospace Center (DLR), Dresden Technical University (TU Dresden), ICEYE, NanoAvionics and other commercial companies for Internet of Things (IoT), Earth Observation (EO) and scientific applications. Based on this mission, Exolaunch demonstrated how successfully the company handles large cluster launches — and with the highest level of customization to meet every mission requirement.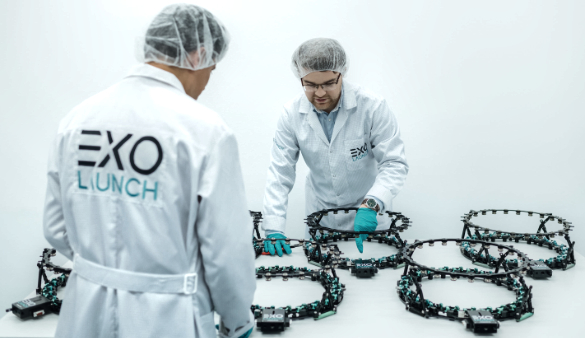 CarboNIX microsat separation systems. Image courtesy
of Exolaunch.
In less than six months, Exolaunch then delivered 1,000 kg. of satellites on SpaceX's Transporter-2 mission to SSO. The Exolaunch's mission, named 'Fingerspitzengefühl,' lifted off on June 30 on Falcon 9, completing one of the largest rideshare missions for Exolaunch. Fingerspitzengefühl symbolized Exolaunch's vast experience in skillfully deploying customers' satellites into orbit, demonstrating Exolaunch's ingenuity once again. Exolaunch's small satellite cluster of 29 satellites included satellites from international customers such as Spire Global, ICEYE, Loft Orbital, NanoAvionics and Berlin Technical University (TU Berlin). Exolaunch also provided flight hardware, separation systems and integration services to support Satellogic's four microsats on this mission. In total, 10 microsats were launched with CarboNIX and 19 cubesats were deployed using EXOpods on this huge mission, showcasing Exolaunch's mastery of rideshare launches and SpaceX's outstanding reliability and partnership.
Across both rideshares, 59 satellites from Exolaunch's customers were flown, all with Exolaunch hardware. To maximize payload capacity and cost- effectiveness for its customers, Exolaunch used its brand-new product, the EXOport, which is a flexible, multi-satellite adapter designed to enable optimal accommodation of microsats and cubesats on the Falcon 9's ESPA ports, its proprietary flight-proven separation systems (CarboNIX, the next generation shock-free separation system for microsats, upgraded modifications of EXOpod cubesat deployers), as well as its EXObox sequencers, to flawlessly deploy its customers' satellites into the target orbit.
In 2021, Exolaunch extended its line of CarboNIX, shock-free microsat separation systems by adding to the existing 15", scaled smaller 8" and the bigger 24" rings in response to customer needs and market demands. Both new CarboNIX 8" and 24" systems will be launched on Falcon 9 in the first half of 2022 and will separate satellites for Exolaunch's customers. In addition to this, Exolaunch is developing customized CarboNIXes planned for launch next year.
Exolaunch is also working on a new series of EXOpod cubesat deployers that will transform the approach to building and launching cubesats. On this, Exolaunch will make a separate announcement upon finalization of the programmed development.
EXOpod cubesat deployers and CarboNIX microsat separation systems are the pillars of the company's operations and are seen as a benchmark on the market, being the most advanced deployment technologies in their segment to date. Developed in-house hardware can be customized, based on specific dimension requirements posed by Exolaunch's customers planning to deploy their satellite constellations.
Currently Exolaunch is preparing for the Transporter-3 mission with SpaceX, having completed integration of a large number of cubesats ranging from 3U to 16U in Berlin and preparing to depart to the launch site for final integration of microsats and cubesats for the company's international customers launching with Falcon 9.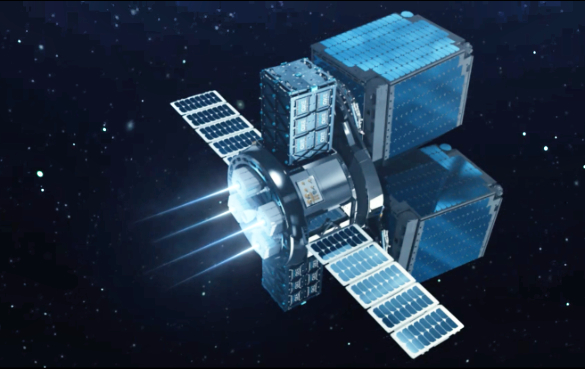 The space tug, Reliant. Image is courtesy of Exolaunch.
As a special highlight of 2021, Exolaunch is proud to have signed a new rideshare multi-launch agreement for the next two years with SpaceX. About 95% of Exolaunch's slots on Transporter missions in 2022 are already booked out by current and new customers — certainly a sign of growth, high demand in Exolaunch's state-of-the-art technologies and trust earned by the company. Exolaunch customer satellites will be launched on all Transporter missions in 2022 and more than 3,000 kg. of payload mass will be deployed, totaling 100+ satellites on Falcon 9 in 2022 alone. Newly upgraded Exolaunch hardware for cubesats and microsats will be used to deploy satellites into orbit.
At the same time, Exolaunch is preparing for rideshare missions on Soyuz for customers from North America, Europe and Japan, with provision of custom target orbits for separation. The company successfully conducted all key preparatory activities for customers of the upcoming Soyuz mission and is currently planning the launch campaign. On Soyuz, Exolaunch has launched more than 100 satellites. The company is also preparing for a PSLV launch campaign. Exolaunch is also constantly expanding its launch vehicle manifest and maintaining close contacts with the entire market. In 2021, Exolaunch signed many international launch services agreements as well as agreements for the provisioning of deployment systems and the OTV, Reliant. This year, he company has already announced agreements with FireFly Aerospace in the U.S., HyImpulse in Germany and Gilmour Space in Australia. By securing these partnerships with emerging launch vehicle providers, Exolaunch customers will gain access to an even more diverse palette of launch opportunities, including more accessible orbits, a bigger variety of launch windows, higher flexibility, and access to any world's launch pad.
Exolaunch is dedicated to making a lasting, positive impact in the market as well as optimizing company performance. In early 2021, the company introduced the eco space tug program, one of the most important highlights of the year. A new line of revolutionary orbital transfer vehicles (OTVs) named Reliant will become the enabler of custom destinations to supplement Exolaunch's launch services offerings and facilitator of space debris removal programs with its Pro version.
Rideshare launch preparations by Exolaunch.
The company is actively working on the development of Reliant and its first demo missions to offer reliable solutions to the smallsat market and contributing to the development of space infrastructure and the sustainable use of space. Positioned as the most robust OTV platform on the market for performance, payload, capacity, and flexibility in executing orbital maneuvers, this new product became an integral component of Exolaunch's Environmental Stewardship and Sustainability impact initiative. The more advanced Reliant Pro version will also set the standard for environmentally conscious OTVs, featuring the ability to install modular payloads for tackling the growing issue of space debris. After safely deploying satellites into their target orbits, an essential task of the Reliant Pro would be to collect authorized space debris prior to deorbiting.
In 2021, Exolaunch served a large number of projects for current customers and also announced new launch services agreements with several new customers that included Synspective, EnduroSat, and Lunasonde with their constellations. An important strategic decision and crucial business milestone was the expansion of Exolaunch's footprint to North America by opening an office in Denver, Colorado, and establishing representation in Washington, DC during the second half of 2021.
The incentive for this action was two-fold, as it enables Exolaunch to better serve its U.S. customers (comprising roughly 50% of Exolaunch's customer portfolio), and to maintain closer relationships with Exolaunch's launch vehicle providers in the U.S., namely SpaceX and its respective Falcon 9 launch sites.
To manage the fully manifested missions for years ahead while maintaining its manic focus on customer service and technical excellence, in 2021 Exolaunch doubled its launch mission management team at its headquarters in Germany. Additionally, Exolaunch headquarters started moving offices to a new stellar premises at the heart of business Berlin to welcome customers and partners in 2022 in a new setting.
Despite the COVID-driven constraints, this year was also rich on in-person professional networking. Exolaunch's team attended numerous premier space events — Space Symposium, Satellite, International Astronautical Congress, exhibited and presented at the Space Tech Expo Europe and looks forward to presenting at the upcoming ESA Space Industry Days and Euroconsult's World Satellite Business Week.
Exolaunch remains the primary contact for the smallsat industry leaders with its one-stop-shop launch offerings for bringing payloads into the destined orbits reliably and responsibly. This, along with unprecedented level of flexibility, was enabled through availability in Exolaunch's launch portfolio of multiple flight- proven vehicles, which Exolaunch's systems are fully qualified to address. Reliance exclusively on in-house innovation and capabilities, including the developed proprietary top-notch deployment systems residing at the core of the company's business architecture, and capacity to independently perform a full cycle of services, have distinguished the company.
Overall, 2021 for Exolaunch team has been a notable year with numerous business successes and continuous growth, having confirmed once more the company's leading position in the smallsat launch market. Committed to delivering trusted access to space, Exolaunch further played a game changing role and shifted the smallsat space transportation paradigm by shaping new and innovative launch service architectures and tailored offerings to meet customers' needs.

The year was bright, successful and memorable. Thanks to all our customers and partners for placing their trust in us and being part of our story. In 2022 Exolaunch will light the industry up even brighter... and that's a promise.
exolaunch.com
---
Gilat Satellite Networks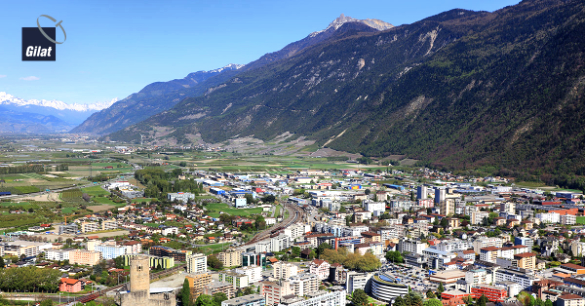 Gilat Satellite Networks is a leading global provider of satellite-based broadband communications. The company is committed to providing affordable broadband connectivity to improve the lives of millions of users in all parts of the world, on land in the air and at sea.
The COVID-19 pandemic has had severe consequences during 2021 that have affected so many aspects of people's lives and continues to do so. Gilat understands that the ability to easily and cost effectively communicate is still growing in importance in order to continue working, learning and connecting to loved ones far away. Toward the end of 2020, the world was feeling cautiously optimistic that the COVID-19 pandemic was slowing down. While the expected timing was a bit delayed, and its economic impact was felt well into 2021, Gilat continued to transition to meet global challenges and the company enjoyed some extremely significant accomplishments throughout 2021.
Market Leadership in Cellular Backhaul over Satellite: Gilat continues to lead the cellular backhaul industry over satellite. According to a new report by industry analyst NSR, Gilat is the number one vendor in modem shipments with a market share of approximately 40%. Gilat also continues to lead the 4G/LTE market with 80% market share.
Gilat's satellite know-how and rural operational expertise positions Gilat as an excellent choice for turn-key projects as evidenced with significant 2021 awards.
The firm's managed service strategy continues to be successful, bringing in larger contracts with recurring revenue.
Gilat was awarded a large contract expansion with Globe, the Philippines' largest mobile network operator. Globe selected Gilat's robust, end-to-end solution that provides high-quality service to quickly expand their nationwide coverage, answering the rapidly growing demand for connectivity. Gilat's cellular backhaul over satellite brings a quick solution compared to long and tedious efforts of laying out fiber, particularly in areas with challenging terrain.
In addition to managed service deals, Gilat was awarded several cellular backhaul equipment deals of national importance in Mexico, working closely with our longtime partners, Hispasat, and the service provider, AXESS. Gilat is supplying network equipment and VSATs to enable service to the MNOs in Mexico, supporting our partners to extend the service of Altan La Red Compartida, the shared telecommunications network in Mexico that was built to supply connectivity to more than three million people. Mexico's underserved rural population will benefit from 4.5G/LTE coverage, finally able to enjoy high- quality mobile broadband voice and data services. In addition, Gilat, through AXESS, is providing the satellite network and equipment in Mexico to LATAM's largest Mobile Network Operator (MNO) to bring connectivity to rural Mexico.
Moving around the world, Gilat received a large award from a Tier-1 mobile network operator in Japan for cellular backhaul expansion to quickly provide coverage to rural areas, and to support emergency response in the case of natural disasters. Gilat was selected, in part, based on the company's ability to meet the aggressive deployment schedule required by the carrier. This contract award was in addition to numerous expansion and follow-on orders from other Tier-1 MNOs in Japan.
In addition, we are seeing significant expansion and follow on orders from our Tier-1 MNOs in other parts of the world, including in North and South America, Europe, Asia, Africa and Australia. This is a testament to the great value that our customers see in our solution as they continue to expand their networks.
Another important win came from TIM Brazil, our leading MNO customer in LATAM. Using Gilat's cellular backhaul solution, TIM Brazil expanded their large, IoT project. They expanded their agriculture IoT network to address the critical need of enabling better communication between the field and the office, ensuring cost-effective decisions, better crop management and greater speed, efficiency and productivity in the agriculture sector.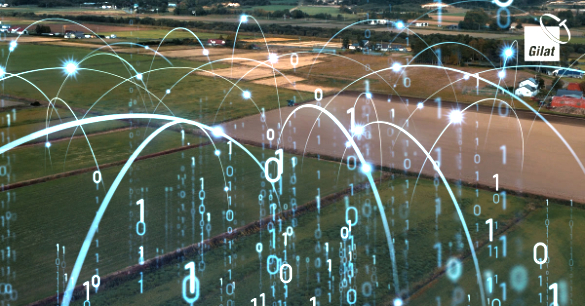 Mobility: Mobility continues to be a major focus area for Gilat. That said, the mobility market segment, especially IFC and Maritime, was most heavily hit by the COVID-19 pandemic. On a positive note, we are starting to see recovery and are optimistic as travel slowly resumes. Fueling this optimism are numerous contract awards as well as the successful testing of Gilat technology.
Gilat secured a substantial order from our partner SES, the leader in global content connectivity solutions, for our next generation mobility platform. This is a breakthrough in solidifying our leadership in the mobility market, enabling the supply of initial maritime services to some of the world's top cruise-liners and maritime service providers. Connectivity will be delivered by our multi- orbit platform, using the O3b mPOWER constellation and other SES GEO satellite assets, including SES-17.
In Asia, a leading Chinese system integrator selected Gilat's aero modem for the Ka-band In-flight Entertainment and Connectivity (IFEC) system to install on the entire fleet of the first airline in China and on additional domestic airlines. IFEC on-board the first aircraft is already operational, providing commercial service with remarkable performance, enabled by Gilat's aero modem, Taurus. Further, Gilat was selected to equip hundreds of boats, vessels and cruise ships with satellite communication. Gilat's modems and transceivers were successfully deployed on numerous maritime vessels.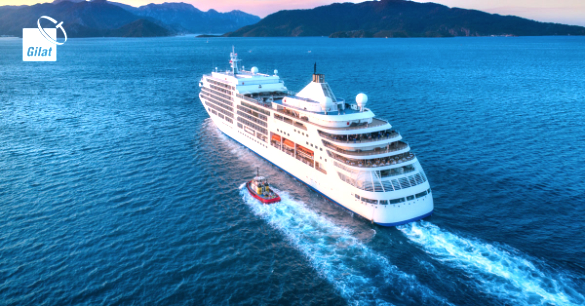 Gilat successfully tested its Electronically Steered Antenna (ESA) over Inmarsat's Global Xpress (GX) network. Gilat's open-architecture proven ESA has been integrated with Inmarsat's G-MODMAN solution. This was the first time that a live demonstration of an ESA terminal was performed on an Inmarsat operational GX satellite.
Gilat also marked a key milestone as Anuvu (formerly Global Eagle Entertainment), a major IFC provider, successfully tested its IFC high-power transceiver, the Wavestream Aerostream 40Ku, achieving DO-160G certification.
The AeroStream 40Ku transceiver is designed for exceptionally high-reliability, with a field-reported Mean Time Before Failure (MTBF) of greater than 30,000 flight hours. The high-power transceiver incorporates the latest in Gallium Nitride (GaN) technology and enables more return bandwidth from the plane back to the satellite than previous generations. The successful completion of environmental conditions testing for airborne equipment, DO-160G, brings the transceiver a step closer to airworthiness and Supplemental Type Certification (STC).
Enterprise: In the Enterprise segment, Gilat received awards across several different verticals as well as geographic regions. Bridging the digital divide is a high priority as broadband penetration has a large economic impact on a country. As people become more reliant on the Internet for work and other aspects of everyday living, connectivity becomes even more important.
In Asia Pacific, Gilat entered a strategic agreement with a large government corporation. The equipment and multi-year managed-services contract will enable connectivity for multiple applications across the nation. Gilat is responsible for building and operating the network to provide nationwide coverage for a range of applications. These include, but are not limited to enterprise applications, with strong opportunities for cellular backhaul, emergency-response and mobility applications such as Comms-On-The-Move (COTM) and Comms-On-The-Pause (COTP). Gilat's multi-service, single platform, SkyEdge II-c and its wide set
of fine-tuned VSATS will answer the government's requirement for robust connectivity to the
country's most remote areas.
Moving to North America, Gilat signed a strategic agreement with Pacific Dataport Inc. (PDI) for delivery of ubiquitous broadband coverage in Alaska. Gilat's SkyEdge II-c, multi-service platform will support the goal of PDI's Aurora Network to deliver a wide range of applications to the population of Alaska. PDI intends to provide a true multiservice network that will serve the Alaska market with both fixed and mobility applications.
The targeted fixed applications range from direct-to-home broadband service to consumers, to an assortment of enterprise applications such as backup and full-time IP data services for businesses, organizations, schools, libraries, and government.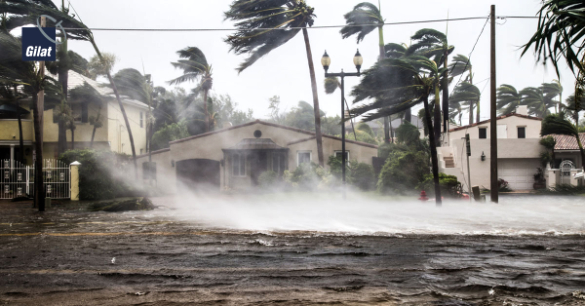 The planned mobility applications include cruise ships, fishing boats and commercial aviation.
In Latin America, SES awarded Gilat a contract for multiple broadband applications. Gilat's multi-service platform will support SES in cellular backhauling, enterprise and Universal Service Obligation (USO) projects, as SES extends services into LATAM with the deployment on new regional hubs.
The COVID-19 pandemic demonstrated just how important it is for schools and students to have access to the Internet. This is particularly difficult in developing countries and rural areas where most people still aren't connected. Gilat is working on several projects around the world to help bring broadband connectivity to every school in every village at an affordable price.
SES also selected Gilat to enable a Tier-1 4G/LTE MNO in Brazil to provide broadband connectivity for education. Gilat's SkyEdge II-c platform will provide connectivity to hundreds of schools in Brazil over the SES-14 Ku-band High Throughput Satellite (HTS). This will enable the Tier-1 MNO to fulfill the government obligation of extending broadband connectivity for education to Brazil's most remote schools.
Gilat was selected by Telefonica Global Solutions (TGS) to equip the strategic teleport in Arica, Chile. The Arica teleport is located under gateway beams of multiple satellites with coverage over several countries in the region.
A Tier-1 Telco in Latin America selected Gilat to provide broadband connectivity over satellite to support bridging the digital divide. The project includes thousands of VSATs to be deployed in remote schools to further children's education in Latin America.
In another award, Telespazio, a joint venture between Leonardo (67%) and Thales (33%), selected Gilat to supply enterprise connectivity in Brazil for a leading, multinational, energy company. Gilat will provide the satellite network and thousands of VSATs to energy plants of Brazil's largest private sector energy company.
NGSO & VHTS: As a leading provider for the NGSO and VHTS market, we are proud of our accomplishments this year in securing additional contract awards. We believe that our market leadership will continue into 2022 as additional NGSO and VHTS opportunities mature.
As was publicly announced, Gilat received a substantial award from a leading satellite operator to support the gateways for a Low Earth Orbit (LEO) broadband satellite constellation. Gilat was selected to supply the Wavestream Gateway Solid State Power Amplifiers (SSPAs) for the project.
The Wavestream Gateway-Class PowerStream 160Ka SSPAs, designed specifically for networks using wide bandwidth uplinks and high order modulation schemes, were selected because of their best-in-class technical performance and their unmatched reliability in harsh environments, best addressing the stringent requirements of Non-Geostationary Satellite Orbit (NGSO) constellations.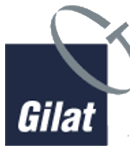 Forward Toward 2022: Gilat remains proud to lead the industry in delivering broadband connectivity over satellite to ensure that critical communication is available to all. It is Gilat's technical innovation, global expertise, local presence, outstanding support and superior delivery capabilities that enabled Gilat to prosper during these past two years that challenged the world.
During 2022 Gilat intends to further strengthen its leadership presence with next generation technology,
in support of the market transition to multi-orbit constellations and very high
throughput satellites.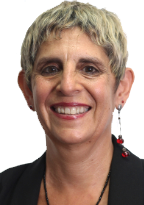 Gilat is optimistic that 2022 will bring further global economic recovery and expect to continue leading in the CBH, Broadband, Mobility and Enterprise market segments.
www.gilat.com
Author Doreet Oren Doreet Oren is the Senior Director, Product Marketing and Corporate Communications,
for Gilat Satellite Networks.
---
Kymeta
Kymeta is unlocking the potential of broadband satellite connectivity, combined with cellular networks, to satisfy the overwhelming demand for communications on the move and making mobile global.
As a satellite technology and communications company that ideates, develops, manufactures, and brings to market software-enabled, metamaterial-based, electronic beamforming antennas and terminals for satellite communications (SATCOM), the company is no stranger to innovation. Since the Seattle-area- based company's founding in 2012, Kymeta's team has done anything but go 'pencils down.'
Over the course of 2021, Kymeta reached impressive milestones: from groundbreaking demonstrations that revealed the potential for future connectivity capabilities to partnerships with key industry players to obtaining landmark multimillion dollar contracts and investments. Kymeta's unique solutions and the people behind the innovative company also received high profile recognition and an overwhelmingly positive response from across the industry.
Late in 2020, the company released its next generation product and service offering, the Kymeta™ u8 terminal and Kymeta Connect™ services, improving performance through an integrated-WAN device providing seamless satellite and cellular communications. From that point on, 2021 was filled with continued momentum. In February, Kymeta expanded its next generation solutions with commercial availability of the u8 GOV terminal with an embedded iDirect 950mp modem and the u8 GO transportable terminal. These solutions made communications on the move more seamless and reliable than ever by providing 'always-on' connectivity for mobile platforms to meet the mission- critical needs of military, first responders, and commercial customers.
One week later, Kymeta announced that it would also start offering the first commercially available iDirect TRANSEC satellite network specifically designed for flat panel antennas, ensuring that customers and partners would receive the highest levels of services, encryption, authentication, and traffic concealment, exceeding the current requirements outlined by the U.S. government. In March, Kymeta partnered with a certified service-disabled veteran-owned small business organization — Blue Edge Global — to offer downrange training with a team of military SATCOM specialists to the Department of Defense (DoD), Ministry of Defense (MoD) and emergency services teams across the globe, understanding the significance of reliable communications on the move to keep teams connected in high-risk missions for both commercial and defense strategies.
Several weeks later, Kymeta demonstrated the u8 terminal's ability to work in extreme cold weather conditions that reached -40 °C during testing conducted in Canada in partnership with Kepler LEO satellites. This seamless interoperability with LEO constellations is significant in understanding powerful global connectivity of the future that can serve customers from pole-to-pole and all the points in between. In May, Kymeta received approval for a $30 million investment by Hanwha Systems Co., Ltd., a move that put Kymeta one step closer toward developing solutions that are future proof and interoperable with LEO and GEO mega constellations, while enabling the continued innovation, advancement, and commercialization of the company's distinctive connectivity solutions.
With a deep commitment to both its customers and employees, Kymeta's focus on building quality into every process pushed the company to exceed expectations by obtaining the ISO 9001:2015, the world's most widely recognized quality management standard in June. The road to certification was a process that required time and dedication from all Kymeta employees, and their hard work was validated. Also, in June, Kymeta announced a strategic technology partnership with Comtech EF Data Corp. to broaden its network offerings and provide seamless, mission-critical communications for government and military users.
With advanced technology that has become an operational asset in many special operations units, Kymeta then joined the U.S. Army's Armored Brigade Combat Team (ABCT) Satellite Communications-On-The-Move (SOTM) pilot program that same month to support PEO C3T and PM Tactical Network in their efforts to improve communications in armored brigades and enhance battlefield network and command post communications. In July, the Department of Defense (DoD) awarded Kymeta placement on a $950 million ceiling Indefinite-Delivery/ Indefinite-Quantity (IDIQ) contract as part of a multiple-award multi-level security effort to provide development and operations of systems as a unified force across air, land, sea, space, cyber, and electromagnetic spectrums. Only two days later, Kymeta demonstrated LEO and GEO SATCOM interoperability with Kepler during a military battle lab exercise focused on the integration of operations, intelligence, and technology.
Kymeta continued to adapt, move, and grow in the market, and in August, the company announced another technology and business development partnership with Comtech Telecommunications Corp. With their certified UHP platform, new and existing DoD and commercial customers would now be able to operate the u8 through Comtech's extremely fast VSAT router to further enhance communications and offer new capabilities when and wherever needed. In September, Kymeta reached another product milestone with the introduction of the u8 MIL hybrid terminal that would soon revolutionize military communications through a ruggedized and flexible solution that provides a complete connectivity solution for Communications-On-The-Move (COTM) and Networks-On-The-Move (NOTM).
The company, one week later, was ready to announce yet another successful demonstration that was conducted in partnership with the OneWeb. The successful testing, conducted in France, showed full-duplex communications between the Kymeta u8 terminal and OneWeb's satellites and brought forward another solution to meet the needs of government, military, enterprise, maritime and first responder end customers. In late September, Kymeta, a company with over 140 U.S. and international patents and licenses, added additional, relevant IP to their extensive portfolio for its multi-beam antenna configuration, enabling redundant, simultaneous, multi-orbit satellite connectivity. The grant of this innovative patented technology was an important step in asserting the company's technical lead over the market through continued innovation and advancement of Kymeta's connectivity solutions.
In October, Kymeta was excited to once again showcase their ability to develop future-proof solutions that satisfy the overwhelming demand for resilient mobile connectivity and improved user access by testing private Long-Term Evolution (LTE) small cell on Citizens Broadband Radio Service (CBRS) to a standard smartphone, from a system integrated with the Kymeta u8 terminal. This trial was significant for the industry in demonstrating the potential to deliver private LTE or 5G into a smartphone via broadband satellite.

Kymeta announced in November that the firm was partnering with Intelsat and leading, applied research organization Fraunhofer IIS to help develop 5G SATCOM technology for mobility. During 2021, Kymeta continued its engagement with auto OEMs to discuss the future of the satellite-connected car, focusing on how satellite can enhance the communication platform for autonomous driving, safety and services within a vehicle. Kymeta has also continued their engagement with satellite operators who can support the delivery of these services.
Based on these discussions, Kymeta has been able to refine their roadmap for flat panel satellite technology that would meet the demanding requirements of the connected/autonomous car of the future. In addition, consultations are underway to form a World Connected Car Alliance consisting of OEMs, satellite operators, antenna vendors, MNOs, system integrators, technology platforms, and others to help define the requirements that would enable a world of ubiquitous global vehicular connectivity that will delight passengers, make for safer vehicles, transform industry, and open up a world of constant connectivity.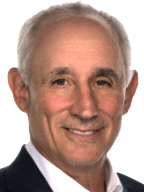 Walter Berger President
+ co-CEO.
2021 was a great year for growing Kymeta's teams. The company's investment in their employees has remained a priority to drive new initiatives and build a robust product roadmap for the years to come. Kymeta was named 2021's Top Ten Hottest Companies in Satellite, Hottest New Mobility Solution for 2021, earned 2021's Teleport Technology Award, and the Top Government Mobile Innovation 2021 Award.
In 2022, Kymeta will continue to develop solutions that provide revolutionary mobile connectivity on satellite and hybrid satellite-cellular networks to customers around the world. The company's roadmap includes focusing on their product as it's relevant to the LEO constellation and Ka-band, continuing to overserve their current segments while also moving into maritime, rail, and other modes of transportation that include connected car, and building upon innovations and new products that allow customers to receive their broadband capacity while on the move.
www.kymetacorp.com
---
Mission Microwave
Mission Microwave's customers started 2021 eager to meet the challenges offered by a market dealing with the on-going effects of the global pandemic. The company's customers continue to rely on Mission for on-time and in-spec delivery of innovative X-, Ku-, and Ka-band Block Upconverters (BUCs) for tactical and high- performance SATCOM terminals and gateways.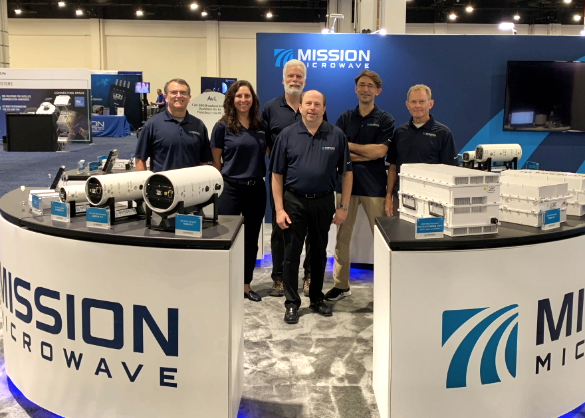 Mission Microwave products were everywhere at the recent
satellite show in DC.
New Market Segment Expansion
The year 2021 witnessed Mission Microwave complete several DO-160 qualified airborne products and establish large orders from leading SATCOM Inflight Connectivity (IFC) providers. These products are integrated transceivers and stand-alone BUCs incorporated into a variety of airborne platforms. The products are the result of cooperative relationships with customers planning for the expansion of Inflight connectivity services throughout the decade and demonstrate the confidence of Mission's customer base in one of the most difficult segments the satellite industry.
One of Mission's early aviation customers previously announced a series of wins in the business aviation market for their tail-mount antenna technology using a Mission Microwave BUC, causing them to increase their forecast for this product beyond initial expectations.
New Interest From Teleport Operators
While Mission has long been a leading supplier to the SATCOM terminal market, the year also saw new customer applications of Mission's highest power amplifiers in teleports and gateways. The company's 400 watt Ka-band and Ku-band BUCs and SSPA's have been adopted to replace TWTA amplifiers in large gateway sites.
---

---
The 800 Watt Ka-band SSPA is a drop-in replacement for a legacy 500 watt TWTA. Early customers for this product have been keen to follow military users lead in the roll-out of TWTA replacements and expect to build their next generation networks with SSPA's instead of TWTAs, to take advantage of the improved reliability and lower total cost of ownership associated with Solid State Amplifiers. As the one of the only producers of commercial Ka-band GaN amplifiers at these power levels, Mission Microwave has earned a position of trust with satellite operators and teleport managers and expects this sector to become a very large portion of the company's business throughout the decade.
In support of this growth in the gateway and teleport sectors, the company has developed a technical and commercial partnership with a long-standing supplier of waveguide switch and load systems to be able to offer customers uniquely designed redundancy systems using Mission Microwave BUCs/ SSPAs in an easy to buy, use, install and maintain configuration. This novel arrangement allows customers to take advantage of Mission Microwave's compact designs to place amplifiers closer to the antenna feed/hub assemblies, allowing them to eliminate 1-2 dB of lossy axis crossing on the antenna. This allows for a more efficient design and ultimately both initial and operational cost savings.
Continued Growth In Tactical Markets
Mission's customers in the tactical terminal market continued to develop consistently winning terminals that bring reliable performance to end-users. During this past year, Mission Microwave had several "design wins" on exciting, next generation terminals from essentially all of the top-tier SATCOM terminal manufacturers. Mission's customers have developed the confidence that the Mission Microwave products will help them design winning and easily certifiable terminals. Mission's Stinger, Javelin and Titan products are routinely used on a wide range of terminals certified for use on military and commercial GEO and MEO networks.
Mission's customers announced wins on major DoD and international MoD programs using the company's standard products. The company is also supporting customer certification of new terminals using the company's new 20-watt Ka-band Cube product and the recently announced 400-watt and 800- watt X-band products.
Customer Marketing Events
Mission's customers returned to the trade show circuit in the second half of 2021. The Washington, DC, trade event in September featured Mission Microwave products on SATCOM terminals in a dozen stands. Despite the low attendance from international exhibitors, there were several new terminal introductions featuring Mission Microwave products.
Mission Microwave's products also appeared on customer terminals at the Global MILSATCOM conference, the Association of the U.S. Army (AUSA) meeting and the popular Satellite Innovation Conference in Mountain View, California.
---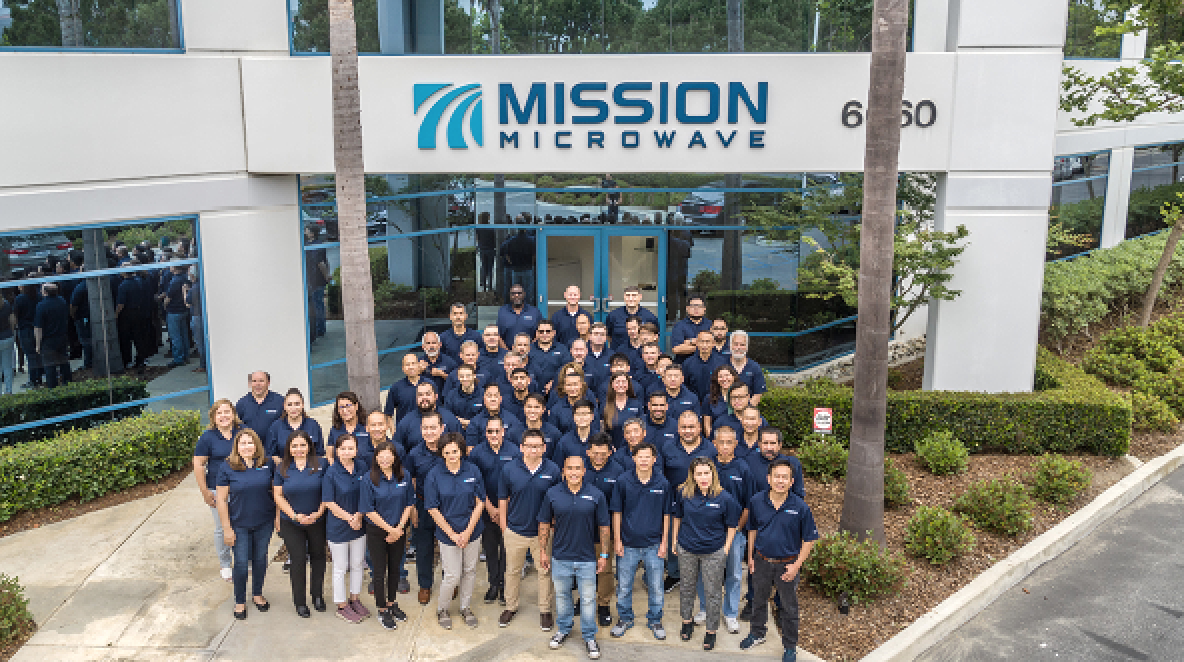 In April 2021 Mission Microwave expanded in to a new larger facility in Cypress, California.
---
A Foundation Building Year
Among the high points of the year for Mission's customers were the launch of several new terminals that take advantage of Mission Microwave's industry leading performance, along with the products' advantages in size, weight and power (SWaP). Several of Mission's long-standing customers selected the company's products for their next generation, multi-band/multi-constellation terminals. Many of these are in the pre-production stage and will be the foundation for Mission Microwave's growth over the next decade.
The company made outstanding advances in the production of wideband high power Ka-band products. In 2021, the company shipped more than 200 units of the industry leading Titan 200 watt Ka-band BUC. The Titan, along with early shipments of 400 watt SSPAs, and 250 watt Ka-band BUCs, placed Mission Microwave as the de facto leader in high power solid state Ka-band products. The company expects these products will continue to be very popular with Ka-band GEO, MEO and emerging LEO system operators and terminal providers.
New Facility Expansion
In April of 2021, the company moved into a new state-of-the-art facility in Cypress, California. The new facility offers room for all functions to return under one roof as well as the expansion of the team, with several new hires in operations, production and product engineering.
The new facility has more than 31,000 square feet of finished workspace and is equipped with ten, temperature controlled, test equipment suites, capable of automated production testing up to 40 GHz for high power amplifiers and up to 750 watts. The facility has enhanced power distribution and HVAC systems to accommodate the growing volume of deliveries of Mission products that each undergo proprietary burn-in,and testing processes. The new floor plan layout supports the reliable manufacturing of Mission's well-known products, such as the Cube, Dart, Stinger, Javelin, and Titan BUCs used on tactical SATCOM terminals throughout the DoD and critical commercial telecommunications networks.
Improvements to the production and testing lines also enhance Mission Microwave's growing airborne product business, including Ku-band and Ka-band BUCs and transceivers for UAV's and for DO-160 qualified terminal partners.
The Outlook
Mission Microwave and its customers had a solid performance in 2021. Despite the dynamic supply-chain challenges and pandemic induced uncertainty, the company continues to gain market share, introduce new products, and acquire new customers and market segments.

Throughout 2022, Mission's product lines will continue to support a wider range of terminal architectures and applications. The company's customers increasingly require wideband solutions for Ka-band, and higher RF power levels and enhanced performance in all bands. 2022 will be another banner year for this innovative leader in high power SATCOM BUCs.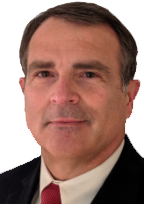 Both Mission Microwave and its customers are planning on more success and bringing new capabilities to end users as the satellite industry evolves beyond traditional architecture to mobile and non-GEO networks in 2021 and beyond.
missionmicrowave.com