Space in Africa has released a country-level analysis of global space budgets. This first-of-its-kind report examines the space budgets of 106 governments and offers analysis of how they have changed between 2018 and 2020.

This analysis provides in-depth coverage of the growth recorded in different countries, regions, economic blocs, and continents and includes data extracted from primary sources and sheds light on how governments worldwide have responded to the COVID-19 pandemic and how those responses have impacted space budgets.
In Africa, the cumulative space agency budget allocated by all countries was $283.12 million in 2018 and that amount rose to $ 325.11 million in 2019 and reached an all-time high of $503.12 million in 2020.
The surge has been attributed to the rising number of space agencies across the continent, occasioned by a growing interest among governments.
In Asia, governments spent $3.11 billion on space program in 2018, $15.86 billion in 2019 and $15.44 billion in 2020. Asia's soaring profile is partly due to China's growing investment in the space industry.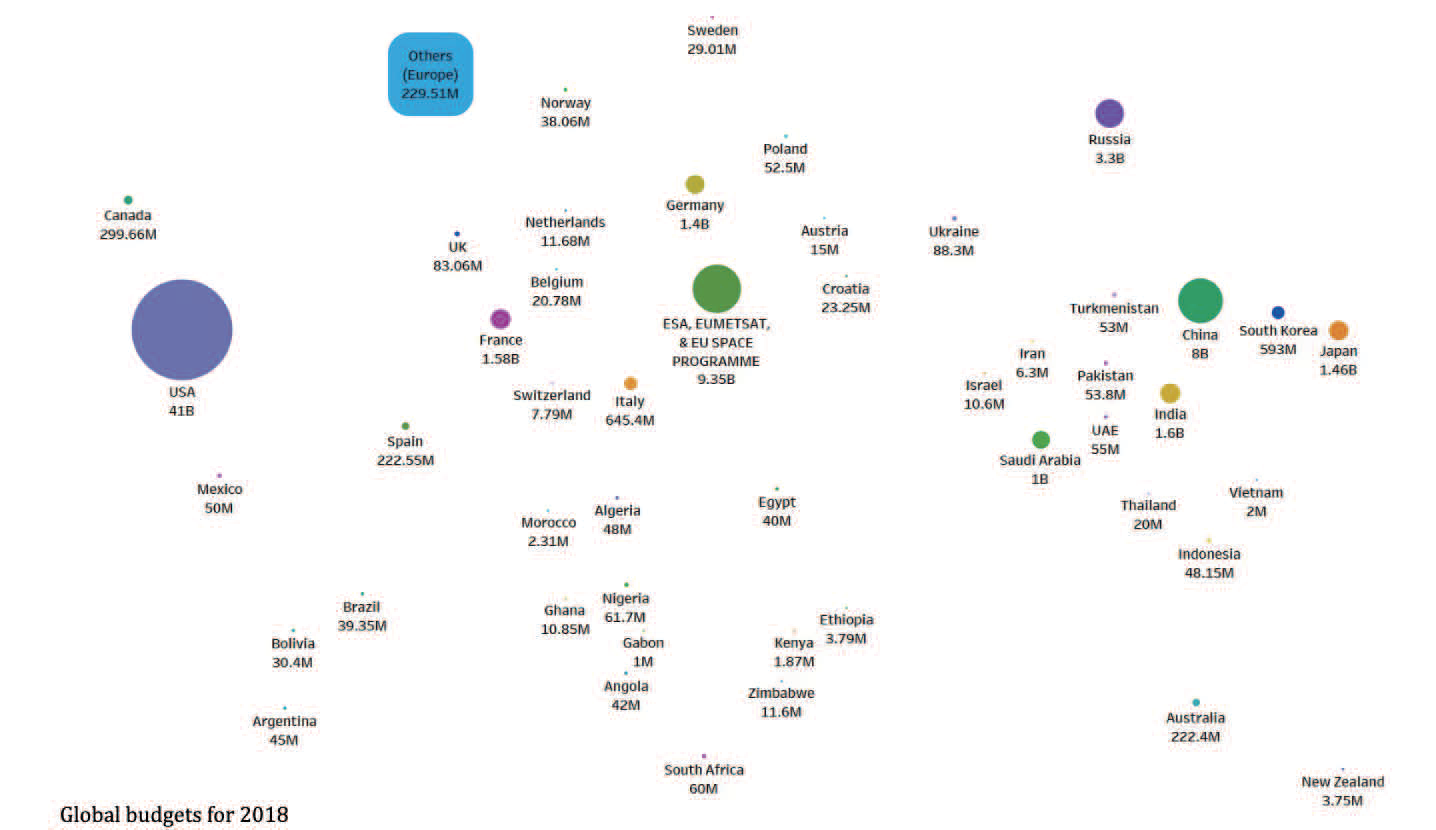 Click to enlarge.
In 2018, Europe's budget was $17.1 billion. In 2019, that amount fell to $15.69 billion before rising to USD 17.1 billion in 2020.
North America has the highest budget across all regions, primarily because of the USA, which is home to the world's largest space industry. In 2018, North America spent $41.3 billion, which declined to $40.26 billion in 2019 and further fell to $38.54 billion in 2020.
Governments in Latin America and the Caribbean spent $164.75 million in 2018, $170.3 million in 2019 and $157.6 million in 2020.
Despite being a small continental region with an emerging space economy, the governments in Oceania spent $226.14 million in 2018, $30.3 million in 2019 and $14.49 million in 2020.
In 2018, the total global space budget was $72.18 billion, which rose 0.64 percent to $72.34 billion in 2019. The budget decreased by 0.81 percent to $71.75 billion in 2020, primarily due to the COVID-19 pandemic.
Over the last three years, governments spent a combined total of $216.27 billion on space activities.
Temidayo Oniosun, the Managing Director of Space in Africa, said, "A sizeable portion of the global space industry valuation is from government space budgets, and this is the first open-source publication on this subject in the industry. Budget transparency varies from country to country, but altogether, it is impressive to see how much money governments across the world are spending on space technologies. Although many observers were expecting the COVID-19 pandemic to hurt the government space budget, the reverse is the case for many of the countries whose 2021 budgets have been announced."
The Covid-19 pandemic has affected the world and the space industry is no exception. Space companies such as Bigelow Aerospace, Raytheon Technologies, Boeing, among others. To the same effect, companies like Rocket Lab and Virgin Orbit had to postpone some launches.
Many space agencies' operations were affected; for example, NASA had to delay astronaut selection while ESA also had to put some missions on hold.
Governments in Europe estimated the pandemic's impact on the global space industry could be up to 1 billion euros ($1.21 billion), mainly due to the delay in several missions and operations.
The Q2 2020 Edition of the Space Investment Quarterly report by Space Capital shows investment in infrastructures was $234 million, a decline of 85 percent from Q1. There was also a $5.3 billion investment in space applications in Q2. Total Q2 2020 investment fell by 23 percent from a similar period the previous year. The drop was attributed to a decrease in both application and infrastructure investment by 10 percent and 81 percent, respectively.
Overall, the space sector saw $12.1 billion in equity-based investments in Q1 and Q2 of 2020, in 112 rounds, with early-stage investments totalling $303 million of that, in 67 rounds.
The pandemic's impact was indirect on several national space budgets. For most countries, relevant bodies had passed 2020 budgets before the pandemic began to take its toll. While most countries were unable to pursue some of the projects and missions planned for 2020, some countries adhered to the original budgets, while some received supplementary budgets.
Such is South Africa's case, which received $266 million in additional funding in August 2020 to develop a space hub and for work on several smallsat projects.
However, some countries had their 2021 budgets reduced during the 2020 pandemic. The European Commission space budget, which was effective January 1, 2021, was also reduced. In 2018/2019, when the European Commission 2021 budget was initially proposed, it was 16 billion euros ($19.4 billion). Still, as the coronavirus pandemic intensified in May 2020, the Commission issued a revised budget proposal of 15.2 billion euros which was eventually set at 13.2 billion euros ($16 billion) by July 2020.
India's human spaceflight program, Ganganyaan, also received a 70 percent budget cut.
Other countries saw an increase in their 2021 budgets. The budget approved for NASA for 2021 is $23.3 billion, an increase of 3 percent from 2020, while Nigeria's 2021 approved budget provides a 54 percent increase over the 2020 budget.
"The team at Space in Africa have accomplished something no one else has done before. This global analysis of national space budgets in the last three years not only provides a window into the diversity of national engagements with outer space, it also shows how COVID-19 has impacted space investments across the globe," said Dr. Julie Klinger, Assistant Professor in the Department of Geography and Spatial Sciences in the College of Earth, Ocean, and Environment at the University of Delaware.
The report is available for download at this direct link...
---