The life expectancy increase of baby boomers, a shrinking work force, inadequate funding of healthcare, a shortage of family doctors, plus high insurance premiums are all contributing factors leading to a primary healthcare system in the United Sates that's under extreme stress.
Fifty million people in the U.S. are without medical insurance—many are resorting to using hospital emergency rooms for minor illnesses as they have no insurance support. Many of these patients then avoid making the payments for their treatments. This leaves the hospitals with large, unpaid bills.
In 2010, one hospital in New York State lost $15 million on the operation of their Emergency Department, as the large numbers of patients that they were obliged by law to treat simply could not pay their bills.
There are many contributing factors. Ambulance chasing lawyers may not seem to be an obvious villain as a contributory cause in this dilemma. However, consider this—hospitals are so worried about being sued by patients that they frequently carry out unnecessary tests using expensive equipment and additional medical personnel. All to avoid a legal challenge to their work based on inadequate or inappropriate care. A change in the law that reduces how much hospitals can be sued for, monetarily speaking, would help ease this situation.
How many times have you had to fill out the same medical history forms when seeing a doctor for the first time? In this age of
Information Technology
, the U.S. medical industry is lagging behind Europe in terms of medical history automation and the better use of patient-centered services and databases. More can be done—and should be done—to automate the U.S. medical industry as one method to assist in curbing costs that are spiraling out of control.
The total U.S. health care spending in 2009 was approximately $650 billion above the expected cost levels. Two-thirds of the "excess" health care spending was directed toward outpatient care.
Direction + Solutions Needed For Developing Nations
There is an interesting phenomenon taking place in some developing countries where the governments are insisting foreign companies entering their borders should 'give back' to the indigenous people. The process has a name—
Corporate Social Responsibility
(
CSR
) and it's even been given a standard designation—
ISO 26000
.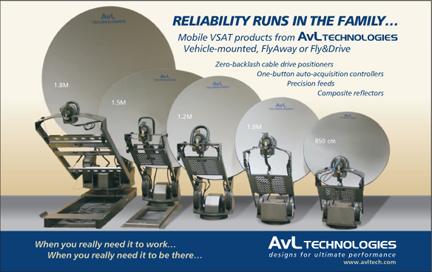 Primary healthcare is high on the list for CSR donations; however, it's often delivered piecemeal using medical staff that possess varying degrees of capabilities The ISO 26000 currently does not address many quality of care issues.
A group of satellite and healthcare experts are in the process of forming a non-profit organization called the
International Satellite Telehealth Foundation
(
istfon.org
). ISTFON's mandate is to foster western standard healthcare practices by connecting
Telehealth
links via satellite to supervising medical staff in top tier hospitals to support local medical personnel and their patients in developing countries.
The Satellite's Role In Primary Healthcare
Satellites can play an important role in providing primary healthcare using Telehealth for developing countries as well as for facilities in urban, suburban, and rural areas of the USA.
Why would anyone want to use satellite in an urban U.S. location to provide primary healthcare, where there is surely Internet access? In a full service Telehealth system, it's important to have high quality video in order for the patient to acquire a competent virtual examination by the attending, remotely located medical professional. Typically, high resolution, two-way video over distance via the Internet is not guaranteed as far as quality is concerned, due to a variety of issues that range from peak use time periods and capacity to equipment failures.
There is another important reason to use satellite, and that is information security. A privately encrypted, two-way satellite circuit between patient and the medical professional which avoids the public networks protects patients' discussions and health records from the all-too pernicious hacking that is so prevalent on the Internet.
Additionally, overseas, satellite is often the only method whereby remote villages can be connected with hospitals for crucial Telehealth services. In Africa, for example, mobile clinics with primary healthcare equipment on premise as well as high technology devices, such as tuberculosis-detection X-ray machines, will soon be linked by satellite to a hospital in Belgium, where disease specialists can immediately evaluate the X-rays—taken mere minutes earlier—thousands of miles away.
Connecting The Dots
CVS
, the U.S. drugstore company, is an innovator in Telehealth with walk-in, primary healthcare offered customers in their stores. Each walk-in clinic is staffed by Nurse Practitioners who may earn from $80-$100k per annum, plus cost factors for support staff. The ROI for these clinics typically requires 20 patients a day who pay upwards of $65 a visit to make such walk-in clinics profitable.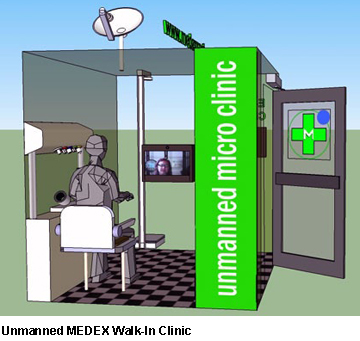 CVS garnered a profit on these clinics, requiring 10 years to do so. However, if the medical staff were to be moved from the front line to a call center, many more patients could be examined, more efficiently, and across a wider geographical area. However, you may ask, doesn't the doctor have to be present to make such examinations?
That was certainly the case until recent years—the advent of Telehealth allows medical practitioners to examine patients remotely. Backed-up by a supervising physician and specialists, the front line medical practitioner is the first professional who engages in triage and also administers the initial treatment prior to additional medical expertise being brought in by the doctor from the remote location to further consider the patient's case.
The Role Of Automation In Primary Healthcare
Telehealth
or
Telemedicine
? These two terms are frequently used to describe remote medical examinations. For the purpose of this article, Telehealth is the one-on-one interaction between a patient and a medical practitioner—Telemedicine is the
interaction between a medical specialist at a hospital and a medical practitioner with or without the presence of a patient
.
Telehealth has been traditionally used to provide chronically ill patients with vital signs monitoring equipment in their homes. This equipment is connected by phone lines or the Internet to a medical practitioner.
The growth of new FDA-approved Telehealth connected, vital signs monitoring devices has given rise to the potential for walk-in, primary healthcare kiosks in public places that are equipped with these devices and connected by a communications link to the medical practitioner.
One company which has perfected a self-service primary healthcare kiosk is
VideoKall
with its
MEDEX Spot Unmanned Micro Clinic
.
MEDEX Spot
The concept of vital signs monitoring devices in kiosks with a communications link to a medical practitioner may sound simple enough. The reality is that such is far from simple with an unmanned kiosk operation.
One principle issue is cleanliness. How do you make certain that the kiosk is always clean and the air, surfaces, and instruments are always sanitary? How do you allow a remote medical practitioner to, for example, place a stethoscope on a patients back, or allow a patient with chest pains to undergo an EKG, without a human presence at the kiosk?
The VideoKall Company solved these problems with their patent pending MEDEX Spot Unmanned Micro Clinic. This is, indeed, a big idea in primary healthcare as it enables wellness analysis to be provided on a self-service basis in a small footprint—a 5x6 foot size floor area cabin.
This unit can be easily located in drugstores, supermarkets, schools, senior housing centers, gas stations, airports, and even hospital Emergency Department waiting rooms. The other key aspects the unit addresses include optimal telecom architecture and medical call center equipment and operations.
Opportunities For Satellite Operators + Teleports
Satellite Telehealth services offers satellite operators and teleports the opportunity to sell value-added services on satellite. As healthcare is the one industry that will continue for as long as we inhabit the planet, this is a long term, sustainable, premium value-added service for the satellite industry. Even in the U.S. where there is an abundance of Internet connectivity, the flexibility and security offered by satellite-delivered Telehealth services has a strong position. Overseas, particularly in developing countries, the future for satellite delivered Telehealth services is without boundary.
VideoKall, which is already developing satellite Telehealth services for Myanmar and east and central Africa, welcomes the opportunity to work with satellite operators and teleports in the Asia/Pacific region and Africa that wish to leverage their satellite capacity with premium added value Telehealth services. More information can be found by visiting the company's web site
www.medexspot.com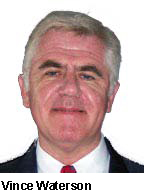 About the authors
Vince Waterson has spent more than 35 years in the telecommunications industry in Europe, North America and Asia. His experience includes terrestrial wireless and satellite network implementation; satellite data broadcasting network design; plus satellite network system integration. In the late 80s, he invented FAXCAST, the first satellite based "group 3" facsimile broadcasting system. Ten years later he developed the technology for the Information Television Channel, the first satellite delivered EPG for cable TV head-ends in Asia operating on the Thaicom3 satellite.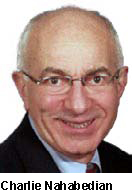 Mr. Nahabedian has more than 40 years of management experience in telecommunications, manufacturing, software development, information technology, and services management. He has held senior executive positions from Director to CEO at wireless and telecommunications carriers, and computer system companies in small and large businesses. Charlie started his career at Bell Labs and AT&T and has received two patents as well as a national award for "Outstanding Contributions in a Field of Science."