SatMagazine (SM)
Please tell our readers about your Company's business focus, and history, within the various European market segments.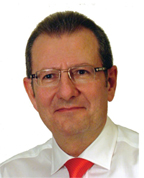 Jorge Potti
GMV has been operating in the European space market since its foundation back in 1984. During our early days, we focused on mission analysis, flight dynamics and satellite control systems. Today, GMV is a high technology multinational conglomerate that operates in a variety of market sectors such as space, aeronautics, defense and security, transportation and IT. Our total revenue is $140 million and we currently employ about 1,000 people worldwide. In the European space market, we address a wide portfolio of products and solutions, including space segment subsystems and technologies, global navigation satellite systems, flight dynamics and operations, satellite control centers and payload data processing and applications. We are active in institutional and commercial space, providing upstream systems for all types of missions, including launchers, transportation, science and robotic exploration, Earth observation, navigation, telecommunications and technology demonstration missions. We are particularly active in Earth observation applications and navigation applications.
SM
What European SATCOM sectors do you believe offer the most potential for Company growth and why?

Jorge Potti
The most potential for GMV growth are ground control systems. Since 2000, the company has invested heavily in the development and commercialization of cutting-edge ground control system products. GMV covers all ground control needs, including ground stations and payload management, planning,and booking. Since 2010, GMV has been the world's top independent supplier of ground control systems for commercial satellite operators. More than 45 percent of all commercial telecommunication satellites launched in 2010 and 2011 used GMV technology to support operations. We provide our systems and technology to 151 commercial telecommunications satellites and 23 commercial satellite operators worldwide. Our portfolio of active customers includes Eutelsat, Hellasat, Hisdesat, Hispasat, SES, Telenor and Turksat.
SM
How is your Company coping with euro fluctuations?
Jorge Potti
GMV is a multinational firm trading in Germany, India, Malaysia, Poland, Portugal, Romania, Spain and the U.S. Our multinational presence allows us to provide close service and support to our customers as well as to balance, to a certain extent, our development efforts and our supplier's network. Therefore, Euro fluctuations are not a significant issue for GMV, provided they are kept within reasonable boundaries.
SM
How will the European markets impact global, as well as your Company's business opportunities?
Jorge Potti
Europe is the second largest space market with considerable government space budgets of around $12 billion (including the European Union, the European Space Agency and the national European government space budgets). Space is a global market that is clearly influenced by Europe. For GMV, it is a most important market and its evolution will certainly have an impact on us.
SM
What obstacles do you see facing your Company? How do you plan on overcoming such challenges?
Jorge Potti
Our main concern presently is the instability and uncertainty of public space budgets. We are optimistic that the public authorities of our main institutional space markets, the U.S. and Europe, will give due consideration to the highly strategic nature of space. GMV's strategy calls for increased geographical diversification as well as further development of commercial space, including space applications.
SM
What new technologies/products will your Company be working on and/or releasing over the next few months?
Jorge Potti
In the space segment, Autonomous Guidance, Navigation and Control (GNC) technologies and subsystems for launchers, formation-flying, rendezvous, asteroid and planetary landing are a focus, as well as planetary scenarios and applications such as orbital servicing and debris removal. In navigation, we continue to develop our 'magic' suite of products, including our precise point positioning solutions, operational Satellite-Based Augmentation System (SBAS) testbed and performance monitoring and analysis systems. We are also finalizing a new indoor navigation system for smartphones. In ground control systems, our traditional product lines of flight dynamics (focus suite), satellite control centers (hifly/archiva) and mission planning and scheduling (flexplan) have gone through major new releases with significant improvements.

We also have recently released a new ground station monitoring and control product called magNet. For telecommunications payload management, planning and booking, we are improving and extending our 'smart' product line. In payload data processing, we continue to incorporate the latest technologies like cloud computing and automation techniques into our consolidated data processing solutions. GMV continues to have a passion for challenges that create an opportunity for innovation.
About the author
Potti is responsible for all GMV Aerospace operations worldwide and manages a large multinational team of more than 500 professionals. Potti, has more than 25 years of experience in the space business and has been working for GMV in a variety of positions. Potti has successfully led GMV to a cumulative growth of close to 50 percent in Space and made it the world's number one ground systems supplier. Under Jorge's leadership, GMV has achieved level 5 of the CMMI® (Capability Maturity Model Integration)