Connectivity across Africa is continuously evolving and regardless of the wider availability of subsea fibre, C-band and Ku-band VSAT is still the medium of choice for businesses and organisations based, or working, on the continent. Vizada Networks' Katerina Stemberova reviews the current SATCOM situation...
The '
Agence universitaire de la Francophonie
' (
AUF
), is an organization established to support higher education and research facilities that have selected French as their teaching language for all, or part, of their curriculum. AUF, which celebrates its 50th Anniversary this year (2011), is present on every continent, has 67 branch locations operating under nine regional offices and 779 member universities, which cover millions of students.
With headquarters at the campus of the
University of Montreal
(Canada-Quebec), it is dedicated to supporting mostly French speaking universities by fostering scientific cooperation, training and development, supporting research and excellence and enabling the sharing of expertise.
The AUF is a leader in the use of new technologies for training and research and is dedicated to achieving easier and cheaper means to share available resources between all universities. To achieve this, the organization requires reliable and stable communications between its sites and the universities it supports. The AUF has been using
Vizada Networks
connectivity services for a decade and currently has installations at seven sites for the
AUF African Great Lakes
office, providing the connectivity backbone for its 'Digital Campus' facilities.
Dedication To Sharing
SATCOM services are used to connect the Digital Campuses, which are open to students, university teachers and researchers. They enable distance learning, access to electronic resources for researchers, training on new technologies and access to the Internet, so are vital to AUF's operations in Africa and around the globe.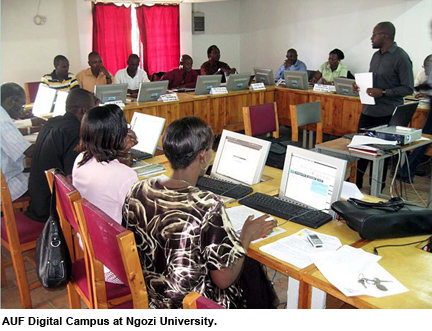 Currently, Vizada Networks provides an extensive list of shared and dedicated services to AUF offices and supported colleges in the African Great Lakes. The dedicated services are based on Viznet Broadband and offer between 256/512kbps and 256/2560Kbps depending on the site. With a mix of 2.4m and 3.7m C-band antennas the majority of sites using
Viznet Broadband
also have on-site installation services, remote support and space segment network management from the
Vizada Networks European NOC
.
Digital Campuses are a direct result of the AUF's dedication to sharing. They are physical and digital spaces where students, professors and researchers can communicate, form groups, access information and develop new scientific projects. Through videoconferencing, distance learning, ICT training and digital journals, Digital Campuses connect the AUF's university members, supporting collaboration and communication.
A Digital Campus, such as the one for Bujumbura, for instance, receives more than 16,000 visits from teachers, researchers and students a year so the AUF is reliant on stable connectivity regardless of the local environment. Users can find digital scientific documentation and can enroll in numerous information and communication technologies programmes, which support academic development through collaboration and sharing.
When looking for a connectivity provider, the AUF, like most African businesses and organizations, made comparisons in terms of balance, quality, service and cost. The service offering by Vizada Networks was recognized as hitting this balance and, in the decade that the AUF has been with the company, it has reported satisfaction with the permanency of the connection and customer service.
Tanzania + The East Coast
In addition to the Viznet Broadband services it uses, AUF also takes advantage of the
Viznet Dynamic
service at l'Université de Ngozi. The service, based on a 2.4m C-band antenna, features 256/1024Kbps and advanced QoS to ensure that the AUF gets the levels of bandwidth it needs. Based on the latest
iDirect
Evolution
DVB-S2/ACM platform, Viznet Dynamic offers a simple way to connect to the Internet for users looking for a cost effective service that don't have excessive bandwidth requirements. With Viznet Dynamic, the industry standard iDirect platform is further enhanced by Vizada Networks' cutting-edge proprietary bandwidth management technology resulting in high QoS and an unparalleled user experience.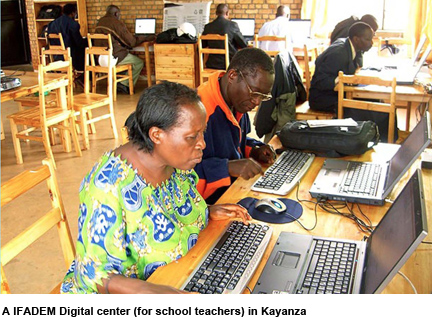 Vizada Networks recognises the importance of cost-effective shared services in Africa, reflected by recent investments in Tanzania, which has opened up a wave of new connectivity options along the east coast. Connectivity in this region is already benefitting from the implementation of subsea fibre, but VSAT connectivity is still high on the agenda for customers looking for a stable, redundant Internet connection, that mitigates some of the environmental issues in the area.
One such issue is a power supply that cannot be relied upon. In order to overcome power failures, rationing issues and keep services available, back-up power systems are a must, so Vizada Networks always consider high quality batteries, generators and UPS systems within its own and its customers' networks. Redundancy is key on the services at the new iDirect hub in Tanzania. The hub offers unmatched reliability and availability through dual redundant connectivity using Vizada Networks' direct connection to both the
SEACOM
and
EASSy
subsea cables.
The new connectivity services, which are made possible because of the implementation of a sophisticated new iDirect hub at its established facility in the Tanzanian capital, went live on September 15th and are based on the Viznet Dynamic platform. They are designed to enable reliable Internet connectivity to and from towns and villages in Tanzania and along the east coast of Africa.
The new services are primarily aimed at ISPs, organizations and businesses having branches in the Eastern Africa region who want to connect to Dar es Salaam or other major cities, directly. Using iDirect DVB-S2/ACM satellite technology in addition to Vizada Networks' proprietary technology, Viznet Dynamic delivers a secure, reliable broadband connection regardless of location or local environment. Viznet Dynamic's general satellite-based connectivity enables internet access and the use of VPNs within a private shared network. It offers guaranteed high-speed and burst capability, but with the cost effectiveness of a shared platform. Unlike l'Université de Ngozi, services from the new hub use small Ku-band antennas (starting at 1.2m) that are quick and easy to deploy, and require low upfront investment in equipment.
Vizada Networks and iDirect, a leader in satellite-based IP communications technology, work closely to provide services in Africa, the Middle East and globally. iDirect's technology enables Vizada Networks to make efficient use of available bandwidth and pass the outcome of this onto customers in terms of competitive pricing. With additional in-house developed bandwidth/traffic management system, Vizada Networks is able to offer private networks, MPLS connections and voice lines over the iDirect platform.
Vizada Networks uses iDirect's latest
iDX3.0
software at the new hub in Tanzania. iDX3.0 enables service providers to switch any Evolution router back and forth between
TDMA
and
SCPC
based on dynamic bandwidth requirements. This provides adaptability to support each application with the most efficient transport technology whilst reducing infrastructure and operating costs. It also enhances visibility into SCPC link performance for overall network efficiency and provides expandability of a core platform to grow business in line with demand.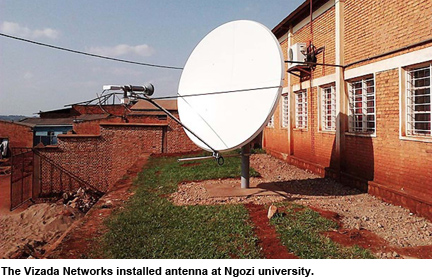 The new services for Tanzania and east coast Africa may be used as a reliable primary connection for dependable, cost-effective solution to enhance terrestrial networks. They feature advanced iDirect group QoS and Vizada Networks' industry-leading bandwidth management systems as an extra layer to improve performance and user experience even further.
Vizada Networks understands that one of the biggest issues customers face with any connectivity across Africa is a lack of reliability and availability and it's this that the company is trying to change with its new generation services. To foster confidence in reliability and availability for all users, Viznet Dynamic provides 100 percent guaranteed
Committed Information Rate
(
CIR
), guaranteed maximum contention based on the service plan and a
Maximum Information Rate
(
MIR
) that is fairly distributed to all users through the Fair Use Policy.
Supporting this are strict
Service Level Agreements
(
SLA
) and bandwidth visibility through a proprietary QoS system, which provides very detailed monitoring of bandwidth usage including data rate monitoring for IP address, protocol, VSAT terminal, group of terminals and network in addition to the monitoring of trends. All of this answers customers concerns about reliability and should provide a step-change in the perception of connectivity on the continent.
Although the new services on the east coast are a sign of Internet connectivity coming of age in Africa, Vizada Networks is already an established connectivity provider in Dar es Salaam and across the east coast of Africa. In addition to the new Viznet Dynamic services, connectivity is provided via the Seacom and EASSy cables, and hybrid solutions with fibre, WiMAX and P2P radio links. This extensive infrastructure provides critical redundancy so service interruptions are truly becoming a thing of the past.