Second GPS III Launch Services Contract Awarded To SpaceX
The US Air Force has awarded the first competitively sourced National Security Space (NSS) launch services contract in more than a decade.
Space Technologies Corporation (SpaceX) was awarded a contract for Global Positioning System (GPS) III Launch Services. This is a firm-fixed price, standalone contract with a total value of $82,700,000. SpaceX will provide the government with a total launch solution for the GPS-III satellite, which includes launch vehicle production, mission integration, and launch operations and spaceflight certification.
The launch will be the second GPS III launch and is scheduled to launch from Cape Canaveral Air Force Station, Florida, in May 2018.
GPS III is the next generation of GPS satellites that will introduce new capabilities to meet the higher demands of both military and civilian users. The satellite is expected to provide improved anti-jamming capabilities as well as improved accuracy for precision navigation and timing. GPS III will incorporate the common L1C signal, which is compatible with the European Space Agency's Galileo global navigation satellite system and compliment current services with the addition of new civil and military signals.
This is the first of nine competitive launch services planned in the FY 2016 President's Budget Request under the current Phase 1A procurement strategy, which covers awards with FY 2015-2018 funding. The next solicitation for launch services will be for a second GPS III satellite. This award marks a milestone in the Air Force's ongoing efforts to reintroduce a competitive procurement environment into the Evolved Expendable Launch Vehicle (EELV) program as directed by Frank Kendall, Under Secretary of Defense for Acquisition, Technology and Logistics.

The Phase 1A procurement strategy reintroduces competition for national security space launch services. Under the Phase 1 strategy, United Launch Alliance (ULA) was the only certified launch provider. In 2013, ULA was awarded a sole-source contract for launch services as part of an Air Force "block buy" of 36 rocket cores that resulted in significant savings for the government through FY 2017.
In May 2015, Space Exploration Technologies (SpaceX) was certified for EELV launches resulting in two launch service providers that are capable to design, produce, qualify, and deliver a launch capability and provide the mission assurance support required to deliver national security space satellites to orbit. The certified baseline configuration of SpaceX's Falcon 9 Launch System to Falcon 9 Upgrade was recently updated for use in National Security Space (NSS) missions.
The Air Force Space Command's Space and Missile Systems Center, located at the Los Angeles Air Force Base, California, is the US Air Force's center of excellence for acquiring and developing military space systems.
According to Lieutenant General Samuel Greaves, the US Air Force Program Executive Officer for Space as well as the SMC Commander, this launch services contract award achieves a balance between mission success all the while meeting operational needs and lowering costs as well as reintroducing competition for National Security Space missions.
spacex.com
---
Globalstar + Manx Teaming Up To Develop Integrated Cell + Mobile Satellite Service
Globalstar Europe Satellite Services Ltd., a wholly owned subsidiary of Globalstar Inc. and Manx Telecom, an AIM listed company and the Isle of Man's leading communication solutions provider, now have an alliance to develop EMN—this is a new multiple technology communications system that aims to be the world's first communications service to switch between multiple cellular networks and a DtU (Direct-to-User) mobile satellite network.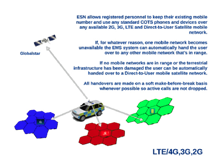 Using Globalstar's Low Earth Orbit (LEO) satellite constellation, EMN is intending to be a BYOD (Bring Your Own Device) solution that will enable users to communicate as normal with their existing devices, such as smartphones or tablets, but with ubiquitous nationwide coverage via satellite operations. With EMN, which uses Manx Telecom's Smart SIM technology, when a user's signal level begins to weaken due to the limited reach of the carrier's coverage or disappears due to a natural or man-made disaster, connectivity will be automatically handed over to another mobile network that is in range. If a terrestrial network is not available, network connectivity will be transferred onto Globalstar's system.
One of the first services to be developed by the new alliance, and supported by specialist technical consultancy firm, Intelcomm, is FRAN. FRAN will enable all first responders to continue making and receiving calls in the event that cellular networks become unavailable. This will be especially vital in a fast developing emergency situation when users suddenly have their communication cut off due to network overload, pre-emption or land-based infrastructure damage.
First responders need truly ubiquitous and affordable mobile communications. Previous attempts have included using satellites as 'backhaul' to deliver signals to terrestrial masts. However, unlike EMN's DtU approach which connects users directly via satellite, a backhaul solution is still dependent on the reach and integrity of terrestrial infrastructure—something that cannot be guaranteed, as became apparent during 2015 when severe weather in the UK damaged terrestrial infrastructure, impairing emergency services' ability to operate.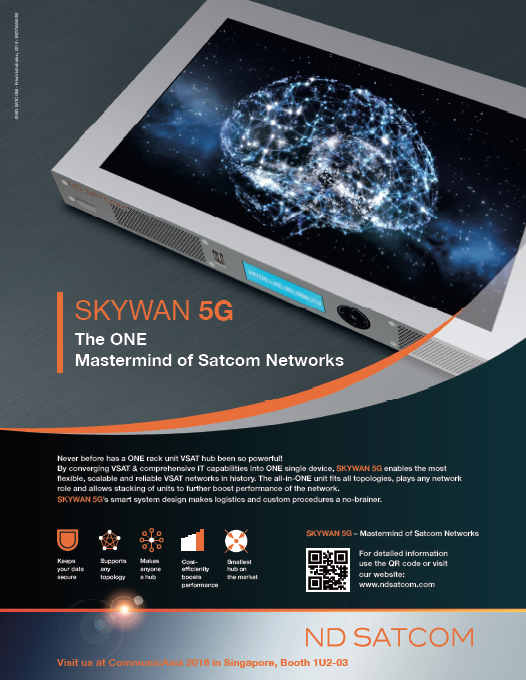 Using the satellite network directly, the EMN solution does not require the backhaul solution. The satellites orbit at 1,400 km above the Earth, providing much lower latency than other satellite networks in higher orbits. In addition, there is high reliability in that there are one or more satellites visible from any given point.
In the summer of 2016, Manx Telecom and Globalstar are targeting a trial service of FRAN involving parties from the emergency services community.
According to Jay Monroe, the Chairman and CEO of Globalstar, the EMN solutions will ensure that first responders can continuously communicate and help them to perform their crucial roles far more effectively. Gary Lam, the Manx Telecom CEO, added that his company's Strongest Signal SIM technology will provide much-needed balance and backup to the emergency communications architecture and will dramatically increase overall reliability.
globalstar.com/
manxtelecom.com/
---
Bringing Their GaN Plan To A New Broadcast Satellite Modulator
Advantech Wireless demo'd their new WSM-5000 DVB-S/S2/S2X High Throughput Wideband Broadcast Satellite Modulator at NAB2016—the unit is designed to transmit carriers of up to 600 MHz.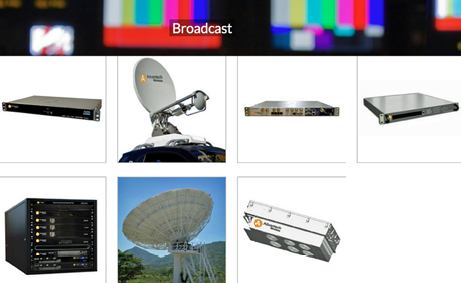 Efficiency improvements of up to 30 percent result from the combination of single high throughput carrier operation on a typical HTS transponder, the lowest roll-off in the industry, unpaired signal clarity, low SNR support and the Ultra-Fast ACM+AUPC compensation capabilities of the WSM-5000.
The new Wideband Broadcast Satellite Modulator was developed to meet the needs of broadcasters as well as broadband providers. The WSM-5000 supports ETSI EN 302 307 DVB "Annex M" features such as time slicing, to enable the mixing of broadcast and broadband services over the same satellite carrier for improved deployment flexibility; allowing deployment of this efficient transmission architecture in virtually every HTS network.
Additionally, while at NAB2016, Advantech presented the details of their Ultra HD ready satellite solution for broadcast applications at a meeting of the Sociedade Brasileira de Engenharia de Televisão (SET).
Anderson Markiewicz, Vice President, Sales, Latin America at Advantech Wireless, discussed the latest developments of using
Gallium Nitride (GaN) technology SSPAs for Ultra HD TV transmission and Advantech Wireless' A-SAT-II™ solution that dynamically adapts to multiple applications to minimize and automate network operation, optimizing the use of the satellite resources, and providing best user experience.
Designed to guarantee reliable transmission over satellite even in harsh and hostile conditions, Advantech Wireless solutions for Broadcast Applications enable mobile TV contribution in High and Ultra High Definition.
www.advantechwireless.com
---
NSSLGlobal Navigates To A Majority Ownership Position Of Marine Electronics Solutions
NSSLGlobal has acquired majority shareholding of Marine Electronics Solutions Ltd. (trading as UK Electronic Solutions Ltd.), a specialist in installation, maintenance, supply and development of communications and navigation products and solutions for the maritime, government, offshore renewables and oil & gas sectors.
The further strengthening of the already existing long term strategic relationship will allow these companies to pool their engineering expertise to provide their respective customers with an enhanced global support, as well as a broader product and service offering for both existing and new customers.
Sally-Anne Ray, Group CEO of NSSLGlobal, said, "For NSSLGlobal, this is a logical next step in our long-lasting and well-proven partnership with UK Electronics Solutions. Besides increasing our service engineering capability with an additional team of highly skilled and customer focused system & service engineers NSSLGlobal will also further strengthen it service and support reach in UK, and the North Sea Region, which is strategically important for our activities in the UK, Germany and Denmark. In addition, UK Electronics Solutions have a number of interesting developments and value-adds that we see becoming an integral part of our future maritime and offshore offering."
Paul Rutherford, the Managing Director of UK Electronics Solutions Ltd., said, "NSSLGlobal and UK Electronics Solutions have already enjoyed a strong cooperation on service, products and solution development, which with this deal will become even stronger and benefit both companies and our customers. We welcome being able to provide our customers with a broader and more competitive hardware, airtime and service offering through NSSLGlobal's market leading solutions."
As part of this deal, Paul Rutherford will join the NSSLGlobal management team and will continue to lead UK Electronics Solutions as well as taking an active role with NSSLGlobal's UK based service engineering teams.
nsslglobal.com/
---
Controlling Interest Of O3b Networks Now In SES Hands
SES S.A. has agreed to increase their interest in O3b Networks (O3b) to 50.5 percent and, in doing so, will take a controlling share in the company—the transaction is subject to regulatory approvals which are expected to be completed during H2 2016.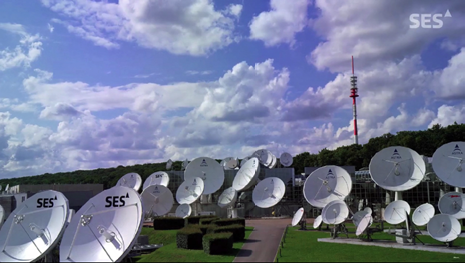 SES will pay USD 20 million to increase its fully diluted ownership of O3b from 49.1 to 50.5 percent, bringing its aggregate equity investment in O3b to date to USD 323 million (EUR 257 million).
On completion, SES will consolidate O3b's net debt, which is currently USD 1.2 billion. The transaction is expected to generate returns exceeding SES's hurdle rates for infrastructure investments.
This investment strengthens SES's differentiated global network and capabilities and enhances the company's growth strategy in the following ways...
• Expands SES's global reach and satellite-enabled solutions by complementing SES's GEO network with O3b's unique, 'game-changing' global solution, in operation since September 2015
• Augments SES's differentiated capabilities in Enterprise, Mobility and Government by adding O3b's dynamic suite of products and customers
• Enhances SES's foundations for sustainable growth with O3b's strong growth outlook underpinned by its unique service offering
O3b delivers a unique capability and solution, which is already in operation, for Enterprise, Mobility and Government clients, particularly for applications where low latency is an increasingly essential feature.
The combined GEO/MEO satellite network and capabilities give SES a truly compelling and differentiated service offering within the industry, strengthening SES's unique positioning across the data-centric markets.
The consolidation of O3b is expected to generate annualized revenues of between USD 32 million and USD 36 million per satellite at steady-state. Looking forward, both SES and O3b will benefit from the strong synergies and strategic fit across both businesses."
O3b Networks operates a constellation of 12 High Throughput Satellites (HTS) in a Medium Earth Orbit (MEO) around 8,000 kilometers from the Earth. The company offers customers a 'fiber in the sky' solution, with each of the constellation's beams capable of delivering up to 1.6 Gigabits per second (Gbps) of throughput at a low latency of less than 150 milliseconds, a significant improvement over geostationary connectivity. Since the start of commercial operations in September 2014, O3b has become the fastest growing satellite network in history in terms of contracted capacity. The company now serves more than 40 Enterprise, Mobility and Government clients across 31 countries.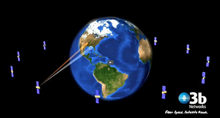 To date, more than 50 percent of customers have already upgraded their initial service commitments, demonstrating the attraction of O3b's unique and 'game-changing' solution. Consequently, O3b has a fully protected contract backlog of USD 350 million.
O3b's global customer base includes Digicel Pacific, Royal Caribbean Cruise Lines, American Samoa Telecom, Speedcast, Rignet, Bharti International (Airtel), Timor Telecom, CNT Ecuador, Entel Chile and (via SES Government Solutions) the U.S. National Oceanic and Atmospheric Administration (NOAA).
O3b has procured an additional eight satellites to accommodate rapidly-expanding demand, with four satellites expected to be launched during H1 2018 and the remaining four satellites expected to be launched in H2 2019. These procurements will increase the size of the current fleet from 12 to 20 satellites (including three satellites currently flying as in-orbit back-up).
At 'steady-state' utilization, which is targeted to be achieved by the end of the third year of a satellite's commercial service, the full operational constellation is expected to generate annualized revenue of between USD 32 million and USD 36 million per satellite.
O3b is expected to generate revenue of more than USD 100 million in 2016, nearly doubling the revenue recorded in 2015. The company's operational and financial performance trends are currently consistent with the criteria that SES requires to be satisfied before moving to control, including significantly improving EBITDA.
The acquisition is expected to become free cash flow accretive to SES (before financing activities) by 2018 and become net income accretive to SES by 2018/2019.
As part of the IFRS purchase accounting treatment, the transaction will give rise to recognition of a gain of approximately USD 500 million relating to the remeasurement to fair value of the current non-controlling interest in O3b.
The final amount will depend on the closing date of the transaction.
SES's BBB/Baa2 investment grade credit rating is expected to be re-affirmed by Standard & Poor's and Moody's.
Having agreed to acquire a controlling share of O3b, with the ensuing consolidation of the company's debt, SES will assess over the coming months the optimization of the enlarged group's funding structure. SES is committed to maintaining its progressive dividend policy.
The Board of O3b Networks has agreed to evaluate an Initial Public Offering (IPO) process for the remaining 49.5 percent of O3b shares, following receipt of the requisite regulatory approvals and the subsequent completion of SES's increase in ownership to 50.5 percent.
From April 29, 2016, and subject to O3b not having launched an IPO, SES has a call option to acquire all of the remaining 49.5 percent of shares in O3b for a baseline sum of USD 710 million, adjusted for an interest charge, calculated at market rates, to reflect the timing of the potential exercise of the call option.
Any decision which SES may take to exercise the call option will be subject to satisfying the company's stated investment hurdle rates.
Should such an exercise be relevant, and depending on the timing, potential financing sources, including capital markets, will be evaluated to determine the most appropriate financing option, in keeping with the company's commitment to maintaining SES's investment grade credit status (BBB/ Baa2).
A put option, effective from October 1, 2017, and subject to O3b not having launched an IPO, is held by the other shareholders of O3b, under which SES would have the obligation to acquire all of the remaining shares in O3b for a baseline sum of USD 710 million, adjusted for an interest charge, calculated at market rates, to reflect the timing of the potential exercise of the put option.
ses.com/
---
Lockheed Martin Blasts Off + Takes Students On An Experience Of A Lifetime
How many adults wish these programs, Generation Beyond and STEM, were around when they were thoughtfully planning their futures with their career guidance counselors?
Stand back as today's generation steps out as the first graduates to participate in the STEM and Generation Beyond programs.
Lockheed Martin has launched Generation Beyond, a first of its kind, national educational program to bring the science of space into thousands of homes and classrooms across America.
The Science, Technology, Engineering and Math (STEM) program is designed to inspire the next generation of innovators, explorers, inventors and pioneers to pursue STEM careers.
"Our children—the elementary, middle and high school students of today—make up a generation that will change our universe forever. This is the generation that will walk on Mars, explore deep space and unlock mysteries that we can't yet imagine," said Marillyn Hewson, Lockheed Martin Chairman, President and Chief Executive Officer. "They won't get there alone. It is our job to prepare, inspire and equip them to build the future—and that's exactly what Generation Beyond is designed to do.kj3Hewson announced Generation Beyond at the opening ceremony of the Lockheed Martin-sponsored USA Science & Engineering Festival, the largest—and only—national STEM event."
The new STEM education program will offer several interactive tools to engage and inspire students and educators:
Online Curriculum: The core element is an online curriculum for middle school teachers and students, including lesson plans for teachers, a virtual field trip and activities students can bring home to share with their families. The deep space curriculum will be shared freely with thousands of middle schools across the country, reaching hundreds of thousands of American students.
Lockheed Martin Mars Experience Bus: In addition to the curriculum, Generation Beyond includes a real-life Mars Experience Bus that will travel the country providing student riders with an interactive experience simulating a drive along the red planet's surface. The Lockheed Martin Mars Experience Bus is the first immersive virtual reality vehicle ever built and replicates 200 square miles of the Martian surface. The Mars Experience was built with the same software used in today's most advanced video games.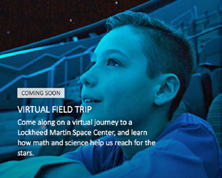 Hello Mars App: Lastly, Lockheed Martin has launched a Hello Mars smartphone app, allowing students to find Mars in the sky, travel there virtually and receive real-time Mars weather reports.
The online tools and fun can be found at www.lockheedmartin.com/generationbeyond
Lockheed Martin has played a leadership role in both space exploration and STEM education and the company has partnered with NASA and has participated in every US Space Mission, including each journey to Mars.
Over the past five years, Lockheed Martin has contributed almost $70 million to STEM programs and maintained strong partnerships with:
• National 4-H Council
• Girls Inc.,
• National Geographic
• Project Lead the Way
• National Science Teachers Association
• Girls Who Code
• FIRST Robotics
"Generation Beyond is a perfect example of Lockheed Martin's ingenuity in using cutting-edge technology and high quality curricula to encourage young people to explore STEM fields in a hands-on way that will stay with them for a lifetime," Jennifer Sirangelo, president and CEO of National 4-H Council.
"4-H and Lockheed Martin are dedicated to creating interactive, experiential programs that ignite passion for STEM topics in young people, then help guide them down a pathway for a fulfilling STEM career. What better way to engage young students than getting them excited about exploring space?"
---