Coming off the success of the company's most significant year to date, ORBCOMM is moving forward with a fast start to 2016.
From new customer wins, to executing on large customer deployments such as HUB Group and Wal-Mart, to the integration of three acquisitions, to continued innovation and exciting product launches, as well as the completion of the OG2 satellite constellation, ORBCOMM's momentum is accelerating like never before.
2015 closed out with a bang—actually a blast—with the second and final launch of ORBCOMM's OG2 satellites on December 21, 2015, from Cape Canaveral Air Force Station in Florida, completing our advanced next generation constellation for the company. SpaceX executed a virtually flawless launch slotting ORBCOMM within a fraction of a degree of the intended orbit.
Just over an hour after launch, all 11 OG2 satellites established connectivity at ORBCOMM's Gateway Earth Stations around the world. This mission is historic on many levels. This was the first launch of SpaceX's upgraded, full thrust Falcon 9 rocket, and tallies up as the largest number of identical communication satellites launched on a single mission. This launch also marked the first successful landing of SpaceX's reusable Stage 1 booster at the highest altitude to date—definitely an exciting day for all in the space industry.
However, ORBCOMM is most proud of the fact that we now have the only fully funded, fully operational, next generation satellite network purpose-built for the global M2M industry. Validating the company's leadership in this sector, Compass Intelligence recently named ORBCOMM the M2M Satellite Service Provider of the Year for the third year in a row.
With the OG2 satellite constellation now in full commercial service, customers gain significant enhancements, including improved network performance and increased coverage at higher latitudes. These new OG2 services translate into a higher level of service and reliability for our customers as well as even more opportunities for ORBCOMM through expanded global coverage, increased market reach and the many new applications we can support.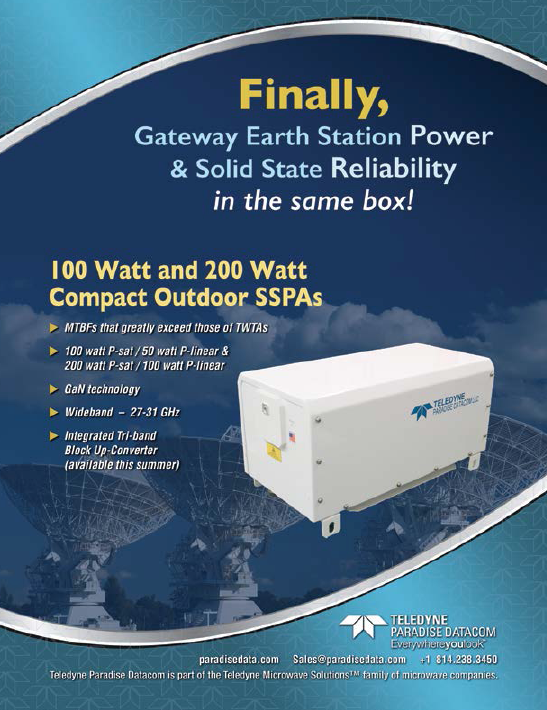 In addition, all of the OG2 satellites are equipped with ORBCOMM's Automatic Identification System (AIS), which transmits vessel identification and position and will soon offer customers nearly 24x7 coverage and visibility of the vessels they are monitoring. While the OG2 constellation is a key enabler of our M2M and IoT solutions and one of our strongest assets, the next mission is ensure the world knows that the company offers much more than ORBCOMM's satellite connectivity.
ORBCOMM has spent the past several years transforming the company into a leading provider of full, end-to-end solutions that can cover every touchpoint in the M2M ecosystem.
From global satellite and cellular network services to hardware, web applications, software and device management, ORBCOMM owns the unique ability to provide the most complete set of products, applications, professional services and capabilities for a multitude of vertical markets.
ORBCOMM is comprised of an incredible team of more than 500 employees worldwide, including the M2M industry's largest technical team with nearly 300 engineers focusing on the continual development of ORBCOMM's M2M and IoT solutions. This includes internally developed, versatile hardware solutions, intuitive software enablement platforms as well as end-to-end solutions from device to dashboard.
This is a huge asset for ORBCOMM and our customers to have all of this and more in-house as it reduces costs and time to market and achieves increased scale in multiple key areas of the business. ORBCOMM makes it easier than ever for enterprises, both large and small, to deploy solutions and gain a strong ROI, whether they are looking to save on fuel, improve asset turn times, lower maintenance costs or optimize asset utilization.
The diverse portfolio of connectivity options tells quite a different story today than was possible even just a few years ago, when ORBCOMM was known solely for selling connectivity on the ORBCOMM network. The characteristics of various solutions may require different networks to support them. Today, ORBCOMM offers multiple modes of cellular connectivity at competitive price points through our relationships with seven Tier One wireless carriers. In addition, with our strategic partner and industry leader, Inmarsat, ORBCOMM also offers global satellite services for three satellite networks —ORBCOMM, Inmarsat and Globalstar.
By connecting all of these cellular and satellite networks through the ORBCOMMconnect subscriber management portal, customers find it easy to select the proper connectivity for their application and to cost-effectively manage and provision their assets across multiple networks.
The company continues to make great strides in our partnership with Inmarsat, which allows customers to buy seemingly identical modems for use on the ORBCOMM and Inmarsat networks.
These modems leverage the same footprint, the same pinouts, the same programming environment and the same power input. The interchangeable format allows users to develop one application and leverage two networks, sharing scale and reducing price points.
These modems provide customers with unrivaled ease of use, flexibility and quality of service based on their unique application needs, including message size, delivery speed, geographic coverage and regulatory requirements.
The ORBCOMM and Inmarsat modems are available today for integration into a wide variety of M2M hardware solutions and will be available through both distribution channels. Announcements regarding additional collaborative efforts in the near future will be forthcoming.
Looking at the breadth and depth of our solutions portfolio, it is clear that ORBCOMM is more than the leader in satellite-based M2M but also a leader and innovator in the global M2M and IoT industries. We look forward to another exciting year ahead as ORBCOMM continues to grow our current 1.6 million subscribers and to further expand our market and geographic reach.
With the company's flexibility, dynamic capabilities and global footprint, ORBCOMM is delivering products and solutions that are revolutionizing how some of the world's largest enterprises do business.

Marc Eisenberg is the President and CEO of ORBCOMM and has been since 2008 after joining ORBCOMM in 2002. In his tenure as CEO, ORBCOMM has grown over 500% in revenues and has become a leader in the M2M industry as well as positioning itself as a full solutions provider. Before joining ORBCOMM, Mr. Eisenberg was a Senior Vice President of Cablevision Electronics Investments, where he was responsible, among other duties, for selling Cablevision services including video and Internet subscriptions through its retail channel. Previously, as Senior Vice President of Sales and Operations at the consumer electronics company, The Wiz, he was responsible for more than 2,000 employees and $1 billion in annual sales.
orbcomm.com/
---