The Pegasus Push
Orbital Sciences Corporation successfully launched the company-built Nuclear Spectroscopic Array Telescope (NuSTAR) satellite for the National Aeronautics and Space Administration (NASA) into its intended orbit.
The "Stargazer" carrier aircraft taking off from Kwajalein Atoll in the South Pacific on its 27th successful Pegasus mission. Pegasus has launched from six different sites worldwide, the first time a space launch vehicle has demonstrated such operational flexibility.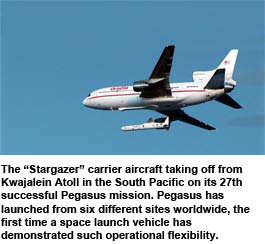 The Pegasus/NuSTAR mission originated from the U.S. Army's Reagan Test Site, Kwajalein Atoll, which is a part of the Marshall Islands in the mid-Pacific Ocean. Following a one-hour preplanned positioning flight, the Pegasus rocket was released from Orbital's L-1011 carrier aircraft at approximately 12:00 p.m. (EDT). After a 13-minute powered flight sequence, Pegasus launched the 770 lb. NuSTAR satellite into its targeted circular orbit approximately 400 miles above the Earth.
Orbital designed, manufactured and tested the NuSTAR satellite at its Dulles, Virginia, satellite manufacturing facility. The Pegasus rocket was assembled and tested at company facilities at Vandenberg Air Force Base, California. Today's successful launch by the Pegasus rocket was the 27th consecutive successful mission for the Pegasus program over a 15-year period and the 41st overall flight of the company's unique air-launched system since its introduction in 1990.
Mr. Ron Grabe, Orbital's Executive Vice President and General Manager of its Launch Systems Group, said "The NuSTAR program is another 'dual' mission for our launch vehicle and satellite engineering teams, building on our history of supporting successful NASA scientific programs such as AIM, GALEX, SORCE, ACRIMSAT and IBEX with our launch vehicles and satellite platforms."
* * * * * * * * *
New Business Propellant
Astrotech Corporation has announced that its Astrotech Space Operations (ASO) subsidiary secured a $1.1 million purchase order to supply hypergolic propellants support to a spacecraft manufacturer.
ASO will provide propellant delivery and export-related services from its headquarters in Titusville, Florida. From their HQ, as well as from Vandenberg Air Force Base in California, Astrotech Space Operations provides all support necessary for government and commercial customers to successfully process their satellite hardware for launch, including advance planning; use of unique facilities; and spacecraft checkout, encapsulation, fueling, and transport.
Additionally, ASO has demonstrated expertise in design and fabrication of spacecraft processing facilities and ground support equipment "GSE". In its 30 year history, ASO has successfully supported the processing of nearly 300 spacecraft.
* * * * * * * * *
Most Suitable For Backhaul
Hughes Network Systems, LLC, has successfully completed end-to-end verification of its HX System with Nokia Siemens Networks' GSM Base Station.
GSM operators can now have full confidence that the Hughes HX260 platform in combination with Nokia Siemens Networks' GSM Radio Access operating over the bandwidth optimized 'Packet Abis' interface, provides a proven and reliable satellite mobile backhaul solution.
According to Joerg Ambrozy, single radio access transport product manager at Nokia Siemens Networks, "The Nokia Siemens Networks Packet Abis and Hughes HX260 together provide a strong Mobile Broadband Solution for Satellite Backhaul which improves voice quality and data throughput for our customers. We are looking forward to continuing our joint efforts with Hughes to also deliver optimized 3G and 4G backhaul solutions via next-generation high throughput satellites."

Supporting cellular backhaul in either star or mesh configurations, the HX System's fast packet processing design reduces round trip latency to approximately 600 milliseconds and one-way jitter to 20 milliseconds, resulting in superior voice quality and very efficient data throughput—essential for real-time applications. A just-in-time burst feature on the return channel ensures that data packets are transmitted at the earliest possible opportunity.
* * * * * * * * *
Sea Connectivity Satisfaction
Dedicated to delivering high-speed connectivity anywhere, O3b Networks has launched O3bMaritime, a first-of-its-kind broadband solution capable of providing cruise ship guests and crew with more than 100 times the average Internet access rates at sea.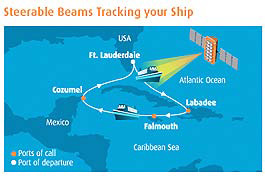 Innovative cruise ship operators will be able to significantly enhance guest satisfaction through fast, affordable broadband connections. In game changing performance unmatched and unrivalled by current and future maritime offerings, O3bMaritime will deliver over 500 Mbps in aggregate bandwidth to a single vessel.
Cruise operators facing increasing competition from luxury shore based resorts no longer need to suffer the performance compromise necessitated by today's maritime connections. Guests can surf, download, work, watch, speak and stream in the same way they do on land, unlocking new revenue opportunities for operators and reinforcing best-in-brand service in all aspects of the cruise experience.
The only offshore solution to deploy dedicated steerable beams, O3bMaritime will track a ship's course continuously, optimizing performance for the guests onboard.
In the competitive world of super and mega-yachts, only O3bMaritime can provide the range of benefits that overwhelm existing satellite based solutions today. O3b's crystal clear voice and 65ms mouth-to-ear latency provides peerless voice quality. From cruise operators to super-yachts and from guest experience to crew welfare, O3bMaritime is redefining connectivity at sea and is now less than one year from launch.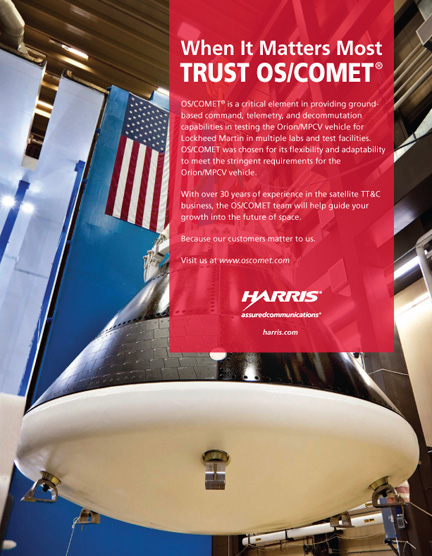 * * * * * * * * *
"Magical" Breakthrough
Newtec has ushered in a new era of bandwidth efficiency by breaking the magical 0.5 Gbps two-way throughput over a 72 MHz transponder on a Eutelsat satellite.
Testing was performed at Eutelsat's teleport in Rambouillet during the night in order not to disturb crucial daytime sport transmissions. A significant margin was taken in cloud cover conditions to ensure the tests were relevant for real-life high availability service.
In the two-way high speed backbone tests, Newtec combined its Bandwidth Canceler and Next Generation modems (Newtec MDM6000 series) to achieve a staggering 506 Mbps (2 x 253 Mbps).
Innovative elements were used, including Clean Channel Technology® (a Newtec technology for implementing lowest roll-off and filtering to boost throughput). New modulation and Forward Error Correction (FEC) codes were also used, which can be seen as demonstrators for evolutions in extending the DVB-S2 standard. In particular for this part of the test, a complete reworked 32 APSK 135/180 (135 over 180) modulation proved to be most optimized.
In another test, 352 Mbps was achieved in a one-way distribution set-up over the 72 MHz transponder using 64 APSK modulations and related codes, with significant margin on the Ku-band system.
* * * * * * * * *
Any One of Three
International Launch Services (ILS) and Asia Satellite Telecommunications Co. Ltd. (AsiaSat) announced a contract for an ILS Proton launch service as early as 2014 from the Baikonur Cosmodrome in Kazakhstan—this will be for launching one of AsiaSat's future satellites, AsiaSat 6, AsiaSat 8 or AsiaSat 9, a replacement satellite to be procured for AsiaSat 4.
The launch contract includes an option for AsiaSat to order one additional launch service from ILS for any of its upcoming three satellites.
* * * * * * * * *
DSNG Designs
WORK Microwave has debuted their new DVB-S2 Modem SK-DV.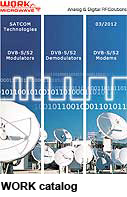 Using DaVid technology, the device offers simultaneous transportation of data (network connection) and live broadcasting (video content) over a single satellite carrier. The DaVid technology works by aggregating multiple MPEG transport streams and IP data into a single baseband stream, called multistream, which is then inserted into a broadcast modulator.
The single carrier signal is transmitted via satellite by the modulator and then received by multiple receivers that separate and extract specific content parts based on their DVB-S2 Input Stream Identifier (ISI).
The DaVid technology configures all DVB-S2 baseband parameters independently for each stream, providing users with the flexibility to choose the number of streams that need to be processed.
The combined modem includes several features and capabilities designed to provide users with maximum bandwidth efficiency and data throughput at all times. The DVB-S2 Modem SK-DV uses Generic Stream Encapsulation according to TS 102 606, which ensures the device is compatible with products from other providers compliant to the DVB-S2 standard and allows users to easily incorporate the modem into existing operations.
Additionally, advanced modulation up to 32APSK offers the most efficient satellite communication for dedicated links, enabling broadcasters to deliver reliable, flawless transport.
Multichannel ACM functionality (OptiACM) compensates for disturbances in the satellite link due to physical conditions—such as humidity and atmospheric precipitation—through real-time adaptation of transmission parameters according to link conditions, improving data throughput in all usage cases and under all environmental conditions.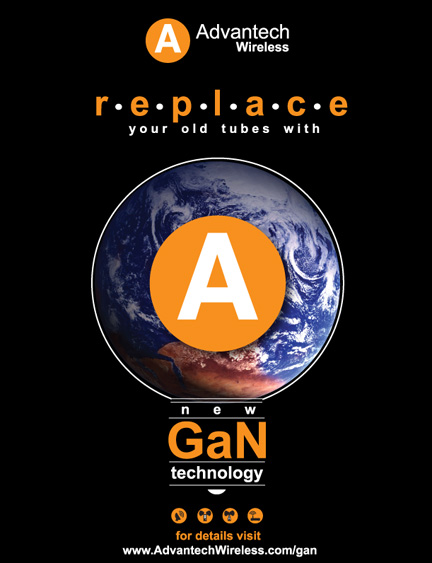 Additionally, the DVB-S2 Modem SK-DV optimizes the amount of usable bandwidth through a traffic shaping capability that controls the volume of traffic being sent over satellite and determines minimum/maximum data rates for each content type. Traffic is differentiated into groups and prioritized with respect to a number of configurable parameters.
Built on a cross-layer system design that applies interlayer communication exchange across the protocol stack, the DVB-S2 Modem SK-DV operates at an efficient data rate of up to 160Mbps, supporting high-speed data transmission so broadcasters can deliver live high-definition video content over a satellite link—in addition to Internet file transfer.
* * * * * * * * *
Vega's Kazakhstan Mission
The DZZ-HR high-resolution observation satellite is being built by Astrium for the government of the Republic of Kazakhstan.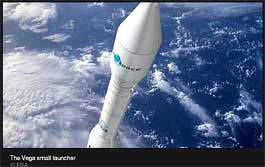 Weighing 900 kg at launch, the DZZ-HR satellite will be launched by Arianespace's Vega light launcher into a Sun-synchronous orbit at an altitude of about 750 km. It will be launched from the Guiana Space Center, French Guiana, in the second quarter of 2014.
The DZZ-HR system will be independently controlled by Kazakh operators who have been trained by Astrium.
Using images acquired by the DZZ-HR satellite from the entire planet, the system will provide very-high-quality panchromatic and multispectral products for a wide range of applications, including cadastral surveys, management of natural resources, environmental monitoring and homeland surveillance.
Arianespace Chairman and CEO Jean-Yves Le Gall said: "Today, with the European launcher Vega, we can offer all customers new launch services for this type of mission. This is the third contract for Vega, after Sentinel 2 and 3, and this time we are serving an end-customer outside of Europe. We are also delighted to be working once again with Astrium Satellites, with whom we have a long-standing relationship of mutual trust."
* * * * * * * * *
Second Jack-Up Contract
Imtech Marine (Radio Holland Netherlands) has been awarded an extensive contract from Jack-Up Barge for the communication and IT systems for its newbuild, self-elevating platform JB-118.
This follows a similar contract for the JB-117, which Imtech Marine successfully completed earlier this year. Additionally, Jack-Up Barge and Imtech Marine have concluded an Advanced Support Agreement for the vessels, which includes 24/7 remote Monitoring & Maintenance and covers all of the systems onboard.
The recently awarded contract for the latest barge is extensive comprising the PA intercom and alarm system, VSAT network, PABX central telephone system and the total navigation, communication and entertainment package, including IPTV and satellite television. Additionally, Imtech Marine will install VHF/UHF communications for the crane operators, a meteo and CCTV system, as well as a communications system for the helideck.
Nico van Leeuwen, Imtech Marine Netherlands Sales & Marketing Manager, says the two companies started to work together around 18 months ago on the JB-117, which was built in Batam, Indonesia. "The JB-117 was a difficult installation, very complex; our knowledge gained from this project has provided valuable input for the JB-118 and any future orders."
One aspect that makes the installation quite challenging is that the barge typically has 50 to 80 crew onboard of different nationalities and of course, they would all like to watch their favorite TV shows on different stations.
Paul Koole, Project Manager E&I, Jack-Up Barge, said, "The JB-117 is working on a three-year contract on a wind farm in the North Sea. Jack-Up Barge recognises that this access to television and the Internet is very important for crew welfare."
Jack-Up Barge has taken out an Advanced Support Agreement for the vessels, which includes 24/7 remote Monitoring & Maintenance and covers all of the systems onboard, including VSAT, computers, navigation and communication equipment. As the barges are often working offshore for many months at a time it is vital that any problems can be sorted out remotely. This agreement also includes systems management. For instance when there are crew changes and a new crew is boarding everything is set up ready, email accounts, login passwords etc. so they don't have to worry about changing the systems themselves.
Imtech Marine has already started on the pre-engineering and the drawings for the JB-118, which is being built near Hong Kong in Shenzhen and installation work is likely to start in the third quarter. The JB-118 is expected to be delivered mid-2013.
Jack-Up Barge is one of the world's leading suppliers of Self Elevating Platforms for both the energy and heavy civil construction markets. Based in Sliedrecht in the Netherlands, Jack-Up Barge supplies two types of Self Elevating Platforms, the Modular and Monohull Jack-Up.
* * * * * * * * *
Magnificent Seven
Seven pacific nations have come together to initiate their own satellite program to reduce dependency on Internet and IDD calls currently provided by other nations.
The provision of low cost Internet and international calls is a public service that was made a priority for all the nations involved. The seven nations include Vanuatu, Solomon Islands, Fiji, Tuvalu, Tonga, Papua New Guinea and New Caledonia.
His Excellency Thureign of Vanuatu said that the launch of the satellite is a long-term investment by all the nations involved bringing economic benefits and savings for the population but also for attracting international businesses by providing efficiencies and economies that are unacceptably high under the present supply. He said, "We are looking to elevate the standard of our people and their access to continuing education through the Internet and expanding their horizons and community."
Funding from this project has been provided from various donations, especially from China. The satellite will be launched from Russia using existing commercial launch vehicles. Pacific ComNet have commissioned the satellite from Russia-based TIME Technologic LLC who have entered a Joint-venture for this project with Peixin Investment (HK) Ltd. The life expectancy of the satellite is 50 years.